Dallas-Ft. Worth Local Life
Your Guide to What's Happening at the Great State Fair of Texas
Nothing lives up to our state's bragging rights more than the State Fair of Texas, which opens at 10 a.m. Friday, Sept. 28 and runs through Sunday, Oct. 21 this year. If you're a first-time fairgoer at the legendary Dallas event, Big Tex proves that "everything is bigger in Texas."
The iconic 55-foot tall cowboy—decked out in his 75-gallon hat, Dickie shirt with a 14-foot collar, and Dickie jeans with a 27-foot waist and 22-foot inseam—will greet you with his trademark Texas drawl: "Howdy, folks. Welcome to the great State Fair of Texas."
From daily parades, live music, and food and livestock competitions to Midway rides, games, tasty fair food, and a steady stream of exhibits and activities, the fair is big on fun for kids of all ages.
Things to Know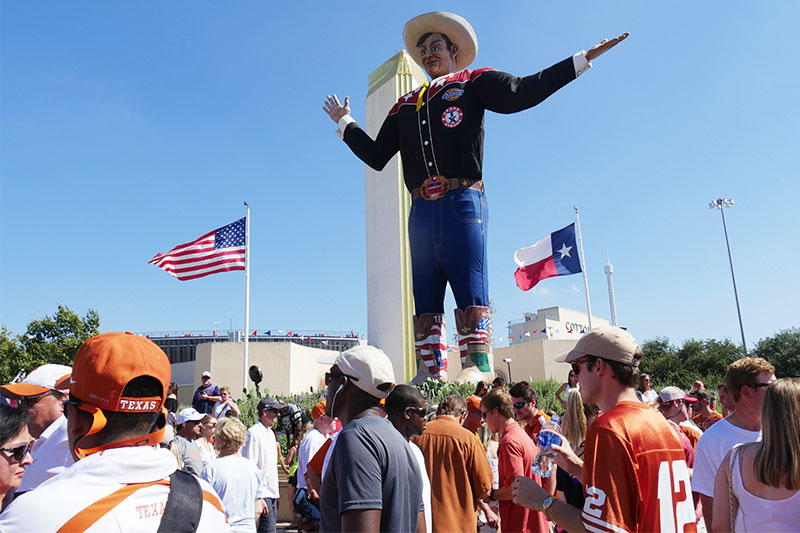 The State Fair of Texas is a big deal in Dallas-Fort Worth. Area public school districts even close shop for a designated "fair day" that includes one free ticket per student and employee, and seniors 60 and over get into the fairgrounds free every Thursday during the event.
Regular general admission is $16.50 for adults and $12.50 for children under 48 inches tall and seniors 60 and older, but you'll have plenty of opportunities to save on the ticket price. Aside from discount coupons available online and through local businesses, admission after 5 p.m. is half price when you bring an empty Dr Pepper can. And on Tuesdays, all-day admission is $9 with an empty Dr Pepper can. On the three Wednesdays during the season, admission is $4 plus four cans of food to donate to the North Texas Food Bank. Every Thursday, admission is $9 with an empty 20-ounce bottle of any Coca Cola product. But admission discounts cannot be combined with any other offers.
Once inside the fairgrounds, all rides, food, and drinks require coupons, which are sold at booths throughout the Midway and concession areas. And last but not least, the State Fair of Texas is the last place you want to break in a new pair of shoes. Since Fair Park is huge and you'll likely be covering some territory during your visit, comfy shoes are highly recommended.
Shows, Exhibits, and Live Music
You'll get plenty of value with your admission ticket. With hundreds of daily shows and activities, you can pick which will best fit you and/or your family's interests. During fair season, Fair Park's collection of landmark Art Deco buildings house educational, cultural, and creative arts exhibits as well as a broad swath of shopping adventures. A fair favorite is always the automobile building, which showcases all the new makes and models of cars and trucks under one roof. Texas' rich livestock and agricultural heritage is on display in the barns and at shows in the Coliseum. And the sounds of Texas culture come to life as Texas artists perform a diversified blend of genres on the festival's five stages, with headliners including Ludacris, Aaron Watson, Seven Streeter, Banda Carnaval, and Hunter Hayes.
Deep Fried Fair Food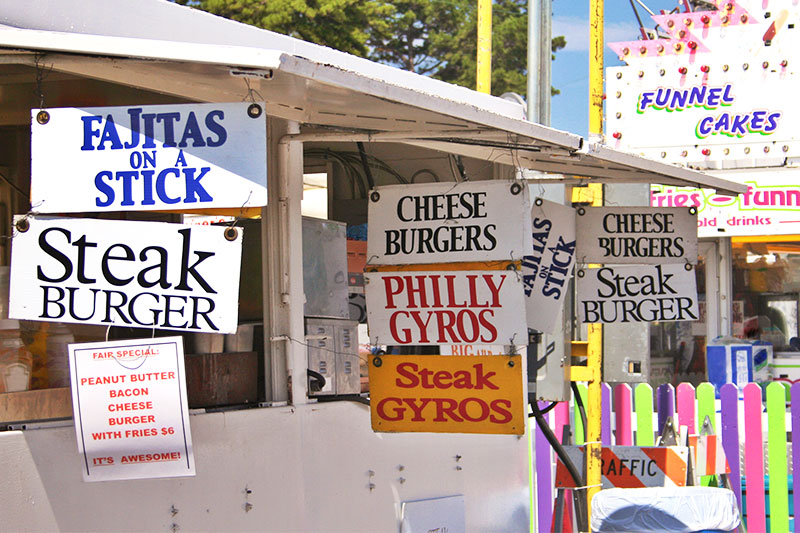 In 1942, Dallasites Carl and Neil Fletcher started a Texas tradition when they invented a food item that fairgoers could eat on the go. The brothers' brainchild consisted of inserting a stick into a wiener, which was then battered in their own cornbread recipe and deep fried, and they premiered the surprisingly delicious concoction at the State Fair of Texas. Today, Fletcher's Corny Dogs are as synonymous with the State Fair as Big Tex.
Over the decades, other food vendors at the fair have tried their hand at unlikely deep-fried creations that varied from Twinkies and jelly beans to guacamole. Though none have surpassed Fletcher's sales over the past 76 years, the competition between concessionaires spurred the annual State Fair of Texas Big Tex Choice Awards and gave the fair a boon for attracting fair foodies. New foods slated to premiere this year include cotton candy tacos, arroz con leche, and deep-fried shepherd's pie, plus even more inventive creations like the Texas Twang-kie (a savory Tex-Mex twist on the Twinkie) and Fernie's Orange You Glad We Fried It? (a flaky, turnover-style fried pastry with an orange, custard-like filling).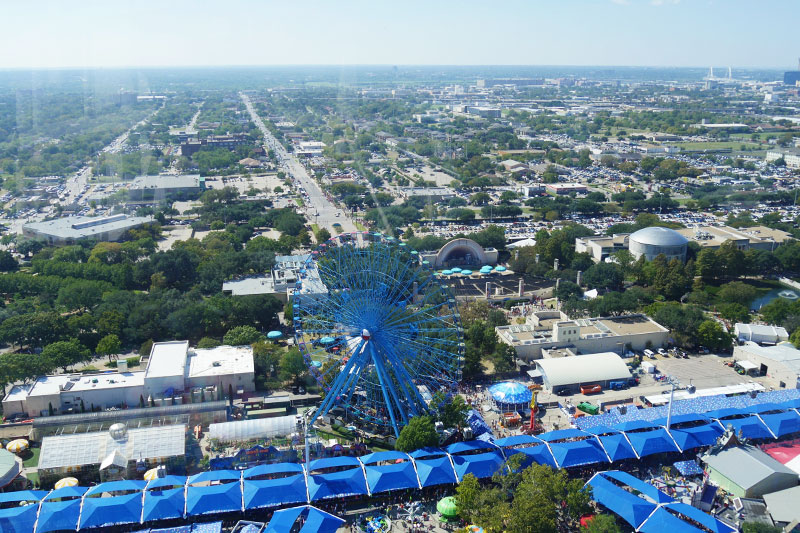 Located just east of Downtown Dallas, the Fair Park neighborhood primarily consists of the 277-acre Fair Park, which is a registered Dallas Landmark and National Historic Landmark. While the State Fair of Texas is the largest annual event held at Fair Park, the iconic park hosts hundreds of other events throughout the year.
The sprawling recreational and educational complex contains the world's largest collection of art deco buildings, art, and sculptures (dating back to the 1936 Texas Centennial Exposition) and the largest Ferris wheel in the U.S. Besides the Leonhardt Lagoon, and nature areas, Fair Park contains the Music Hall, Margo Jones Theater, and Cotton Bowl Stadium—the original home of the Dallas Cowboys—as well as nine museums, including the African American Museum of Dallas and the Museum of Science with a planetarium and IMAX theater.