National Local Life
10 Things to Do in Downtown Orlando at Night
Orlando may be a top U.S. tourist destination because of a certain theme park, but it offers many more thrills beyond rollercoasters—especially once the sun goes down. Head to the heart of Downtown Orlando for a variety of nighttime options, including gourmet eats, creative drinks, and ample live entertainment options. Whether you're a sports fan, foodie, or adventurer, there's plenty to do in Downtown Orlando at night.
Take a Shot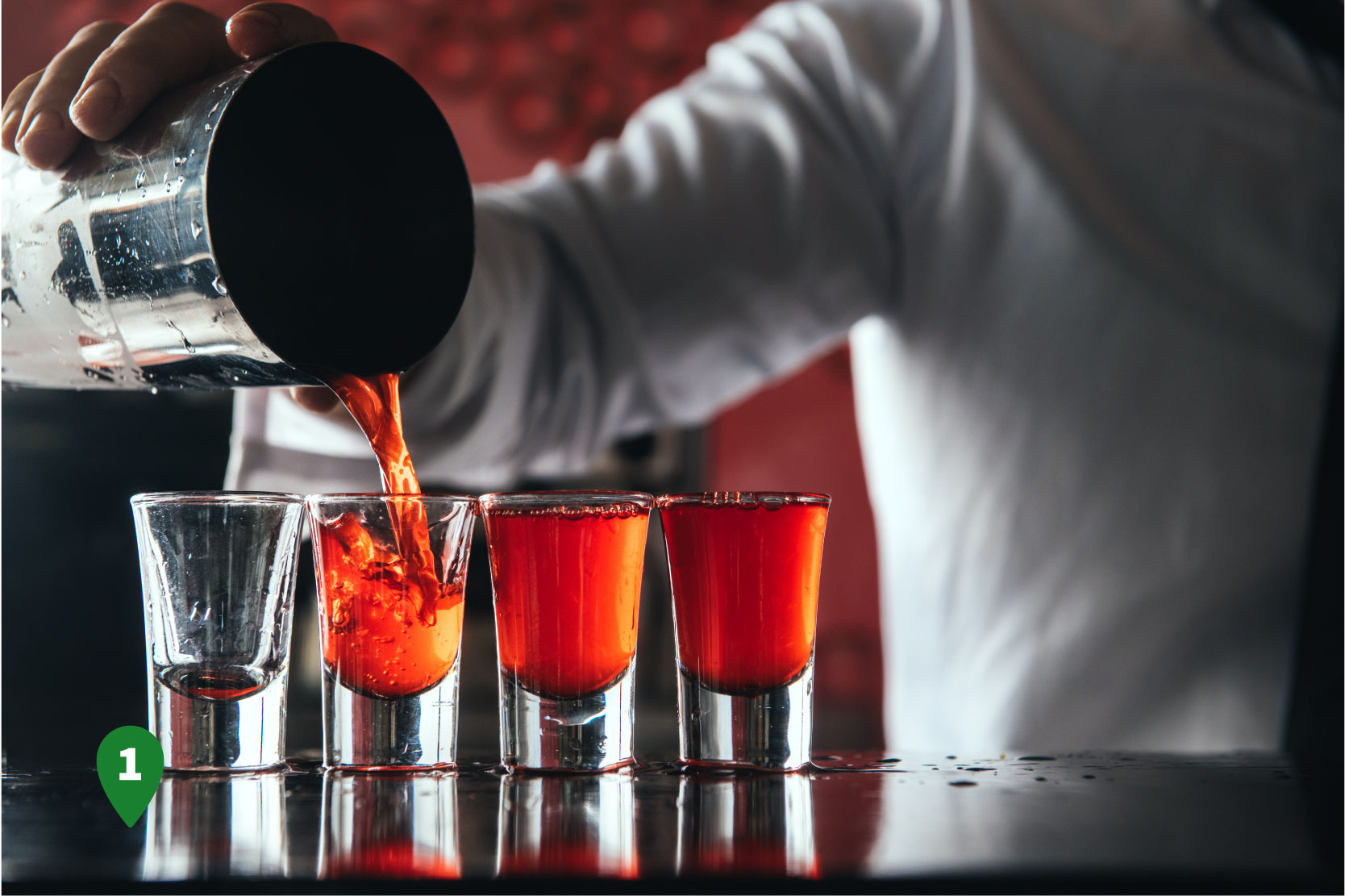 Thanks to its theme park roots, everything in Orlando is extensively themed—and that includes the bar scene. Take a shot at the aptly named Shots, which offers over 120 different types of shots. Stick with a classic lemon drop shot, or roast a marshmallow over a fire when you order their s'mores shot.
If retro vibes are more your thing, then head next door (and upstairs) to Joysticks Arcade Lounge. The barcade walls are lined with retro games, including pinball, Donkey Kong, and an N64, which are all free to play.
The drinks are themed to match, with each specialty cocktail having a retro root. And if you're looking for a challenge, try your hand at their Game of Thrones challenge—seven shots for seven kingdoms. If you win, you'll get to sit on the Iron Throne.
Get Some Culture at Dr. Phillips Center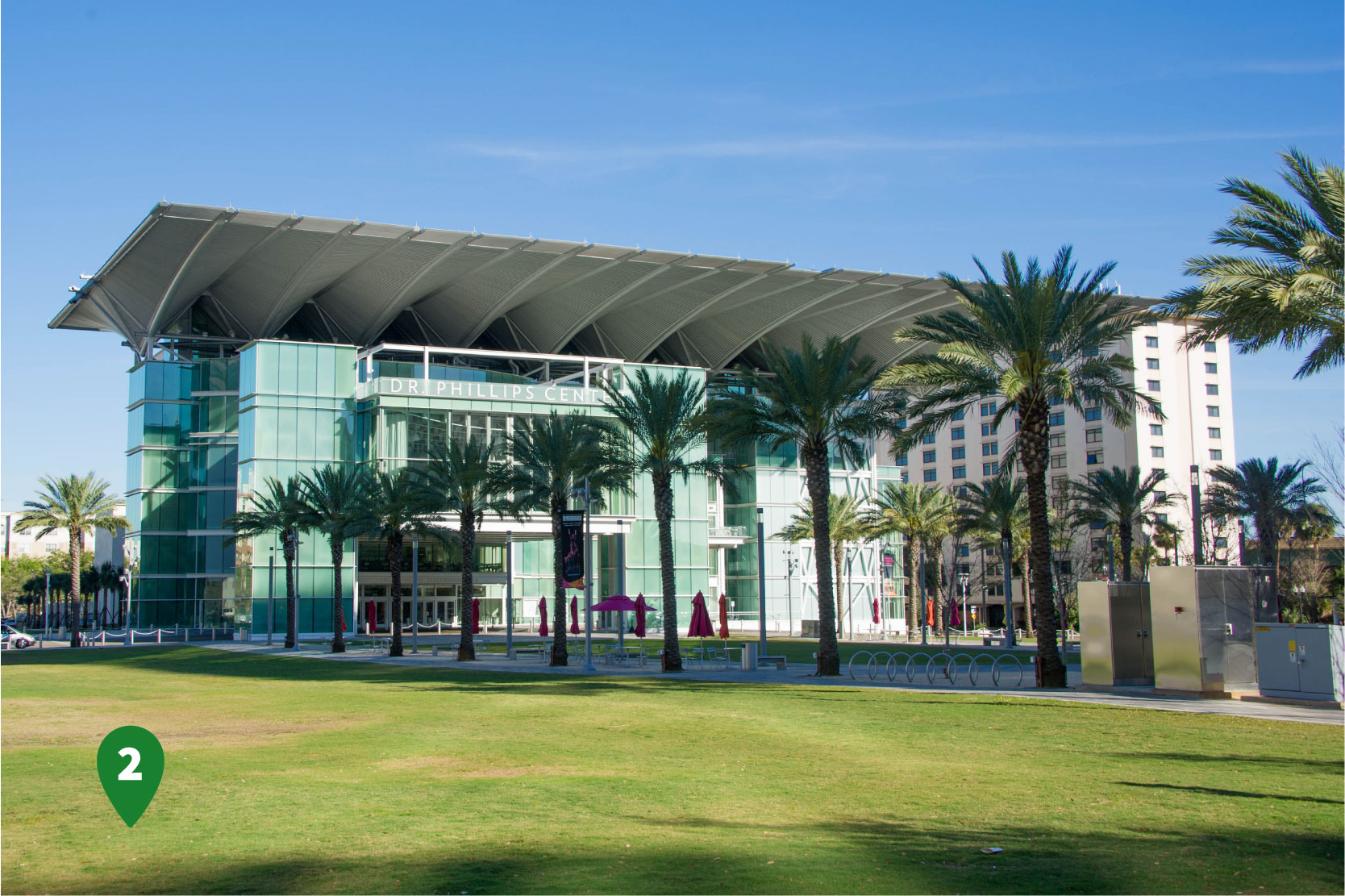 Dr. Phillips Center is composed of several theaters and serves as Orlando's performing arts center. Broadway shows, musicians, and comedians have all graced one of the stages at Dr. Phillips Center.
Past performances include the band Incubus, comedian and actor Tim Allen, and touring productions of "Hamilton" and "Les Miserables." The two-story center makes for a classy, culture-filled date night. Dress to the nines and head in early to grab a drink or take part in their pre-show dining experience, an all-inclusive buffet with live piano music.
Go to a Concert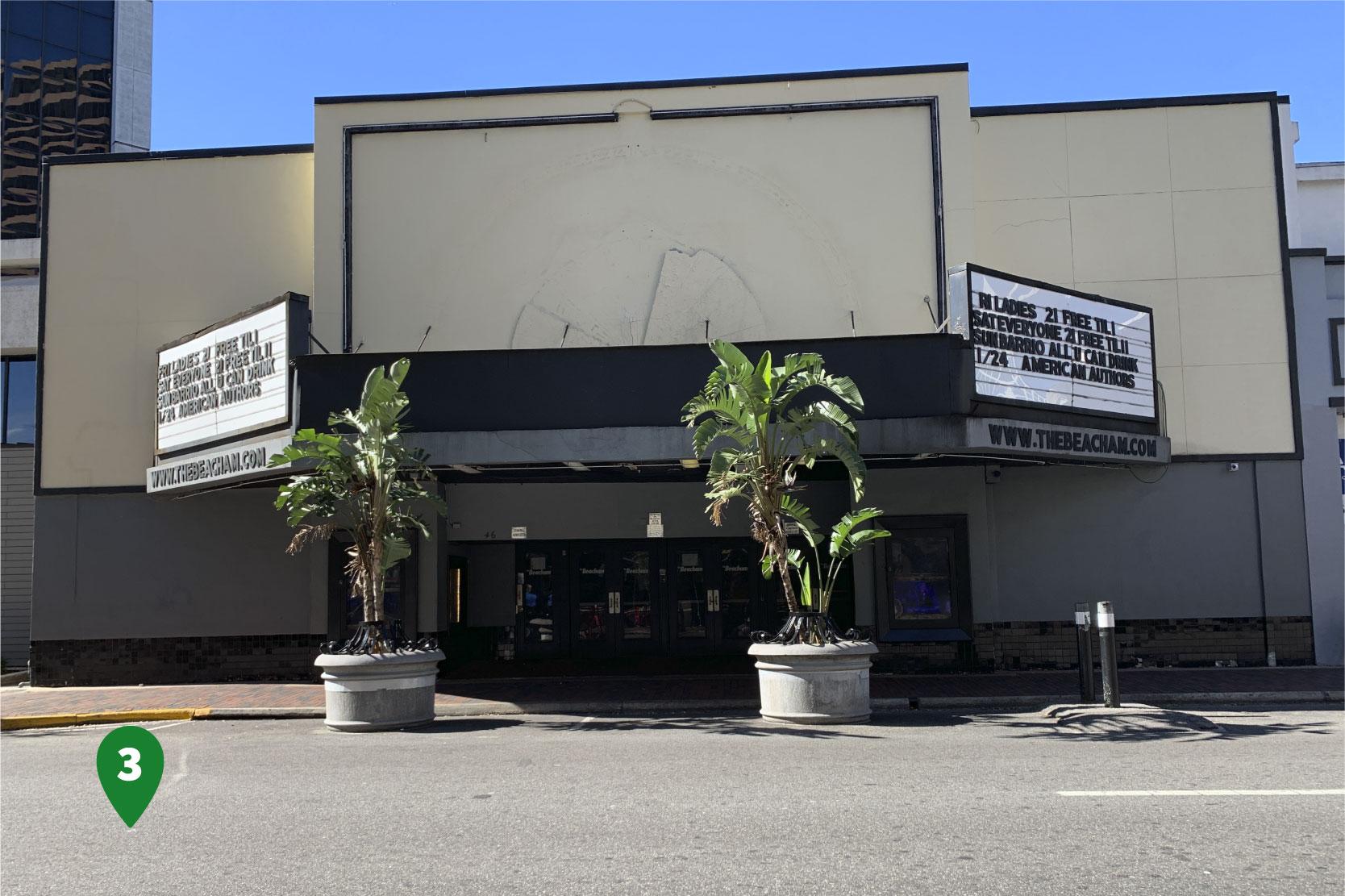 Orlando's music scene is thriving, with three concert venues located in the heart of Downtown. The recently renovated Soundbar offers a variety of shows, with a range of local and touring artists from a wide range of genres.
The Social, located just a few blocks away, offers a low-key concert experience, with lo-fi and alternative acts often taking the stage. Just a street over, find The Beacham, which offers a larger venue perfect for EDM, rock, and pop acts. And once the show is over, The Beacham comes to life again, transforming into a nightclub.
Head to a Game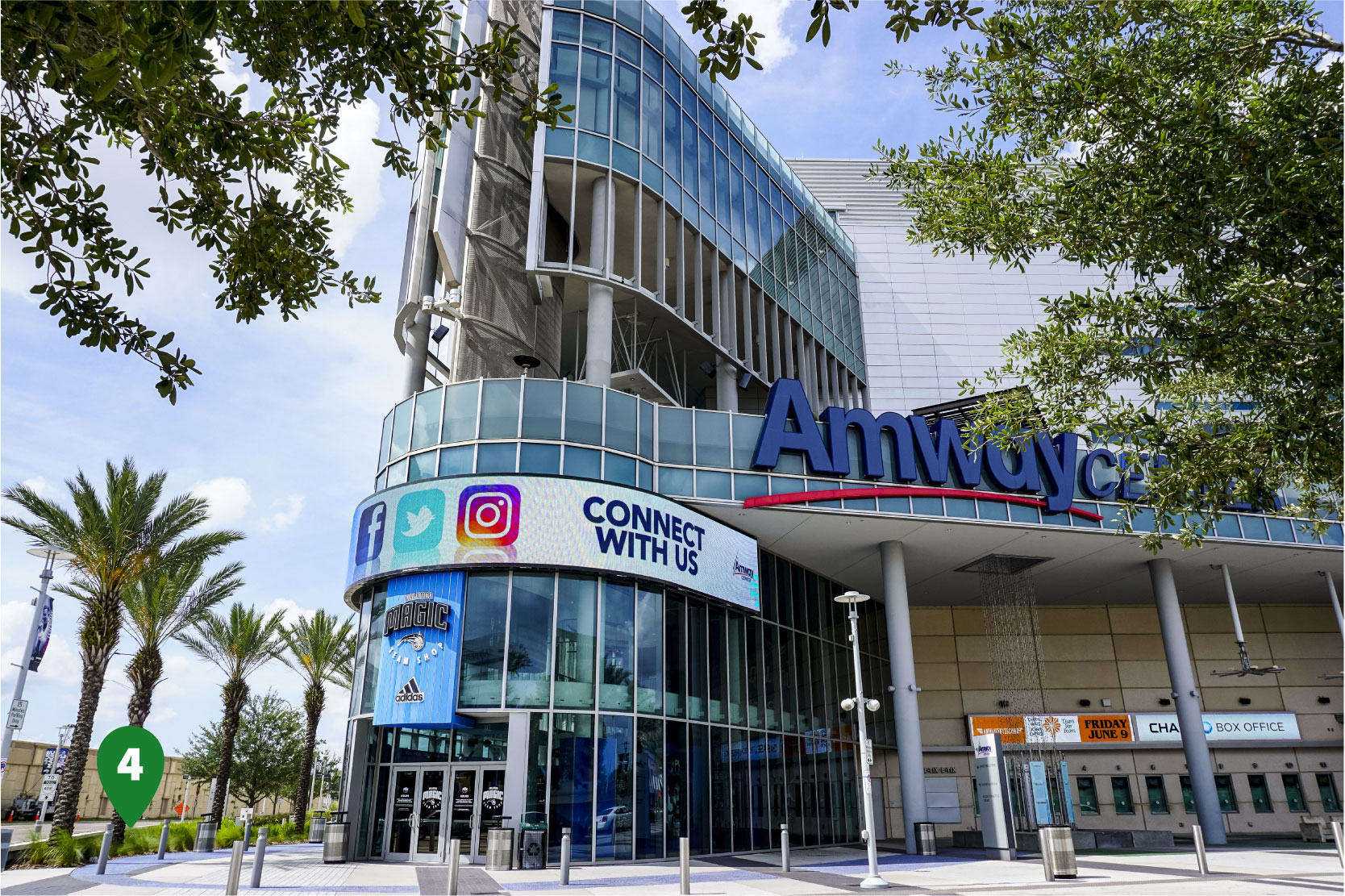 While Orlando may be synonymous with cartoon mice, fairy tale castles, and humidity, its sports teams are quickly establishing themselves as the ones to beat. Catch the Magic, Orlando's professional basketball team, at the Amway Center. Just don't expect to watch too much of the game—the team mascot, Stuff the Magic Dragon, often steals the show.
If you're looking for an outdoor experience, head over to the Exploria Stadium to catch either the Orlando City or Orlando Pride. Both teams have quickly made a name for themselves, with Orlando City being the No. 1 playoff seed for the 2020 season.
Check Out the Craft Brewery Scene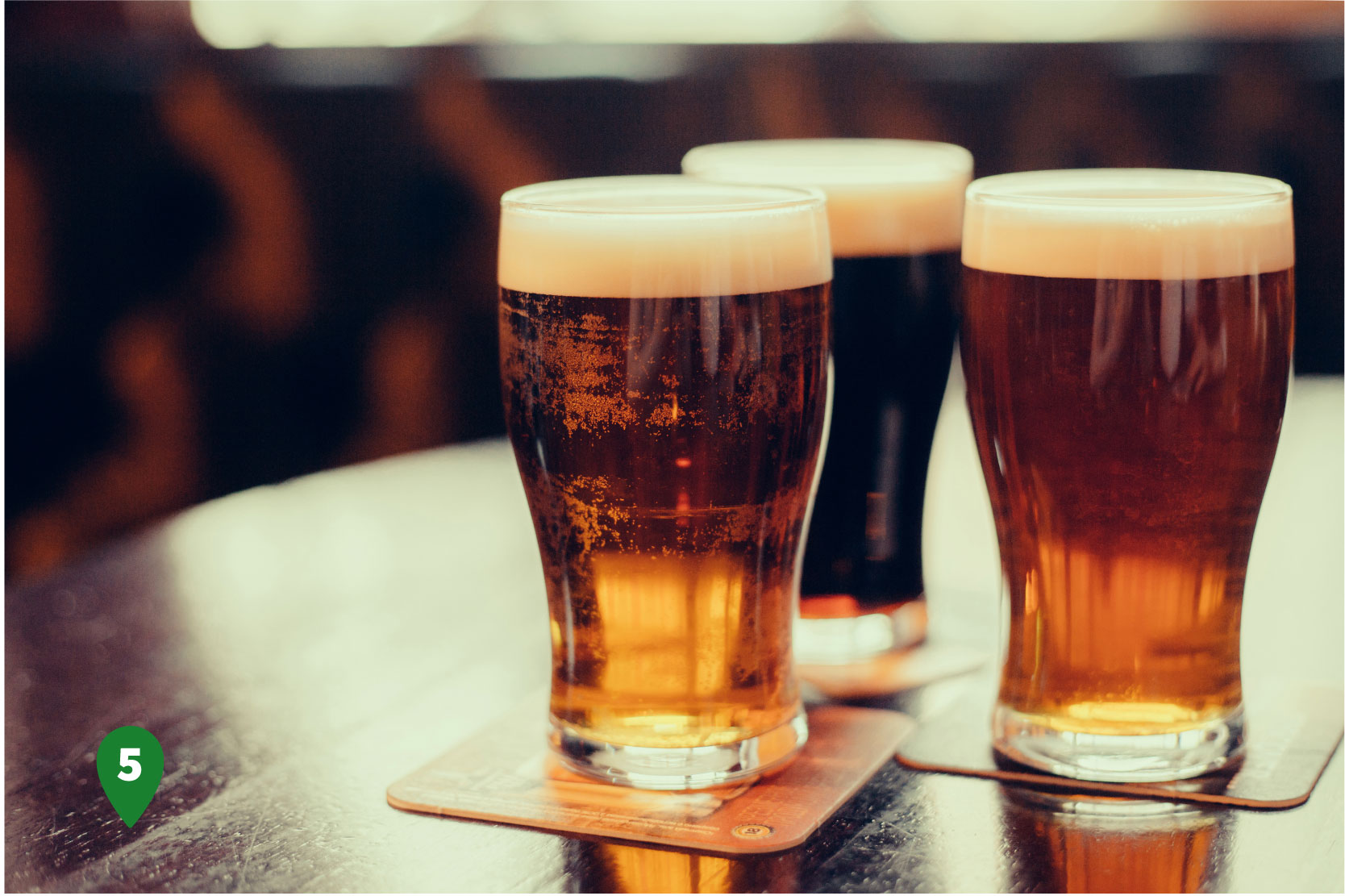 Orlando's craft brewery scene is booming, and a number of these breweries are located just a short walk away from Downtown. After catching a game at Exploria Stadium, head to Broken Strings Brewery, a rock-themed brewery known for its impressive dessert stouts.
Or, head over to Ivanhoe Village, a short 20-minute walk from the heart of Downtown, to visit Ivanhoe Brewing, Ten10 Brewing, or GB's Bottle Shop. All offer an impressive variety of taps sure to satisfy every beer snob.
Grab a Bite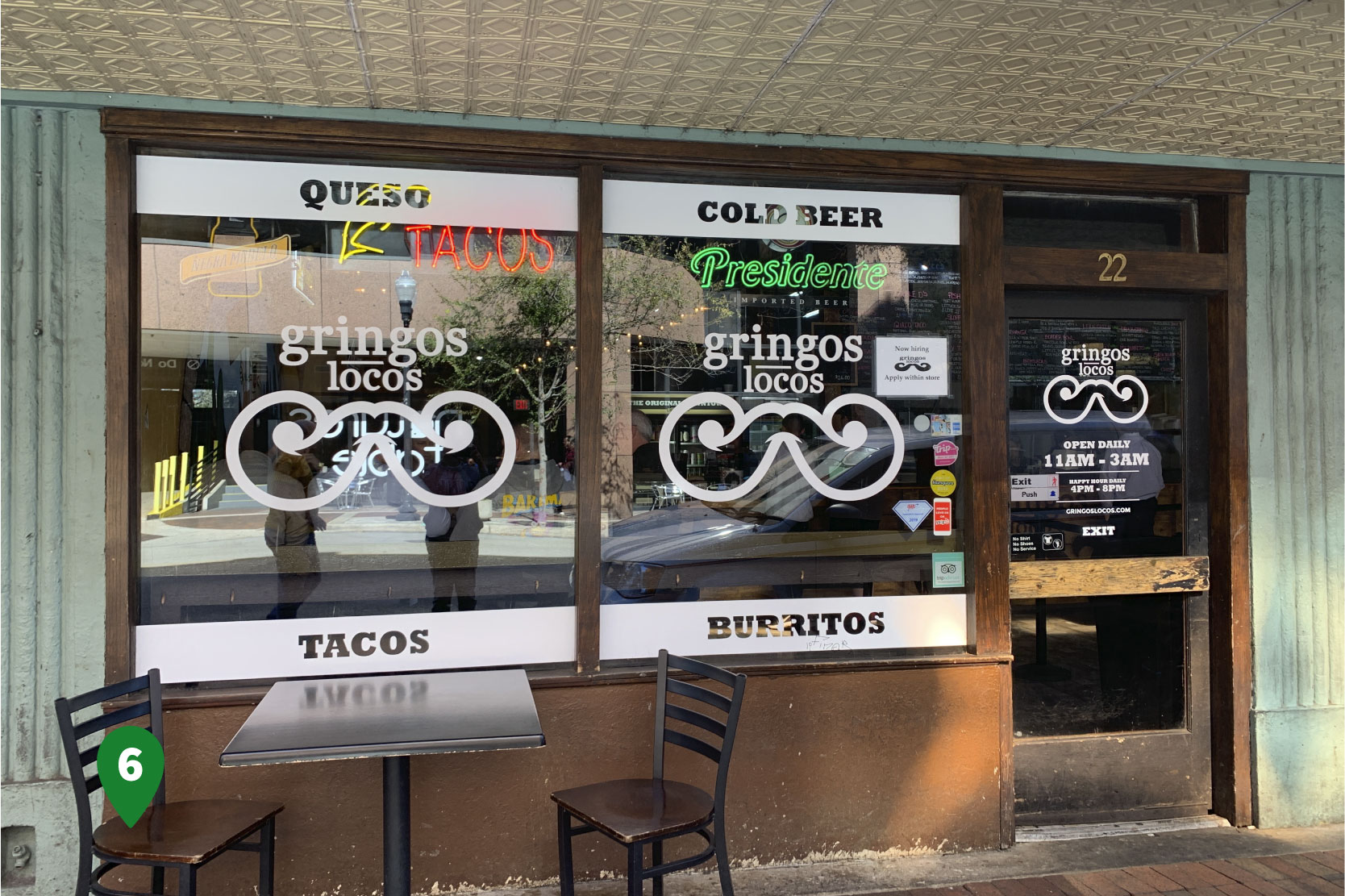 Downtown Orlando has a diverse dining landscape, whether you're craving tacos, a hot dog, or late-night gourmet. Stop by Gringo's Locos, open until 3 a.m., for a decadent late-night taco, or visit Gitto's Pizza, open until 3:30 a.m., for a slice.
If you're looking for a meatless dish, check out the Vegan Hot Dog Cart, an Orlando staple. And if you're craving something sweet, salty, and everything in between, visit Swan City Bagels located inside Eola General, who recently launched a late-night menu.
Get a Block Party Experience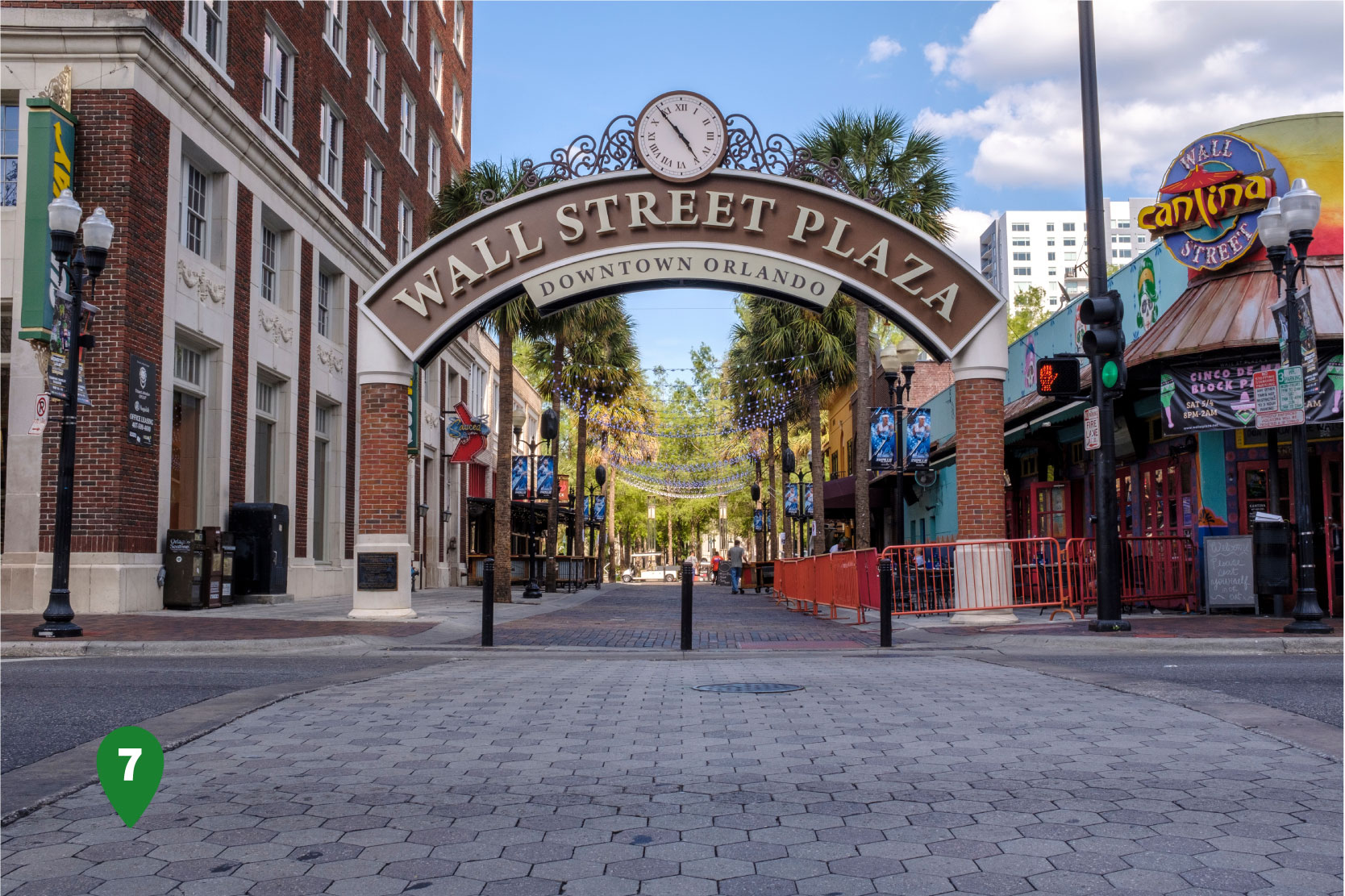 Head to Wall Street Plaza for a block party experience. One cover fee gets you access to seven different venues. Hooch, a former moonshine warehouse, is a great place to eat, drink, and dance the night away.
Catch a wave at Waitiki, a beach bar with specialty cocktails. Or test your luck at Sideshow; spin the shot wheel, and chance will choose your drink for you. Block parties happen every Saturday and Sunday and are often themed for holidays and events.
Watch Lake Eola Come Alive at Night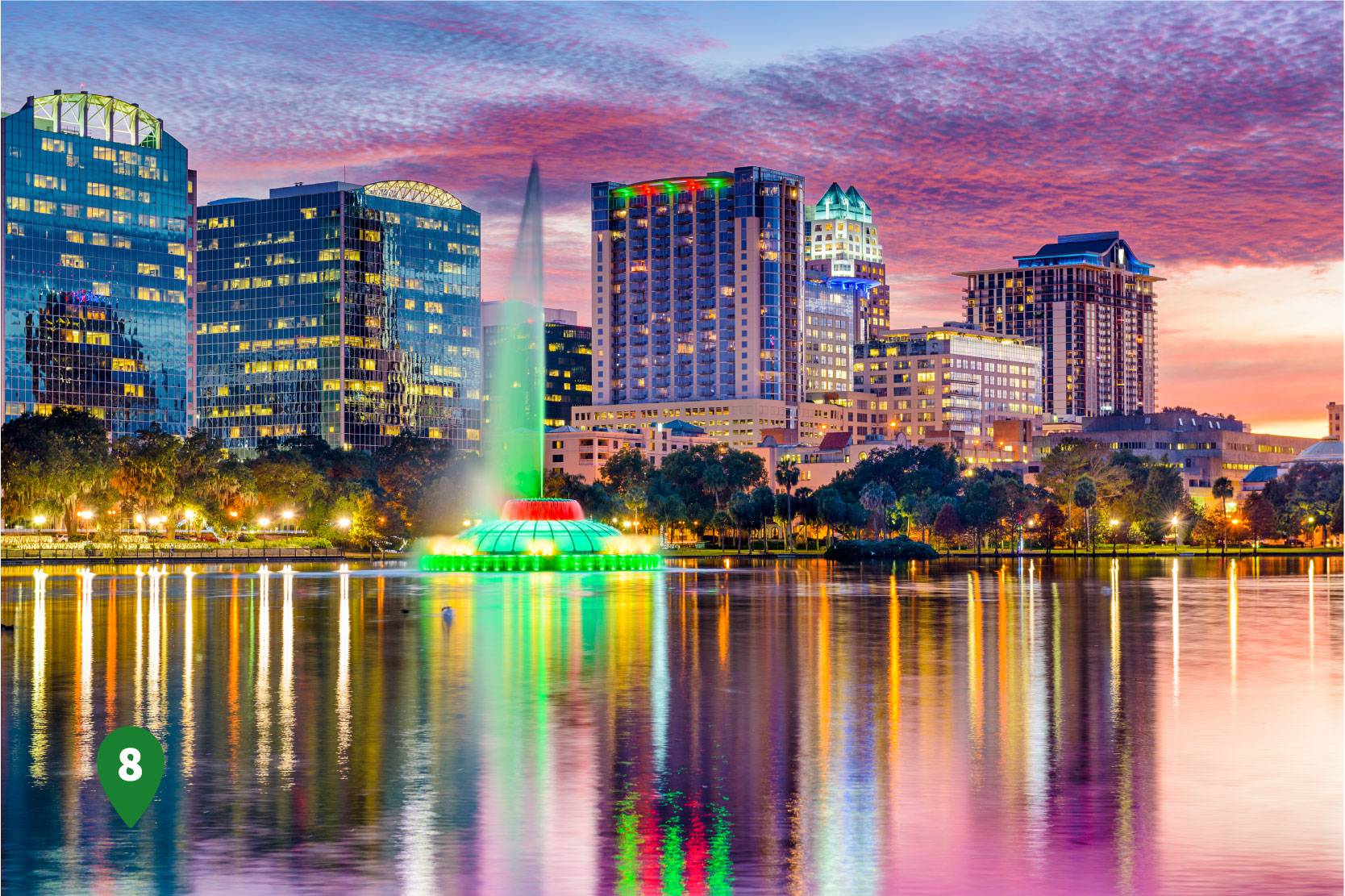 Lake Eola is the heart of Orlando. It's why the city's flag is a fountain, and it's why so many local businesses incorporate "swan" into their title. This peaceful, serene park transforms once the sun sets, becoming a beautiful destination that provides a breathtaking view of the Orlando skyline.
At night, the fountain comes to life with beautiful multicolored lights. Grab a drink and relax at any of the restaurants that line the lake, including World of Beer, Relax Grill, and Aku Aku Tiki Bar.
Celebrate the Holidays Year-Round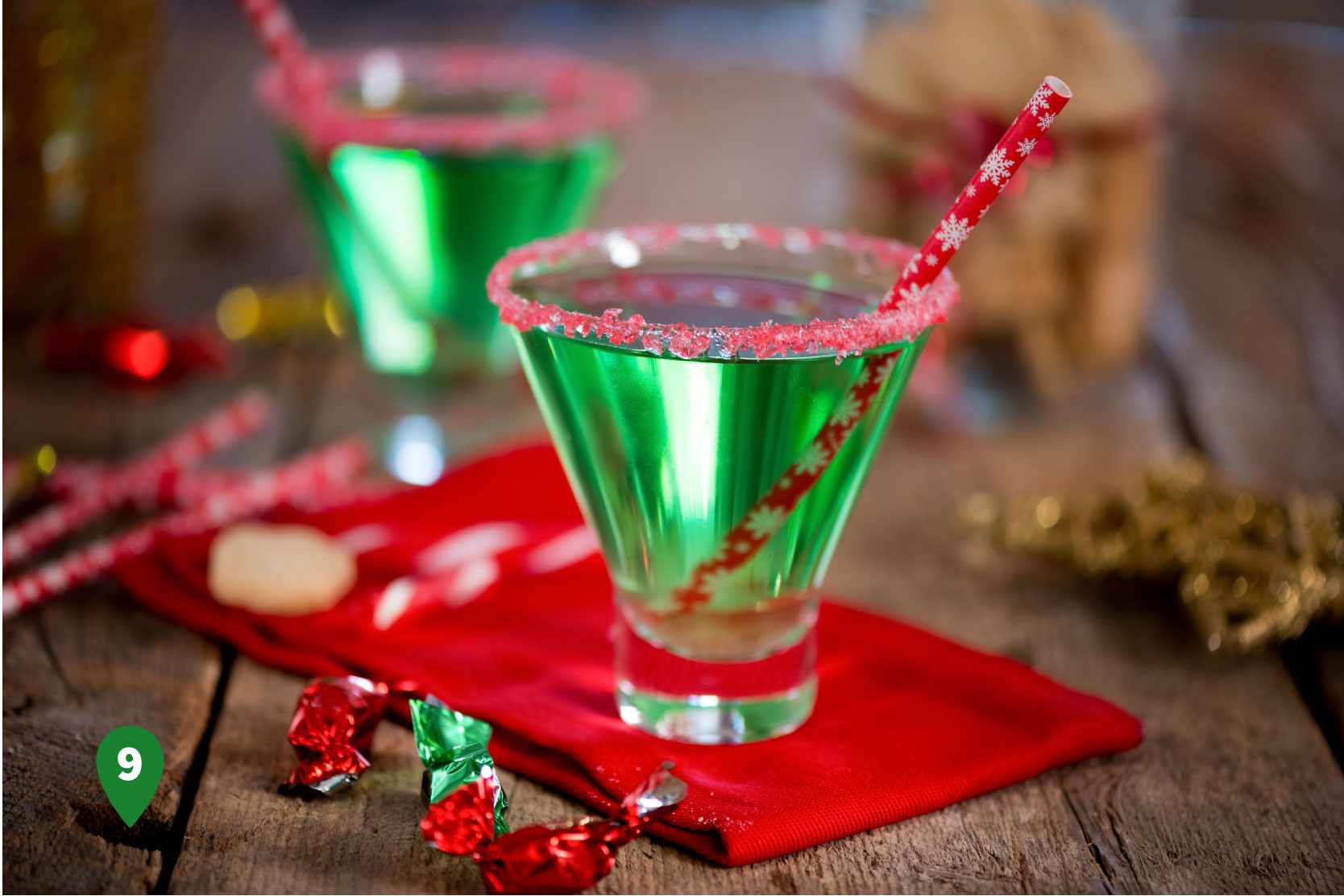 In Downtown Orlando, eggnog or pumpkin spice lattes seasons last forever at the neighborhood's holiday-themed bars.
At Frosty's Christmastime Lounge, it's Dec. 25 every day with stockings hanging behind the bar, "snoap" falling down while you cozy up with one of their four holiday-themed shots, and lights strung over the bar. Work your way through one of the seasonal boozy snow cones while watching Christmas movies on an endless loop.
If you're more of a Halloween person, walk a few blocks down to Cocktails & Screams. This blacklight-lit bar feels like stepping into a Tim Burton film, with live performers crooning spooky tunes as Morticia Addams and Elvira roam the dance floor. Ordering becomes a spectacle in itself, with smoking drinks and severed eyeball appetizers. Just be prepared to wait—people are dying to get in.
Have a Night at the Museum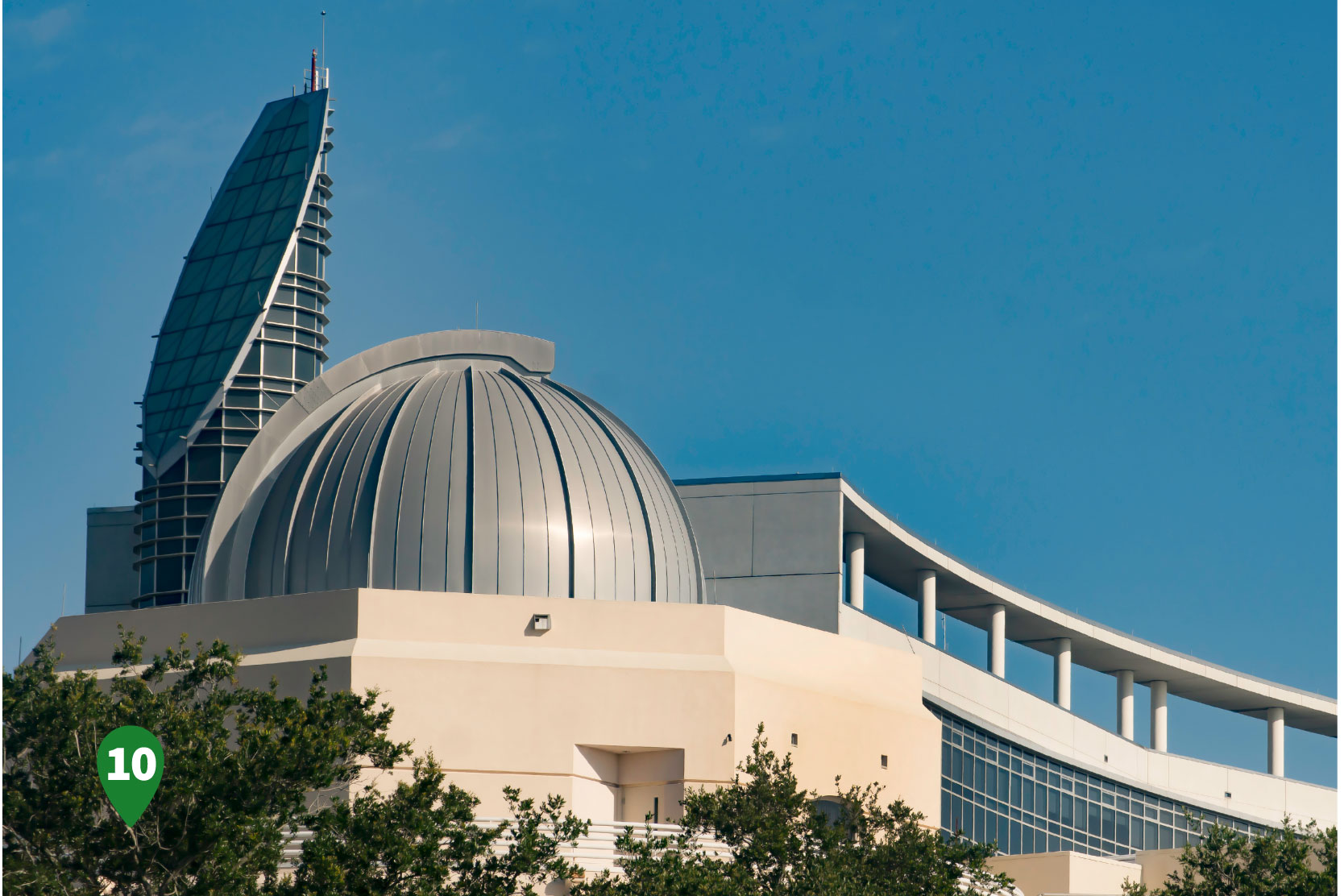 During the day, the Orlando Science Center is a great place to take the family to learn about the wonders of the world around us. But once in a blue moon, it turns into every science lover's dream. This 21+ event is a great way to bring out your inner Bill Nye.
Participate in mad-scientist experiments, explore the latest exhibit, try your hand at trivia, and unleash your inner child —all with a drink in hand. Each Science Night Live features a new theme, meaning no two events are the same.