Dallas-Ft. Worth Local Life
10 Things to Do in Fort Worth at Night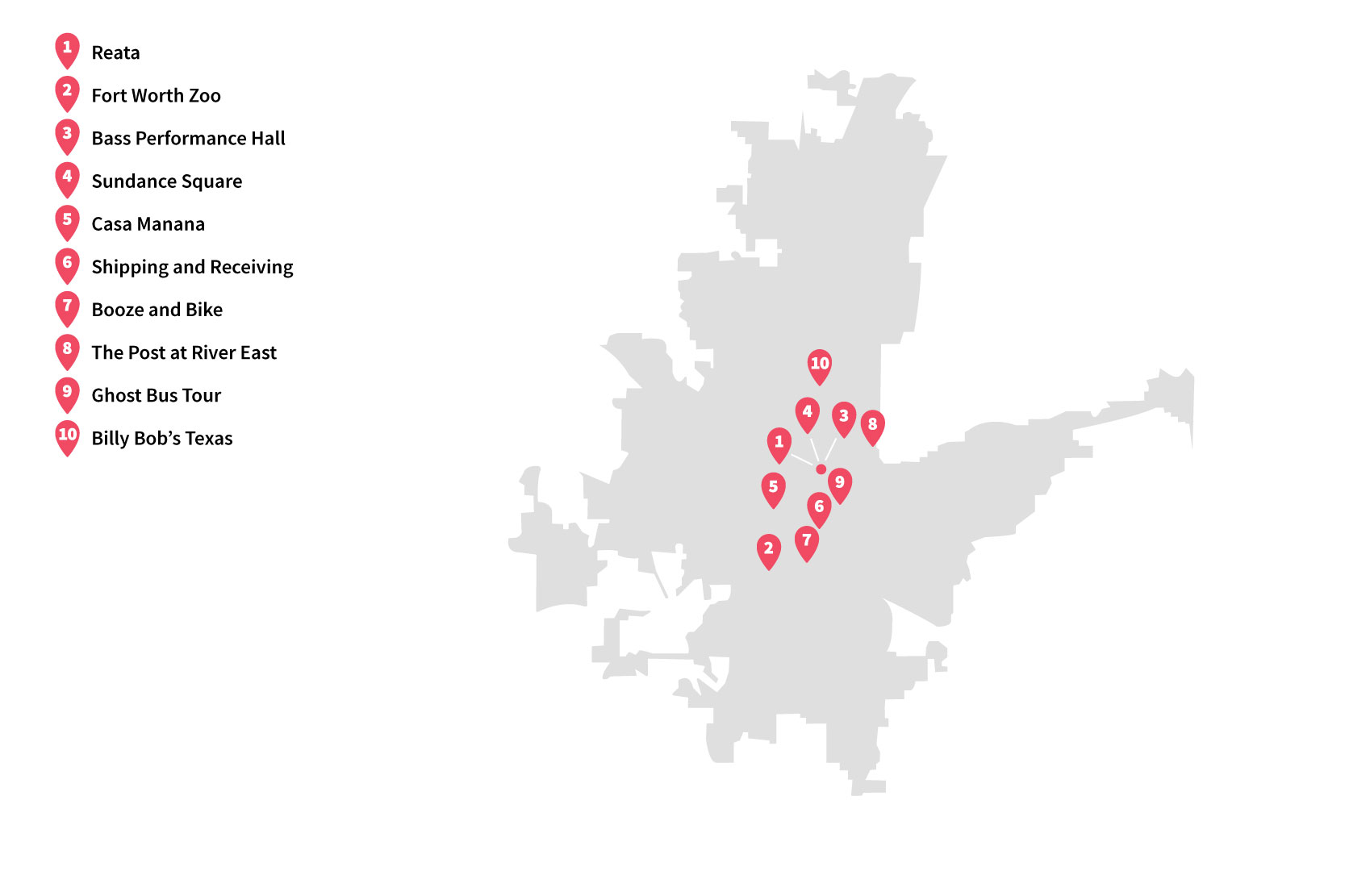 Fort Worth is often in the shadow of Dallas, its larger neighbor to the east. Even though Dallas has more events, that doesn't mean that Fort Worth has nothing going on. In fact, Fort Worth is a fun city in its own right.
If you live in Dallas and have never explored your sister city to the west, it's worth taking a short trip to check it out. When you're looking for something enjoyable to do on a night out in Fort Worth, you don't have to look very far. Here's a list of some of the best things to do in Fort Worth at night.
See the Stars at Reata
The Reata restaurant is a Fort Worth institution. Serving classic Texas cuisine like steaks and stacked enchiladas in a modern Western atmosphere, the Reata is a great place to enjoy dinner. But perhaps the biggest star of the Reata is the view. Whether you sit indoors and look up through the glass dome or dine on the rooftop patio, you can enjoy the stars.
Enjoy Special Events at the Zoo
The Fort Worth Zoo is not just for kids: it's a fun place for adults to visit, too. Most of the events usually take place during the day, but the zoo offers special events at night (like an anti-Valentine's Day dinner) where dressy attire is required. It's fun to hang out at night among canopies of trees and charming animals.
Be Seen at the Bass Performance Hall
Dress to the nines and come see Fort Worth's classy side at the Bass Performance Hall. The hall serves as the performance space for cultural events such as the Van Cliburn International Piano Competition, the Fort Worth Opera, the Texas Ballet Theater, and other touring shows.
Built to look like a European opera house with giant angel sculptures outside, the inside is just as glamorous. The acoustics are perfect, so every show will have exquisite sound. Fort Worth has a reputation for being "cowboy casual" but you won't find any of that here.
Hang Out in Sundance Square
Sundance Square is Fort Worth's walkable 35-block entertainment district in the heart of Downtown. Find a place for dinner, shop at boutiques, or watch live performances.
Don't forget to stop for a doughnut and a beer at FunkyTown Donuts and Drafts. The Water Gardens are free and are a romantic spot to wander. With so much to do in 35 blocks, you could spend every weekend in Sundance Square for a year before you did everything.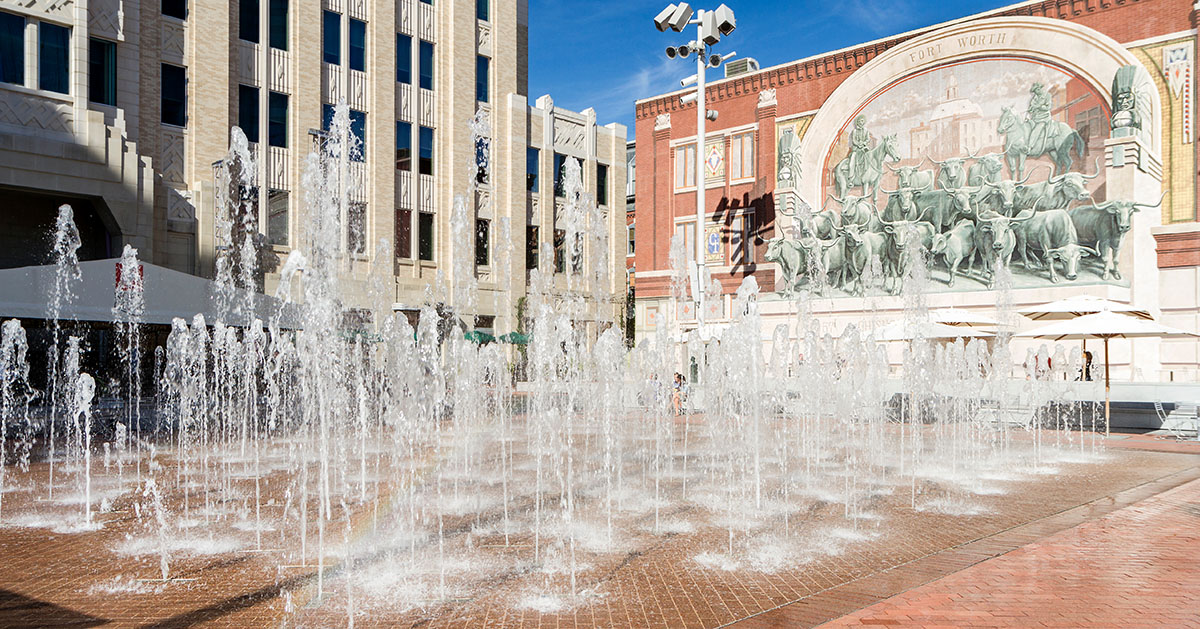 Take in a Show at Casa Manana
Enjoy a show at Casa Manana. Located in the Cultural District since 1958, Casa Manana is a fabulous venue under a funky silver dome where there's not a bad seat in the house.
Many shows encourage audience participation, but you can also regularly get involved behind the scenes if that's more your style. From plays to musical performances, this community theater is a fun place to spend an evening.
Sing Karaoke at Shipping and Receiving
The Near Southside district is one of Fort Worth's most thriving neighborhoods to go off the beaten path. While you can choose from a number of independent coffee shops and eateries, you can also let down your hair a little.
The Shipping and Receiving Bar is a quirky little venue where you can relax and sing karaoke if the spirit(s) move you. It's also dog-friendly.
Booze and Bike Around Town
The Cowtown Cycle Party is one of Fort Worth's most unique things to do, and you'll hear lots of stories from people who say it's a blast. You can rent a power-assisted bike for 8-16 people, bring your own booze (no glass bottles or hard liquor, please), and tour the town.
Your tour guide will take you to some of the city's most interesting attractions. Don't know 8-16 people? Go on a Thursday or Friday night, when they have open seats and you can meet some new friends. Just make reservations two days in advance.
See Live Music at The Post at River East
One of the city's best venues for live music used to be the now-closed Live Oak Lounge. If you're wondering what happened to it, the owners opened a new venue called The Post at River East in the new and revitalized Race Street area.
It's still an intimate setting to catch both local and touring musical acts, as well as to enjoy a bite to eat. The patio area is fun and welcoming for families or couples alike.
Get Spooked on the Fort Worth Ghost Bus Tour
Explore some of Fort Worth's spookiest history, which rumor has it that the city has a lot of, considering how long the city functioned as the last outpost before heading west. The Fort Worth Ghost Bus is a 90-minute tour around Downtown and the Near Southside areas, with a tour guide offering interesting facts about haunted sites.
Even longtime residents may be shocked to discover some of the lesser-known histories about the city's dark past. Tours take place on Thursday, Friday, and Saturday nights at 7 p.m. and 9 p.m. Tickets are $25 each or $31 for the tour plus a cocktail.
Embrace Your Inner Cowboy or Cowgirl
No list of things to do in Fort Worth would be complete without a recommendation to visit Billy Bob's Texas. Whether or not you're a fan of country music and cowboy culture, this is still an experience everyone in Fort Worth should have at least once.
This good old honky-tonk has cold beer, delicious brisket, live country music, pool tables, and of course, real bull riding. You'll enjoy seeing the handprints and autographed photos of country legends. Packages start at $51 per person.