Austin Local Life
4 Great Road Trips From Austin
The sheer size of Texas offers innumerable opportunities for residents to hop in their cars and embark on remarkable in-state adventures. If you're an Austinite, then your position in Texas' central region makes it very easy to explore all reaches of the state—and in this current era, when plane travel is at an all-time low, that's a massive asset.
These four road trips from Austin range from brief afternoon excursions to expansive quests, and they all provide scenic views, plenty of exciting stop-off destinations, and a chance to really take in the majesty of the Lone Star State.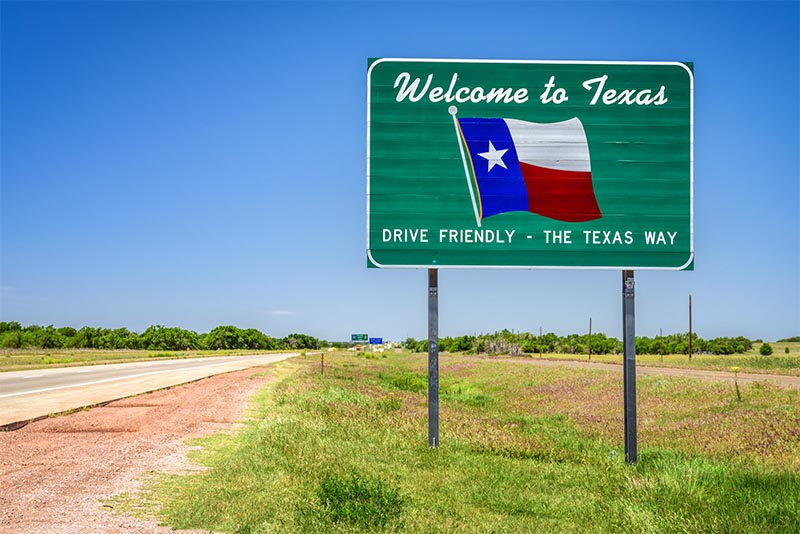 El Camino Real de los Tejas
Drive Time: 4 hours
A historic 18th-century trading route that passes through Austin before heading south to Mexico, El Camino Real de los Tejas gives adventurers plenty of options for customizing their preferred road trip path. This trip can be a quick drive or a multi-day excursion, depending on how much of the trail you want to cover.
El Camino Real de los Tejas includes four stretches of trail, each spanning a different section of the state: South Texas (ending at the Mexican border), San Antonio-Goliad (passing through the city of San Antonio), East Texas (passing through Houston and ending at the Louisiana border), and Brazos, which includes Central Texas and runs through Austin.
The Brazos section of the trail connects to the San Antonio-Gollad and East Texas sections, so anyone starting the trail in Austin can easily head northeast or southwest. The San Antonio-Gollad portion is an especially scenic segment for those who appreciate Spanish architecture, and the entire drive from Austin to the end of the South Texas portion (which connects to the San Antonio-Gollad section) takes only 4 hours from start to finish.
The Texas Swiss Alps Scenic Route
Drive Time: 6-7 hours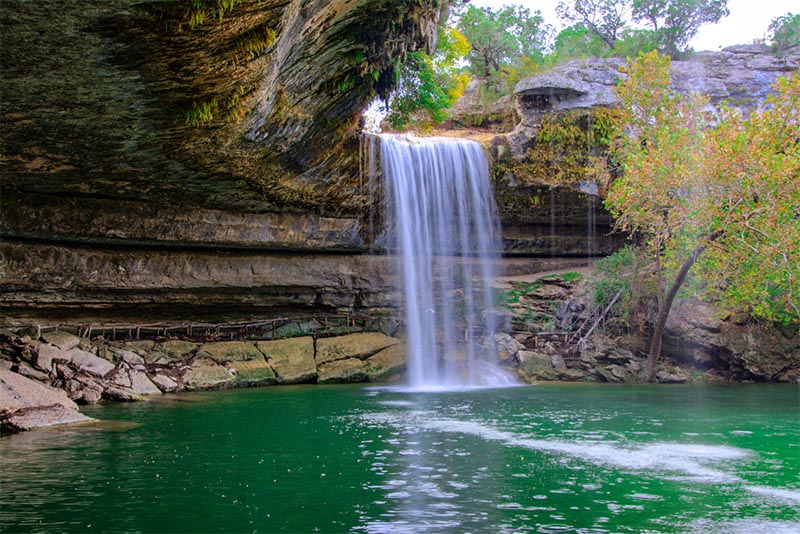 Looking for sweeping hilltop views and exquisite natural beauty with a healthy dose of Lone Star charm? The Hill Country road trip path commonly known as the "Texas Swiss Alps Scenic Route" will perfectly suit your needs.
From Austin, you'll head southwest through the Hill Country region (beloved for its picturesque scenery and its innumerable hot spots for Texas barbecue), passing through popular locales like Dripping Springs (home to many of Texas' most highly-regarded distilleries and breweries), Fredericksburg (Texas' "Little Germany" complete with Bavarian charm and hyperlocal sausage, schnitzel, and strudel), and Bandera, a town that proudly refers to itself as the "Cowboy Capital of the World."
When you reach Bandera, you can head west on Highway 16 toward Medina, then continue west on Highway 337 to Leakey, then loop back southeast via Highways 187, 470, and 16. This Bandera loop, which spans about 90 miles, gives you beautiful vistas of both the Medina River and the Sabinal River, along with the opportunity to head to the hill peak in Leakey, which rises about 2,150 feet above sea level and lets you scope out the entire Hill Country. The full trip from Austin to Leakey and then back home through Bandera takes between 6 and 7 hours to complete, making this a fantastic daylong adventure to enjoy as the Texas temperatures start to cool.
Enchanted Rock
Drive Time: 1 hour and 45 minutes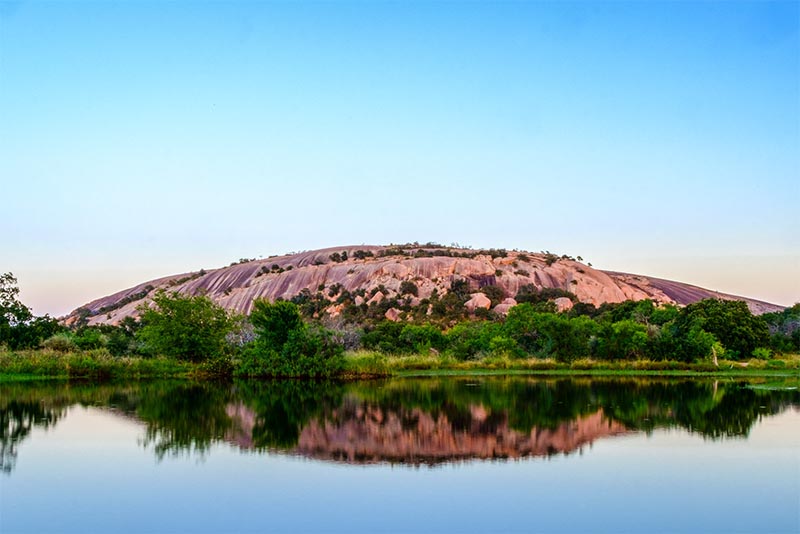 Outdoor activities like hiking, swimming, and fishing play a major role in the culture of Austin, so it stands to reason that one of the most highly trafficked road trip routes from the Texan capital leads to a natural park with abundant opportunities to indulge in active pursuits.
The road to Enchanted Rock leads through the northern sections of the Hill Country, including communities like Spicewood (home to scenic Lake Buchanan and the lush cypress tree groves surrounding it). After a drive that takes about 1 hour and 45 minutes, you'll reach the Enchanted Rock State Natural Area. Here, you can picnic, geocache, camp, birdwatch, and hike Enchanted Rock's 11 miles of trails.
Should you choose the latter activity, be sure to head to the park's namesake rock, which is in fact a layered "exfoliation dome" made from magma that existed there about 1 billion years ago. Hikers are welcome to climb to the top of the rock; the Texas Parks & Wildlife describes the ascent as "like climbing the stairs of a 30- or 40-story building."
Beach Drive To Galveston
Drive Time: 3.5 hours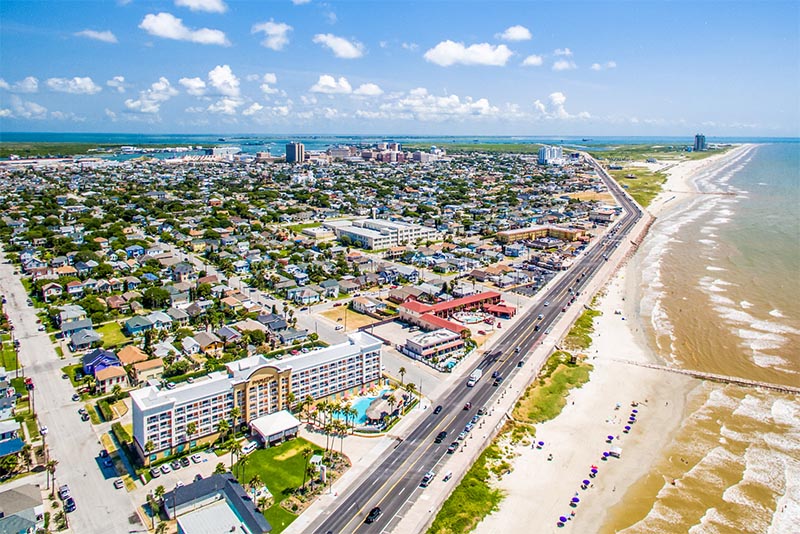 While Austin is, without question, a metropolis defined by natural beauty, the fact remains that Central Texas is a landlocked region. Austinites figure out ways to work around their distance from the ocean (largely assisted by the rivers and lakes scattered throughout the area), but when a hankering for fresh sea air comes upon them, they have no choice but to head for the coast. Luckily, the drive from Austin to Galveston, a beachfront city on the Gulf of Mexico, takes about 3.5 hours each way.
Drivers will head east on Highway 71, which then connects to Interstate 10. I-10 will ultimately lead to a perfect spot for a mid-drive break: The city of Houston (home to many renowned restaurants, local breweries, and public parks) is ideal for stretching your legs. Next, you'll get onto Interstate 45, which charts a direct southeast path to Galveston. Galveston Island is home to over 30 miles of shoreline, so you'll have plenty of options for your beach excursion.