5 Chicago Suburbs With the Best Downtowns
5 Chicago Suburbs With the Best Downtowns
Living in Chicago can be expensive, and, let's face it, sometimes it's stressful. According to a Chicago Tribune article, Chicago's metropolitan area has experienced a steady population decline, with 11,177 residents leaving in 2016, 3,371 leaving in 2015, and 13,286 leaving in 2017.
Meanwhile, many suburban areas are seeing a population increase. While there's no single reason for this apparent exodus to the suburbs, Chicago's high cost of living, heavy taxes, traffic woes, and seemingly endless amounts of construction could cause enough frustration to warrant a relocation.
For those urbanites who want to move but dread the suburban lifestyle, you're in luck. The area surrounding Chicago is home to a number of suburbs with their own urban feel and lively downtowns. Also, the extensive Metra train lines can help suburban homeowners get in and out of the city without developing a bad case of road rage.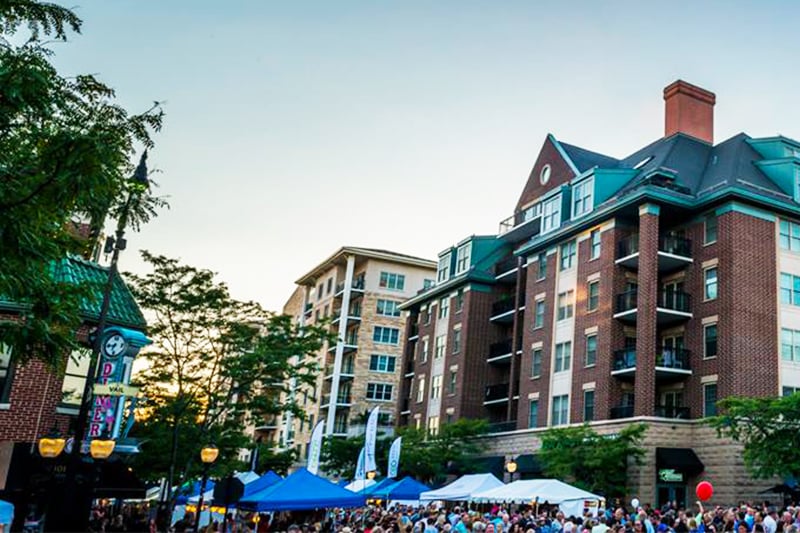 Located 25 miles northwest of downtown Chicago, Arlington Heights may be best known as the former home of the Arlington Park Racetrack. The community has a charming downtown that residents don't want to leave, and the population has been fairly stable since 1990, according to statistics from the U.S. Census Bureau. And while the population is stable, its downtown center is seeing more activity than ever.
Charles Perkins, director of planning and community development, told the Daily Herald that the influx in activity in downtown Arlington Heights is a result of a strategic long-term plan that is finally taking shape. The village adopted a downtown master plan in 2007, which sought to increase density in order to create a more cultural and urban suburb feel. The suburb hosts year-round art festivals, summer concerts, food festivals, and much more.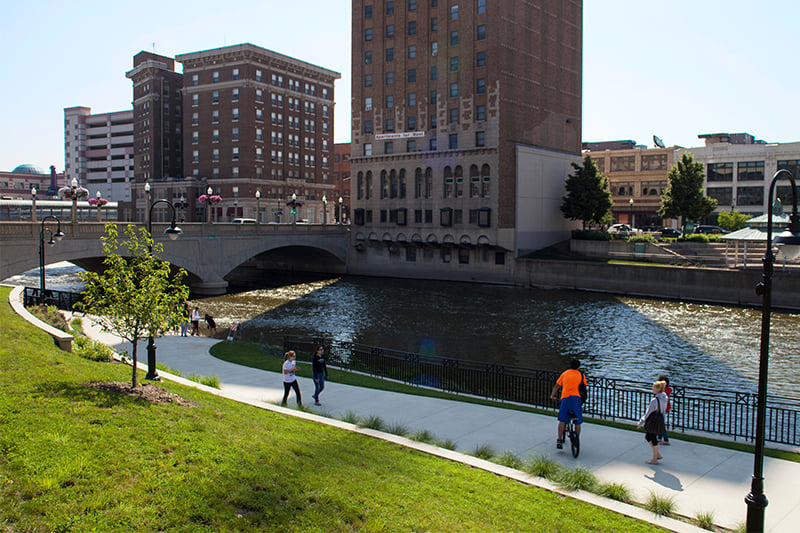 Often overlooked due to its neighbor Naperville, Aurora is home to about 200,000 people, according to the U.S. Census Bureau. Downtown Aurora overlooks the Fox River, and it's the last Metra stop on the BNSF line. While the community may be best known as the home of Wayne and Garth from "Wayne's World," Aurora boasts an impressive arts and culture scene. It's also within arm's reach of multiple walking and biking paths, including the 45-mile Fox River Trail.
The Paramount Theatre is a local favorite for live music, and it regularly hosts free community events. During the summer months, RiverEdge Park and Millennium Plaza host locally and nationally recognized artists. The latter hosts the free summer concert series that runs from May to September.
The Two Brothers Roundhouse is a neighborhood staple. This full service brewpub restaurant serves noteworthy craft beer, regularly features live entertainment, and hosts a three-day summer festival.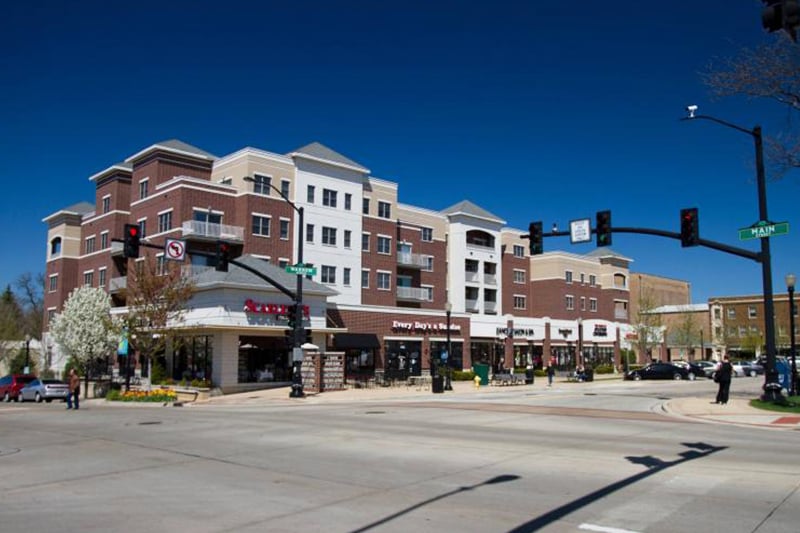 Downtown Downers Grove is the kind of suburban downtown where everyone knows each other. This urban center puts on regular events throughout the year, and local restaurants—like Emmett's Brewing Company and Mia's Cantina—provide residents with a variety of dining choices. Every fall, downtown Downers Grove also hosts an annual arts festival that's a popular event among locals and visitors.
Downers Grove's natural areas like Lyman Woods and Belmont Prairie offer walking paths, and the Forest Preserve District of DuPage County has a system of more than 145 miles of trails.
In June 2017, the Village Council adopted a new Comprehensive Plan for the development of Downers Grove over the next 15 to 20 years. The last updated plan was released in 2019.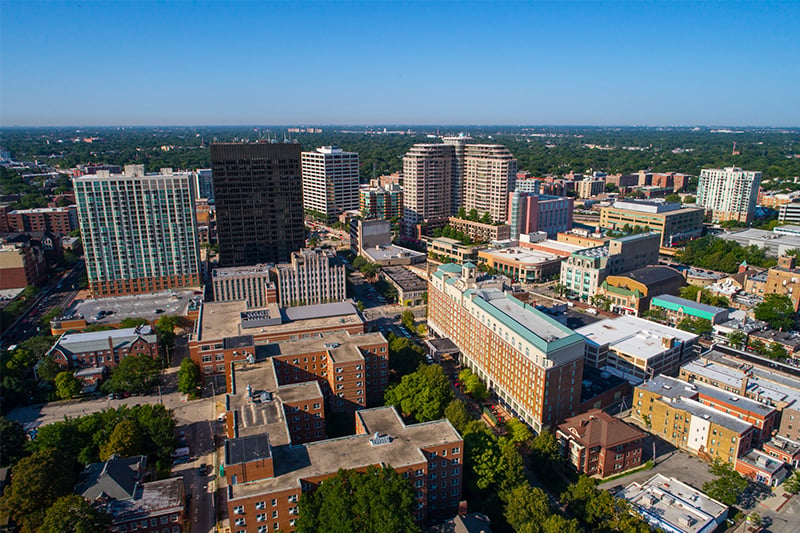 Located just 12 miles north of downtown Chicago, Evanston sits along the shores of Lake Michigan, and it's home to Northwestern University. The city was founded in 1863 and has a bustling downtown center as well as a park system with 76 parks, 50 playgrounds, and five public swimming beaches.
Cuisine is pretty diverse in Evanston, and some favorite local spots include Found Kitchen, Peppercorns Kitchen, and Terra & Vine. After grabbing a bite, it's easy to find some great entertainment. Music Theater Works, the Music Institute of Chicago, and Gather are a few places to spend the weekend.
Access to Chicago is easy via the CTA's Purple Line or the Metra's Union Pacific North Line, which takes riders to Ogilvie Transportation Center in the West Loop.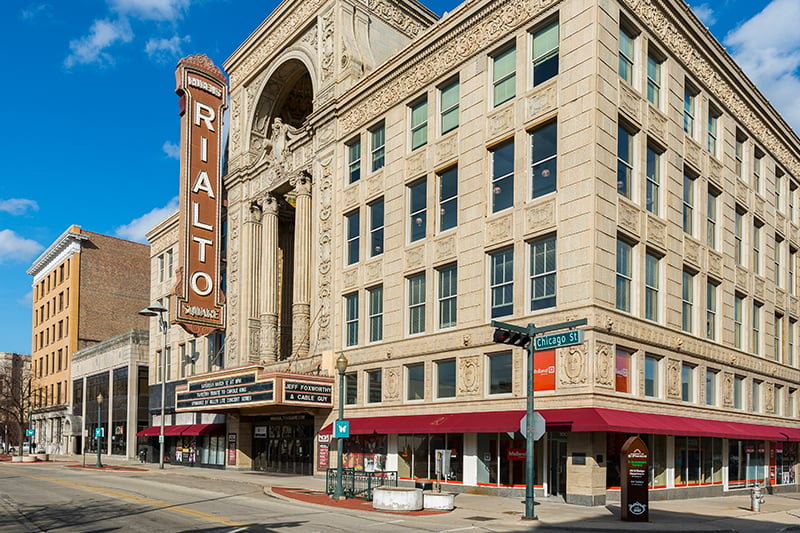 Joliet is located in the far southwest suburbs, about 40 miles outside of Chicago, along the historic Route 66. The city can be accessed by the Rock Island District and Heritage Corridor Metra train lines. In January of 2018, Joliet officials reached an agreement with the Will County board to help improve parking along Chicago Street in downtown Joliet with hopes of furthering development in the community, according to the Chicago Tribune.
The city is home to the Route 66 Raceway and the Chicagoland Speedway, which hosts NASCAR events. The historic downtown center hosts a summer farmers market, the Joliet Area Historical Museum, and the Rialto Arts District. Harrah's Casino and Rialto Square Theatre both bring in stand-up comedians and musicians throughout the year. In the summertime, locals can often be found catching a Slammers baseball game at DuPage Medical Group Field, located right in downtown Joliet.