6 Suburban Cities With Easy Commutes to Chicago
6 Suburban Cities With Easy Commutes to Chicago
With a diverse selection of local eateries, entertainment hotspots, and thriving neighborhoods, life in Chicago is vibrant and fast-paced (albeit a little crowded). On the other hand, the suburbs offer spacious homes with private backyards as well as an endless supply of restaurant chains and strip malls. While the excitement of downtown Chicago may appeal to some, there are those who prefer the tranquility of the suburbs.
Luckily, there's a way for people to enjoy the best of both worlds. Whether you're commuting into the city for work or play, some suburbs provide easy access to public transportation and also boast shorter average commute times. So if you're thinking about living in the suburbs and working in the city or vice versa, then check out these six suburban neighborhoods that have easy commutes to Chicago.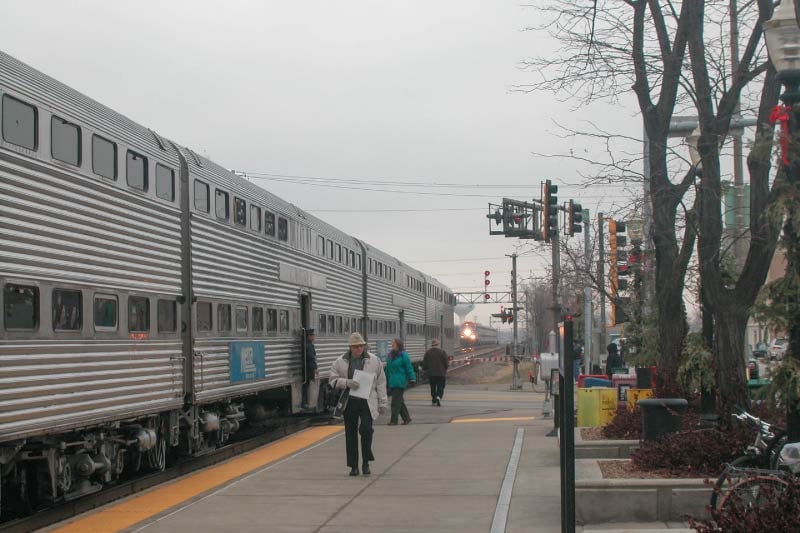 Known for its small-town charm, La Grange is a highly walkable community and a top transit suburb. According to a report from the Chaddick Institute for Metropolitan Development at DePaul University, La Grange made the number one spot on its "The 20 Top Transit Suburbs of Metropolitan Chicago" in 2012 partly due to its easily accessible La Grange Road Metra rail station.
La Grange also earned high marks due to the station's proximity to the town's amenities as well as the quality, service, and cleanliness of the station and platform. La Grange residents can bike, walk, or drive to catch their next train into Chicago Union Station, which run about every 30 minutes during peak rush hour. If you feel like hitting the road, average commute times into the city by car range from 23 minutes to slightly over an hour, depending on highway traffic.
Commute Snapshot:
Metra = 18 - 37 min
Car = 23 min - 1 hr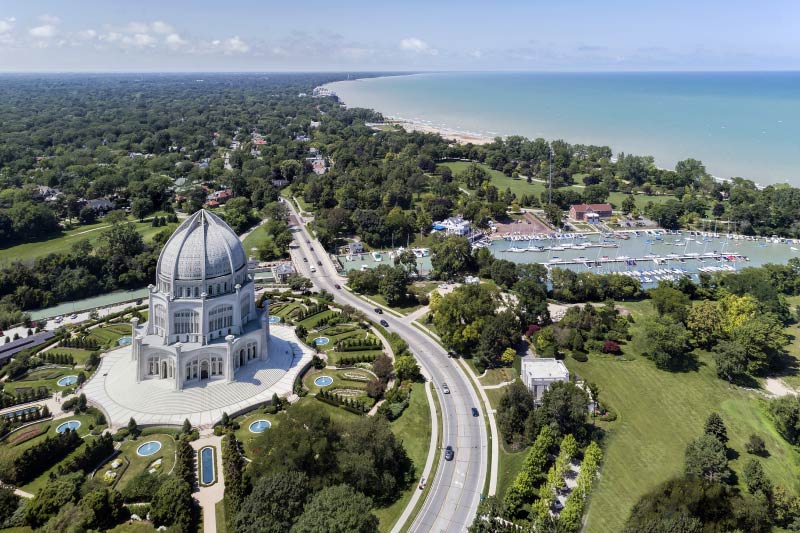 This lakeside suburb is famous for its beautiful homes, tree-lined streets, charming downtown center, and the Baha'i House of Worship, which is the oldest surviving Baha'i temple in the world and the only one located in the U.S. Wilmette is a train-friendly town with plenty of walking and biking trails connecting to its train stations.
With an average commute time of just 32 minutes as well as easy access to the Metra Union Pacific North Line, the CTA "L" Purple Line, and Pace Bus services, commuting to Chicago from this cultural suburb is a breeze.
Commute Snapshot:
Metra: 23 - 35 min
CTA Purple Line = 44 min (available during rush hour)
Car = 22 min - 1 hr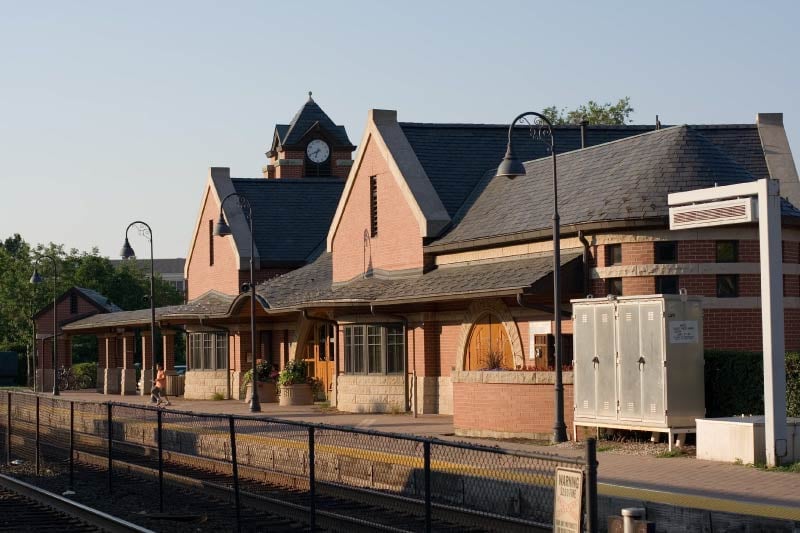 Ideal for people looking to have urban amenities without the congestion and inconvenience of Chicago, Glenview offers big-city vibes within a suburban setting. But if residents still need to head into the heart of the city, then commuting from Glenview isn't bad at all.
This suburb is about a half-hour commute to Chicago by train via Metra's Milwaukee District North Line or by car on Interstate 94. Other public transportation options include Pace bus service, offering eight routes that intersect the suburb as well as rush hour bus service to and from the Metra Glen of North Glenview train station.
Commute Snapshot:
Metra = 28 - 40 min
Car = 26 min - 1 hr 25 min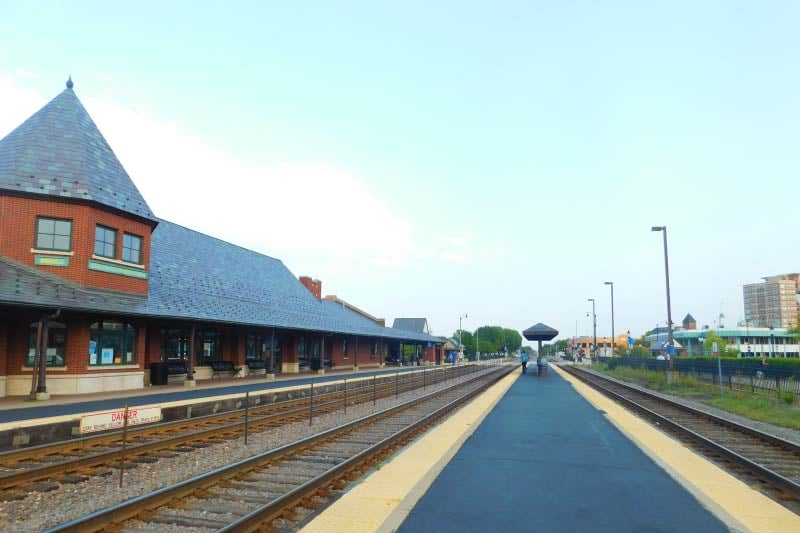 Those looking to escape the city for a bit can head to Arlington Heights to check out the horses at the Arlington Park Racetrack. Hopping on the Union Pacific Northwest Metra Line from the city's Ogilvie Transportation Center will take you to Arlington Heights in just 45 minutes, or if commuting by car on I-90 or I-290, about 35 to 50 minutes in light traffic. Arlington Heights is also one of the top train-friendly towns where residents can bike or drive to the station and enjoy regularly scheduled trips to and from the city.
Commute Snapshot:
Metra = 35 - 52 min
Car = 35 min - 1 hr 50 min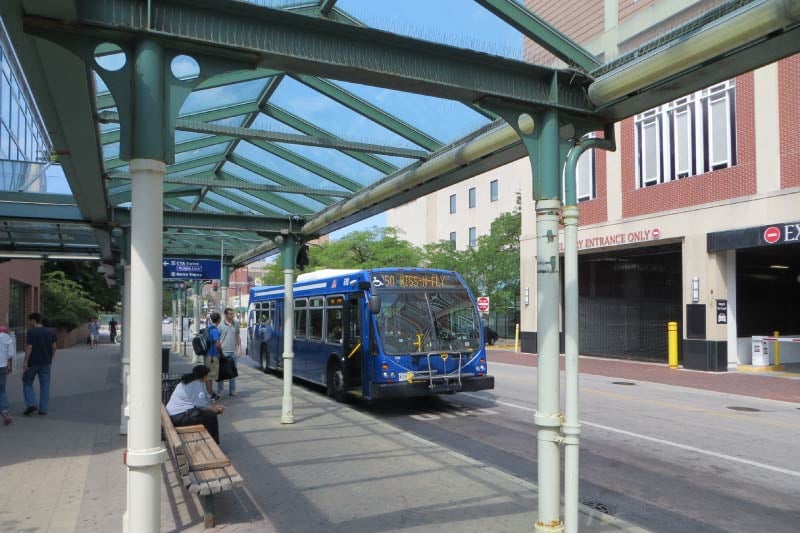 Getting from Evanston to Chicago is a breeze. Average commute times via car are about 30 minutes, and if you want to avoid driving into the city, there are plenty of public transportation options available. The CTA operates several bus routes throughout Evanston, connecting to CTA train stations including the Red, Brown, and Purple lines, which offer express train service to the Loop during rush hour periods. Metra also serves Evanston commuters traveling to Chicago on the Union Pacific North Line.
If you want to ride your bike to catch the train, you can also take advantage of Evanston's series of bike routes that offer bike parking near transit stations.
Commute Snapshot:
Metra = 17 - 28 min
CTA Purple Line = 38 - 40 min (available during rush hour)
Car = 26 min - 1 hr 10 min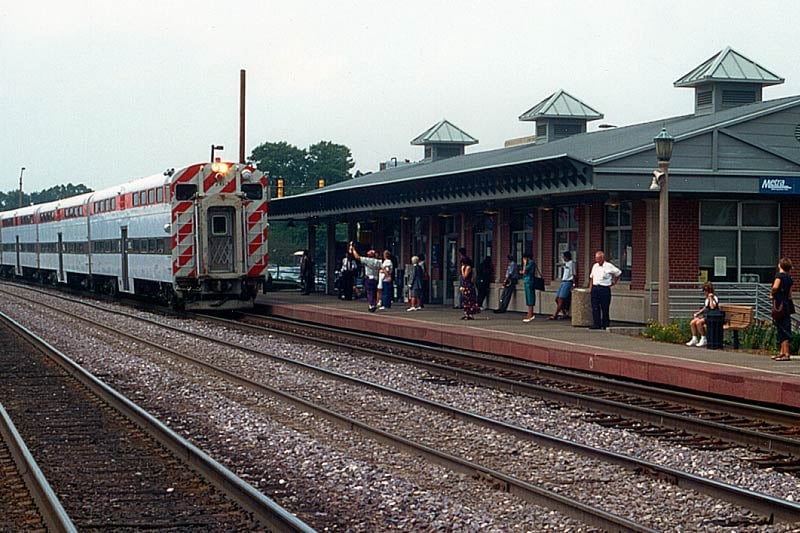 With an average commute time of 27 minutes, Elmhurst is a perfect place for people who want to live in a suburb and still have an easy commute into the city. Not only is the commute from Elmhurst into Chicago shorter and easier than many other suburban locations, but the town also provides public transportation via Metra's Union Pacific West Line.
This pedestrian-friendly town offers superb train facilities in a central location. In addition to spacious train stations and connectivity to walking and biking paths, there's also an impressive range of in-town convenient amenities for commuters on-the-go.
Commute Snapshot:
Metra = 25 - 35 min
Car = 22 min - 1 hr 30 min