5 Chicago Neighborhoods Ideal for Eating Healthy
5 Chicago Neighborhoods Ideal for Eating Healthy
Chicago's food reputation might be all about deep dish pizza and hot dogs (no ketchup, thank you very much), but you don't have to struggle to find healthy options too. Vegans, vegetarians, and gluten-free enthusiasts will love the restaurants and grocery stores in these five Chicago neighborhoods.
Lakeview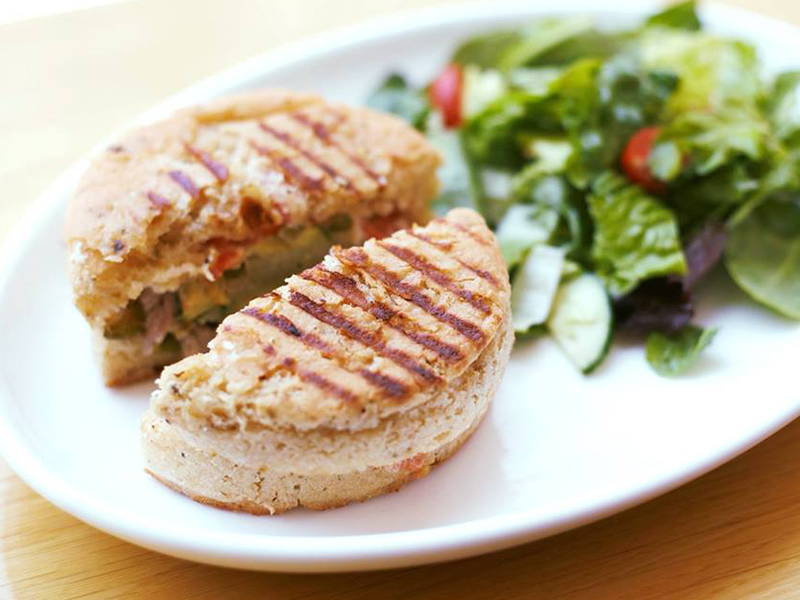 Lakeview has a thriving restaurant scene with enough healthy options to cater to the pickiest of palates. If you're gluten-free (whether by choice or because of Celiac disease), you won't believe your eyes when you see the menu at Wheat's End Cafe. The entire menu is gluten-free, made from scratch, and prominently features organic ingredients. Forget about lusting after pancakes, waffles, and bagels — you can have it all.
This North Side neighborhood also has Kitchen 17, an all-vegan eatery with house "meats" and cheeses; BeeZzee Fresh Food, a healthy spot for breakfast food, wraps, crepes, and fresh juice; and Left Coast, a restaurant with healthy but tasty dishes made from locally grown ingredients.
When you aren't in the mood to eat out, Lakeview has a Whole Foods — one of the biggest names in healthy groceries — and Life Spring Health Foods & Juice Bar, a one-stop shop for vitamins and supplements.
Logan Square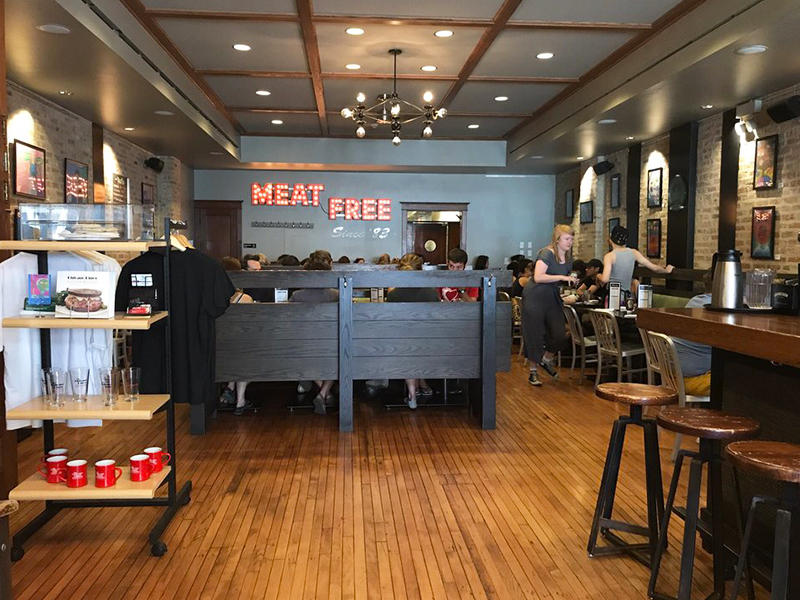 The Chicago Diner has been serving up vegetarian fare since 1983. Try the flagship sandwich, the Radical Reuben, or another one of the mouthwatering seitan dishes. This Logan Square spot also has a full gluten-free menu, including thick, creamy milkshakes (they're vegan too). The lunch, brunch, and dinner menus at Ground Control also cater to the vegan and vegetarian crowds, with several nods to gluten-free eaters.
For the farm-to-table vibe get a table at Lula Cafe on Kedzie Avenue. The rotating seasonal menu constantly surprises with fresh, inventive flavors.
For stocking your pantry with nutritious foods, duck into the Dill Pickle, a co-op grocery store that recently upgraded its size and location in the neighborhood. You'll find no shortage of organic, GMO-free, fair trade, and locally sourced products on the shelves here.
River North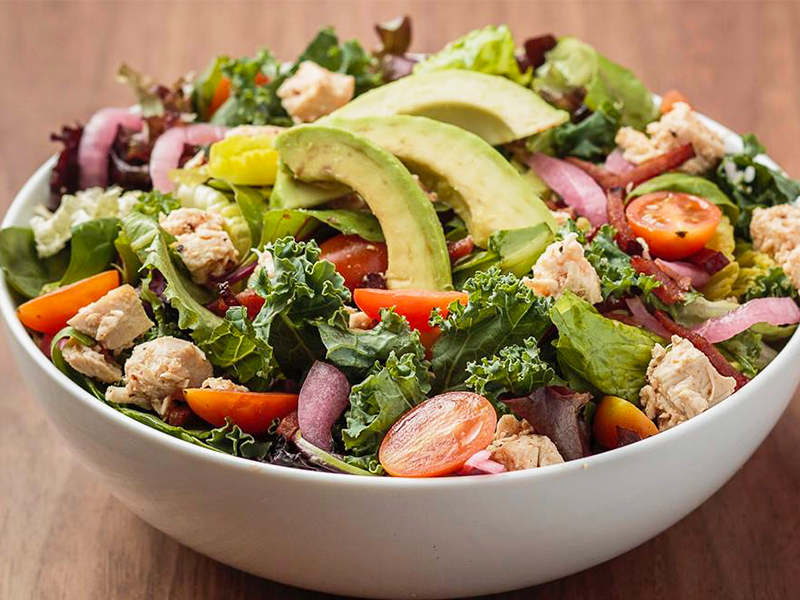 River North might just be the epicenter of Chicago's restaurant scene. So it's no surprise that healthy eaters will find plenty of spots alongside the steakhouses and bars. For a quick bite, try Protein Bar, a local chain with wraps and quinoa bowls, or LYFE Kitchen, a restaurant with a focus on modern comfort food made from things like grass-fed beef, antibiotic-free chicken, and organic greens. If you are in the mood for salads with beautiful presentation, try Mixed Greens or sweetgreen.
For a sit-down experience, True Food Kitchen has a delightful menu that changes with the seasons. The dishes on the menu are clearly marked as vegan, vegetarian, or gluten-free.
Plus, River North has a Trader Joe's, a grocery chain known for its deference to the healthy diet.
Wicker Park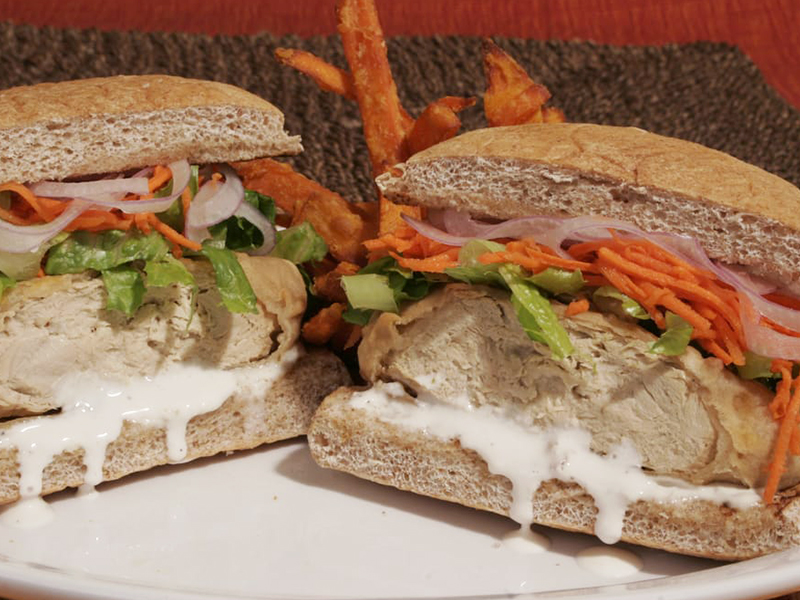 Wicker Park has a good stable of casual, but healthy eateries. Native Foods is a vegan's dream-come-true with tacos, wings, burgers, and sandwiches. Handlebar whips up made-from-scratch vegan, vegetarian, and gluten-free dishes with local ingredients. Sip on a cocktail while you pat yourself on the back for eating a healthy meal. Mana Food Bar is an all-vegetarian restaurant with plates inspired by cuisine all over the world. Infiniteus Rocks and Juice is a go-to spot for fresh juice.
Opened last year, the neighborhood's Clever Rabbit dishes up a "veggie-focused" menu, meaning both vegetarians and meat-eaters can get their daily serving of greens.
If you like to grocery shop and grab a meal all in one go, Sultan's Market has you covered. Shop this Middle Eastern grocery store, and order off the menu chocked full of tasty vegan options.
Ukrainian Village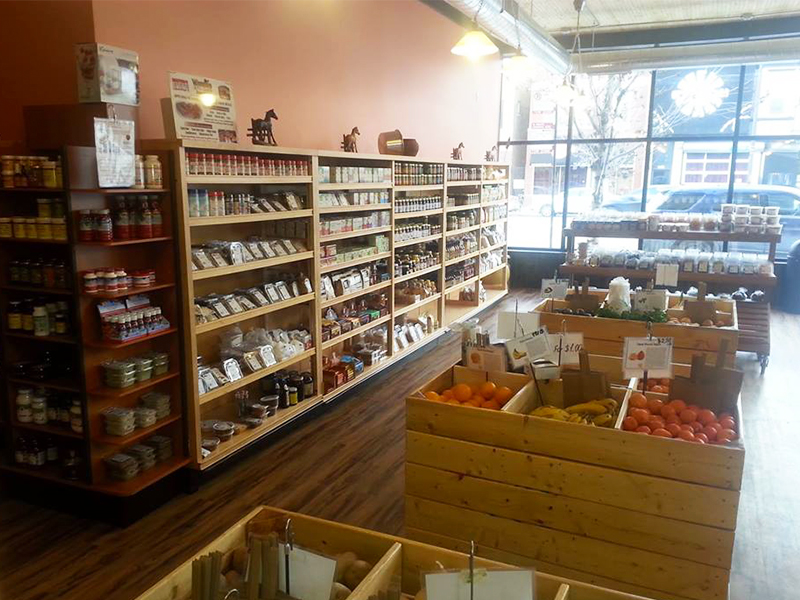 Tucked away among all of the delicious bakeries (certainly tempting, if not the healthiest) in Ukrainian Village, you'll find Amish & Healthy Foods. The family-operated shop stocks fresh and natural meats, eggs, produce, and home-baked goods from an Amish community in Shipshewana, Indiana. You can even do a little online shopping at this grocery store. The neighborhood also has Farmers Pride and Farmers Pride Cafe, a healthy grocery store and a next-door deli with fresh made, hearty meals. A few years ago, Farmers Pride opened its "beer cave," so shoppers can get libations along with the ingredients for a healthy home-cooked meal.
If you want to sit down to a nutritious meal in Ukrainian Village, try Bite Café. Brick walls, big windows, and a wide open floor plan give this cafe a rustic and inviting atmosphere, while the American comfort food menu offers up a solid amount of veggie-focused dishes, plus meat-centric entrees.