5 Romantic Restaurants in Dallas
5 Romantic Restaurants in Dallas
When couples seek to spend a special and memorable evening together, finding the perfect romantic restaurant is usually a part of the plan. While the definition of just what makes the perfect romantic environment is a matter of personal preference, there are some common factors shared by the great dining establishments.
Of course, great food is a given, but you can also add in the ambience, location, and reputation of your selected restaurant. If you are creating lifelong memories, then you'll want to share them with friends who'll recognize that the occasion was extra-special and not just a night at the diner.
For Dallas, you've got a number of great choices, and you'll find a variety of restaurants in the top five listed below. However, if money is no object and you want a restaurant known internationally as one of the nation's finest, you might make a night at The Mansion on Turtle Creek in the Uptown area, a primary candidate.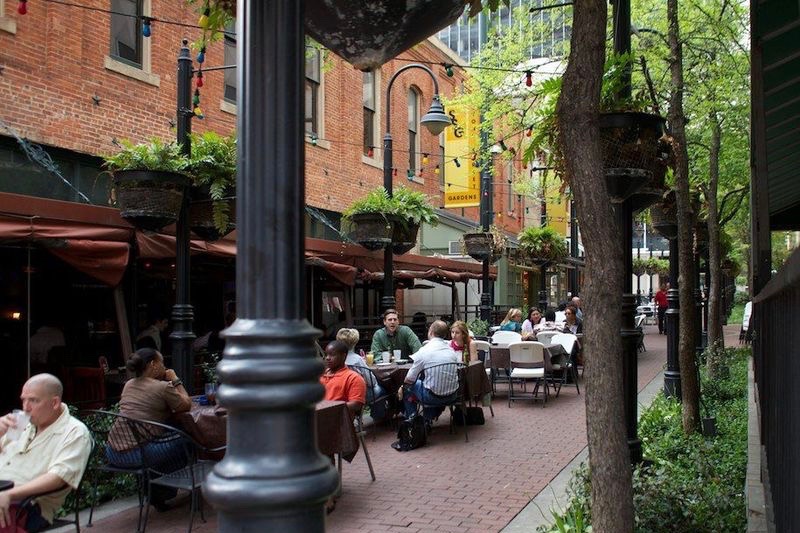 1. St Martin's Wine Bistro - Lower Greenville
The owners of this very popular Dallas dining spot set out to "[p]erfect the art of dining by combining innovative style and chic European sophistication." Their success shows how well they have achieved that objective, and the exquisite cuisine and elegant setting makes this the restaurant of choice for many special occasions. A night that includes St. Martin's is by definition a night to remember.
2. The French Room - Main Street
While this renowned restaurant in the Main Street neighborhood closed last year for a total renovation, The French Room is expected to reopen shortly with a new executive chef Michael Ehlert, formerly of the four-star Front Room Tavern. The plans include a totally new "modern French menu" to the old-school eatery. If you want to be one of the first to enjoy a new version of a Dallas classic, Chef Ehrlert promises, "[a] genuine sense of warmth and welcome" within a romantic and sensual environment.
3. Five Sixty by Wolfgang Puck - Downtown Dallas
Downtown Dallas's Reunion Tower is not just a landscape icon, it is the location of one of the region's most sophisticated dining establishments. The world-renowned chef has created an imaginative and innovative offering of Asian dishes that are accented with Asian beers and sake by the glass or bottle. Every romance must spend at least one evening atop the city in a revolving restaurant. If that choice is the Five Sixty, you'll enjoy a dramatic setting with floor-to-ceiling views and a chic modern interior.
4. The Grape Restaurant - Lower Greenville
When you want to have a hip and classic eatery in a sophisticated city such as Dallas, you have a high bar to meet. The unanimous decision is that The Grape clears this challenge with room to spare. Inspired by the bistros and wine bars that make European dining so special, The Grape is the proud owner of the position as Dallas' original neighborhood wine bistro. The trendy nature of Lower Greenville owes much of its reputation to this eatery known for its quality food and reasonable prices. If comfortable and friendly is part of your definition of romantic, you'll come here again and again for special nights together.
5. Avanti Ristorante - Uptown
Are you one of those individuals who love music but ducks under the table when a strolling violin approaches? If so, the Avanti provides the perfect environment for enjoying delectable Italian food and live, eclectic music. Gifted guitarists perform seven nights a week while you enjoy a dinner menu and wine list that will please any palate. There is no stiff formality here as the experienced staff is known for its welcoming attitude and efficient service. Located in the middle of Uptown, the neighborhood sets the stage for that romantic interlude that you'll cherish.
Whatever your choice, you'll find any of these fine dining establishments will exceed your expectations for a memorable evening with your special partner.