National Real Estate
5 Things to Know About Buying a Home in Charlotte
In recent years, the city of Charlotte has been growing at a rapid rate with more than 40 new people moving to the city every single day, and the metro area just topped two million residents. With new houses and apartment buildings being built on just about every street corner, there are no signs that this growth will slow down anytime soon.
The Southern city's increased popularity is well-deserved for many reasons. While Charlotte is commonly known for its banking industry, it's also home to more than a dozen Fortune 500 and Fortune 1000 companies, ranging from nuclear energy companies to the Coca-Cola Bottling Company—all of which offer plenty of job opportunities. There's an international airport, two major hospital systems, and several professional sports teams. Charlotte also has a thriving social scene. There's no shortage of things to do with several activities and lots of entertainment to choose from, including museums, theaters, a rich foodie culture, and vibrant nightlife.
While moving to the city and buying a house can be very appealing, deciding to purchase a home isn't a decision to be taken lightly. With so many options out there to choose from, it's important to know as much as you can about the area before making such a big investment. Here are a few factors to take into consideration before purchasing a home in Charlotte.
Housing Costs
When you're looking for a home it's important to already have a budget in mind before deciding anything else. Home prices in Charlotte are drastically different depending on where you want to be located in the city and you don't want to purchase a place that will leave you strapped for cash each month.
As the city has gained popularity, housing costs have increased in recent years because of the higher demand. Houses in the upscale neighborhoods (like Myers Park and Eastover) go from the high $500,00's into the millions, while up-and-coming neighborhoods and areas going through revitalization (like Plaza Midwood and historic Wesley Heights) tend to go for a lot less. If the prices in those areas are still a little too pricey, a lot of the city's historic neighborhoods have more affordable homes that are perfect fixer-uppers.
Neighborhoods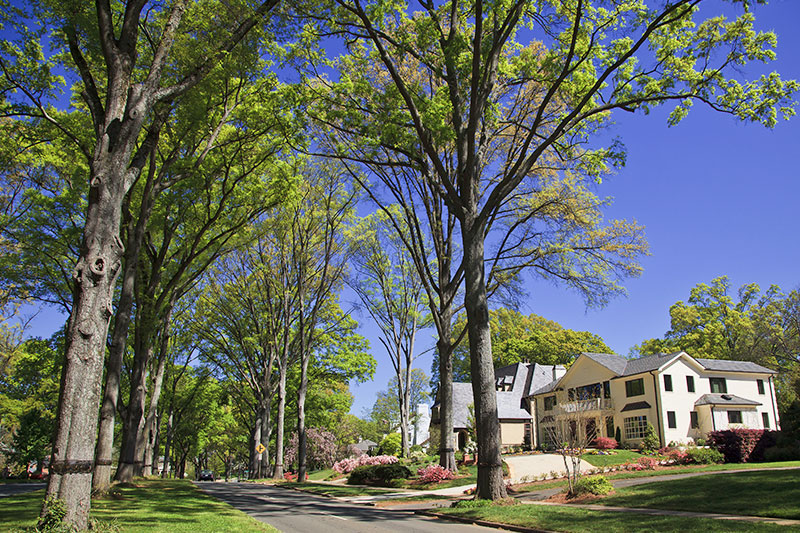 Once you've decided to settle down in Charlotte and have a pretty good idea about what you want to spend on a house, it's time to make one of the hardest decisions in the entire home-buying process—picking a neighborhood to live in. Neighborhoods in Charlotte are extremely distinct from one another. Each has its own charm and appeal, as well as positives and negatives, so you'll want to do your research to pick the one that suits your lifestyle best.
If you want to be right in the heart of the city then consider Uptown. If you're looking for a slower pace, consider historic Dilworth, which is full of charming bungalows and picturesque streets that lead to neighborhood bars, restaurants and shopping. Elizabeth is another enchanting neighborhood that's less than a five-minute drive from the city's center but manages to escape Uptown's fast pace. For a more eclectic, artsy vibe check out Plaza Midwood or the North Davidson (NoDa) neighborhood.
Charlotte also has several surrounding suburbs that have a lot to offer as well. They're considerable options, if you're looking for more affordable homes or more space and land. Places like Ballantyne, Huntersville, Belmont, and Fort Mill, South Carolina are just a short drive past city limits but have easy commutes to Charlotte.
Amenities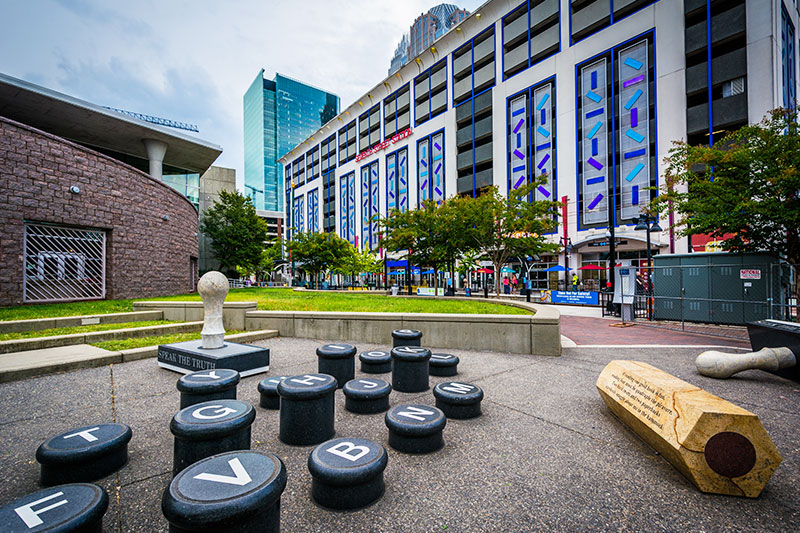 First, figure out what amenities are most important to you and go from there. Do you want to have restaurants, bars and shopping close by? Or, is it more important for you to be close to your job to cut down on your daily commute. If you have a family, you may want to figure out where the best public school districts are in Charlotte; while young couples without children may not care about that just yet. Singles may want to be in the middle of the city where there's always something going on and an active nightlife instead of a quiet neighborhood. If you want to have a sizable backyard, you'd be better off finding a place in Dilworth or the Eastover neighborhood rather than Uptown Charlotte and South End, which are mostly made up of condominiums and apartment buildings.
Once you've found an area of town you really like, do some research to find out if it has everything you're looking for before you fully commit to a place.
Transportation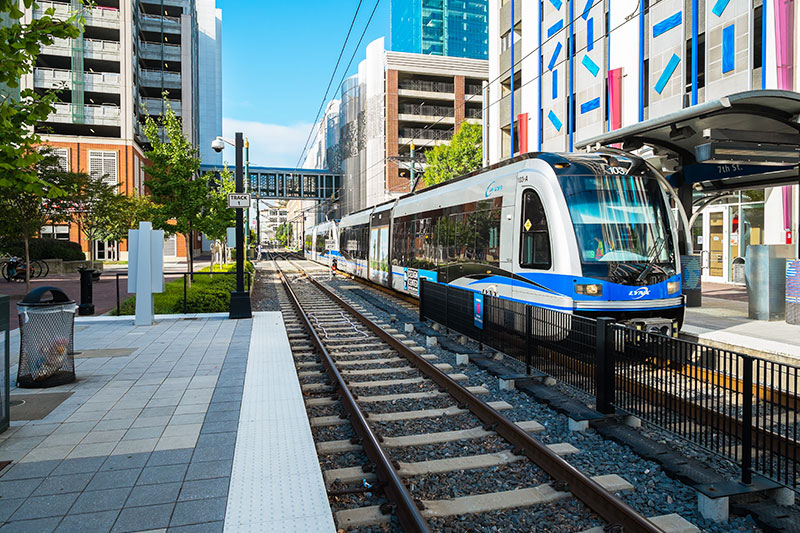 Overall, Charlotte isn't a very walkable city unless you live and work in the same area of town. There are several neighborhoods that are great for a leisurely stroll or a walk with the dog, but getting from one neighborhood to another is an entirely different story. Going between neighborhoods requires you to have some sort of transportation because they're fairly spread out from one another. Though the city is working on expanding its public transportation system to service more areas, it's extremely limited at the moment = and inaccessible from some neighborhoods, which makes it difficult to get around without a car.
If you don't want to have a vehicle in the city, make sure you look up the CATS Bus routes and the LYNX Blue Line Light Rail schedule to verify that they operate where you plan to live.
Morning And Evening Commutes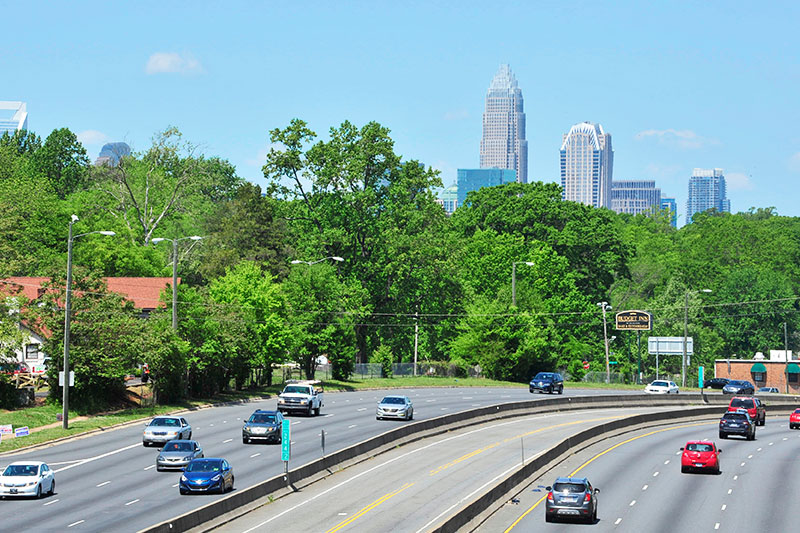 Something else to factor in before purchasing a property is the time it will take to you get to and from work from your new home. Where you decide to live can dramatically affect the amount of time you spend in the car during your morning and evening commutes. Certain roads in Charlotte get stuck at a standstill during rush hour and can be extremely frustrating. If you want to avoid the hassle, check out places that have direct access to the Light Rail or have alternative routes that can bypass the congestion.