5 Things to Know About Buying a Home in D.C.
5 Things to Know About Buying a Home in D.C.
So you want to put down roots in the nation's capital? You've chosen a busy area to call home—and with that, there are a handful of things you should be aware of before you call up a broker and get started. Here's a handy guide to what you need to know before you buy a home in the Washington, D.C. metro area.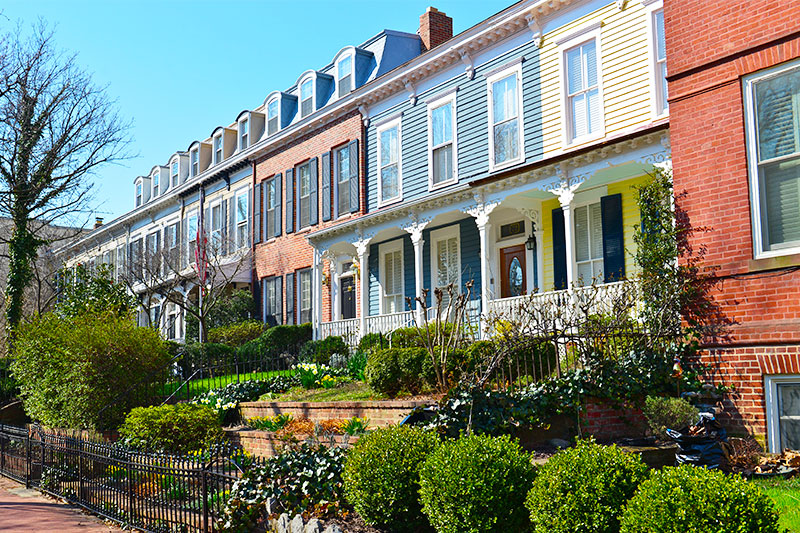 Size Up Your Expectations
D.C. is a city of transplants—which means you may very well be new to the area and therefore, the housing market. If, like me, you're from a suburban part of the Midwest, you may be used to your money going further when it comes to housing. That's why the first step in home-shopping in the District is to bring your expectations back to reality.
The median sale price of D.C. proper is close to $600,000, while the metro area as a whole is closer to $400,000—which is more reasonable, but considerably higher than the current median home price in the U.S. of around $250,000.
Where your budget could net you a small house with a yard in smaller cities like Tampa or Kansas City, in D.C., you may be looking squarely at condos. Do some math and know what you're getting into before you start your search.
Expand Your Search Radius
If living in a hotspot like Shaw or Logan Circle is important to you, you'll be paying big bucks for modest condominiums. Don't expect to be able to afford a guest room.
But if you're willing to expand your search radius, you can get a lot more bang for your buck. If you're married to the idea of staying in D.C. proper, try neighborhoods like East Capitol Hill, Brookland, and Fort Totten.
If you're willing to extend your commute a bit more, venture out into Maryland or Virginia, where you can get some serious square footage for your money in places like Silver Spring and Hyattsville. A lot of suburbs in those states offer fairly easy commutes to D.C. via the Metro.
Don't Forget the HOA fees
If you do end up in one of the aforementioned condos, know that the costs won't stop with your mortgage payment. Neighborhoods like Shaw, Navy Yard, and Dupont Circle are brimming with condos for sale—but don't forget the homeowners association (HOA) fees and other expenses.
An on-site parking space in your building could run you well into the tens-of-thousands of dollars range, and condos include HOA fees to cover amenities like fitness centers and pools that are common in D.C. buildings. With exciting amenities like rooftop patios and game rooms, what you pay will largely depend on how luxurious you want to go, but it's important to ask those questions early on in the process.
Don't Try to Go it Alone
While in smaller towns you may be able to figure out the real estate market on your own, in D.C., finding a great real estate agent is not negotiable. The commission rate will be well worth the expertise a local agent can provide, and they'll help make sure you're getting the best deal without making any fatal homebuying errors.
Be sure to check agent reviews and cultivate a strong relationship with the agent you choose. The same advice goes for your home inspector—spend the time finding someone trustworthy and unbiased. (Might we suggest a Neighborhoods.com agent?)
Be Ready to Invest Time in Addition to Money
First-time buyers are often surprised by how long the homebuying process takes, especially in a hot real estate market like Washington, D.C. The lesson here is to start looking earlier than you think you need to, and to be patient.
It may sound trite, but with such a major investment, patience is truly a virtue—don't be afraid to hold out until you've found something you really love. And if your budget is lower than you'd like, be ready to invest time in renovations and repairs—fixer-uppers can be your friend if you approach them with the right strategy.
While the expense may scare off some D.C. buyers, at the end of the day, it's a great city to settle down in. With a good job market, tons of free local attractions, and highly navigable public transportation, there's a lot to love about the D.C. Metro area. As long as you go into your home search with an open mind, a heavy dose of patience, and a good grip on reality, you'll be able to find the right place to call home.