Dallas-Ft. Worth Local Life
5 Ways to Explore Dallas-Fort Worth Without Leaving Home
There's no question that Dallas-Fort Worth is a massive, sprawling area with plenty of fun things to do. But you might assume that when you're stuck at home, you're limited to endlessly refreshing Facebook and watching whatever's on Netflix.
Many of us are in the same boat right now of having more time at home than normal. While it's a very important thing to do for everyone's health, it can also make you feel a bit stir-crazy. Although you'd probably rather be out enjoying the many things the metroplex has to offer, you can still enjoy a lot of it from the safety of your home.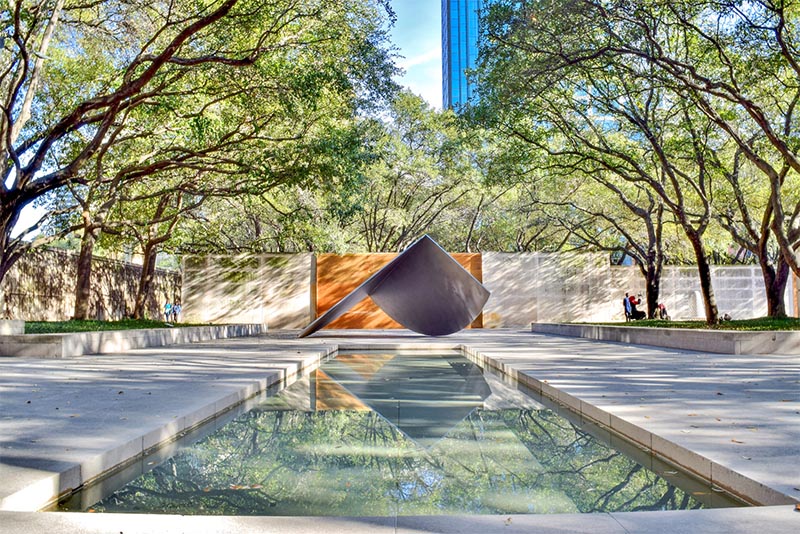 1. Appreciate Art Exhibits
Dallas and Fort Worth both have some well-respected art galleries and museums. To help us during this difficult time, many local museums have made virtual tours of some of their collections available online.
The Dallas Museum of Art always has some free exhibits for public viewing, and now is no exception. You can virtually browse their collection, which has many search filters like color and clothing. Right now, they also have new, current exhibits on display in addition to their permanent collection.
The Dallas Contemporary offers #dcfromhome, a new multi-faceted collection designed to help you and the family stay occupied. It consists of art, playlists by DJ Sober, puzzles and games, lesson plans to keep kids interested in learning at home, and worksheets for interactive projects for yourself or the family.
The Kimbell Art Museum in Fort Worth may be closed, but they've made their collection viewable online. You can listen to recordings of past tours, browse the collection, or download activities to do with kids.
The Modern Art Museum of Fort Worth has its current collection viewable online. In addition, they also offer Wonderful Wednesday programs for kids, virtual slow tours, and past recordings of their podcast.
Although not Dallas-specific, you might also enjoy browsing Google's Arts and Culture website. It has features that change daily, in addition to fun features like the quiz "Find Out Which Artwork Looks Like You."
2. Enjoy Museum Collections
The Dallas-Fort Worth area is also home to a number of interesting and educational museums. Now is a perfect time to virtually explore what they have to offer, especially if you're normally stuck at work during the usual hours they're open.
The Dallas Holocaust and Human Rights Museum is dedicated to an important part of history. They have upcoming events and virtual tours, including book clubs, taped lectures, and age-appropriate storytimes for children.
Fort Worth Museum of Science and History offers its Discovery Lab online, accessible through YouTube. It's both educational and interesting, and it's a great way to become acquainted with the important work that this museum brings to the community.
Perot Museum of Nature and Science also presents a fair number of its attractions online. These include virtual tours of some of its exhibits, STEM activities called "Your Brain at Home," videos about butterfly feet and dinosaurs, and instructions for how to do some unique activities at home.
3. Read Books by North Texas Authors
Even if the libraries are currently closed, readers don't have to spend the remainder of the time at home without a book. Most of the local libraries offer a wide selection of e-books available for download. There's also a new virtual book club that's a partnership between Writing Workshops Dallas and San Antonio's Gemini Ink. The book club is called Big Texas Read, and it features books by Texas authors.
You might also focus on books from local authors, like "Ain't Nobody Nobody" by Heather Harper Ellett, an SMU graduate and Dallas-based therapist. The story is both dark and hilarious with an East Texas setting. "The Big Finish" by Dallas-based Brooke Fossey is a debut novel about a man in his 80s who lives in an assisted-living facility. For younger readers, Frisco native Erin Yun wrote "Pippa Park Raises Her Game," a charming book with a Korean-American protagonist.
4. Experience the Zoo From Home
The zoos may be closed, but you can still enjoy a bit of the experience from the comfort of home. The Dallas Zoo offers "Bring the Zoo to You," which features videos and activity packets for the family to enjoy.
5. Support Local Businesses
Dallas locals love to dine out. While right now you can't enjoy the experience of dining in, you can still support local businesses by getting take-out from your favorite restaurants. West Village in Uptown has a whole list of restaurants in the neighborhood that are offering take-out.
Fortunately, a lot of local retailers have an online presence, and browsing and ordering from their websites can feel almost as good as visiting in person (especially when the packages show up a few days later.) You can pick up food and treats for your favorite furry friend—especially while you're spending so much time together—from the Green Pet Company in Oak Cliff or browse for gifts and cards from All Good Things in the Bishop Arts District.