National Local Life
6 Charlotte Bars That Anchor Their Neighborhood
Charlotte is a vibrant and thriving city with a highly active nightlife and bar scene. While there are trendy new hotspots constantly opening up in the Queen City, it's the tried-and-true neighborhood bars that never disappoint. From a no-frills dive bar and a traditional Irish Pub to hopping sports bars and a corner tavern—here are six Charlotte bars that are neighborhood staples.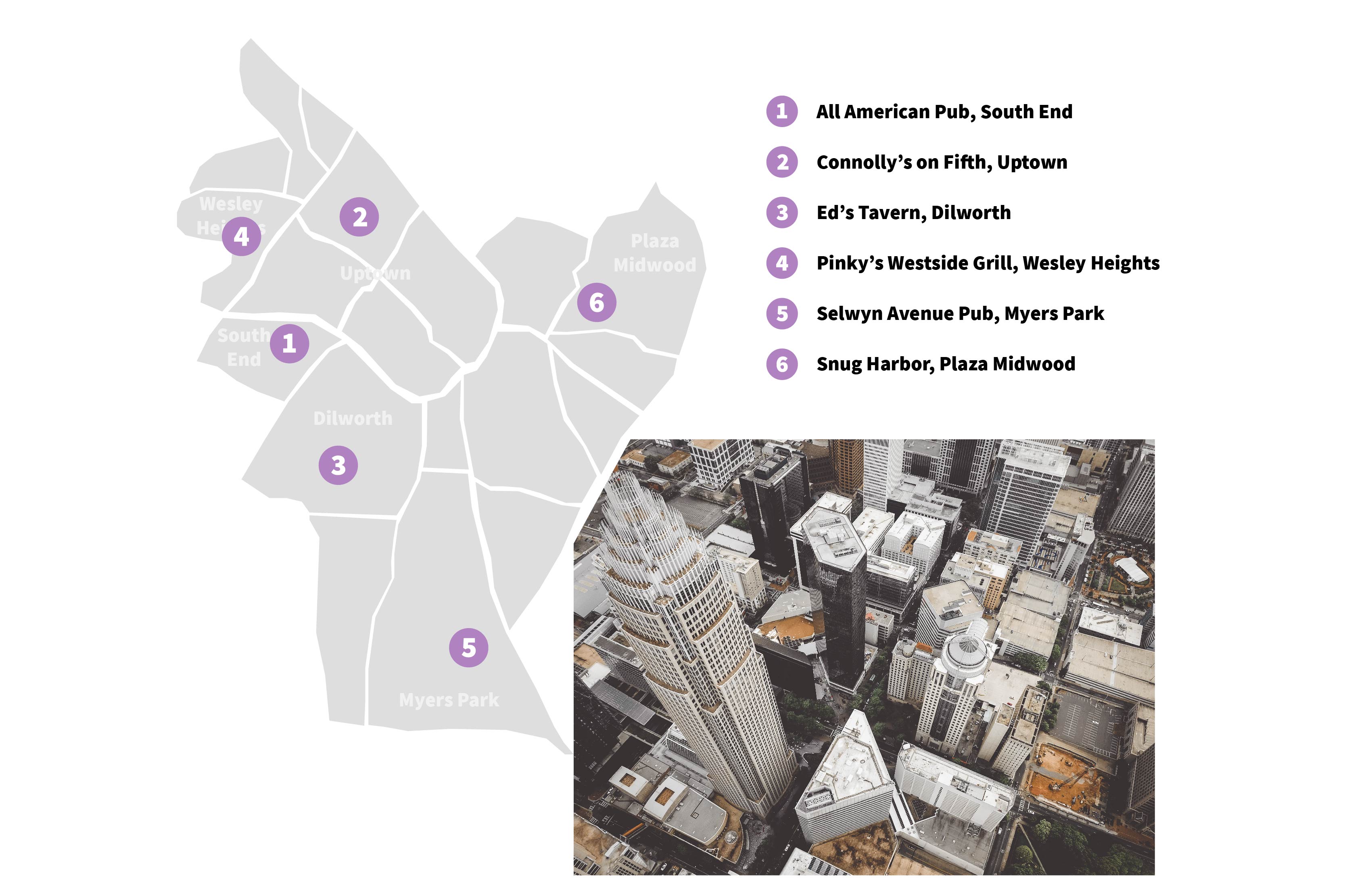 All American Pub
In Charlotte's historic South End, whose proximity to Bank of America Stadium makes it Panthers central on game days, it's not surprising that the neighborhood staple is the sports bar All American Pub.
Though there's lots of seating inside and on the pub's expansive patio, you can expect the bar to be standing-room only whenever the Carolina Panthers are playing. The bar's lunch, dinner, and brunch menus feature game-day fare like buffalo wings, nachos, and mozzarella sticks. Pop in on a weekday during happy hour for half-price appetizers.
Connolly's On Fifth
While there's absolutely no shortage of watering holes in and around Uptown Charlotte—the city's entertainment hub—Connolly's On Fifth is a go-to. The two-story bar was designed to mimic a traditional Irish pub, and it does just that with dark lighting and woodwork, loud Irish music playing in the background, and plenty of Guinness.
Connolly's serves a diverse range of clientele; on any given day, you'll find everyone from businessmen decked out in three-piece suits enjoying happy hour to college kids downing Red Bull and vodkas at 2 a.m.
Ed's Tavern
Ed's Tavern, located in the quaint and popular Dilworth, is the ultimate neighborhood corner bar. It's a place where the bartenders will remember you and you'll more than likely run into someone you know. The bar's local following is so fervent that when it tried to change its name, patrons boycotted the tavern until the name was changed back to Ed's.
The popular joint features two bars, pool tables, arcade games like skeeball and Pop-A-Shot basketball, and a large outdoor deck that's a big draw when the weather is nice. Their menu is simple but delicious with items like buffalo chicken wraps, fried chicken tacos, and of course, big juicy burgers.
Pinky's Westside Grill
While Pinky's Westside Grill has been featured on the Food Network's "Diners, Drive-Ins and Dives" for its delicious food, this Wesley Heights hangout is also an extremely popular place to enjoy a drink or two. Pinky's drink menu ranges from local craft beers to high-quality liquors. Their bartenders can whip up some delicious specialty cocktails including custom margaritas—which can be had by the glass or pitcher.
Selwyn Avenue Pub
Even though it's located in Charlotte's upscale Myers Park neighborhood, Selwyn Avenue Pub is a casual and laid-back bar that's always got a crowd. Since it was established in 1990, it's been a favorite among Charlotte sports fans.
Whether it's soccer, rugby, college basketball, or golf, there's always some sort of sporting event on one of the many TVs in Selwyn Pub. It's also a local hangout for local celebrities and athletes who want to watch a game while staying under the radar. The bar's outdoor patio is always packed—even during the colder months, Charlotteans will gather around Selwyn Pub's fire pits and heaters.
Snug Harbor
Snug Harbor is a grungy dive bar and music venue all rolled up into one. The eclectic spot has been the heart of the Plaza Midwood neighborhood for years and offers live music almost every night of the week. The music line-up ranges from local acts and trendy DJs to famous musicians and bands. While you shouldn't expect many frills from the joint, you can expect to have a good time on the large dance floor.
There are also two substantial outdoor patios, ideal for a warm summer night. Like the neighborhood itself, you can always expect a diverse crowd whether you're there for a show or just a night out on the town.