Austin Local Life
6 Neighborhood Spots Perfect for Longhorns Fans
Unlike other Texas metropolises like Dallas and Houston, Austin doesn't have its own NFL team. However, the capital city houses the University of Texas' central campus, which is home to the UT Longhorns. On game days, you'll see fans flooding the neighborhood, surrounding the Darrell K. Royal Texas Memorial Stadium, and tailgating while wearing the school's colors—orange and white.
The three neighborhoods adjacent to the stadium—the UT Campus, Hancock, and Downtown Austin—all boast an array of bars, restaurants, and viewing spots for enjoying live broadcasts of UT games. Now that football season is well underway, we're drawing your attention to six neighborhood spots perfect for cheering on the Longhorns.
UT Campus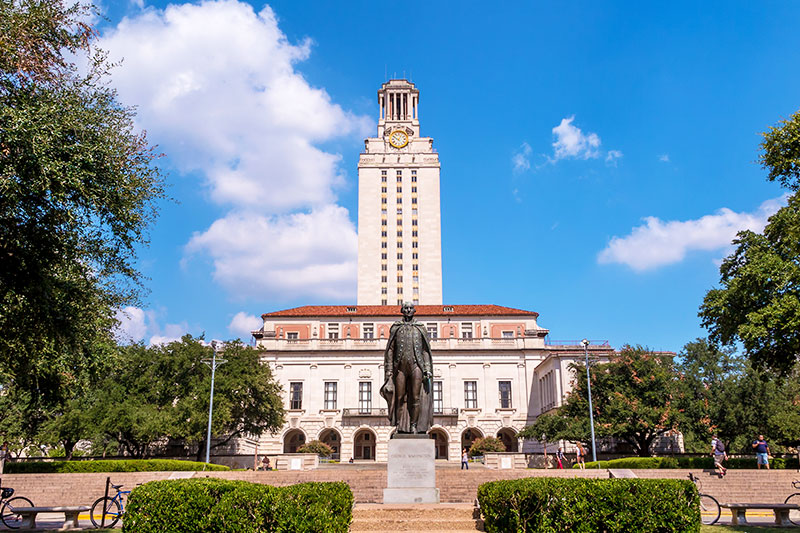 Wedged between the neighborhoods of Downtown Austin, West Campus, North University, and East Austin, the University of Texas' Austin campus benefits from a very central location. While the population living on the UT Campus is almost entirely comprised of students and faculty, anyone living in an adjacent neighborhood can conveniently access Longhorns viewing spots at the center of the action.
Of course, we have to start with the actual location of Longhorns home games: Darrell K. Royal - Texas Memorial Stadium. The stadium can be found right at the center of the UT campus. Games usually happen on Fridays and Saturdays, and tickets start at $30.
If you're in the mood for tailgating, Longhorns fans throw some of the liveliest parties in the nation, both in the stadium parking lot and at local bars and restaurants. For one of the best examples of the latter, check out the tailgating celebration at Scholz Garten, a German-style beer garden on the southern border of the UT campus. Scholz Garten has been an unofficial Longhorns fan destination since the late 19th century, when the early incarnations of the team used it for post-game parties. Nowadays, guests can watch the game on Scholz's numerous flat-screen TVs while enjoying thematic drink deals and chowing down on bratwurst, BBQ platters, and fries blanketed in queso.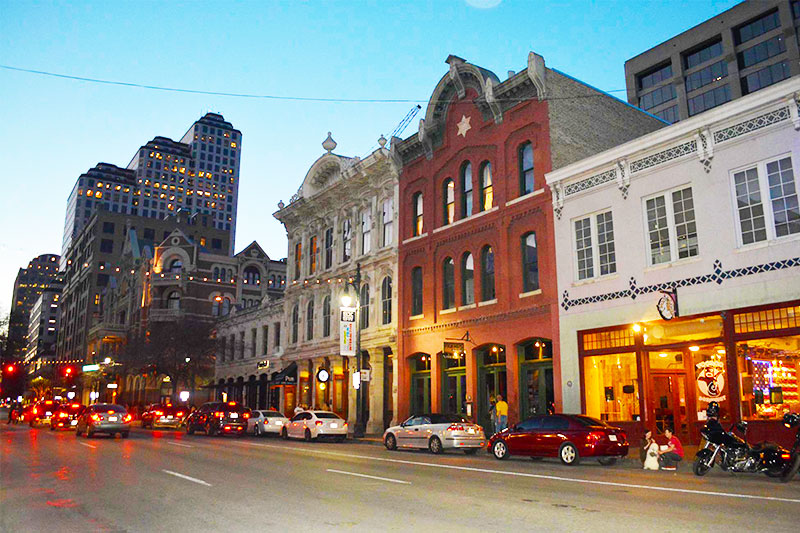 Considering its status as the Austin neighborhood with the highest concentration of bars and restaurants as well as its location just south of the UT campus, Downtown Austin is a logical spot to look for Longhorns viewing parties and tailgating celebrations. Luckily, the neighborhood's watering holes are more than happy to oblige.
A mini-chain of sports bars with an upscale twist, Cover 3 has three Austin-area locations, and its Clarksville outpost on West 6th Street sees plenty of game day traffic from Longhorns fans eager to watch the game on Cover 3's flat screens while enjoying some gourmet snacks and specialty cocktails. If you're planning to watch a daytime Saturday game, get to Cover 3 early enough to enjoy its excellent brunch, including a Bloody Mary & Bubbles bar.
Another West 6th Street sports bar with plenty of Longhorns pride, Little Woodrow's airs the game on both the bar's interior TVs and screens on the large dog-friendly patio. If you get thirsty, the bar offers buckets of domestic beers for only $14 each on game days, and while Little Woodrow's doesn't serve food, you're welcome to bring in takeout or order delivery from local eateries.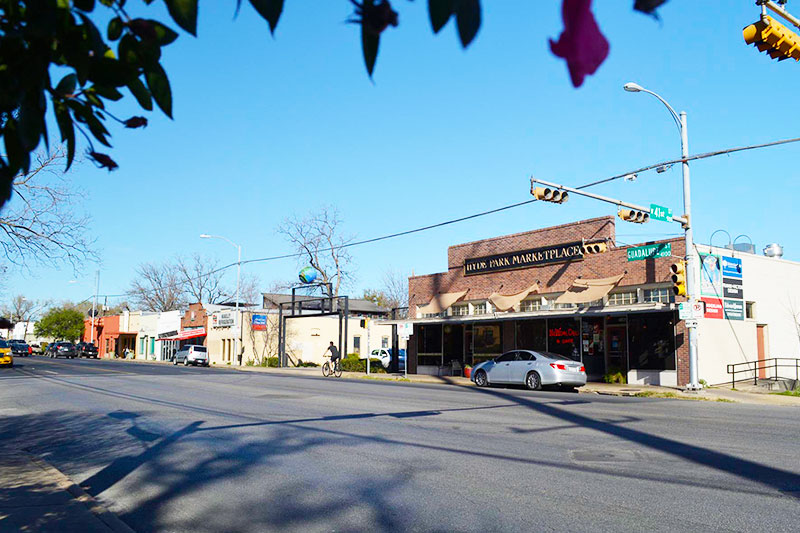 A serene residential neighborhood just north of the UT campus, Hancock is a popular choice for students looking to live off-campus, for UT faculty with families, and for Austinites who appreciate the proximity to the vibrant energy of the school and the stadium. On game days, Longhorns fans congregate at a pair of local bars with particularly strong reputations for team spirit.
A campus bar known for hosting Longhorns tailgate parties since the early 1970s, Posse East spends game days awash in burnt orange and white as crowds of UT students and football enthusiasts fill the tables on the bar's sizable back patio. Posse East serves classic sports snacks like chili cheese dogs, Frito pie, and chips and queso, and the bar regularly offers game day drink specials.
Just a few steps away from Posse East, you'll find Crown & Anchor Pub, a beloved campus pub with an impressive beer selection, a dog-friendly patio, and a loyal contingent of Longhorns fans who choose Crown and Anchor as their viewing headquarters. The bar is such an institution among UT sports fans that local radio station AM 1300 broadcasts its "Texas Tailgate Zone" game day show directly from Crown and Anchor.