6 Things to Do in River North, Chicago
6 Things to Do in River North, Chicago
Many Chicagoans have a love/hate relationship with River North. The area may get a bad rap when it's crowded with rowdy nightclub goers, but it's also a vibrant neighborhood with picturesque views of the city, delicious dining, and lively nightlife.
Located in the heart of Downtown Chicago, one of River North's greatest selling points is its central location. An easy walk across the river takes you to theaters, museums, and parks in the Loop or adventure west to explore all the decadent food offerings of the Fulton Market and West Loop's Restaurant Row. Moving east through the neighborhood will take you to Streeterville where you can walk or bike the Lakeshore Trail.
But just because River North is a great starting place for exploring the rest of downtown that doesn't mean there isn't plenty to do right within the neighborhood. Here are six can't-miss activities to help you make the most of your time in the area.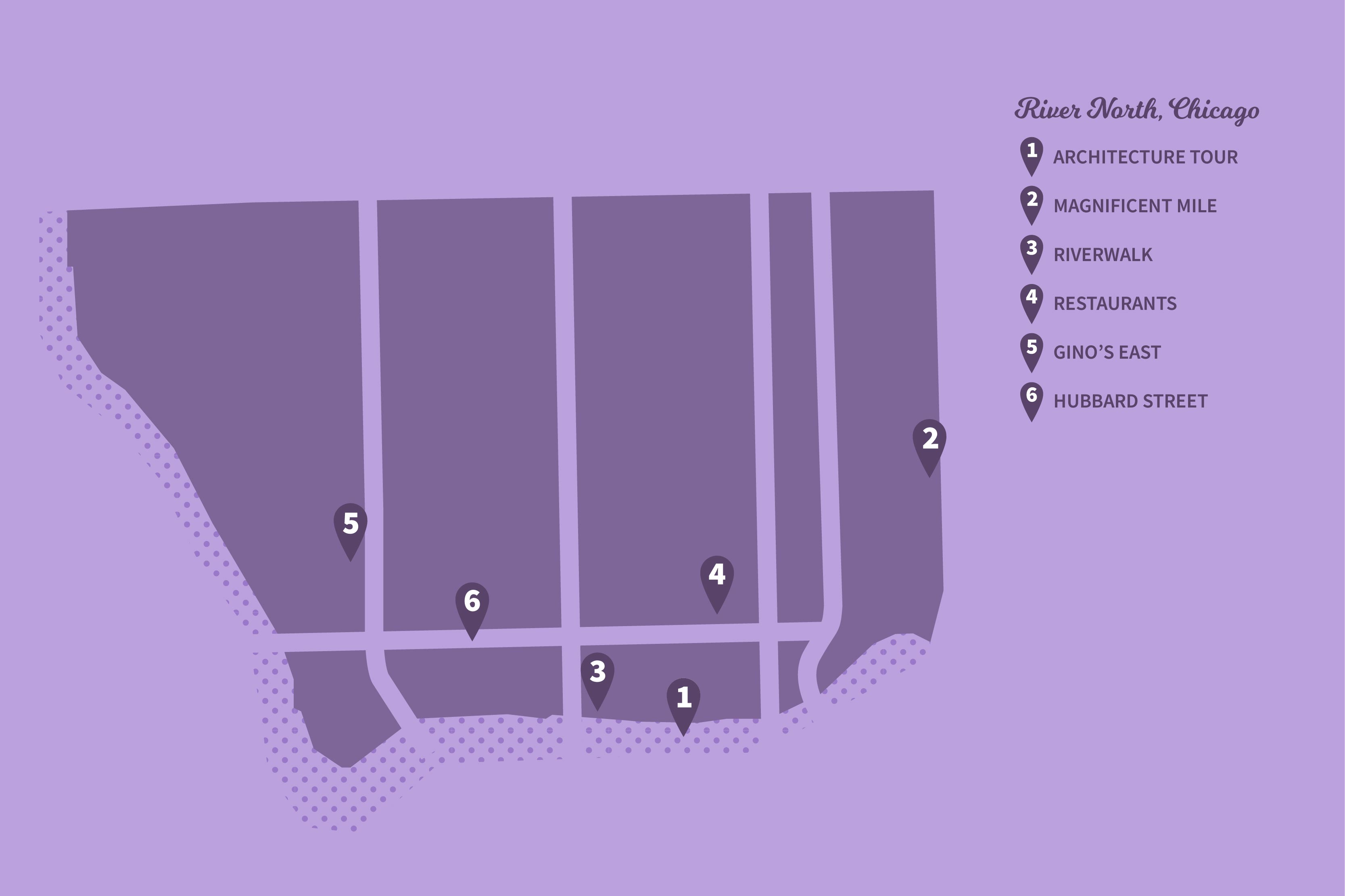 Take an Architecture Boat Tour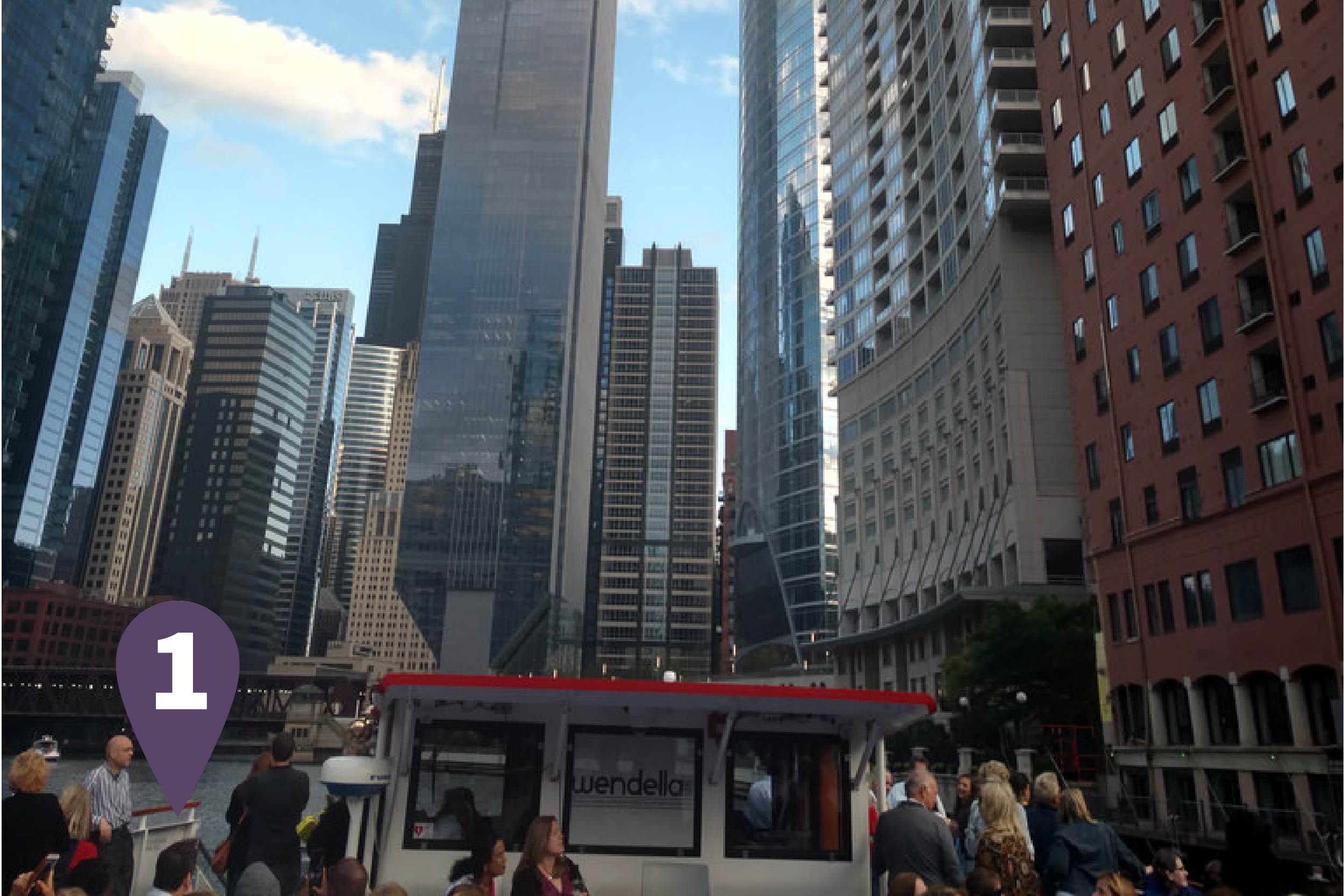 If there's one "tourist" activity in Chicago that most locals will vehemently vouch for, it's a Chicago architecture boat tour. In both the heat of the summer and the chill of winter, you can pile into a boat and learn about the history of Chicago and its architecture while cruising through the river. Not only does the trip leave you feeling knowledgeable while taking in some picturesque views, it's also a memorable way to orient yourself if you're new to the city.
Both Shoreline Sightseeing and Wendella Boats have docks on the River North side of Michigan Avenue. If you want to incorporate a little more activity into your day, try a Chicago River kayak tour. Wateriders hosts everything from architecture tours to "Ghosts and Gangsters" tours.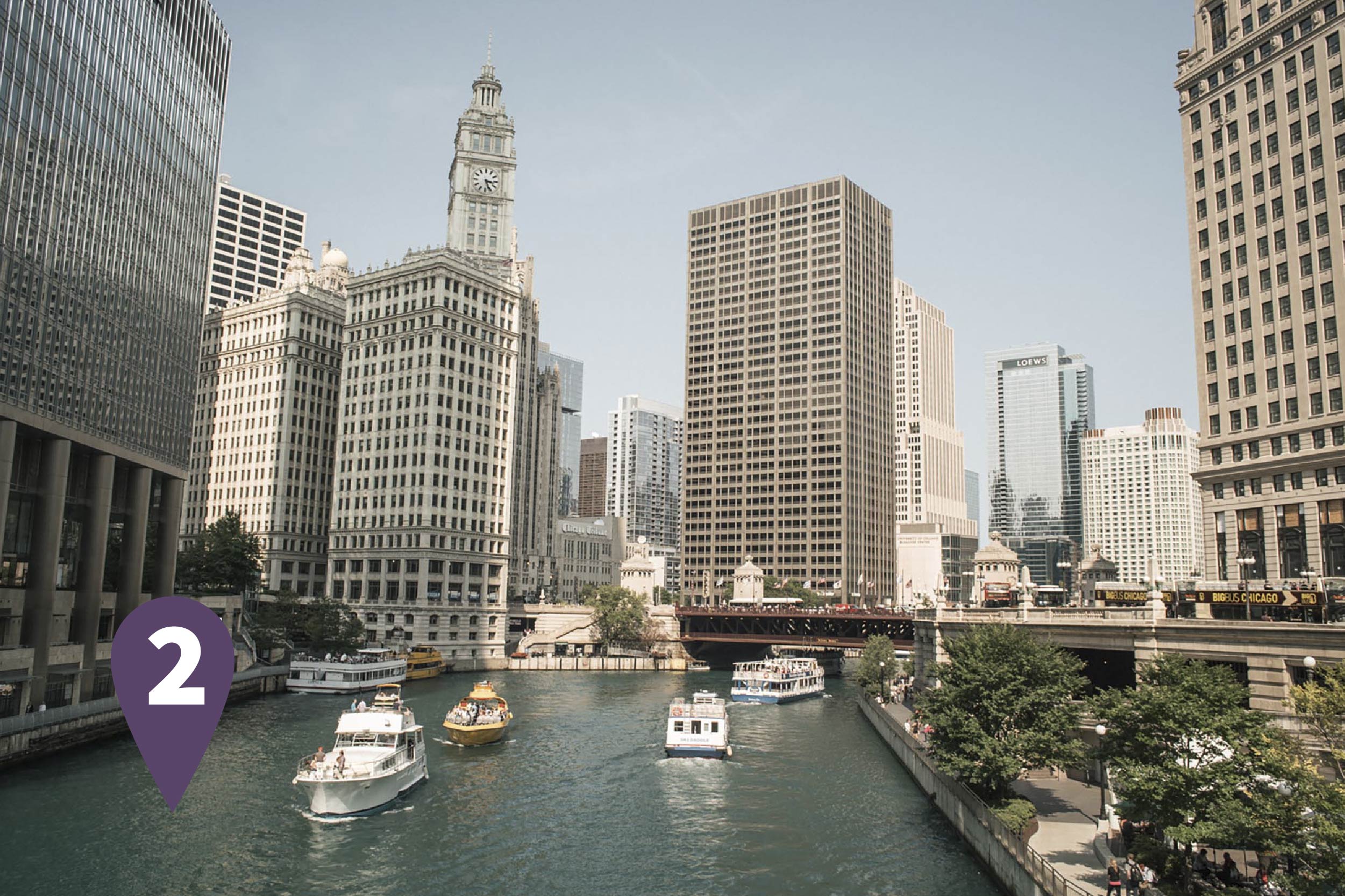 Just thinking about shopping along Michigan Avenue is enough to cause my blood pressure to rise, but the Magnificent Mile, as it's called, is constantly crowded for a good reason. The famed street serves as the boundary between River North and Streeterville, and it's home to a vast array of shops.
For the high-end shopper, you have your standard department stores and enough luxury and designer boutiques to tempt you for hours. For the sports fan, you can find major brands like Nike, Under Armour, and Patagonia, as well as stores hawking sportswear flashing Chicago team logos. And for the casual browser, you'll be sure to recognize plenty of household names like Gap and Zara.
While the greatest concentration of shopping in River North is certainly along this stretch, you can still find a handful of boutiques scattered throughout the neighborhood. Magnificent Milestones is a personal favorite—because who doesn't love a good paperie?—and it's always fun to go treasure hunting at P.O.S.H., an eclectic shop showcasing vintage china and silver, among other trinkets.
Stroll Along the Riverwalk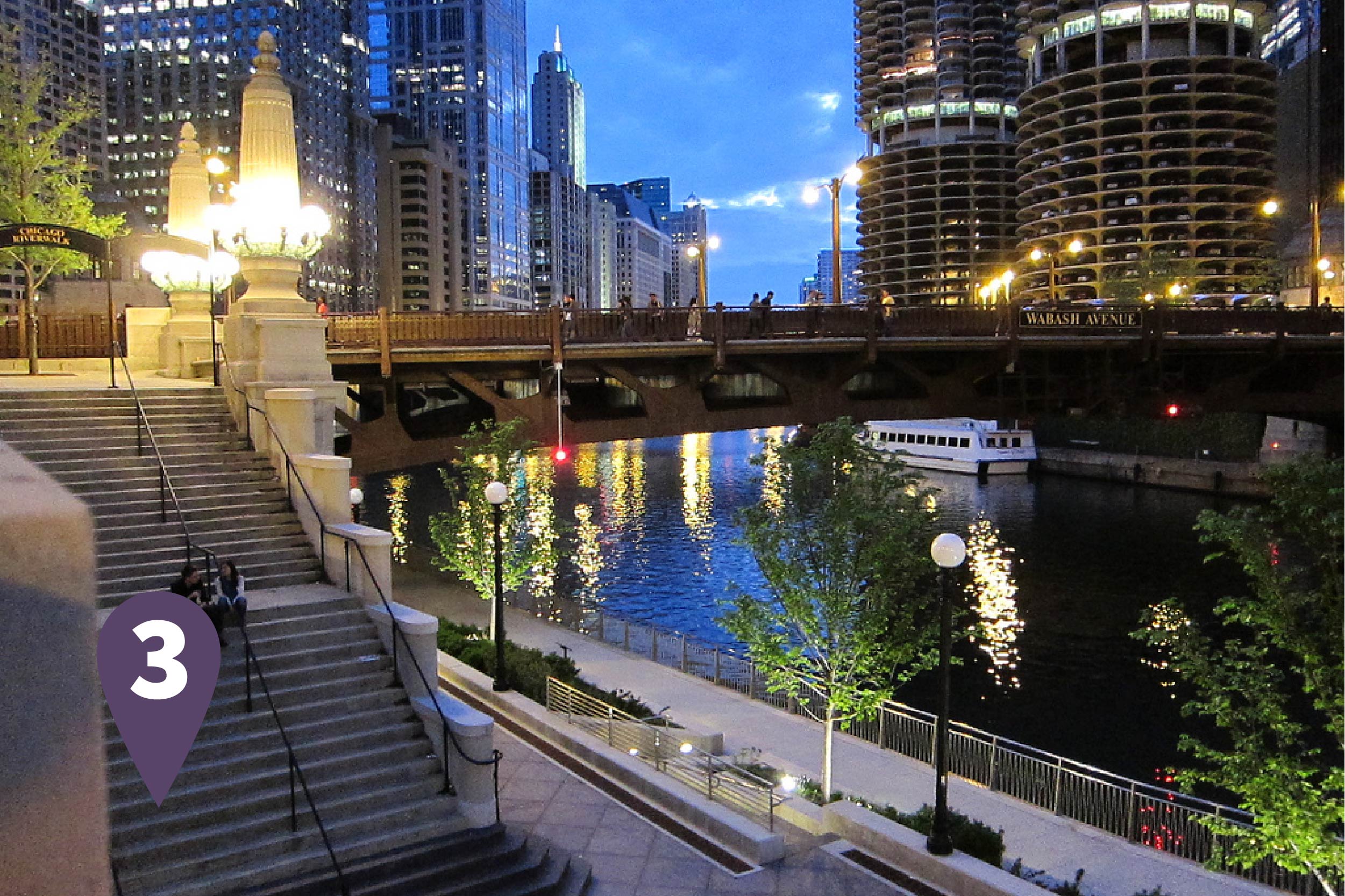 One of River North's greatest appeals is just how walkable it is. Still very much considered part of Downtown Chicago, the neighborhood is densely packed with restaurants and activities, meaning your next destination is likely just a block or two away.
For a particularly scenic stroll, head down to the Riverwalk and make your way towards Tiny Tapp or City Winery. Though these restaurants are technically in the Loop, when you sit on the patio and gaze out across the river, you'll be looking back at River North in all of its splendor, so we're going to claim them as our own.
Just Try and Choose a Restaurant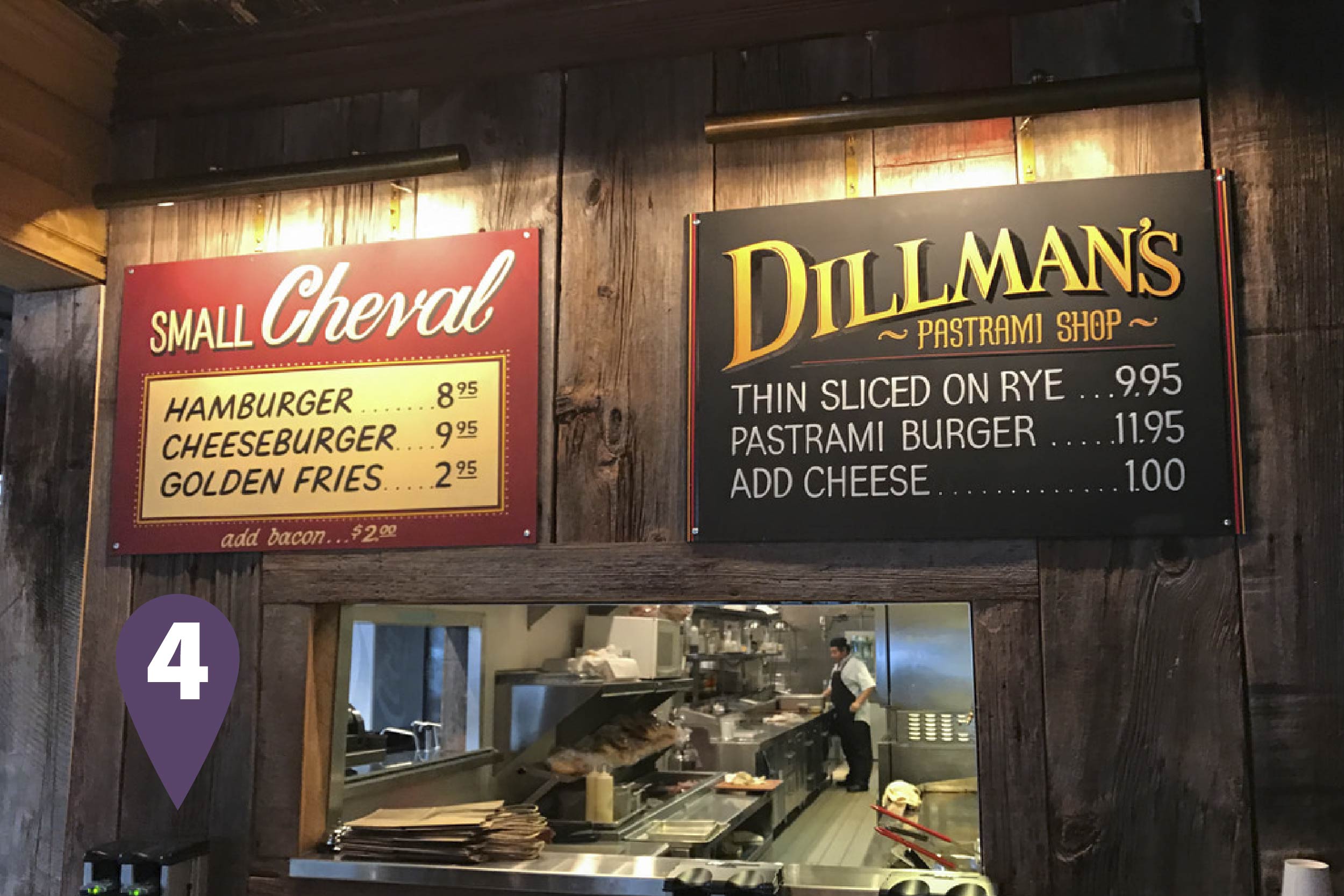 If there's one thing River North is known for, it's the restaurant and bar scene. There are so many restaurants crammed into this neighborhood, that recommending just one is an exercise in futility.
In the mood for (fancy) seafood? Try Joe's, Shaw's, or GT Fish & Oyster. Ready to indulge in a decedent steak? Bavette's, RPM Steak, or Gilt Bar are sure bets. Don't feel like spending a million dollars on one meal? XOCO is a casual Rick Bayless masterpiece, and Portillo's is a Chicago classic chain.
If you start seeing the name "Lettuce Entertain You" pop up on every check you sign, don't be alarmed. The company owns and operates over 50 restaurants in Chicago, 25 of which are in River North. And while it may be tempting to scoff at what seems like an unsavory monopoly, the truth is that pretty much every restaurant they own is worth a visit.
My favorites include the sister restaurants Ramen-San and Sushi-San, both offering delicious Japanese cuisine in a funky setting, and Ema, a Mediterranean restaurant with particularly delightful hummus. Oh, and Il Porcellino for tasty Italian food and a homey ambiance. See? There are so many you actually start to lose track.
Also worth noting is the impressive market slash restaurant slash food court slash cooking school that is Eataly. You can shop the extensive wine and cheese collections, grab gelato at the food court, attend a pasta-making class, or dine at any of the small restaurants.
And finally, be sure to visit 3 Greens Market for the best blueberry muffin in the entire world (prove me wrong) and an almond milk cappuccino. 3 Greens is also home to a Small Cheval—the limited-menu daughter shop to the famed Au Cheval—where you can order a cheeseburger (with bacon) and fries for the sole purpose of smothering them in garlic aioli.
Eat All the Deep Dish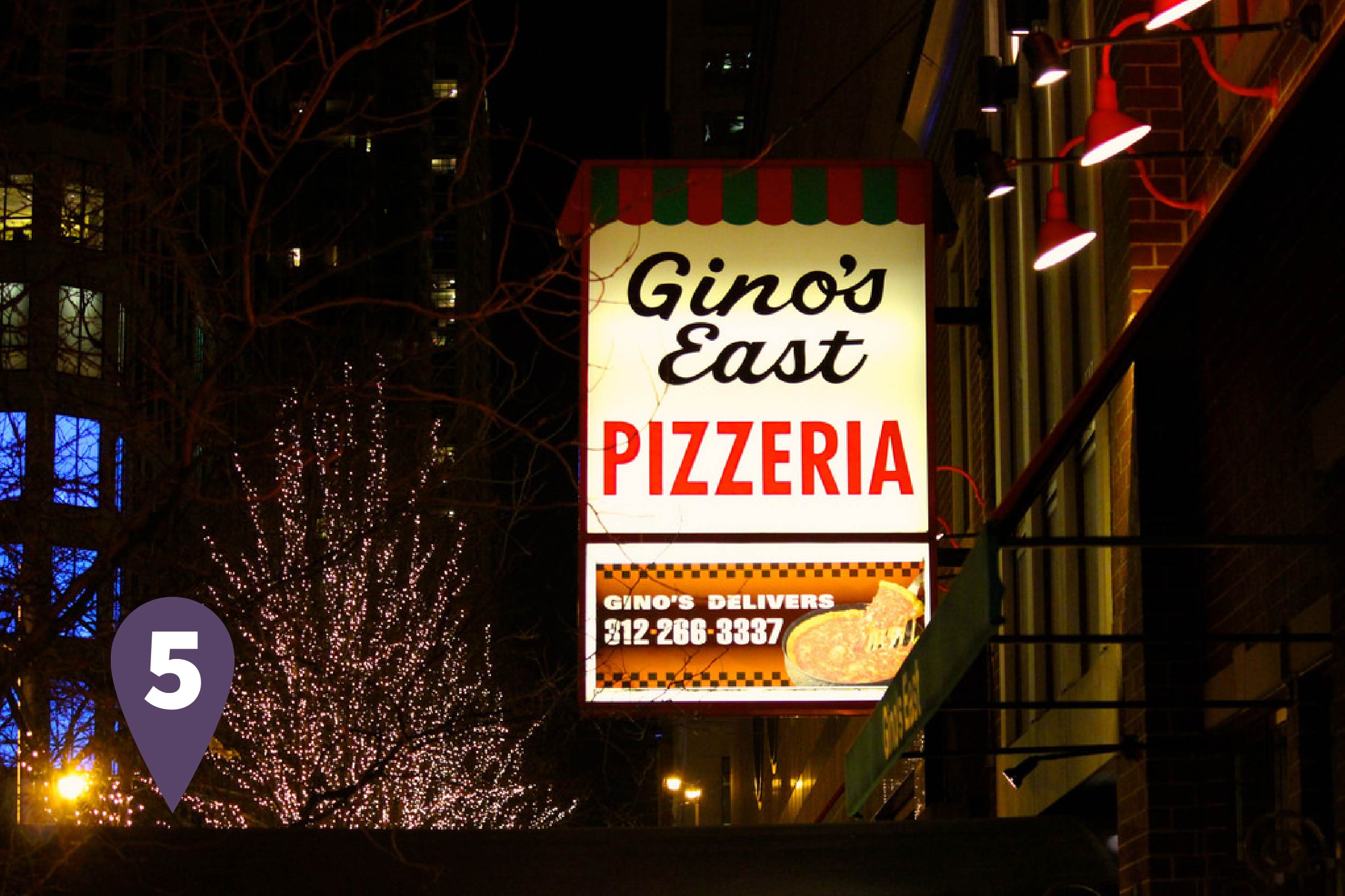 Though we just talked about food, this quintessential Chicago experience deserves its own callout—there are more Chicago-style pizza parlors in River North than there are pepperonis on any pizza you might devour.
OK, that's probably not factual, but the point remains that this neighborhood is home to all the major deep-dish chains, and then some. You'll find your fan-favorites like Lou Malnati's, Giordano's, and Gino's East, as well as original classics like Pizzeria Uno (and subsequently Pizzeria Duo), and neighborhood establishments like Pizzeria Ora.
Hot take: Gino's East is my favorite deep-dish establishment in the neighborhood, and it's not just because I live close enough to the restaurant for late-night pizza runs. I won't pretend this is a popular opinion, but their spinach margarita pizza on that cornmeal crust just can't be beat in my book. And, as an added bonus, the wait time here is typically a little shorter than at some of the other popular spots.
Spend Your Saturday Night on Hubbard Street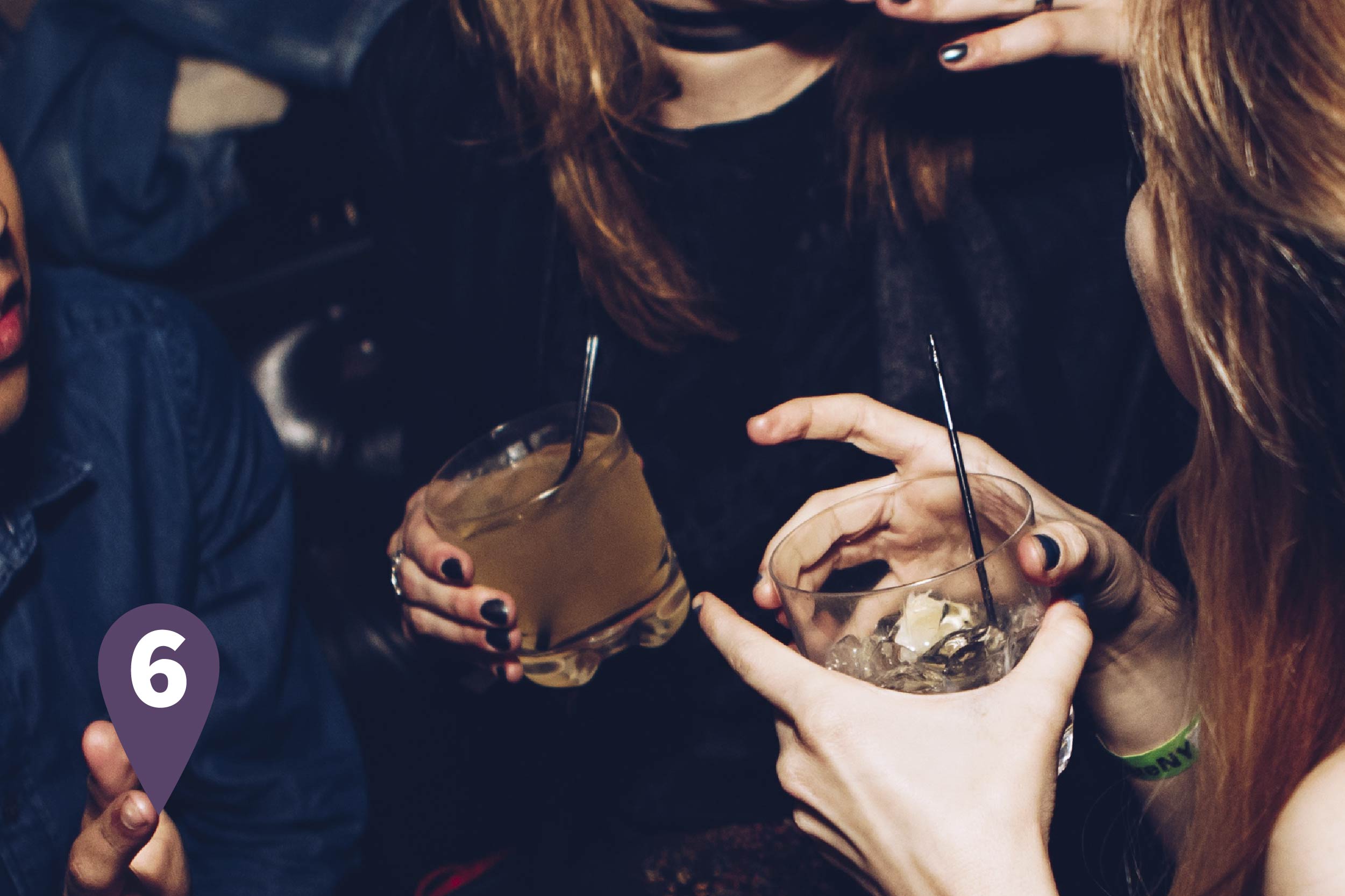 If you want to see what gives River North its reputation as a nightlife destination, plan a night on Hubbard Street. While it's certainly not the only street for going out in River North, the concentration of bars and nightclubs clustered on the three blocks between LaSalle and North State Street make for a particularly entertaining scene.
On the intentionally grungier end of the spectrum you have The Rec Room, located under Henry's (a fun, casual bar in its own right). Reminiscent of your high school friend's basement, The Rec Room scores major nostalgia points and features a fridge full of complimentary snacks. On the more flashy end of the spectrum, you have Joy District. This multi-level event space features a restaurant and bar on the first floor, and nightclub on the second floor, and a rooftop bar for taking advantage of those Chicago summer nights.
For a bar that's only a little bit crowded and still a lot of fun, try The Basement. This live music lounge has a speakeasy vibe, luxe leather couches, and a packed dance floor. But have no fear if none of these suit your taste—there are plenty of wine bars, jazz clubs, sports bars, and the like for you to choose from.