The History Behind Chicago Deep Dish Pizza, and Where to Find the Best Pies
The History Behind Chicago Deep Dish Pizza, and Where to Find the Best Pies
The age-old debate of thin crust or deep dish pizza isn't a question in Chicago — the question is which deep dish is the best. Deep dish pizza is a tradition, a staple of the culture in Chicago that started in the 1940s.
According to BBC Travel, modern-day pizza first came to fruition in the Italian city of Naples in the 16th century. It was created as a meal for lower-income residents, as the ingredients were cheap and the cooking process simple. Throughout the late 1800s and early 1900s, Neapolitan immigrants arrived in the United States. By 1943, deep dish was created with a deeper cake-like pan, inverted layers, and a crunchy, hearty crust.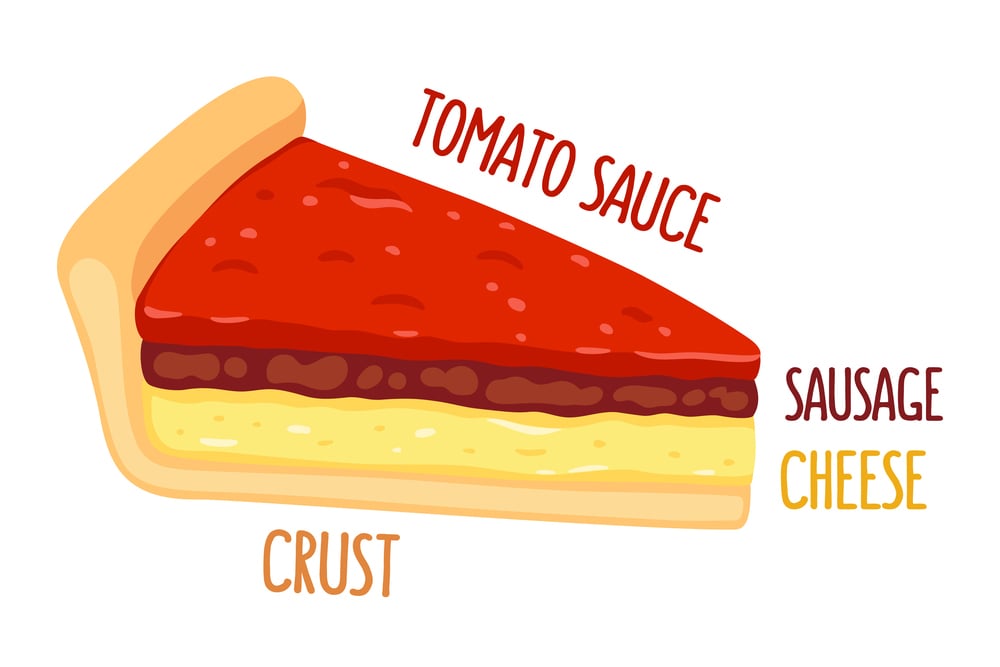 The indulgent, cheesy, and sometimes overwhelming pizza — all compliments, of course — was first created by Ike Sewell and Ric Riccardo of Pizzeria Uno who wanted to create an Italian-American style of pizza. However, Adolpho "Rudy" Malnati Sr. has claimed to be the idea man behind the recipe. Some have claimed to have never seen Sewell or Riccardo making the pies, but Rudy eventually opened a shop of his own with his son, Lou, in 1971 in Lincolnwood. Maybe you've heard of it.
Whoever had the stroke of genius to create deep dish pizza started a phenomenon, and eateries throughout the Chicago area are replicating and making the recipe their own.
Pequod's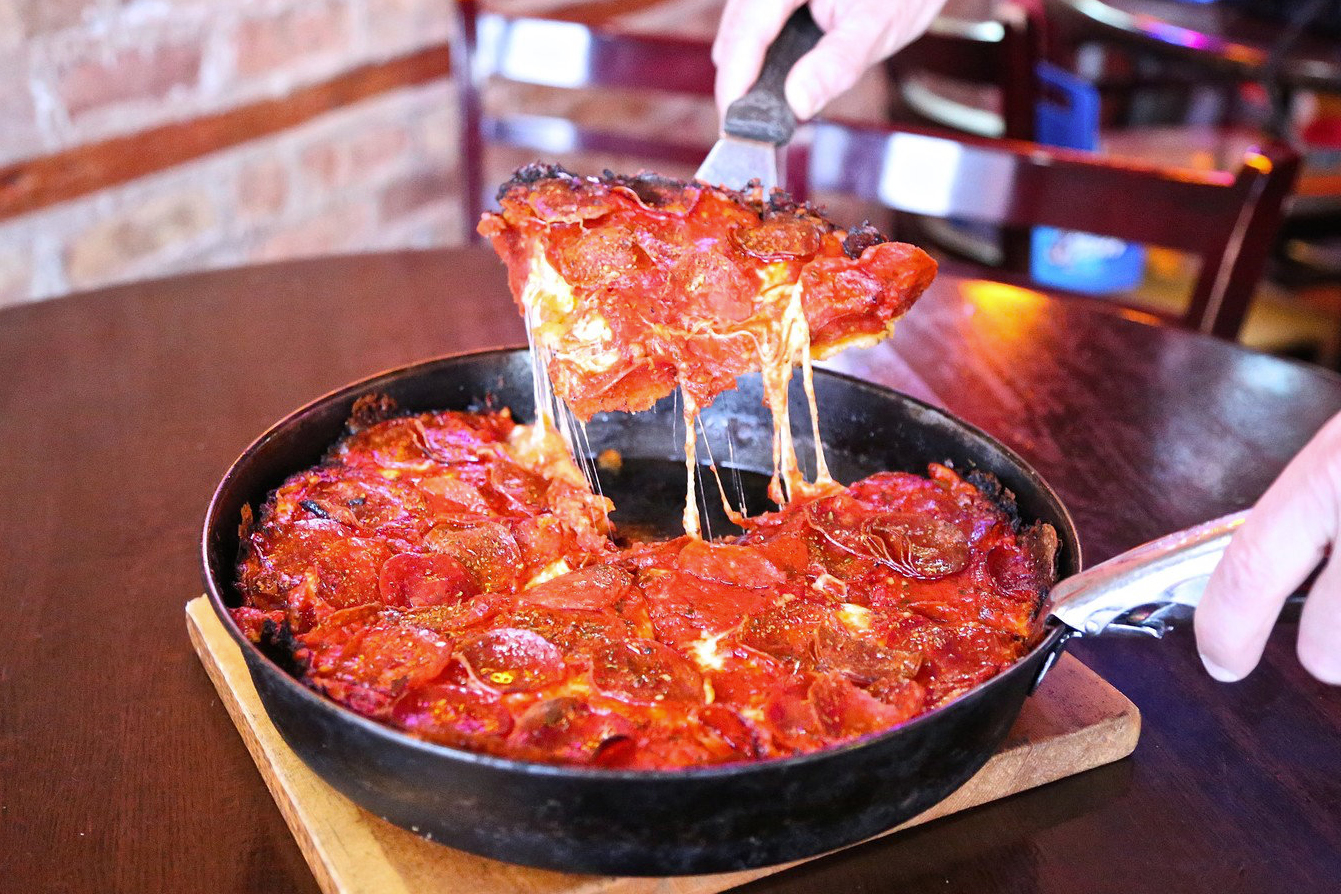 What may be the North Side's favorite deep dish, Pequod's is known for its caramelized cheese crust and healthy portions of sausage. Here, they call it pan pizza, and it comes piping hot and looking near-burnt — savour it. The two-level sports bar in Lincoln Park is dark and almost always crowded. There's another location in Morton Grove. Waits can get up to four hours at the Chicago location for a party of more than four people on a Friday, so aim to get to this spot on a weekday or during less busy hours. Better yet, order your pie to-go and skip the long wait.
Lou Malnati's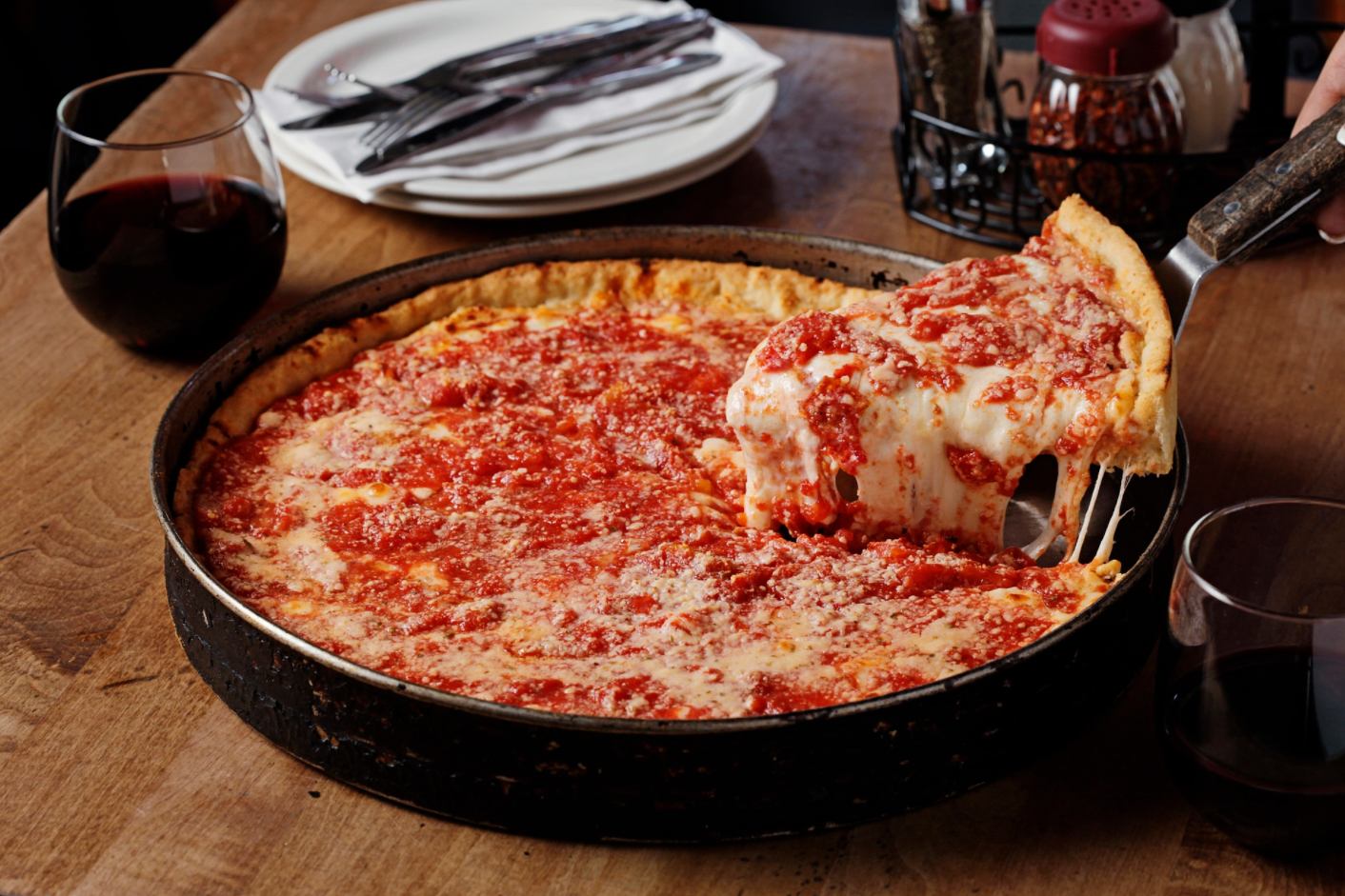 When it comes to pizza chains, Lou Malnati's has scooted its way into first place for many. The crust is buttery and flaky, and the sausage comes in a layer, so that a single bite doesn't go without it. The first location opened its doors in 1971 in Lincolnwood, and the first Chicago spot opened in River North in 1986, which to this day still has the gritty feel that it had upon opening, but its pies are on-point. The Lou is a favorite, with spinach, mushrooms, and sliced Roma tomatoes, as well as three kinds of cheese: Romano, mozzarella, and cheddar.
Nancy's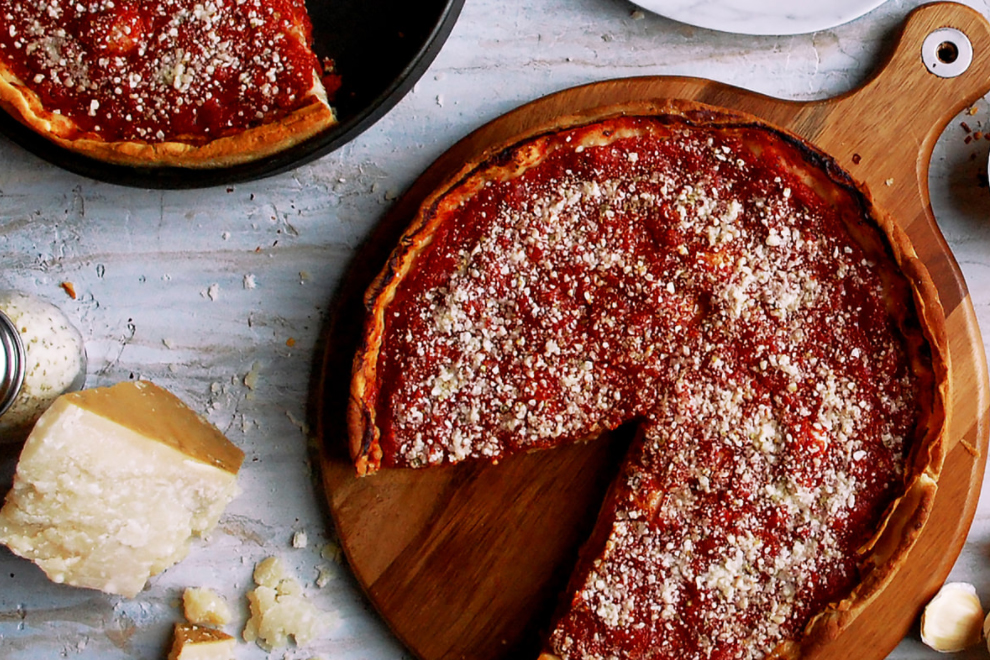 Only found in the suburbs, Nancy's calls their deep dish "stuffed" pizza and adds a thin layer of dough on top of all the ingredients, followed by a hearty helping of sauce. Nancy's opened in 1971 and claims to be the inventor of the stuffed pizza.
Giordano's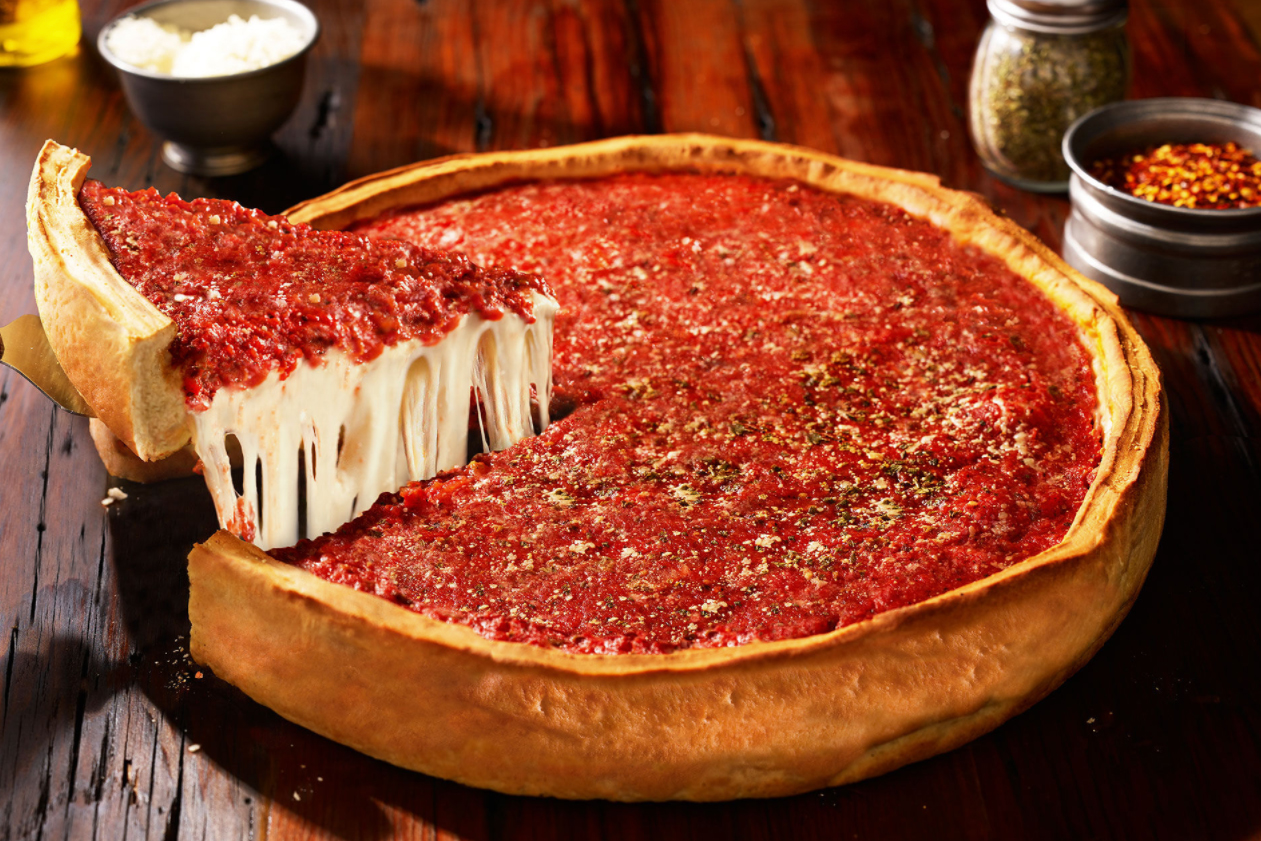 Giordano's also calls its deep dish pizza "stuffed," and the chain has been serving up pies since 1974. This spot uses Wisconsin mozzarella cheese and hand-picked tomatoes from Mendocino County, California to make its pizzas special. There are more than 50 locations throughout the nation, but the first spot opened its doors on the South Side of Chicago. The story has it that the dish was created in Torino, Italy by Mama Giordano who called it her "Italian Easter Pie."
The Art of Pizza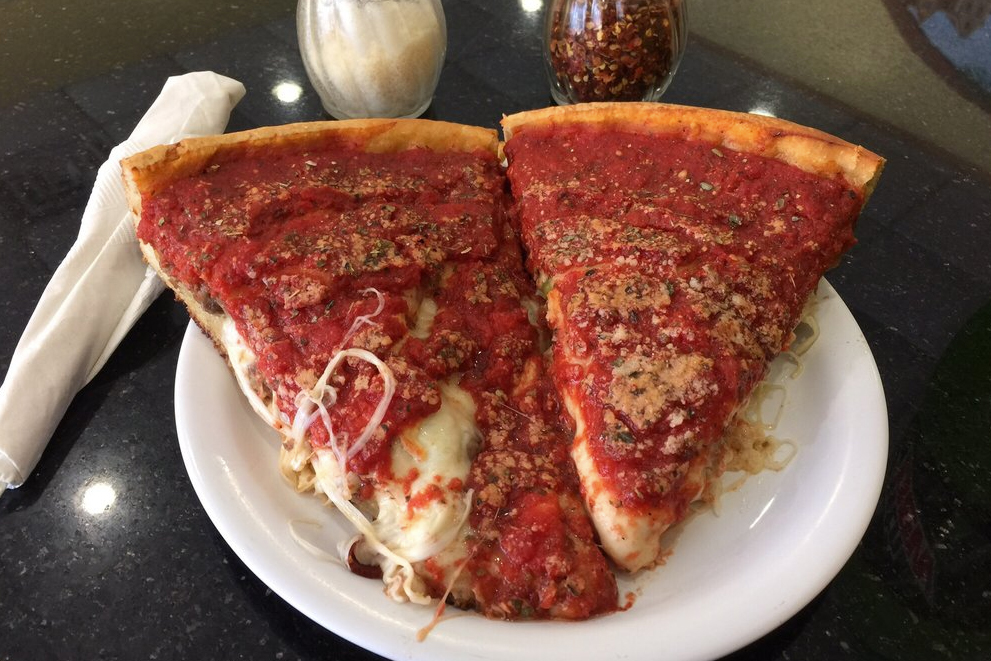 The Art of Pizza has been in Lakeview for more than 25 years and has earned accolades from Thrillist and the Chicago Tribune. The herbed crust is flaky and golden brown, the cheese is overflowing, and the sauce is chunky and filled with oregano and basil. This stuffed pizza isn't messing around. While, of course, pepperoni and sausage are always encouraged, the pizza is so indulgent that going straight cheese is still crowd-pleasing.
Burt's Place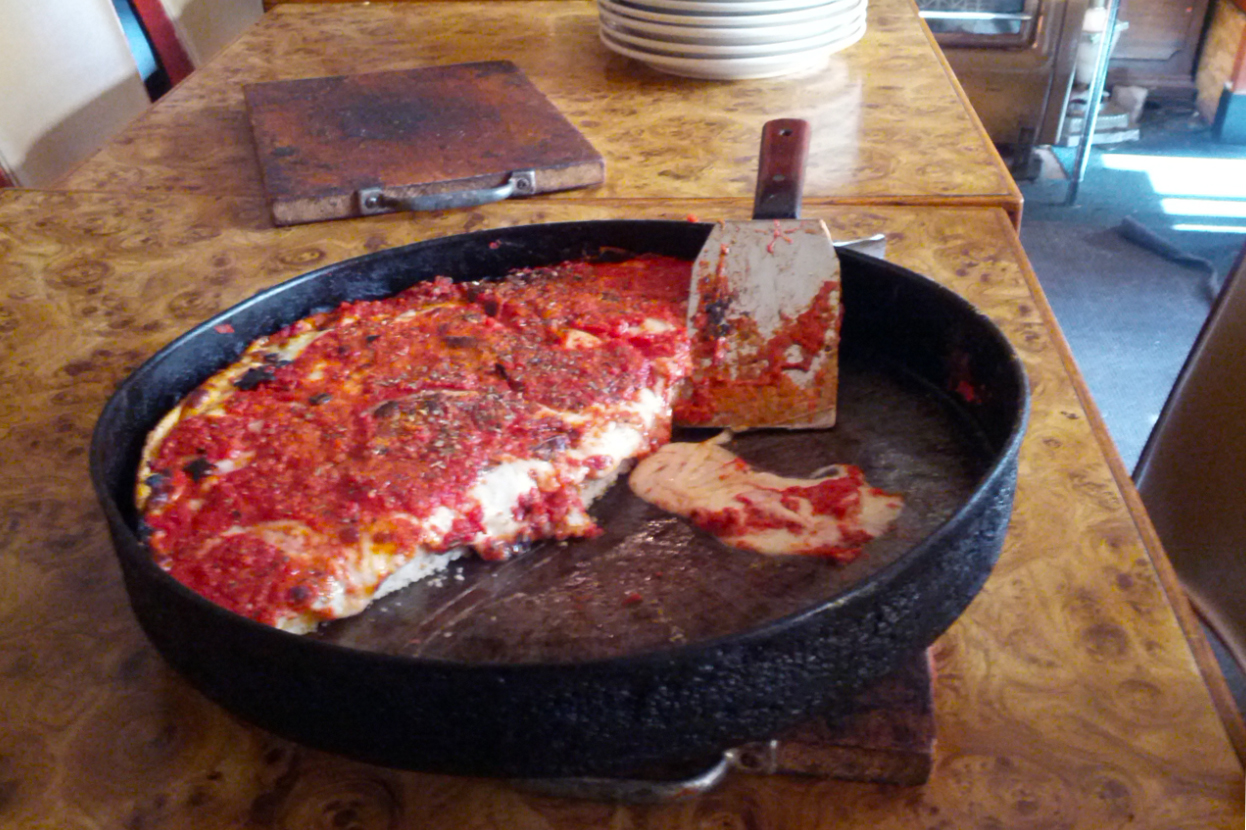 Anthony Bourdain claims Burt's Place to be the only deep dish pizza he's ever loved. Located in Morton Grove, this spot serves up pan pizza in a laid-back space that feels like home. While Burt never claimed to be a chef, he may just be the pizza king of Chicago. Before opening the doors of Burt's Place in 1989, he opened another favorite on the list: Pequod's. Burt's Place is known for the same caramelized crust pan pizza, and the storefront's ambiance even carries that same vibe from his first pizza venture. Burt passed away in April 2016, but the legendary pizza is still being created using his methods.