Chicago Real Estate Development
$64M Project, Village Hall Site Redevelopment Set to Change Downtown Oswego
In December 2017, Oswego approved plans for a $64 million project slated for property located in the village's downtown, according to the Chicago Tribune. The 2.38-acre Alexander Lumber site, located at Washington and Adams streets, is one of the largest vacant sites in the area, according to the report. The lumber business closed in 2006 and buildings on the property were knocked down in 2013. If the new development goes forward, it would breathe new life into the village's downtown. Here are the details on the new project: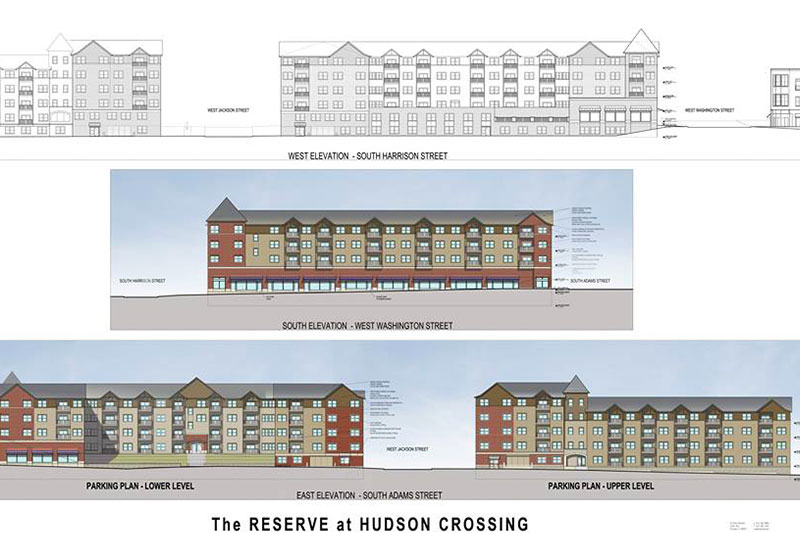 The Reserve at Hudson Crossing
The mixed-use project, spearheaded by the Shodeen Group has been named The Reserve at Hudson Crossing, according to the Chicago Tribune report. Elements of the project include two six-story buildings with 12,000 square feet of retail and restaurant space, 500 village-owned parking spaces, and 245 luxury rental units.
"Shodeen is investing tens of millions of private dollars into our downtown that will help realize the Village Board's vision for Oswego as a destination in the region," village administrator Dan Di Santo told the Chicago Tribune.
The village is pitching in $7 million, as well as $16 million in bonds, according to the report. The Shodeen Group will repay the bonds through property taxes. When first approved, the project had a groundbreaking date of fall 2018, but the developers have reached a road bump in the development timeline.
Project Delay
Oswego initially set a June 9 deadline for the Shodeen Group to find financing for The Reserve at Hudson Crossing, according to another Chicago Tribune report. The deadline has been moved to Sept. 7 to give the developer more time to work with a financial institution and acquire additional properties on the village's South Adams Street.
While the timeline of the project has been pushed back, village officials remain confident the $64 million project will move forward.
"Shodeen has recently received a strong commitment from a financial institution and we are confident that full financing is a few months away," said Di Santo, according to the report.
Once the Shodeen Group has officially secured financing, the developer and village officials will work together to create a timeline for the project.
Redevelopment of the Old Village Hall Site
The Reserve at Hudson Crossing is not the only project on the docket in downtown Oswego. The former village hall is going to be redeveloped as a mixed-use project, according to Kendall County Now. Developer Imperial Investments intends to construct a three-story building on the site. The first floor would feature a restaurant, the second office space, and the third luxury apartments, according to the report. The old village hall was knocked down three years ago.
"We're working hard to reinvigorate downtown as a place where residents can shop and dine, and where neighbors can gather and enjoy a sense of community," said Gail Johnson, village president, according to the report.