Austin Local Life
7 Can't-Miss Breakfast Tacos in South Austin
Austin has evolved into a major foodie destination, thanks to its excellent BBQ, creative food trucks, and unbeatable Tex-Mex eats. In the latter category, you'll find one of Austin's signature dishes: the breakfast taco.
The basic ingredients are pretty simple: a tortilla, scrambled eggs, potatoes, and potentially (read: hopefully) some bacon or sausage. But within these parameters, inventive culinary minds can go wild, supplementing it with ingredients like melted cheese, fiery salsa, and crunchy vegetables. While breakfast tacos can be found all over Austin, the region south of Lady Bird Lake is home to some of the city's best. Here, you'll find our picks when it comes to breakfast tacos in Southwest and Southeast Austin.
Migas Taco at Veracruz All-Natural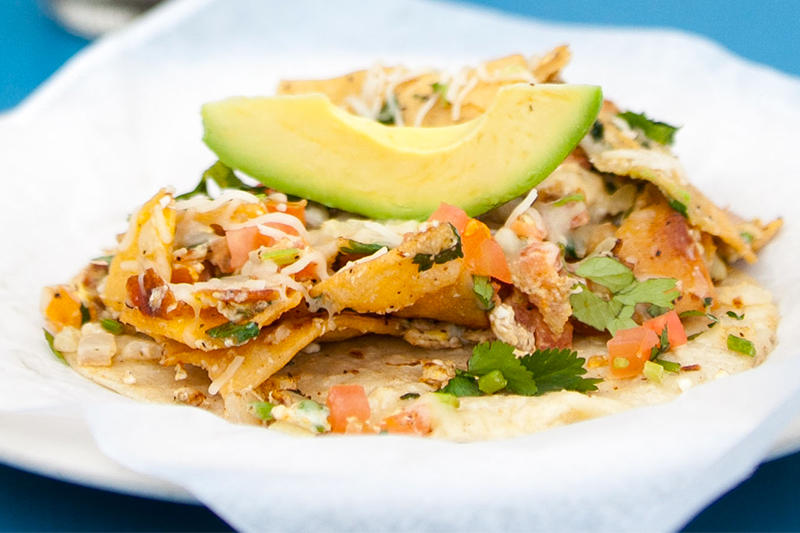 Parked in the backyard of South Lamar's Radio Coffee & Beer, the Veracruz All-Natural truck specializes in tacos, tortas, and fresh salsas. They're especially beloved for their breakfast tacos, which Veracruz offers in a few varieties (including a build-your-own option). The highlight, however, is the migas taco, a morning bite included on Food Network's list of the Top Five Tacos In America. Veracruz starts with a flour tortilla (or corn, if you prefer), then loads it up with scrambled eggs, crumbled tortilla chips, Monterey Jack cheese, avocado, and pico de gallo.
Bacon-Egg-Potato Taco at Dan's Hamburgers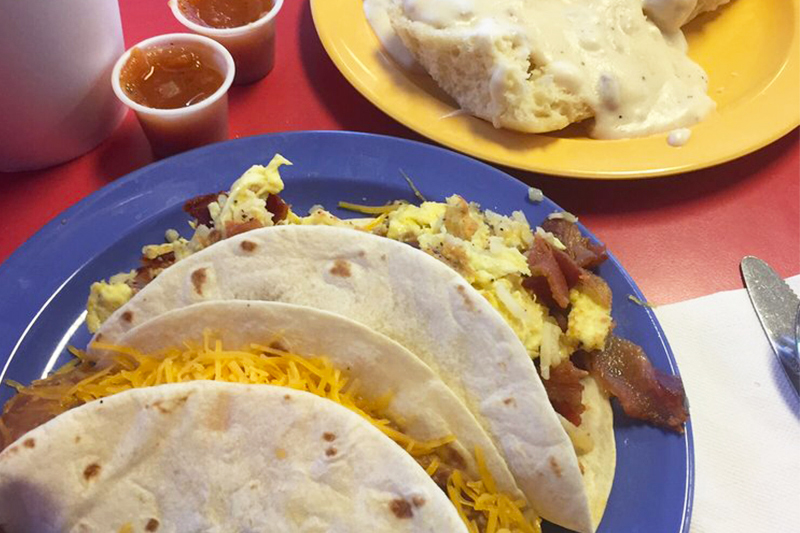 A family-run burger restaurant, Dan's Hamburgers has become a neighborhood favorite for all times of the day. On the breakfast menu, you'll find a series of tacos with a nod to classic Americana. Dan's grills a simple white-flour tortilla before layering it with scrambled eggs, crispy hash browns, a thick strip of bacon, and an optional cheese add-on. The tacos at Dan's are big two-handed endeavors and the no-frills ingredients make for a satisfying start to the day.
The Otto Taco at Tacodeli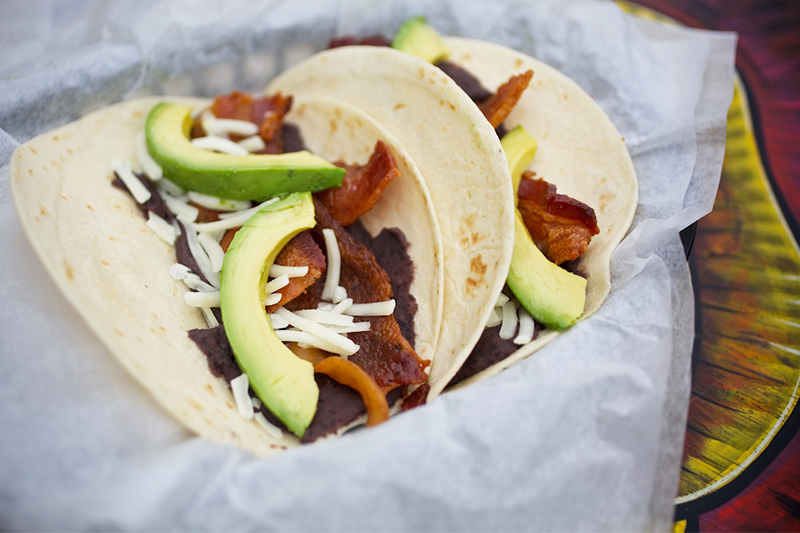 Tacodeli offers unusual varieties and consistently delivers a high-quality foldable treat. Tacodeli's ever-changing menu regularly includes a breakfast taco special, but for the very best example of the genre, stick with The Otto, a long-time Tacodeli favorite. Built on a grilled flour tortilla, The Otto includes a layer of refried beans, jack cheese, two crisp pieces of bacon, and a wedge of avocado. Check out their locations in Barton Hills, Crestview, Rosedale, and Westlake Oaks.
Egg, Cheese, and Chorizo Taco at El Primo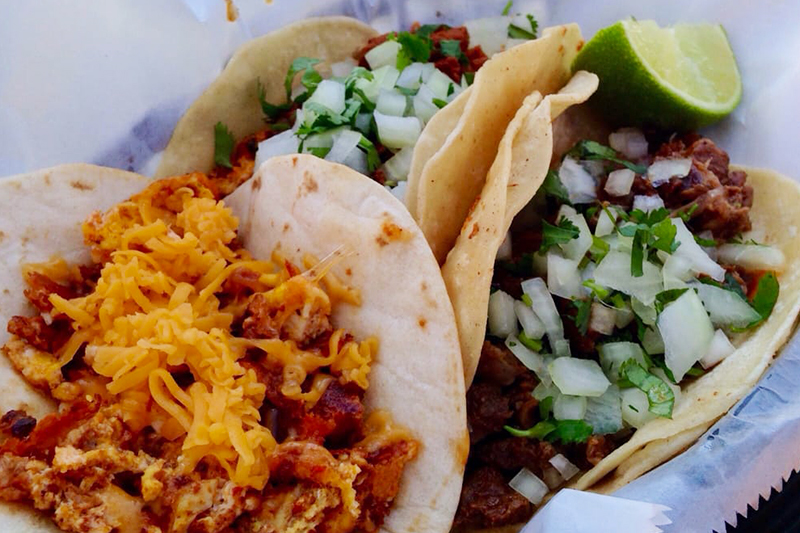 An unassuming stand on S. 1st St. in Bouldin, El Primo is a South Austin taco touchstone, beloved by locals for years. El Primo's menu is a choose-your-own-adventure affair. Their breakfast taco choices include "Egg, Bean and Meat", "Egg, Cheese and Meat", and "Bean, Cheese and Meat", with meat offerings like bacon, migas ham, and chorizo. El Primo folds the spicy crumbled sausage into scrambled eggs, spreads the mixture on your choice of a flour or corn tortilla, then tops it all off with grated cheese.
The Real Deal Holyfield at Valentina's Tex-Mex BBQ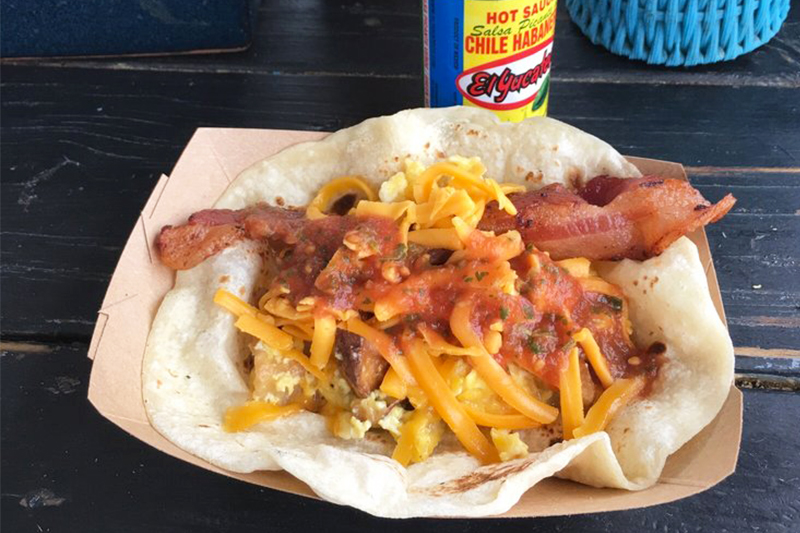 BBQ and tacos might be Austin's two greatest culinary claims-to-fame, and at Valentina's Tex-Mex BBQ in Manchaca, you'll find excellent versions of both. If you arrive between 7:30 a.m. and 11 a.m., you'll have access to Valentina's breakfast menu, featuring a real gut-buster of a taco named The Real Deal Holyfield. Its flour tortilla wrapper contains a fried egg, potatoes, bacon, refried beans, tomato-serrano salsa, and your choice of Valentina's pulled pork or (the highly recommended) mesquite-smoked brisket.
Breakfast Taco at Papalote Taco House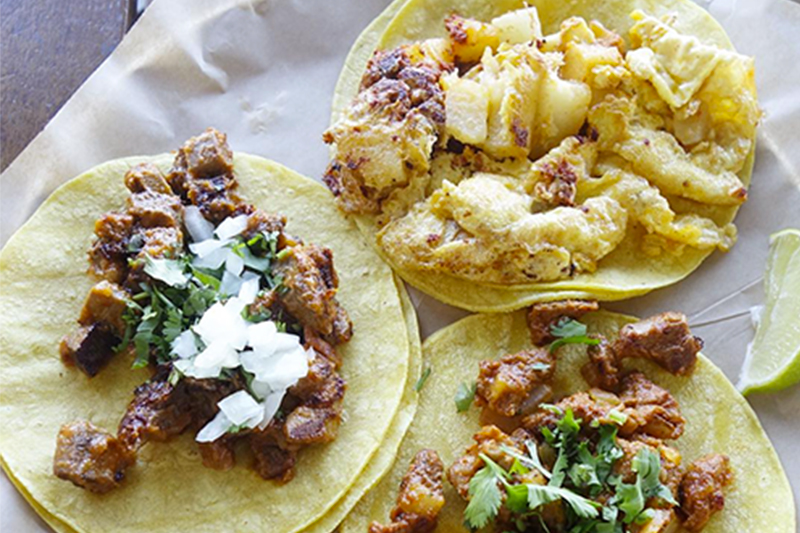 With one location tucked into a South Lamar strip mall and a larger space on South Congress, Papalote Taco House is a neighborhood favorite that uses fresh and vibrant ingredients to build its celebrated namesake dish. Papalote serves breakfast tacos all day long, and each contains scrambled eggs and your choice of two additional ingredients. Vegetarians will find a wide range of choices, from cactus to calabaza squash, while meat eaters can select from items like bacon, chorizo, and chicharron.
Dirty Sanchez at Torchy's Tacos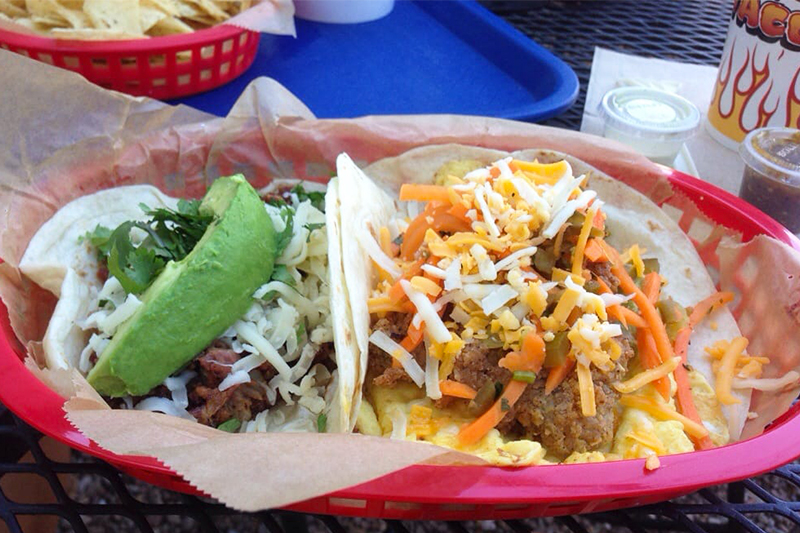 In Torchy's Tacos, you'll find a local mini-chain with a gonzo menu. Torchy's offers a larger assortment of egg-based tacos than most other venues, including the popular Dirty Sanchez, which stuffs scrambled eggs, guacamole, pickled escabeche carrots, grated cheddar jack cheese, a fried poblano chile, and housemade poblano sauce on a flour tortilla. They have 13 locations to choose from, including South Lamar, South Congress, and Arbor Trails.