7 Undeniably Instagrammable Spots in Austin
7 Undeniably Instagrammable Spots in Austin
With its riverfront stretches, charming neighborhood villages, and bold pieces of public art, Austin is an Instagrammer's paradise. If you're on the hunt for vibrant local canvasses for your social-media masterpieces, consider these seven Austin destinations.
"Greetings From Austin" Mural - Bouldin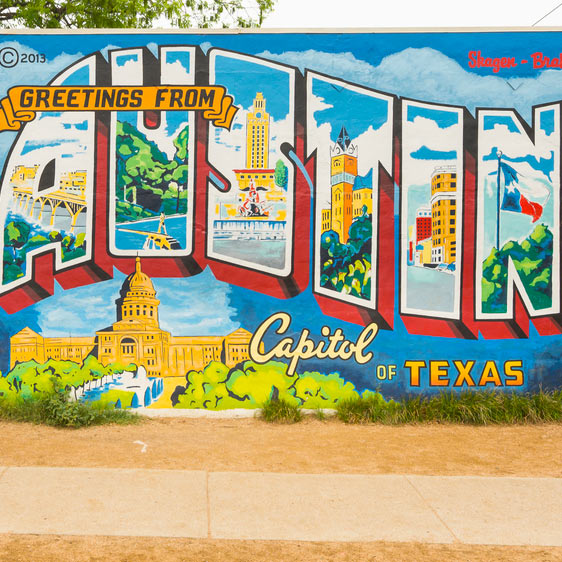 A South Austin thoroughfare studded with hip cafes, funky vintage shops, and an abundance of food trucks, the Bouldin neighborhood is also home to one of Austin's most famous examples of public art: the Greetings From Austin mural. Painted in 1998 by local artist Todd Sanders, the mural underwent a full restoration in 2013, returning the colorful facade to its original bright hues and upping its Instagram cache.
HOPE Outdoor Gallery - Downtown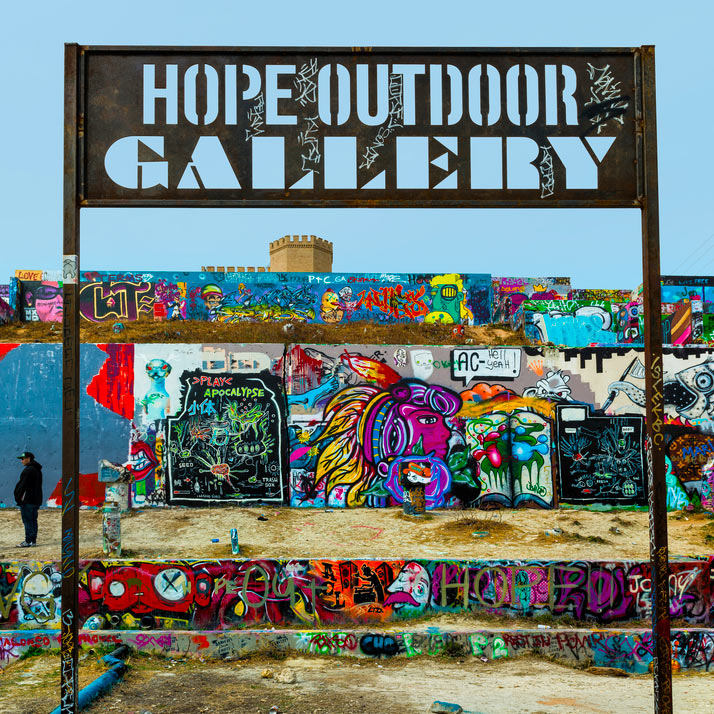 Austin provides a supportive community for street artists and muralists, and at the HOPE Outdoor Gallery in Downtown Austin, these creative folks can find a home for their work, whether it be large-scale murals, photo collages, or performance art. Originally launched with the help of contemporary artist Shepard Fairey (creator of Barack Obama's "Hope" poster), HOPE seeks to connect artists with charitable organizations, and the exhibitions presented by the gallery have supported causes like Global Citizen and literacy growth in Senegal. The engaging artworks on display at HOPE make for beautiful Insta shots while also promoting worthy pursuits worldwide.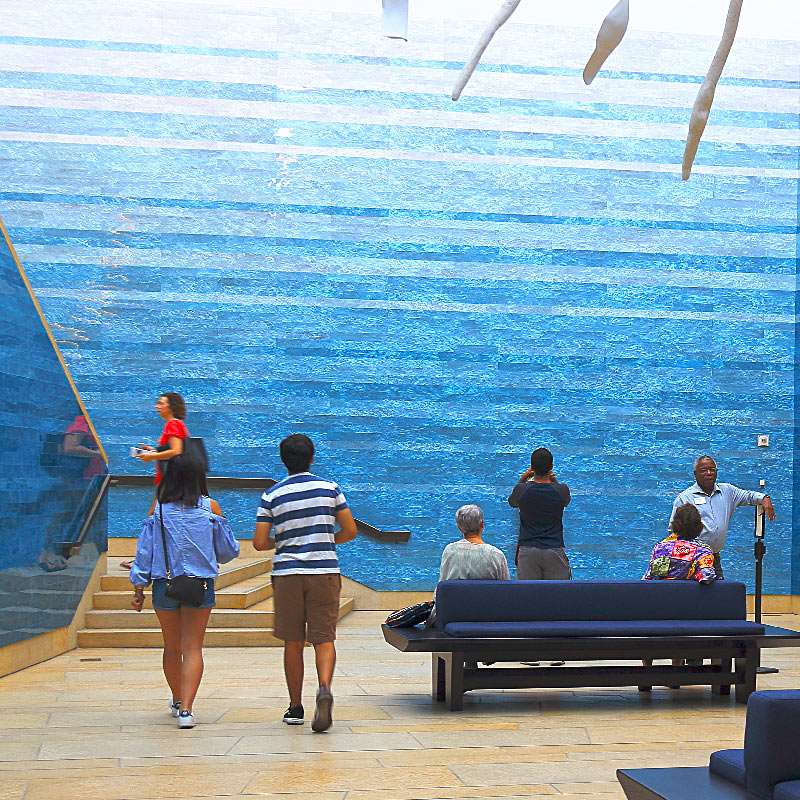 On the southeast corner of University Campus, you'll find the Blanton Museum of Art, home to one of the nation's largest university art collections. Blanton's permanent collection includes Austin, a large-scale sculpture donated in 2015 by contemporary artist Ellsworth Kelly. This "sculpture" is actually a freestanding 2,715-square-foot building made of white stone and accented by multicolored glass window panels. It's a beautiful and serene artwork — a perfect backdrop for an Instagram shot.
The Congress Ave "Bat Bridge" - Bouldin / Downtown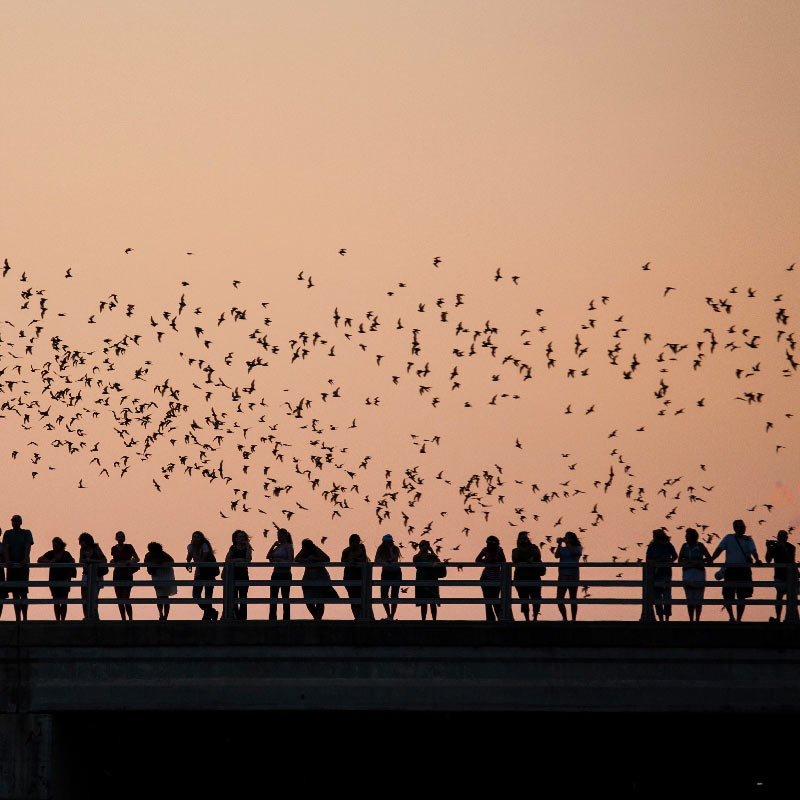 One of Austin's most popular attractions, the Congress Avenue pedestrian bridge to welcomes a colony of over 1.5 million bats every spring. At sunset, onlookers can observe the bats as they swirl and swarm through the air, creating an impressive vista for skilled photographers and videographers. Try to get to the bridge just before sundown for a prime view.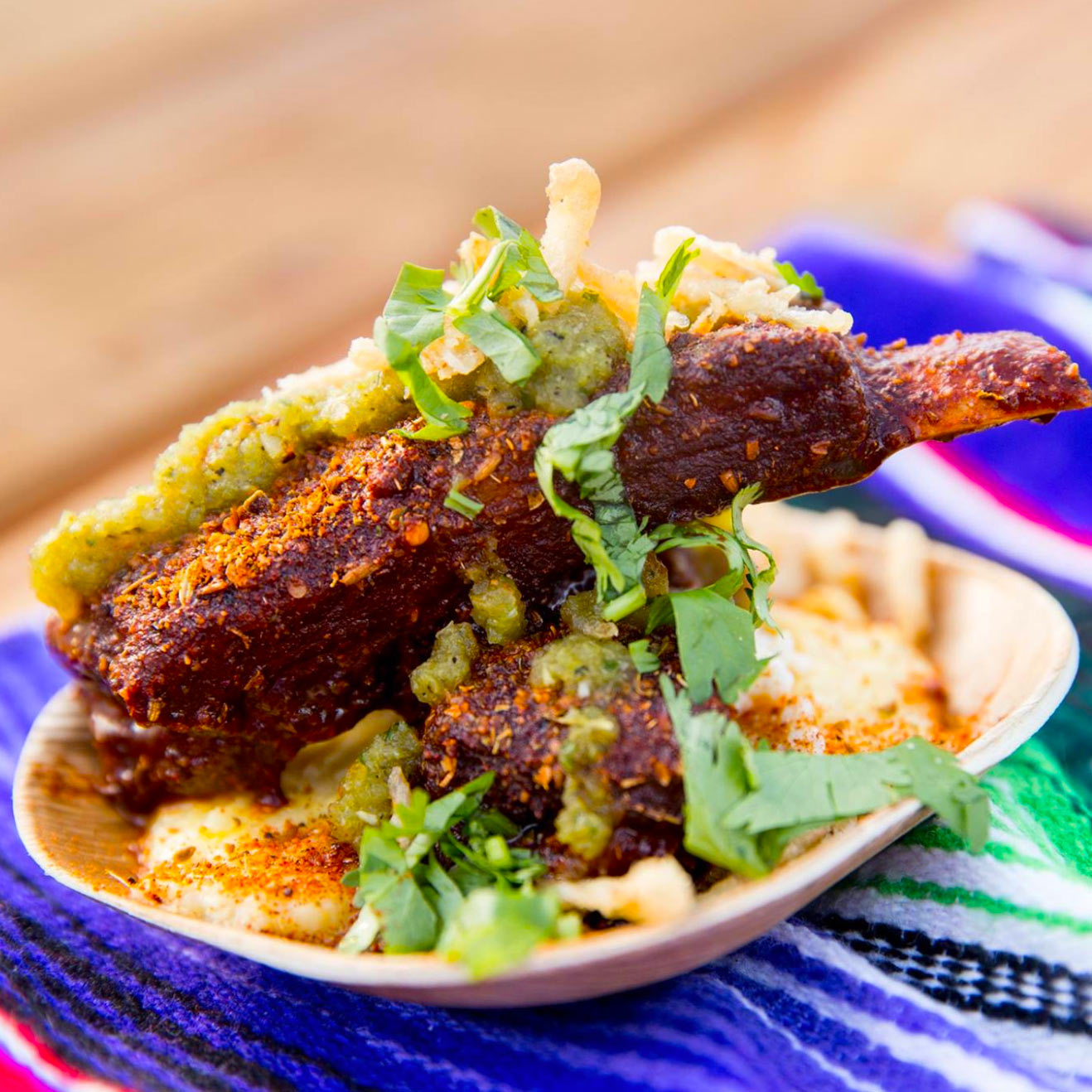 There's a reason why Franklin Barbecue in East Austin counts among Austin's most popular foodie attractions. From the tailgate-style waiting game to the impeccable smoked brisket, Franklin truly does live up to the hype, and Instagrammers will find plenty of potentially-viral material here.
"Willie For President" Mural - South Congress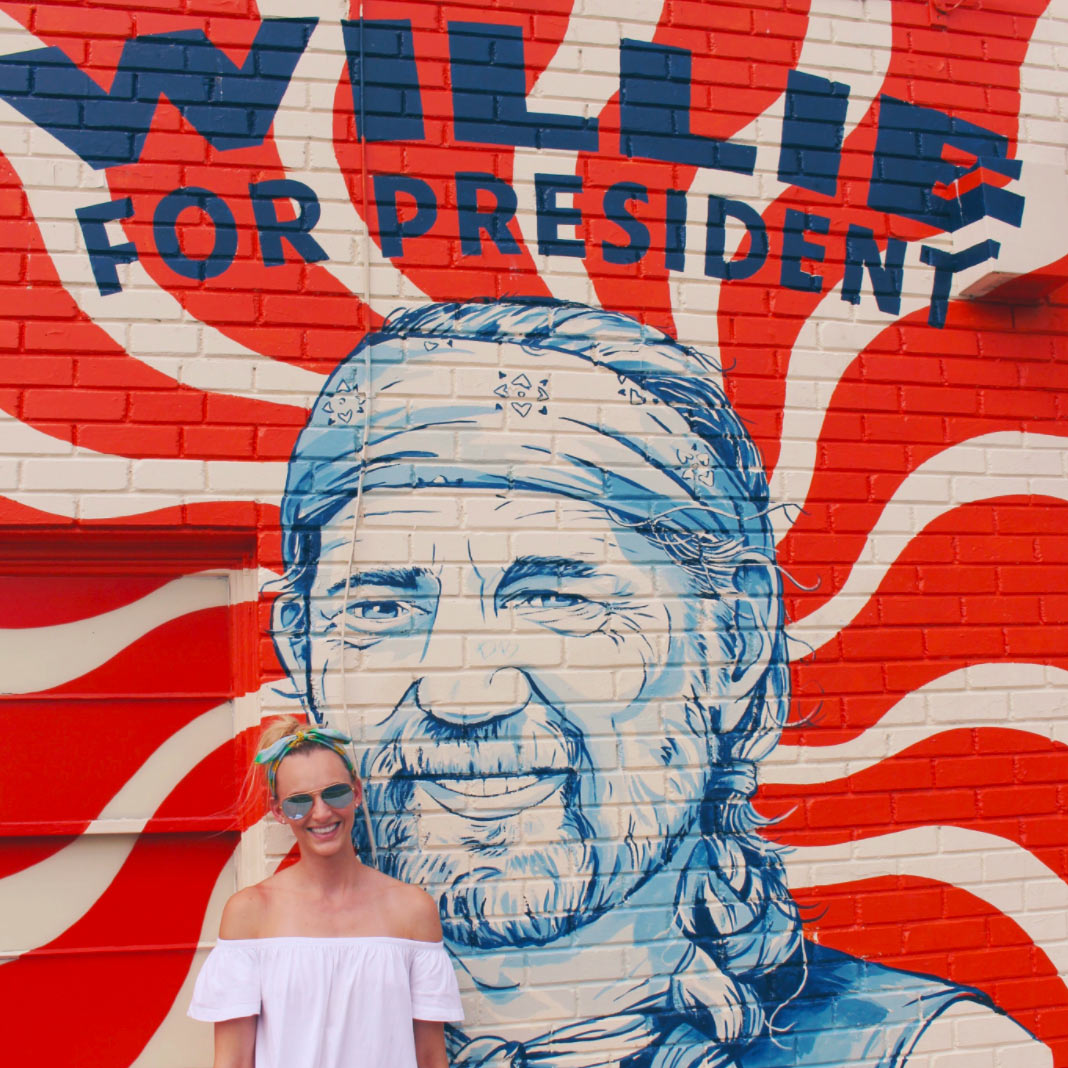 Painted during SXSW 2016, the Willie Nelson portrait plastered across the side of the Stag Provisions menswear shop in South Congress has become a major piece of local iconography honoring one of the city's most beloved hometown legends. It's also an excellent backdrop for your next Insta profile photo, especially if you're a country fan.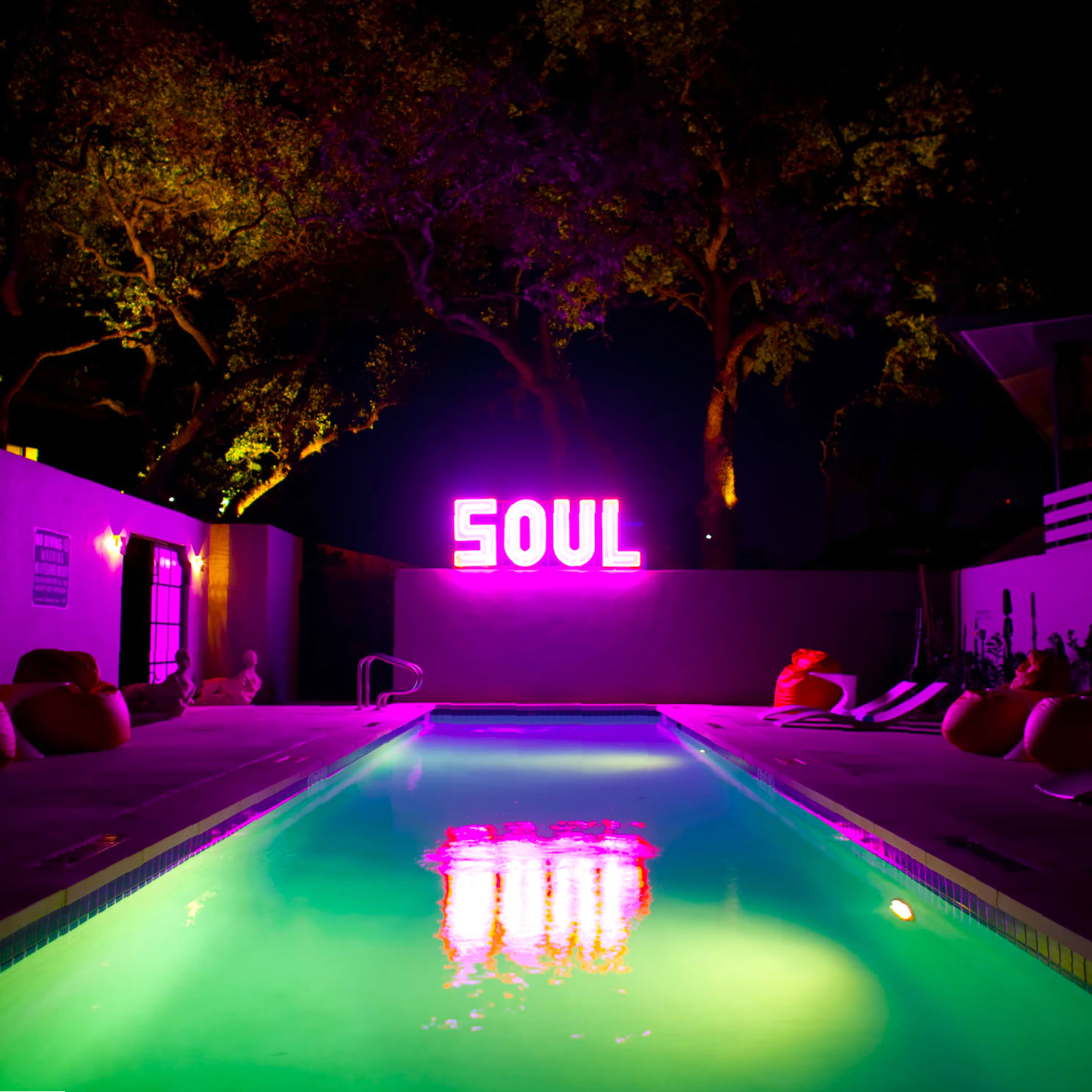 Located in a refurbished Victorian manor house just a block from South Congress Avenue, Hotel Saint Cecilia is an impossibly-chic ode to the 1960s and 1970s rock culture. With its stylishly retro room decor, vast library of LPs, verdant pool area with a neon "SOUL" sign, wrap-around patios, and guitars available to borrow, Hotel Saint Cecilia is the ideal spot for an "Almost Famous"-inspired Insta shoot.