Los Angeles Real Estate Development
8 Futuristic Developments Rising Around Los Angeles
As Los Angeles goes through a surge in development, more and more home builders want to push the boundaries, especially when it comes to their project's design. To stay afloat in the sea of competition, developers are going bigger and more innovative with their futuristic, cutting-edge designs. Here are eight of the city's most anticipated developments that don't just defy "normal" architecture, they also spearhead the way for more forward-thinking projects.
Lucas Museum of Narrative Art – Exposition Park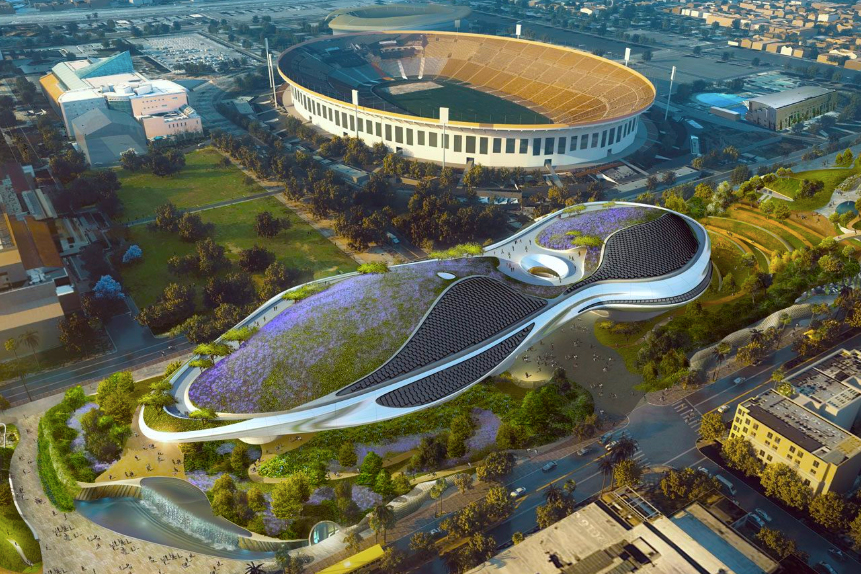 One of LA's most anticipated projects is the upcoming Lucas Museum, which will rise in Exposition Park. George Lucas is personally funding the $1 billion project, which is being designed and developed by MAD Architects' Ma Yansong. Even though San Francisco Bay's Treasure Island was being considered as a possible site, the "Star Wars" creator decided to construct his project in Los Angeles instead. Plans are still in the works, but the museum's future layout is currently slated to include five floors filled with art exhibitions and flashy amenities. Construction of the Lucas Museum is expected to begin this year and to be complete by 2021.
The Saban Building – Miracle Mile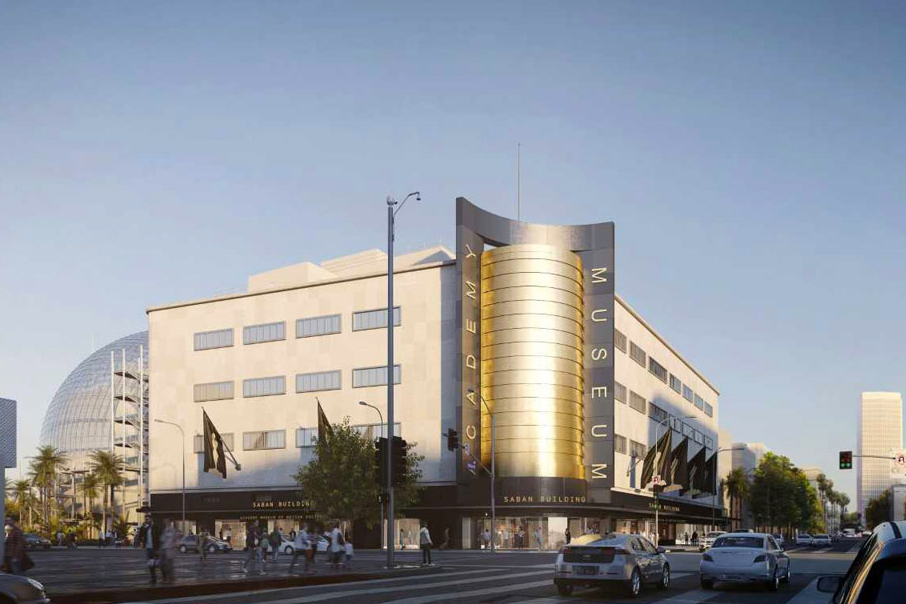 The Academy of Motion Pictures Arts and Sciences is building its first movie museum dedicated to film and TV in the Miracle Mile neighborhood. Philanthropic couple Cheryl and Haim Saban generously donated $50 million to the museum, and in honor of their funds, the film academy will name the museum the Saban Building. According to the renderings, which were designed by Pritzker-Prize winner Renzo Piano and architecture firm Gensler, the project's main attraction will be the globe-shaped Dolby Terrace, which is not only covered in glass, it also features expansive views of Hollywood Hills. Construction for the project began last year, and it's expected to open sometime in 2019.
Mesquit Development – Arts District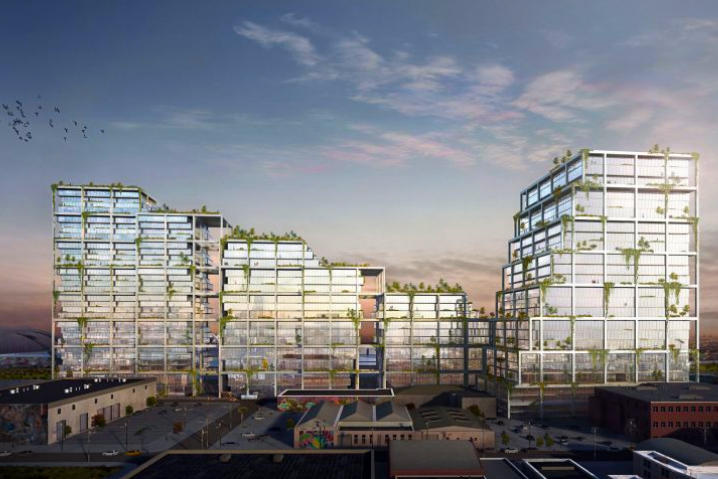 The Gallo family is working in tandem with real estate company VE Equities to construct 670 Mesquit, a large and lush-green development coming to the DTLA's Arts District. Famed architect Bjarke Engels was tapped to design the project, which will include two boutique hotels featuring approximately 225 rooms, 800,000 square feet of office space, about 250 residential rooms, shops, and even public space near the river. The project is expected to start next year and, depending on whether or not it will be built in phases, the completion date is expected sometime between 2022 and 2040.
Melrose Triangle Development – West Hollywood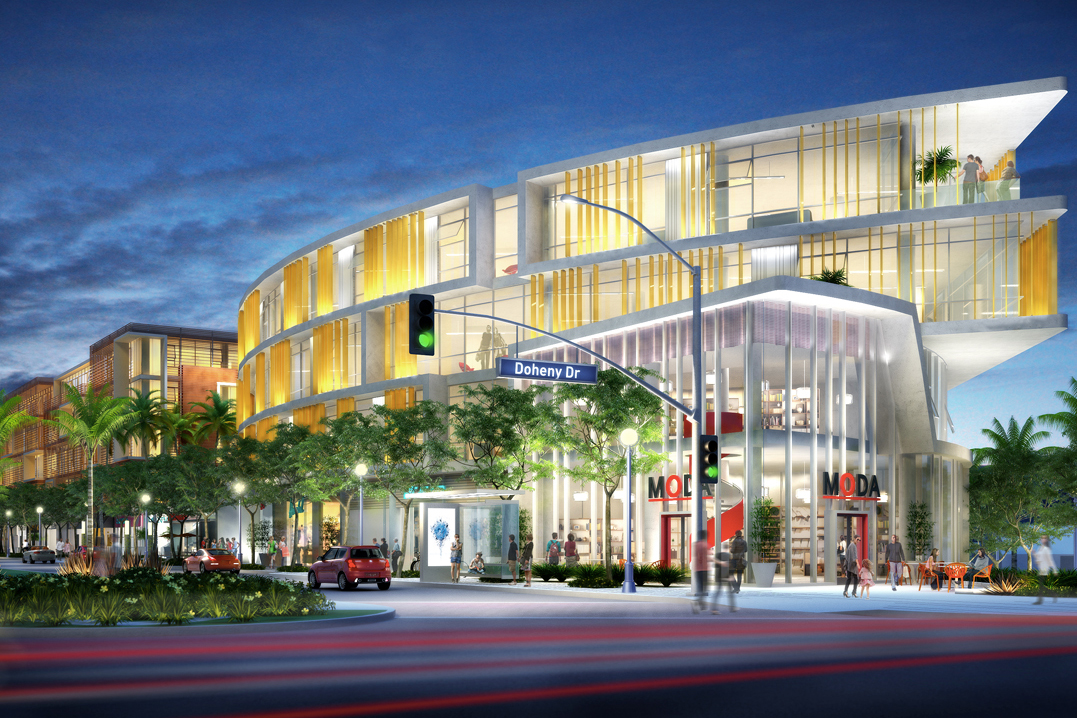 Last year, The Charles Company filed documents with the City of West Hollywood regarding a 1.3-acre site called the Melrose Triangle Development on the Sunset Strip. Even though there hasn't been a peep since news about the development broke last year, the design is simply too unique to pass over. Resembling a stack of uneven plates (think a tower of pancakes), the proposed project is expected to rise 19 floors, and be complete with a helicopter pad and art gallery. The building will feature about 185 guest rooms and additional space for events, dining and retail space, and 14 apartments.
The LAX Automated People Mover – El Segundo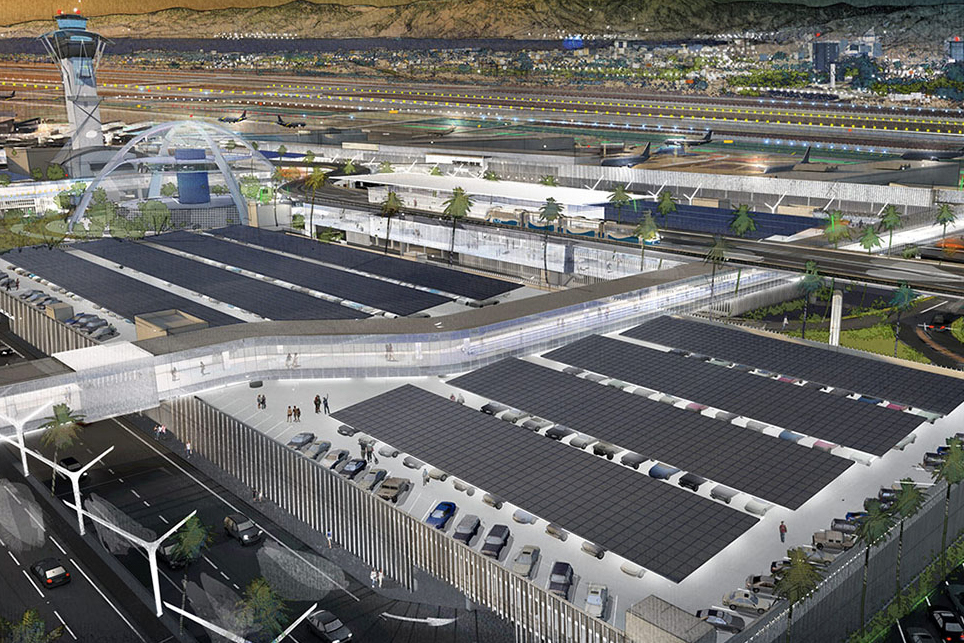 According to Curbed, The LAX Automated People Mover (better known as the Landside Access Modernization Program) is coming to the LAX neighborhood of El Segundo. The goal of the project is to easily move passengers from the Metro to LAX terminals, a rental car facility, public parking, and pedestrian walkways using new automated people movers. The project is expected to complete by 2023.
Ocean Avenue Project – Santa Monica
The Ocean Avenue Project was first proposed five years ago as a 22-story hotel tower for Santa Monica. However, the project was put on an indefinite hold while city organizers worked out the zone regulations. Earlier this year, developer Jeff Worthe released updated plans for the project, which cut the building by 10 floors. Celebrated architect Frank Gehry is set to design the tower, which is only one out of three other big proposals submitted by Worthe.
The Boring Tunnels Hyperloop – Hawthorne
Visionary Elon Musk is still at it when it comes to transporting cars and patrons through his intricate underground network called "the Loop." His plan was inspired while he was sitting in LA traffic during his commute from his Bel-Air residence to SpaceX headquarters in Hawthorne. That afternoon, Musk founded the Boring Company and started digging a few months later. The Boring Company recently released a new map outlining the tunnels that will be used to ferry vehicles between neighborhoods. The new underground network is still in its testing phases.
AltaSea – Port of Los Angeles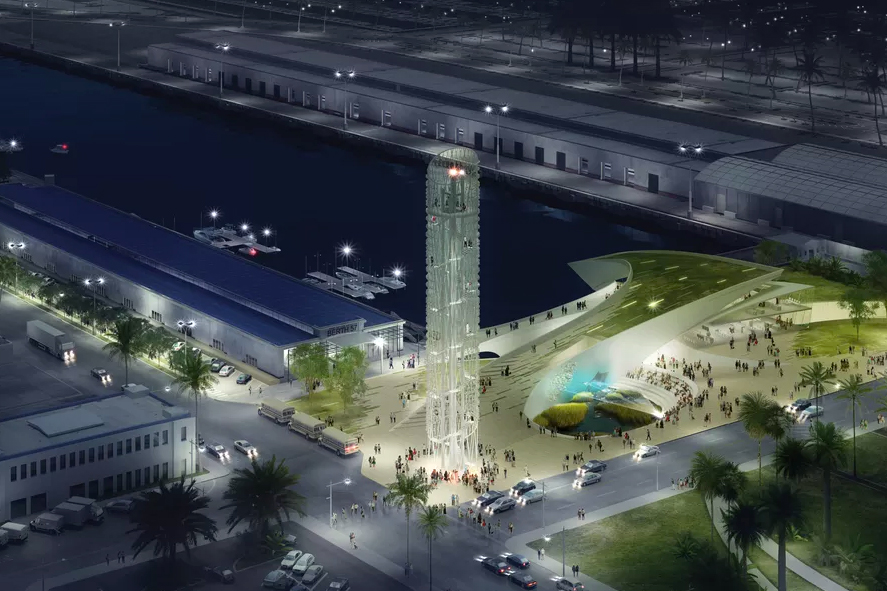 The AltaSea project, designed by Gensler, is meant to restore the unused Port of Los Angeles pier into a premiere marine research center. The San Pedro development was unanimously approved by the LA City Council a couple years ago, and it's expected to complete Phase 1 sometime this year. The innovative campus will feature circulating seawater labs, classrooms, lecture halls, resource facilities, opportunities to study tsunamis, and much more. The enrichment project is estimated to cost over $500 million over 15 to 20 years.