Chicago Local Life
8 Historic Restaurants in Chicago
From bootleggers and gangsters to a cursed goat and an allegedly arsonous cow, Chicago has a long and varied history. As the city grew over time to become one of the largest in the country, it has earned an impressive reputation for many things, especially its food.
Chicagoans are passionate about what they eat. We love our deep dish pizza, hot dogs, and Italian beef. But, we also have Michelin-starred restaurants and cuisine from all over the globe. From casual countertop diners to illustrious, white tablecloth dining, these eight historic restaurants are notable Chicago culinary institutions.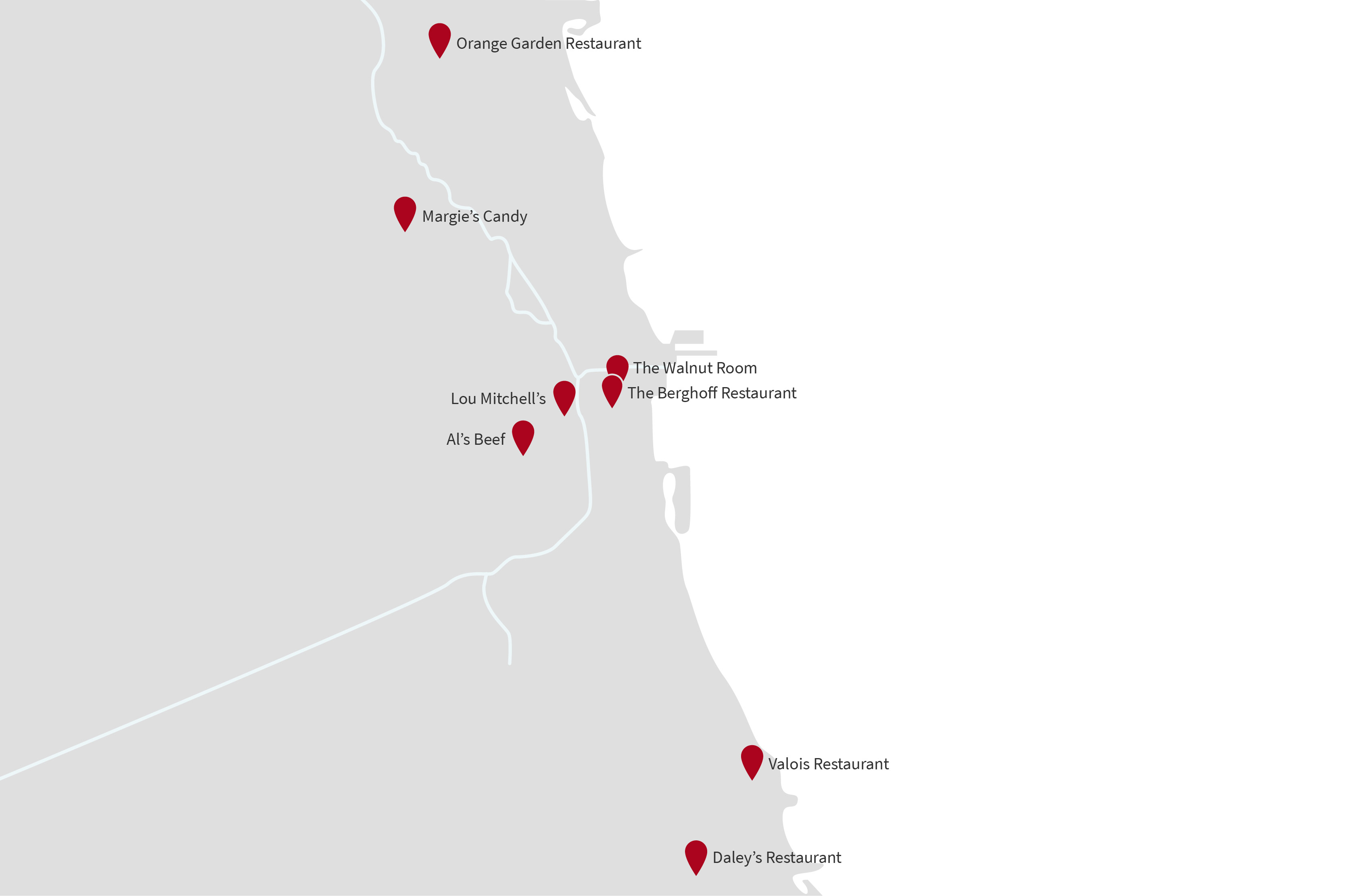 Italian beef got its start in Chicago, and it remains a greasy, fast food favorite. Al's Italian Beef has multiple locations throughout the city, but the original location, dating back to 1938, still stands on Taylor Street in Little Italy/University Village—it even has an honorary street sign.
The red awning is a welcome sight for anyone craving just the right amount of juicy beef and peppers. While it's located in an area heavily frequented by students (the UIC campus is just down the street), Al's Italian Beef attracts customers from all around the city.
Herman Berghoff served people from a food stand at Chicago's famous World's Fair in 1893 and opened his restaurant in 1898. Located on Adams Street, just about a block from the Art Institute, this German restaurant has been a warm, welcoming bastion of Chicago comfort food for more than 100 years.
During the week, the restaurant's cafe does quick-serve food, while the restaurant proper (all polished, dark wood, and stained glass windows) is made for lingering over large plates and steins of beer. The heavy and satisfying German food is a particularly welcome distraction for Chicagoans making their way through the harsh months of winter.
Opened in 1892, Daley's Restaurant is considered one of the city's oldest. It started as a way to feed construction workers, and now, it's a beloved city staple. It has undergone a number of transformations throughout its history, even moving to a new location in Woodlawn in 2019. The restaurant's namesake can be traced back to an Irish immigrant with no connection to the Daley dynasty of Chicago politics.
Today, the restaurant has generously portioned breakfast, lunch, dinner items as well as Sunday dinner menus that can satisfy nearly any craving for classic American cooking.
Lou Mitchell's is on Jackson Boulevard, not far from Union Station. The restaurant, renowned for its breakfast dishes, has been open since 1923. Diner food may be common enough in Chicago, but it's hard to beat the longstanding reputation of this Chicago diner. The restaurant is also notable as a staple eatery on the original Route 66.
For a true Lou Mitchell's experience, indulge in the restaurant's milk duds and donut holes.
While Chinatown has the highest concentration of venerable Chinese restaurants in the city, the oldest Chinese restaurant is located in North Center. Orange Garden opened its doors on Irving Park Road in 1932. The restaurant was originally owned by the Chen family, and then, changed hands to the Ruan family in the 1980s.
Orange Garden, dedicated to Cantonese cuisine, has a sprawling menu that covers beef, pork, poultry, beef, seafood, and vegetarian options. Chow mein, fried rice, and chop suey are the restaurant's classic dishes.
Valois is a neighborhood joint, and its walls are covered in murals that celebrate Hyde Park. Opened in 1921, the cafeteria-style restaurant serves food directly to customers holding onto trays.
The casual atmosphere of the restaurant and dependable comfort food has created a loyal customer base. In fact, former president Barack Obama is a long-time fan of Valois. Throughout the eight years in office, Valois has celebrated Obama and his accomplishments.
The Walnut Room at the State Street Macy's is a study in elegance and glitz. A towering fountain is the centerpiece of an enormous dining room outlined by stately white columns and lit by chandeliers. Opened in 1905, the Walnut Room has long been a traditional spot for special occasions.
The restaurant is particularly opulent during the holiday season. Shoppers crowd the dining room to warm up, eat, and admire a magnificent and monumental Christmas tree.
Margie's Candies is more confectionery than restaurant, but its sweet history is worth noting. The first Margie's opened in 1921 as an ice cream shop, eventually adding candy to its repertoire. Over the years, the shop has served plenty of icons, including Al Capone and members of the Beatles. The original location in Bucktown is right near the CTA's Western Blue Line stop, making it easily accessible to anyone with an insatiable sweet tooth.
Margie's menu is all about milkshakes and decadent sundaes with homemade fudge, but you can order a salad or a sandwich if you insist on having a meal before your dessert.