Las Vegas Local Life
A First-Timer's Guide to the Life is Beautiful Festival in Las Vegas
The weather is cooling down and summer is almost over, which means Las Vegas is gearing up for one of its biggest events: Life is Beautiful. This massive music festival, which is held from September 21 to 23, spans roughly 18 blocks of Downtown and celebrates all things related to arts, comedy, food, and culture. Anyone who's attended this event in the past knows what an immense and epic weekend it is. But for anyone attending for the first time, you may be unsure of what to expect. We've got you covered. Here's a first-timer's guide to the Life is Beautiful event.
The Basics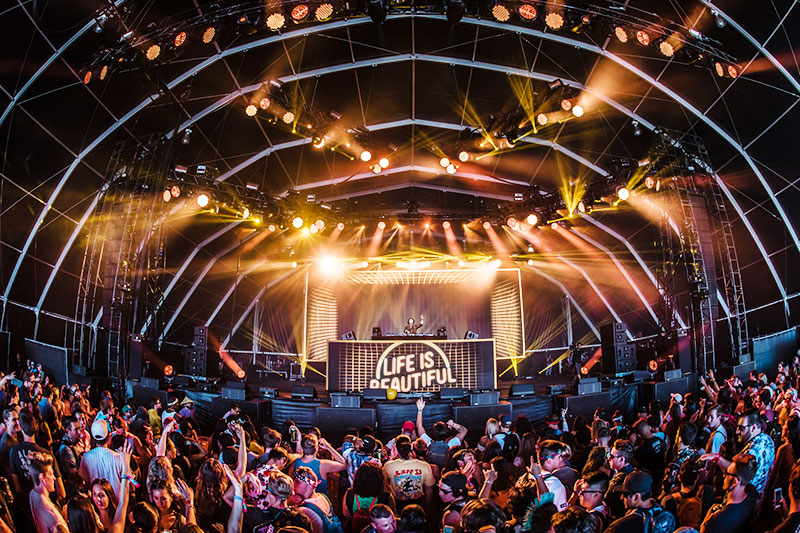 Life is Beautiful runs from Friday, September 21 to Sunday, September 23. The event has a huge lineup consisting of a variety of musical acts, such as The Weeknd, Arcade Fire, Travis Scott, N.E.R.D, DJ Snake, Florence and the Machine, and T-Pain. There will also be a variety of artists showcasing their work, some of which include Mr. Andre, Retna, Sebastian Velasco, Tyler Fuqua, and Bart Kresa. The event is family-friendly but strollers and pets aren't allowed, and although it'll be warm outside, there are plenty of covered areas in case of unfavorable weather.
The fest starts at 2 p.m. each day and goes until 1 a.m. There are two entrances to the event, one at Fremont and 7th Street and the other at Fremont and 11th. There are usually long lines to get in, but because the staff is so efficient, the lines typically move quickly. For anyone who wants a break from the festivities during the day, attendees are allowed to exit and re-enter up to three times a day, and anyone who exits must re-enter no later than 9 p.m.
It's also important to know about the bag policy before attending the festival. Guests are allowed to bring in small bags, purses, or totes measuring up to 6"x 8"x3". Drawstring bags and bags with one opening as well as clear backpacks are also allowed. Upon entering the event, all items and bags are subject to inspection. A few other items that are allowed into the festival include blankets, chargers, binoculars, empty hydration packs and Nalgene bottles, and two factory-sealed water bottles (up to a liter).
The event is also accessible to all guests with disabilities. There are elevated viewing platforms and folding chairs located at all stages. Accessible restrooms are also located near each viewing platform and scattered throughout the festival grounds.
Parking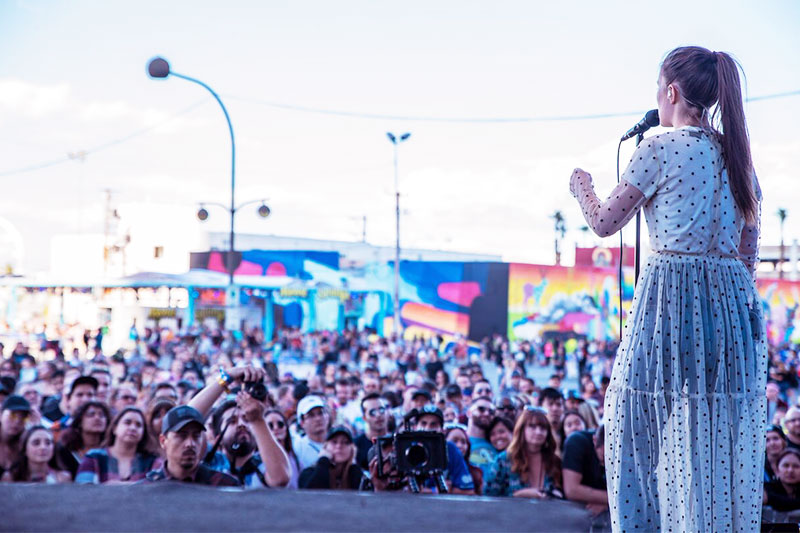 Figuring out parking for this event can be frustrating as it can get crowded and expensive. The traffic in and around the event gets pretty bad too. There are a few free street parking spots throughout downtown, but anyone trying to score those should get there very early. Some of the local hotels offer parking and valet services, but prices range in the $20s. There's also hourly parking at the Fremont Street Experience. Parking off Fourth Street, across from The D Las Vegas is another option. For a stress-free, but slightly pricier option, the festival is offering a three-day Park & Ride pass for $45 a person. With this pass, you'll get a guaranteed spot at the World Market Center, and round-trip shuttle rides to and from the festival grounds.
Hotel Accommodations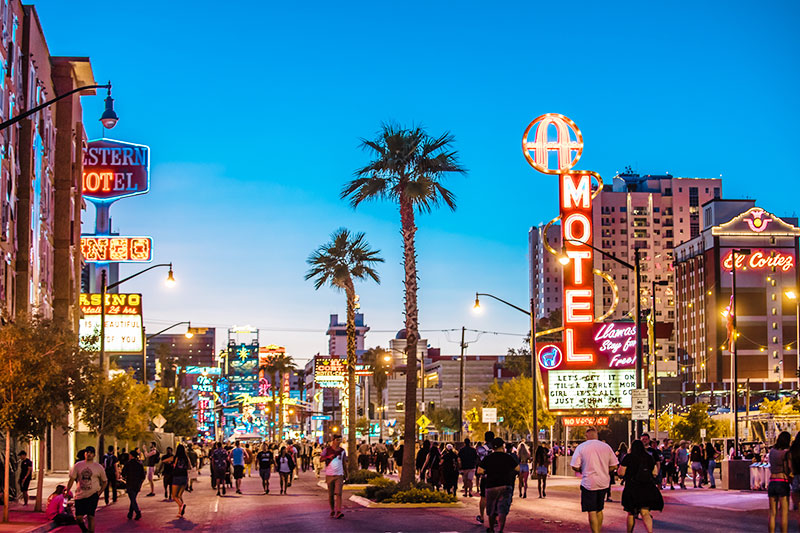 For those interested in staying in Downtown, there are quite a few hotels to choose from. Some include The D Las Vegas, Plaza Hotel and Casino, and Golden Nugget. Some hotels are also offering ticket and hotel bundle packages available through the Life is Beautiful event website. It's also possible to stay on The Strip, and either drive to Downtown or use a rideshare app like Lyft, which recently announced that it will have $30,000 in ride credits to give out to passengers during the festival. Other hotel options off The Strip include The Westgate on Paradise Road and The Artisan west of The Strip on Sahara Avenue.
Food and Drink Options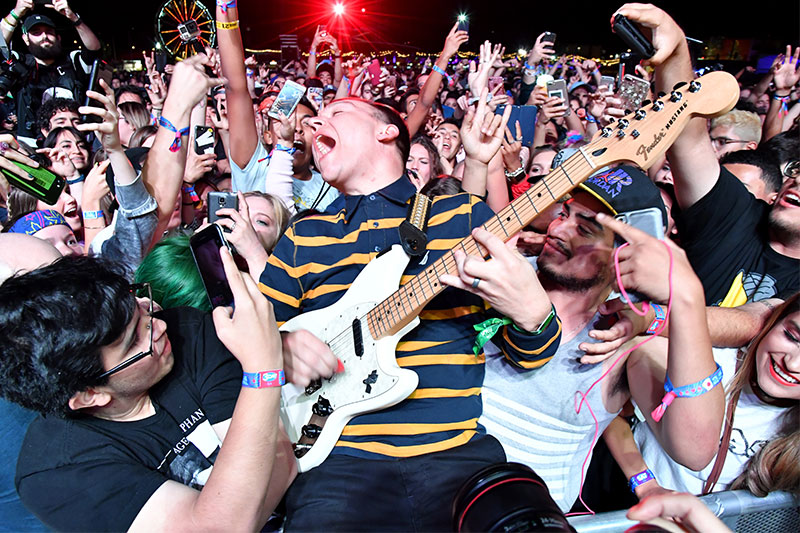 If you don't come to Life is Beautiful hungry, then you're going to miss out on a new culinary experience. The fest hosts a wide selection of local vendors and restaurants for attendees to choose from, such as Bardot Brasserie, Eataly, Good Pie, and Echo & Rig. Prices aren't too crazy either for this event, ranging from roughly $10-$18, and drink prices are in that range too.
Aside from the vendors, the fest will also feature The Cookout, a live-fire cooking experience. The Cookout includes a rotating list of chefs cooking over roaring wood fires, with a new menu every day, and with each dish offered in limited quantities. There will also be a Cocktail School, which is a nine-session series where festival guests can learn to make specialty cocktails from esteemed mixologists.
In and Around the Festival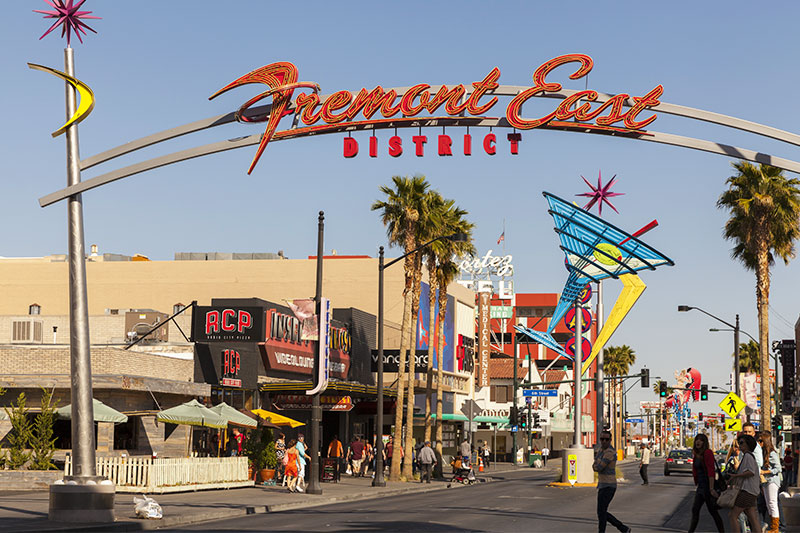 A lot of the bars, restaurants, and casinos in the Downtown neighborhood will have drink specials and promotions catering to the festival crowds, so keep your festival wristbands on. Container Park will be enclosed within the festival grounds and open for business. They'll offer their drink and food menus, in case you want a change of pace from the festival food (and at a cheaper price too). All the Fremont Street bars, restaurants, and bars will also be open, as well as the bars along Fremont East Entertainment District. It might also be worth your time to check out some of the local spots over in the Arts District, which is within walking distance from the festival.