A First-Timer's Guide to the Tucson Festival of Books
Tucson is a haven for literary lovers. There are numerous book clubs, events, and shops to last a reader a lifetime. Mostly Books of East Tucson is always hosting in-store book discussions. Book clubs like "Mocha Girls," "Tucson Sisters of Crime," and "Tucson Exegetes," can be found through MeetUp. Fourth Avenue in Downtown is a trove of beloved bookstores like Antigone Books, The Book Stop, and Celestial Rites. The area has become such a destination for published writers that the website Poets & Writers put together a list of all the best literary resources and hangouts in town.
The true illustration of why the city is mobbed with book fans might be what happens between March 10 and 11 at the Tucson Festival of Books. This two-day event attracts more than 130,000 visitors who attend readings, presentations, and workshops from over 400 authors in a community-wide celebration of literature.
First time going to the festival? In order to maximize your time for a bestselling experience, Neighborhoods.com has some advice on how to make the most of your time at the festival.
Where To Go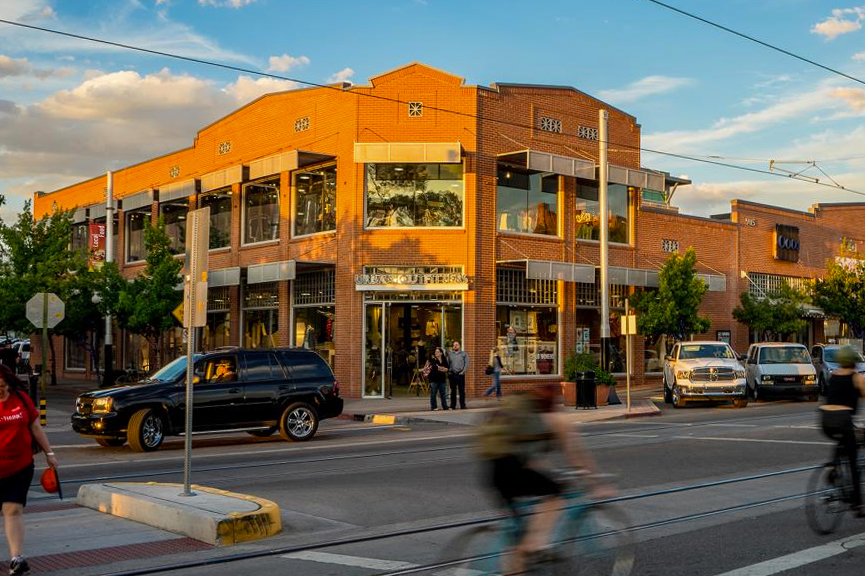 The festival is located at the University of Arizona's Main Gate Mall in the University neighborhood. Along with the festival, the area is going to be bustling with student life. Take some time to tour and the boutique shops, restaurants, and dining options found throughout the 392-acre campus.
It's going to be a lot to take in. It's not just a bunch of tents full of books. There will be live music, poetry readings, science presentations, dancing, and much more at various stages and locations around the campus. There's also a slew of exhibitors selling books and providing helpful information about the craft and business of writing. Check out the full schedule of events to know where you need to be and when.
Attendance and most events at the festival are free, but certain events require you to reserve tickets, most notably the six main events. Check here to see if tickets are still available.
How to Get There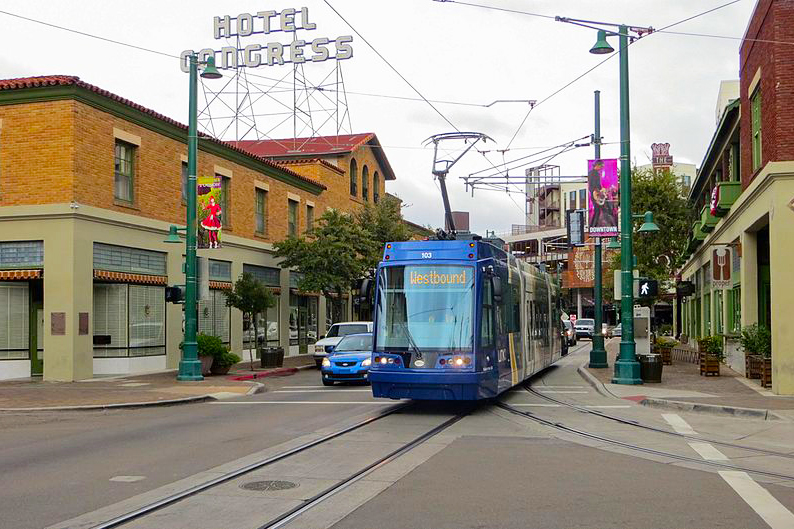 Parking at the University of Arizona is complimentary during the festival. Still, to avoid searching the neighborhood streets or garages for parking spots, public transportation is recommended. Both the Sun Tran bus system and the Sun Link streetcar provide alternatives to parking at UA.
Should you choose to brave the crowds, there are at least seven garages in the area. Closest to the University Main Gate Mall is the Cherry Avenue Garage between Cherry and Campbell Avenues and Sixth Street Garage between Lowell and 6th Streets. Please note that the Second Street Garage is reserved for exhibitors only. North of Speedway Avenue, the Park Avenue and Highland Avenue Garages are free of charge.
Beware of parking on nearby neighborhood streets as permits are usually required and you're likely to get ticketed or towed.
For an interactive map on parking and other helpful information, click here.
What To Do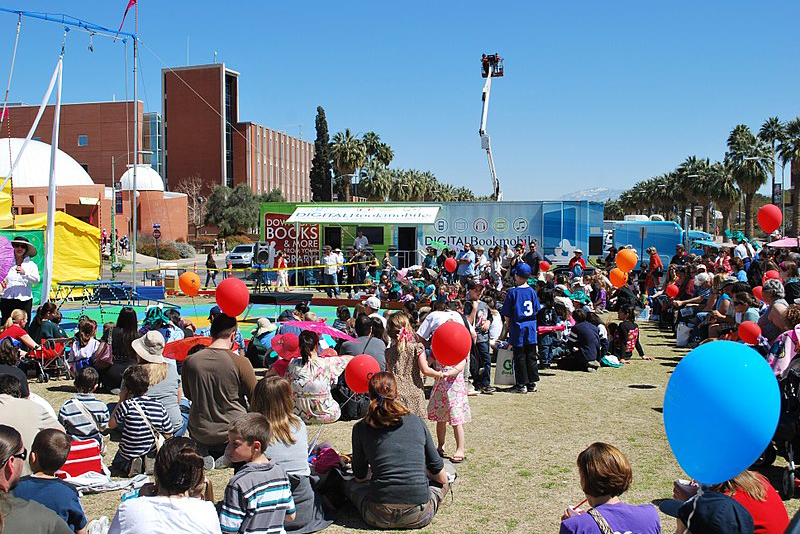 This event really is for all ages. Along with over 400 booths featuring publishers, scholars, and cultural experts, the weekend has plenty of entertaining options for the younger crowd — though that won't stop adults from enjoying them as well. On the 10th, there's a Storybook Character Parade, poetry readings, puppet shows, and a discussion about tree-ring research, just to give you a sense of the varied kind of activities. On the 11th, you can watch a "volcano" erupt, read to a local dog, and learn about steampunk, just to name a few things.
Another good reason to attend both days of the festival is for the performances. The Rock Bottom Remainders kick off the festival on Saturday night while the weekend is peppered with musical storytelling, Native American songs, musical improv performances, and much more. Check out the full list of events and performances and plan accordingly.
Where to Eat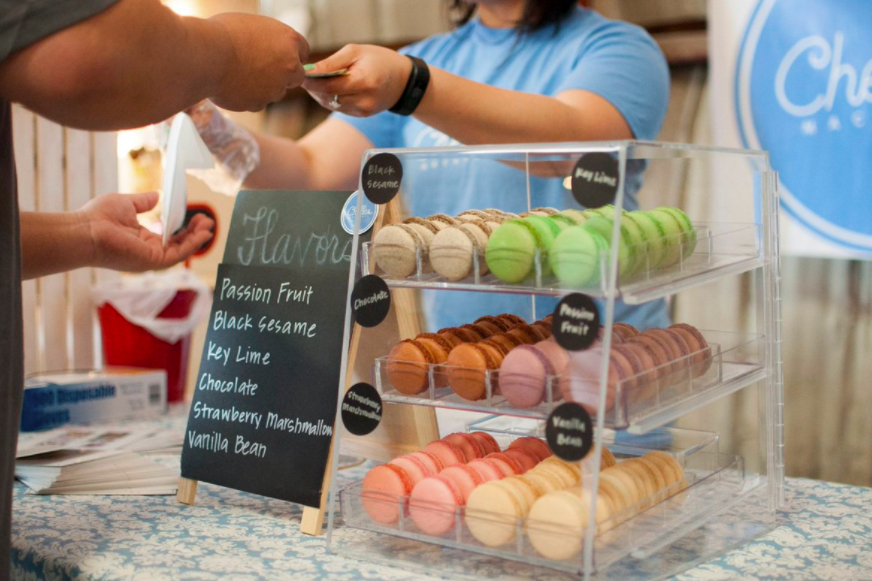 Food vendors will be on-site to provide everything from hummus tostadas to barbecue to shaved ice. Peruse the full list of vendors to find the perfect meal for you. Luckily, the University neighborhood is flanked on all sides by an array of food options and cultural experiences. Multiple restaurants are within walking distance, but a short trip in the car will open your options exponentially.
West University
West University offers alumni favorite Pasco Kitchen and Lounge on East University in Main Gate Square. Enjoy their "urban-farm" inspired menu with selections like their pasta de Tucson with Sonoran wheat berry fettuccine and house-made beef chorizo or the quinoa salad with pesto buttermilk dressing.
Sam Hughes
The Sam Hughes neighborhood has multiple choices within walking distance, mostly along Speedway Boulevard. The Trident Grill is the neighborhood pub serving seafood and burgers like the Voodoo Daddy with andouille sausage, American cheese, Cajun mustard, and coleslaw.
Rincon Heights
This neighborhood offers quaint eateries from around the globe. Try the African Cafe on East 6th Street to liven your taste buds with Somali suqan or foul mudammas. They also have a nice selection of Greek-inspired food.
North Tucson
North Tucson is vast with quiet places to enjoy lunch. Zeman's Too on East Speedway has been serving Ethiopian cuisine for almost 20 years. Using herbs and spices imported from Ethiopia, their selections are authentic and reasonably priced. Vegetarians will appreciate their selection of dishes like their goemn alicha, which is a blend of carrots, cabbage, and potatoes simmered in a mild turmeric-based sauce.