A First-Timer's Guide to the Tucson Gem and Mineral Show
A First-Timer's Guide to the Tucson Gem and Mineral Show
Tucson's Gem and Mineral Show, which takes place annually in January and February, is a showcase of artists, authors, researchers, gemologists, and miners from every continent. Over 4,000 trade companies gather to share their expertise, knowledge, and treasures. Rocks, minerals, fossils, and jewelry are all available for sale to visitors in what is the largest and oldest show of its kind in the world.
The shows vary from year to year, with over 40 locations around Tucson that span the sprawling Tucson Convention Center, which clocks in at 181,000 square feet, to circus tents transformed into shops. Wherever they end up, visitors would be wise to bring their pocketbook. The show is considered one of the highest revenue-producing events for the Tucson economy with spending on the 2018 show expected to reach $120 million.
With so much to see and so many venues to attend, going to your first Gem & Mineral Show can be an overwhelming experience. Neighborhoods.com has provided you with a handy guide to make the most of your experience.
Gem Show Basics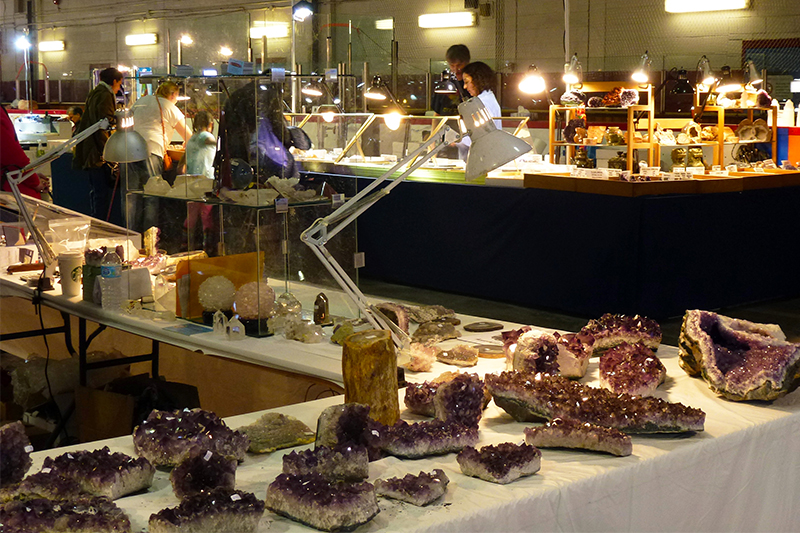 This year's Gem Show started on Jan. 26 and runs through Feb. 12, but keep in mind some shows have specific dates and do not stay open the entire time. While many of the show locations are open to the public, some of the larger wholesale shows are only open to pass holders and business owners. Check the full schedule here.
Dress casually as the weather is still pretty warm (as most Tucsonans are aware of) and many of the locations are not temperature-controlled.
Bring cash for small purchases. Though many vendors accept credit cards for larger purchases — one buyer spent $75,000 on a meteorite last year — smaller purchases are best left for cash. Don't be afraid to bargain, especially towards the end of the show. Vendors are happy to avoid packing away heavy and cumbersome goods and will decrease their price to unload quickly.
Finally, remember that flu season is here. Many of the stones and artifacts have been handled by hundreds, if not thousands, of onlookers. Keeping a small bottle of hand sanitizer or wipes around is a good idea.
Know The Lingo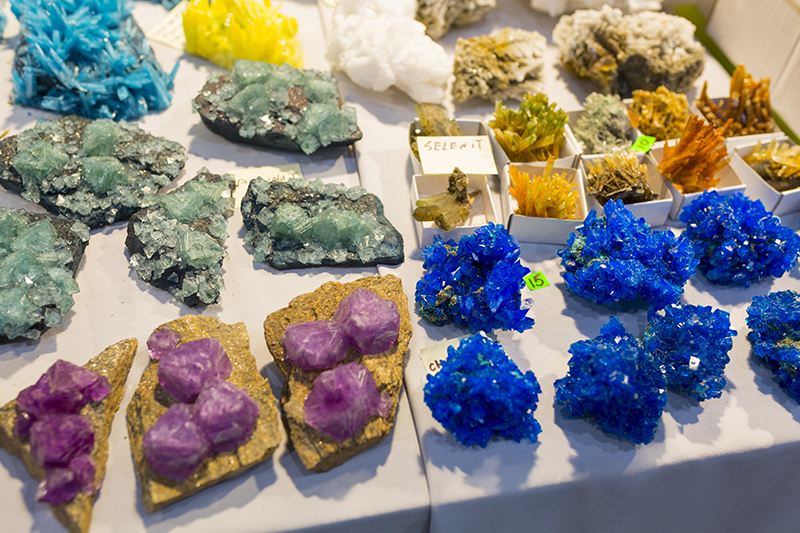 Are you a gem and mineral newbie? Check out this list of commonly used gem and mineral terms to familiarize yourself with what you're looking at.
If you decide you want to make a purchase, you'll want to know how to read the price tags. There will be some terms that might not make sense so consult this list from gem show expert John Betts.
Here are some of the most notable terms:
Net: Purchaser pays full price on the label
Keystone: Purchaser pays 50 percent of the price marked on the label.
Double Keystone: Purchaser pays 75 percent of the price marked on the label.
Wholesale: The purchaser must have a retail business and proof of a resale license.
Know Where To Go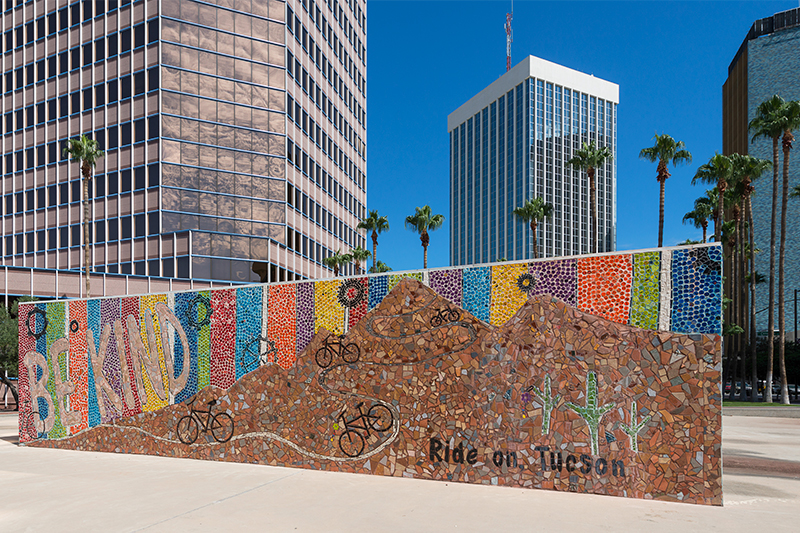 Show locations are spread throughout the city but clusters of shows can be found in South Tucson, Menlo Park, and Downtown along Interstate 10, and North Tucson.
The main show is held at the Tucson Convention Center on South Church Avenue. Here you can find exquisite jewelry, special events for kids, and lectures on all things minerals. Previous exhibits have included the famous Fabergé Egg Collection and the 423-carats Logan Sapphire, the largest faceted sapphire in the world.
Other popular locations include The Tucson African Art Village, where you can peruse masks, baskets, wood carvings, and beads, and the 22nd Street Mineral, Fossil, and Gem Show, featuring meteorites, polished stones, and an exhibit of dinosaur specimens.
For a full list of locations and maps view the schedule.
Where To Stay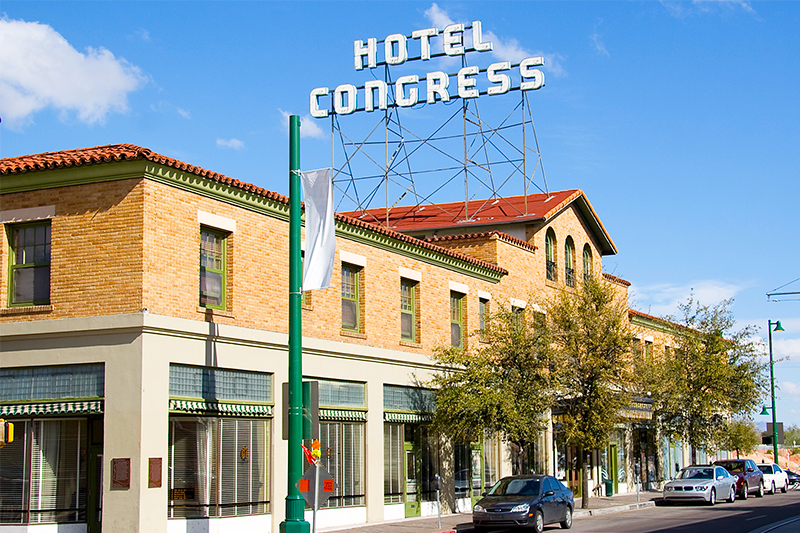 Booking a place to stay is recommended as early as possible as Tucson hotels fill up quickly, forcing many visitors to stay in Phoenix. If you are lucky enough to find a hotel, the city offers Gem Show Parking and a free GemRide Shuttle with access to 42 shows along 34 stops on four routes.
Hotel chains with cheaper rates usually fill up quickly so it might be a good time to turn your stay into a resort getaway as well. Starpass Golf Suites in West Tucson is a short drive to shows along the Interstate but far enough away to be able to relax at the end of the day. For those wanting to stay in town, Hotel Congress is in the middle of downtown, perfect for taking advantage of city nightlife.
Where To Eat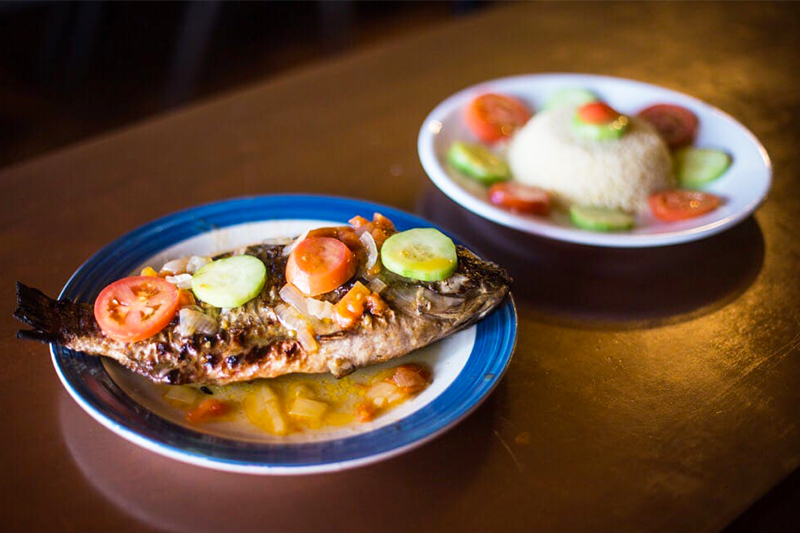 An exciting part of the Gem Show is learning what food vendors will be appearing. Many shows are located near restaurants but the show's food vendors often offer a chance to try exotic foods and flavors not readily available elsewhere.
The African Art Village usually features food from Alafia West African Cuisine, which includes African BBQ chicken with fried plantains.
Since Mexican food is ubiquitous in Tucson, we recommend trying the South Fourth area for the complete experience. Mi Nidito, near the Southern Heights neighborhood, features authentic Sonoran cooking. Just be prepared for a wait. For breakfast, try the machaca breakfast burrito at El Dorado near the South Park neighborhood.