A Grown Up's Guide to Downtown Richmond
A Grown Up's Guide to Downtown Richmond
With Downtown Richmond lying between Virginia Commonwealth University and Virginia Union University, this energetic epicenter of Richmond may be seen as college central. But whether you're five-years-old or 15 years removed from higher education, there are many fun as well as functional parts of the neighborhood you can experience.
From the best public transportation system in Virginia to a vibrant art scene, Downtown Richmond offers a world of opportunity for Richmonders of any age. Check out the guide below to learn more about the things that you can do in Downtown Richmond.
Use A+ Public Transportation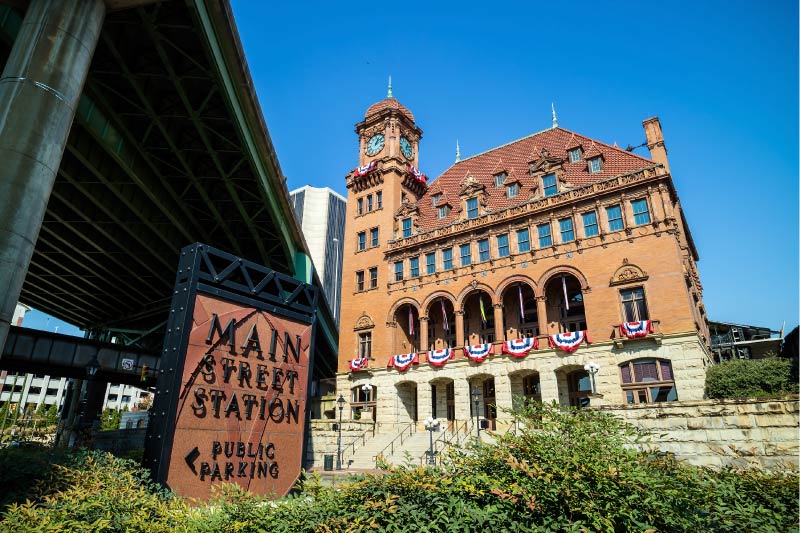 Whenever wanderlust itches your spirit, the GRTC—and the most recently opened GRTC Pulse—are available to get you wherever you would like to go.
The GRTC, otherwise known as the Greater Richmond Transit Company, has many different routes throughout Richmond and beyond. If you're looking to take a trip outside of the River City, the GRTC provides an express trip between Downtown Richmond and nearby Petersburg. Itching to experience some summer fun and enjoy one of Virginia's greatest amusement parks? The GRTC provides a route straight to Kings Dominion during the summertime.
The GRTC Pulse provides a speedy way to zip through Richmond so you can experience all the eateries, nature, and nightlife that the city has to offer. The GRTC Pulse comes every 10 minutes during the morning and evening commute, 15 minutes during most of the day, and 30 minutes late at night. With bus fare in hand or a long-term bus pass, Richmond is your playground.
Take Advantage of University Events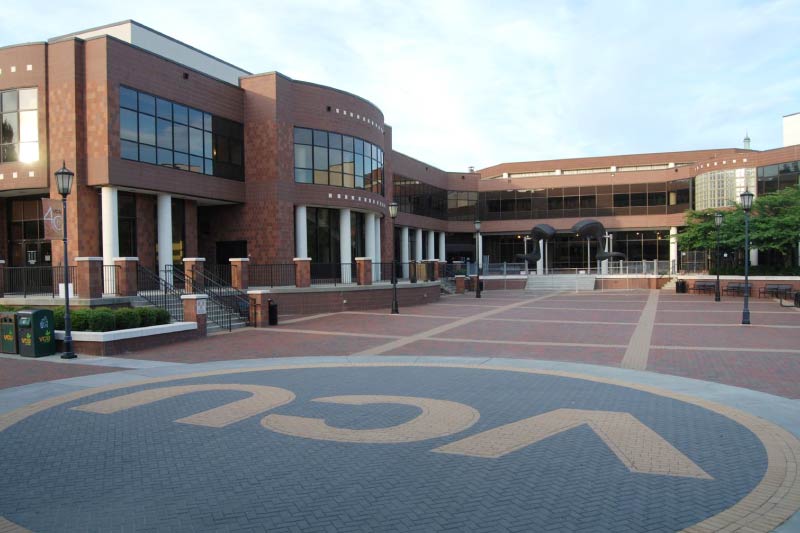 With both Virginia Commonwealth University and Virginia Union University within walking distance, you can experience the fun and vibrancy of both campuses. Whether you're looking to enjoy an event or cheer on the local team at a sports game, the nearby campuses provide many opportunities to enjoy their resources.
Virginia Commonwealth University hosts a ton of fun events throughout the year, including the VCU Intercultural Festival in which the campus explores the many cultures represented on its diverse campus through food and music. If you're a sports fan, the VCU men's basketball team is known nationwide and has made the NCAA tournament a state record of seven consecutive times from 2011 to 2017. The men's basketball team hosts games at the nearby Siegel Center, and they're open to the public.
Virginia Union University also has a community of thriving sports teams that you have to see in action. The VUU football team was recently ranked 25th in the nation in the pre-season NCAA Division II poll by Lindy's Sports Magazine. Also, the VUU women's basketball team recently won its second consecutive CIAA Women's Basketball Championship.
See Art Everywhere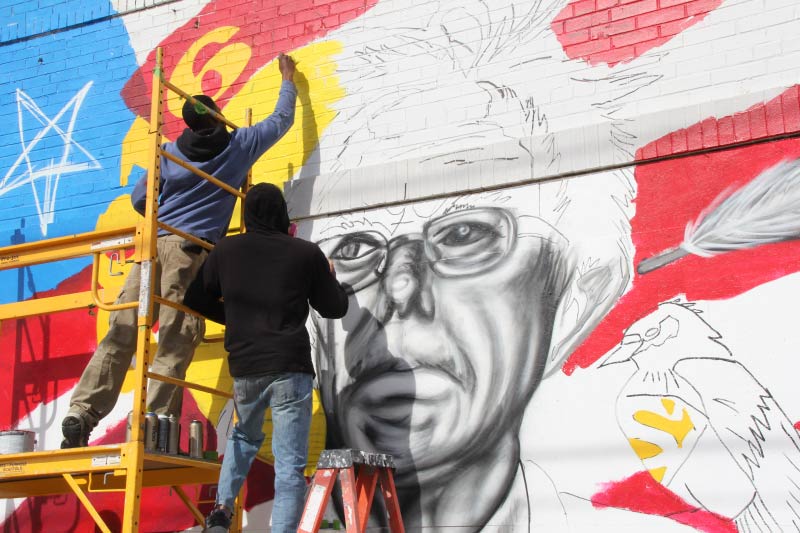 Due partly to VCU having a fine arts program ranked No. 2 in the nation, Downtown Richmond is bursting at the seams with art.
The neighborhood is home to art museums and exhibits that are easily reachable, including VCU's newly constructed Institute for Contemporary Art. The institute hosts exhibitions from nationally recognized artists as well as burgeoning artists from VCU's nearby art school. Additionally, the institute hosts art-themed events like customizable tours and yoga sessions surrounded by an artist's exhibition.
If you've got live music on the brain, the historic music venue The National is close by. National acts, local favorites, and everything in between frequent this medium-sized venue.
The biggest celebration of art within this neighborhood happens on the first friday of every month for First Fridays. A humongous art walk commences, including dozens of art galleries, restaurants, and local organizations throughout the city. Even if you're not the most artistic in the bunch, living in Downtown Richmond might influence you to see the art in your everyday life.
Go to Festivals Year-Round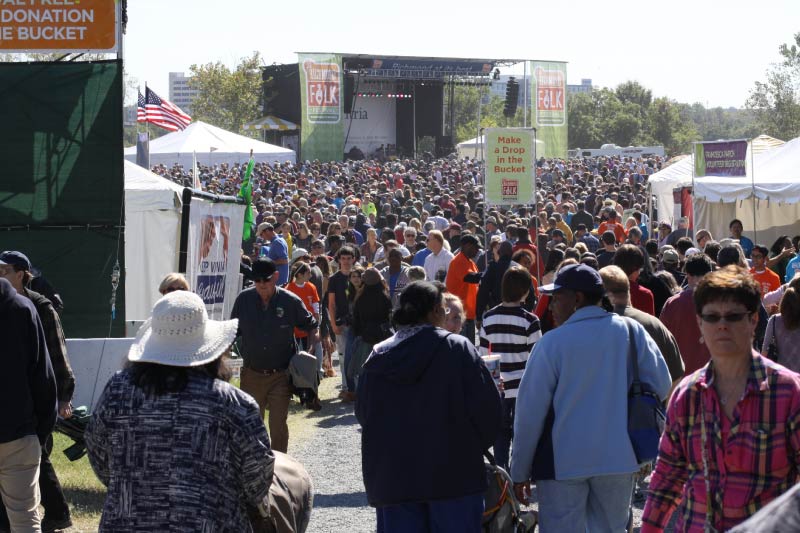 Downtown Richmond is home to a unique mix of people, translating to the neighborhood's dynamic year-round festival schedule. In Downtown Richmond, there's always an upcoming festival that invites you to explore another culture. Here are some festivals that happen in Downtown Richmond:
Broad Appetit: This June festival transforms Broad Street (one of Richmond's main streets) into a celebration of the city's most delectable eats. Starting at just $4, you can try out small plates and possibly get put on to your next favorite lunch spot.
Richmond Folk Festival: The Richmond Folk Festival is by far fall's largest event. Hundreds flock to the capital city to enjoy the free festival filled with music, dance, and food. Musicians near and far come to Richmond to perform at this annual festival, making it a must-see event for locals and tourists
VCU French Film Festival: The springtime festival features new French feature films and short films from up-and-coming French filmmakers. After the films, Q&As are held between the directors/starring actors and the audience. At the VCU French Film Festival, you can enjoy a foreign film and possibly meet the minds behind thought-provoking films.
Visit Historic Landmarks and Museums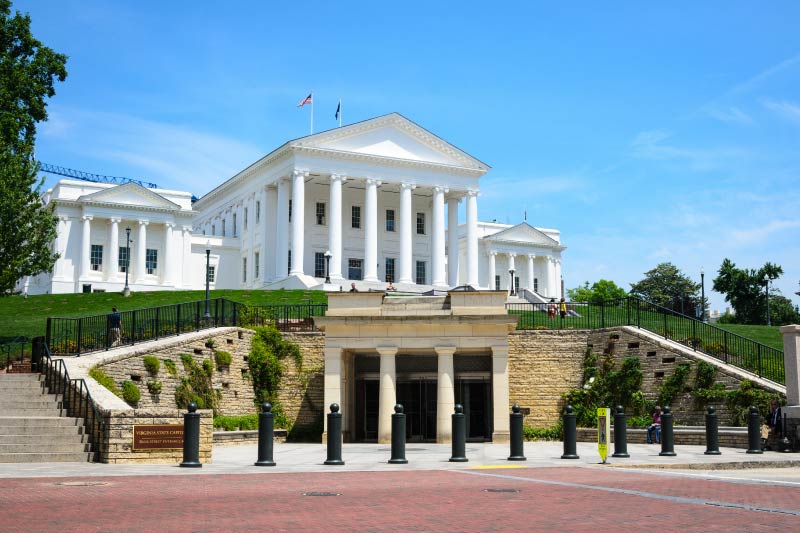 Taking a visit to nearby historic landmarks and museums doesn't have to be set aside for elementary school field trips and history majors. There's a lot to love here for the average post-grad as well.
Here, you can learn something new about the significance of the capital city and have a lot of fun along the way. For example, The Virginia State Capitol houses the oldest legislative body in North America: The Virginia General Assembly. The capital is surrounded by a gorgeous park, Capital Square, featuring statues of many different prominent figures in American history including Patrick Henry, Thomas Jefferson, and George Mason.
Just a couple blocks away is the Edgar Allan Poe Museum, where you can learn about Poe's vibrant life and legacy as a writer and essayist. One of the museum's most well-loved events is their monthly Unhappy Hour where guests can have drinks, listen to live music, and tour new exhibits.