Las Vegas Real Estate
A Guide to Luxury Golf Course Communities in Las Vegas
When golf courses abound in the Las Vegas area, it's no surprise that the communities surrounding them are top-notch examples of luxury living. With access to private amenities, the developments in these gated golf course communities are high-end and modern. Here's our guide to the luxury golf course communities in Las Vegas.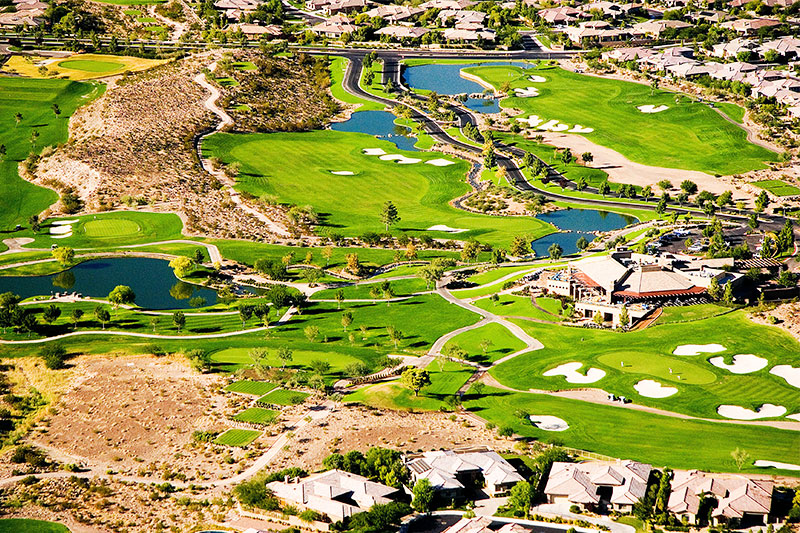 With a median sale price in the low $300s, according to Neighborhoods.com data, Lake Las Vegas in Henderson makes it possible to find an affordable home bordering both the golf course and the 320-acre man-made lake that characterizes the area. Residents have easy access to Reflection Bay Golf Course, a high-end golf course profiled in industry publications like "Golf Digest," as well as SouthShore Golf Club.
In Lake Las Vegas, William Lyon Homes has several new offerings directly bordering Reflection Bay. The Peaks includes homes starting in the low $500s, offering homeowners a choice of three floorplans ranging from 3,000 to 3,400 square feet. Lago Vista is another option for homebuyers seeking a community that exudes luxury with lush views of the lake. With prices starting in the high $700s, Lago Vista homes have a modern, fresh aesthetic with high ceilings, large kitchens, and floor-to-ceiling windows.
In the luxury enclave of MacDonald Highlands, the median sale price in this neighborhood exceeds $1 million, and some homes are priced as high as $7 million. Residents in this prestigious community not only have luxury homes, but they also have access to Dragon Ridge Country Club. The 18-hole championship golf course features views of The Strip—a cornerstone of the community that uniquely integrates itself into the desert hills.
Homebuyers can purchase completed homes like those in Vu by Christopher Homes. The luxury townhome community has homes priced starting in the high $800s and include stainless steel appliances, high-end materials, and spacious kitchens. However, MacDonald Highlands also offers the possibility of full customization with lots that overlook the entire valley. There are several neighborhoods that date back as early as 2000 with completed homes in a variety of price ranges and architectural styles available.
Located on the southwestern side of the Valley, Southern Highlands is a gated, master-planned community that gives homeowners access to Southern Highlands Golf Club. A selling point at this country club is the 42,000-square-foot clubhouse featuring prominent wood beams, vast windows, and an elegant stairway leading members into a luxurious, soothing environment that includes a library, restaurant, and wine room.
The median sale price in this neighborhood hovers around $315,000, but homes in the area often sell for far more. Both empty lots waiting for custom homes and developed homes are available starting in the mid $300s and go up to over $1 million. New homes are currently being built by builders like Woodside Homes, Pulte Homes, Century Communities, and Lennar.
Located in the southernmost corner of Henderson, Anthem is a 4,755-acre master-planned community known for its views of The Strip and Black Mountain. While some homes date back to 1999, most subdivisions were developed in the last ten years. Residents of Anthem have access to amenities found at the Anthem Country Club. It features the par-72 championship golf course and fitness center as well as on-site restaurants such as The Grille and Desert Sky Chophouse.
While the median sale price in Anthem is $385,000, don't be too surprised by the multi-million-dollar luxury listings in the area. Much like MacDonald Highlands, Anthem offers both custom and semi-custom homes, and it's quite possible to find a high-end, sizable mansion nestled among more modest residential neighborhoods.