An Insider's Guide to Baltimore Neighborhoods
An Insider's Guide to Baltimore Neighborhoods
This is Balmer, hon. Made iconic by John Waters, Baltimore can be defined as a Rust Belt-meets-East Coast metropolis. Still deeply rooted by its industrial past, Baltimore has a lot of pride; unless you went to high school here, you're never really "from Baltimore."
Baltimore is a city made up of small towns—or, more accurately, neighborhoods that were once small towns. As the city grew from its earliest founding, it incorporated adjacent towns. Most neighborhoods center around a main street with shops, restaurants, and cafes, so many residents go out and socialize in the neighborhood where they live, or at least close by. The oldest parts of the city have a historic feel, and some neighborhoods have houses from the 1700s.
Although easily eclipsed by bigger East Coast cities, Baltimore has relatively inexpensive housing prices, and it's home to art museums, the National Aquarium, cultural centers, and theater companies. Also, the city's dining scene is often described by foodies as divine.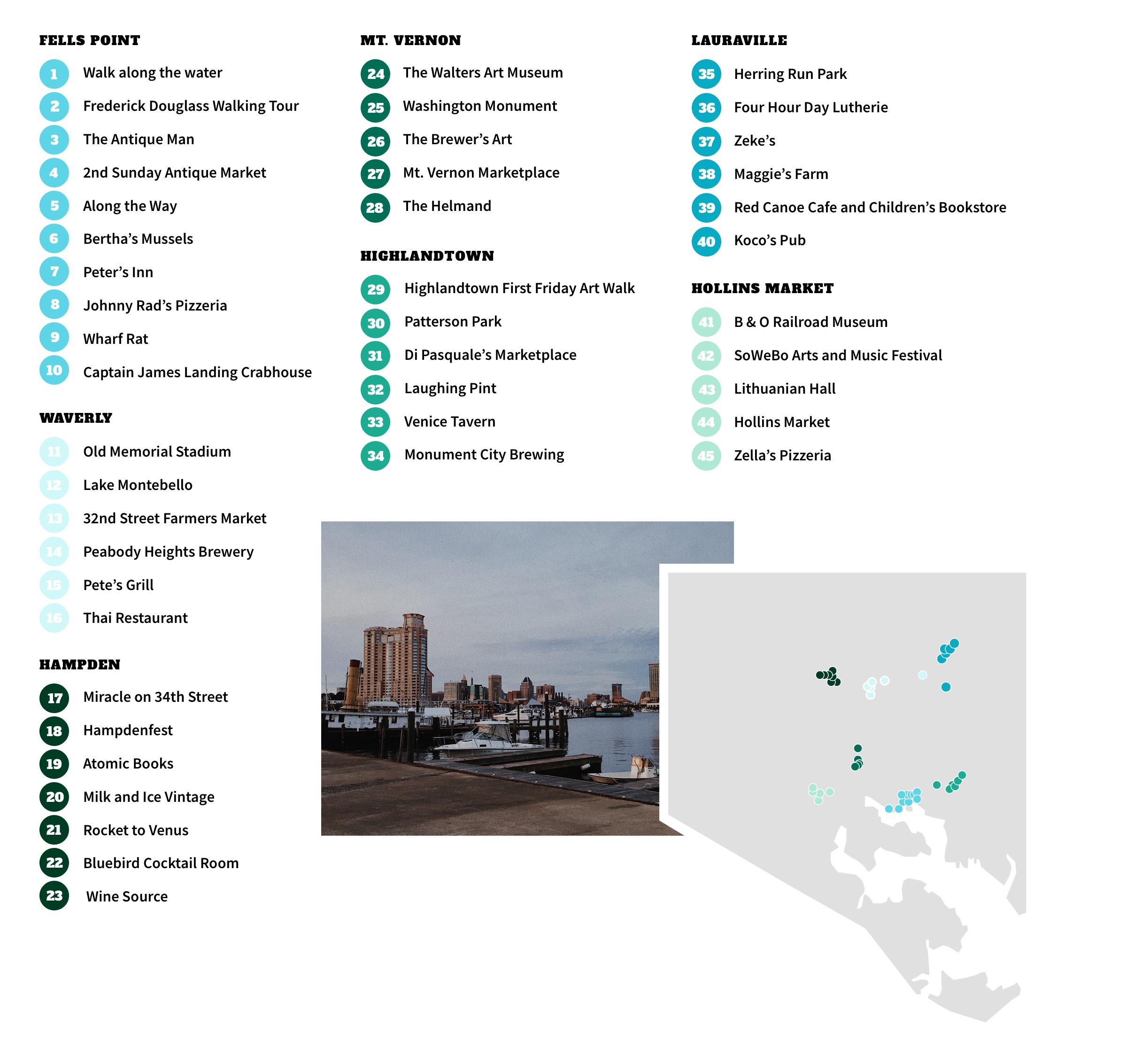 Baltimore at a Glance
While the city does have a light rail, metro, and bus system, they're not the best way to get around. People usually drive, but Lyft and Uber are easy options too.
BaltimoreLINK is the recently redeveloped bus system. The Maryland Department of Transportation hoped to better connect buses to the Light Rail and Metro, but the Light Rail and Metro only have one line each, and buses usually run on 10-30 minute schedules.
The Charm City Circulator provides easy, free connection between neighborhoods on five bus routes that loop through the city.
Given Baltimore's internal transportation limitations, it's surprising how easily you can get to Washington, D.C. from the central parts of the city. The MARC Penn and Camden lines run daily commuter trains, while Amtrak provides service to D.C. and beyond.
Baltimore neighborhoods may not always be geographically distinct—and their boundaries are often debated over—but each one has such a unique feel that residents often can't imagine living anywhere else in the city. Here's how a few of Baltimore's neighborhoods get their character.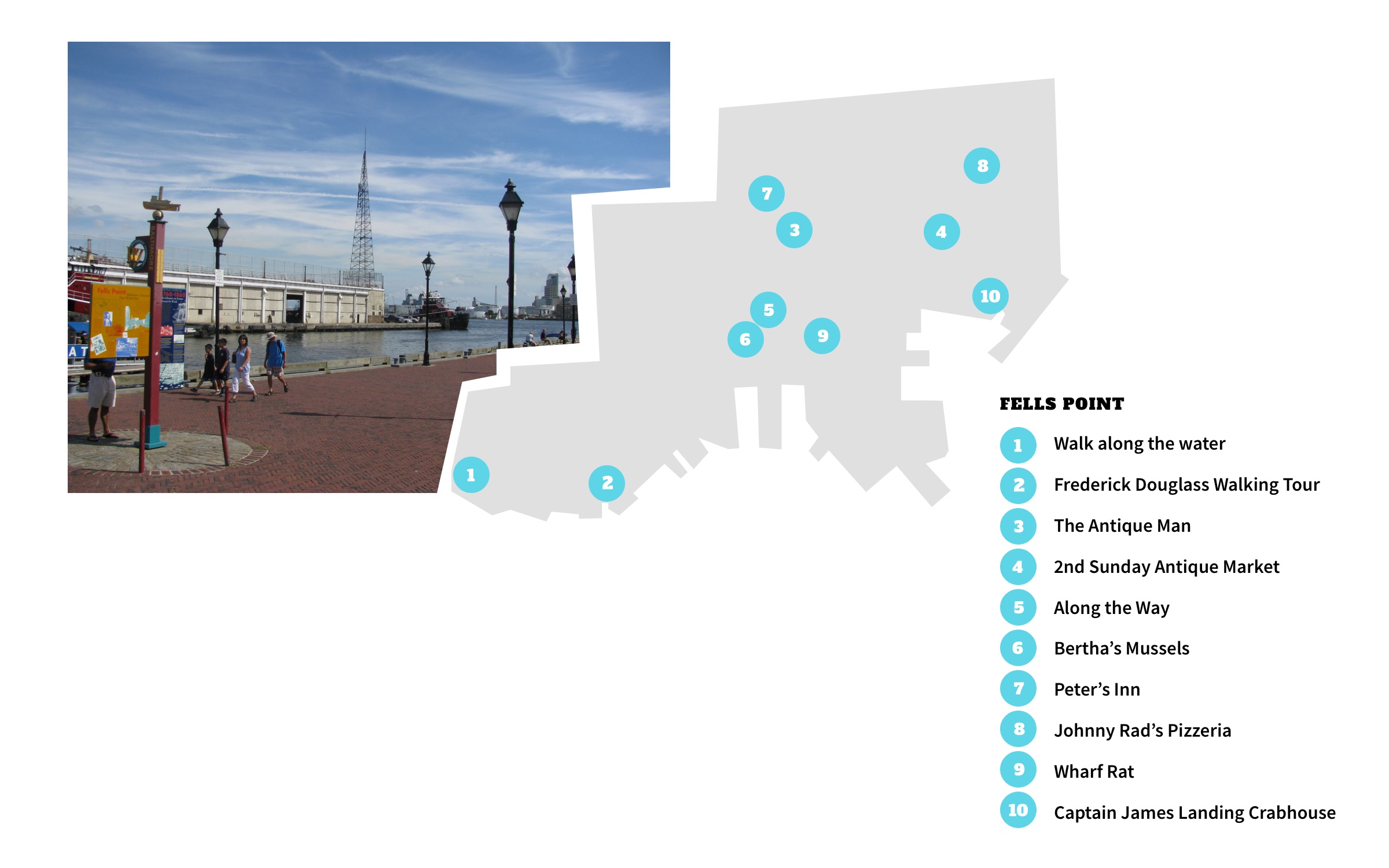 Fells Point wears its history as one of the oldest parts of Baltimore on its sleeve. Thames Street is still cobblestone, and narrow alleys feature 1730s Federal-era rowhouses. The waterfront views of the Inner Harbor let you take in the beauty of Baltimore, and the neighborhood is full of an eclectic mix of bars and restaurants—with so many, it's hard to choose just a few to feature.
What to Do
1. Walk along the water
From Harbor East, take a stroll along the edge of the Harbor for spectacular views of Baltimore. You may spot Mr. Trash Wheel or his wife, Dr. Trash Wheel, solar-powered wheels that clean trash from the waterways leading to the Harbor.
2. Frederick Douglass Walking Tour
Fells Point's most famous resident by far is Frederick Douglass, who was enslaved as a ship's caulker in the neighborhood before escaping to freedom. Stop by the Frederick Douglass-Isaac Myers Maritime Park to learn about Douglass and African American maritime history, then stroll the area to see the places and homes that were important in Douglass' early life.
3. - 5. Shop at antique and vintage clothing stores
Although the antique shops aren't as plentiful as in years past, the ones that remain in Fells Point provide a glimpse into what the neighborhood used to be like. The Antique Man, 2nd Sunday Antique Market, and Along the Way are packed with home decor, furnishings, and other stuff you may or may not need.
Where to Eat and Drink
Eat Bertha's Mussels: a bumper sticker and a good suggestion. You have a lot of choices for seafood in Fells Point, but Bertha's almost 50-year history in the neighborhood solidifies its reputation as the best. The mussels are a must, and crab cakes are good too.
This small, no-reservations restaurant features a weekly rotating menu developed by chef Karin Tiffany. She prides herself of sourcing ingredients locally and being farm-to-table before that was a thing. The handcrafted cocktail menu also changes weekly.
A punk-rock/skater pizzeria with tasty pies and creative salads, Johnny Rad's is a casual spot for a bite. You can also grab a pizza to go and enjoy an easy picnic in nearby Patterson Park.
Want to live the life of a Fells Point sailor? Stumble into the Wharf Rat. This 18th-century pub features cask conditioned ales in a cozy, wood-paneled atmosphere.
If you're in Baltimore in the summer and up for adventure, take a trip to Captain James Landing. The restaurant is open year-round, but the crab deck is a seasonal specialty. You can opt for all-you-can eat crab, or order a few and see how you do. It's messy, but so worth a true Maryland experience.
Why Locals Live Here
Fells Point is simply one of the most beautiful neighborhoods in Baltimore. The houses are quaint and cute, but almost all have also been nicely rehabbed with modern interiors. The streets feel like something out of a movie set, and on any warm evening, residents can be seen jogging along the waterfront. Plus, just outside your doorstep, you'll find bars and restaurants to suit any mood. Renovated homes have prices on the higher end for Baltimore, but they're on par with other popular neighborhoods near the city center.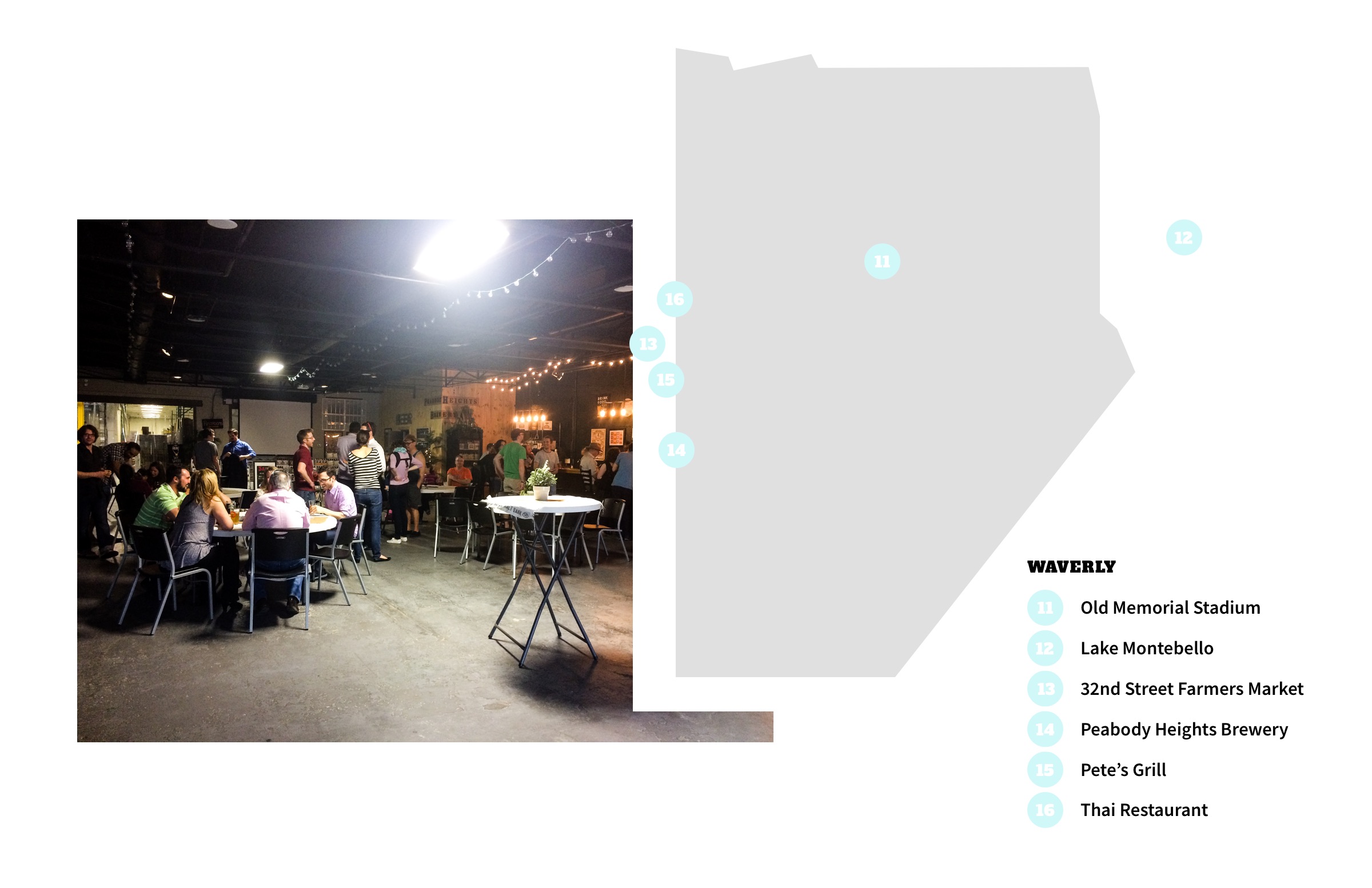 Waverly is an increasingly popular central Baltimore neighborhood known for its significant history and varied housing stock. Greenmount Avenue was once home to the People's Free Medical Clinic, and today, artists and bohemians are joining the older residents in this community.
What to Do
11. Old Memorial Stadium
Nothing remains of what was once the Baltimore Orioles' baseball and Baltimore Colts' football stadium. The Colts snuck away in the middle of the night to Indianapolis in 1984 (and many Baltimoreans have never forgiven the team for that), and the O's moved to Camden Yards. Today, you can enjoy the park and sports fields, and the Waverly Weinberg YMCA in the stadium's place.
While the lake itself is part of the city's water system, nearby Lake Montebello also offers a great place to walk, run, and bike. The 1.3-mile loop connects to a scenic paved route in Herring Run Park.
On the edge of Waverly and Charles Village, the 32nd Street Farmers Market is a year-round market offering fresh produce, meats, cheeses, breads, prepared foods, and on occasion, even local wine and beer vendors. No matter what time of year, it's fun to grab a pastry and coffee and stroll the market.
Where to Eat and Drink
Peabody Heights Brewery opened a taproom in the mid-2010s, and quickly became one of the most popular bars in the neighborhood. On Wednesday, Friday, and Saturday, you'll find the place buzzing with activity, including live music, food trucks, and games.
Looking for an old-school diner that literally offers the breakfast of champions? Pete's Grill serves breakfast favorites from early morning until early afternoon, and it was made famous as a favorite spot of gold-medal swimmer Michael Phelps.
Thai Restaurant doesn't need a more creative name. A Waverly staple for decades, this restaurant serves up authentic Thai food on white tablecloths or in takeout containers for whenever you get a hankering for Panag Curry or Larb.
Why Locals Live Here
Waverly was once a summer retreat outside of the city, which means you can find beautiful free-standing Victorian homes nestled in between more traditional row homes from the 1920s through the 1950s. The houses are affordable and close to restaurants, stores, the YMCA, the Johns Hopkins campus, and greenspaces. Waverly is one of the most walkable communities in central Baltimore, and offers a diverse, down-home vibe without any parking restrictions.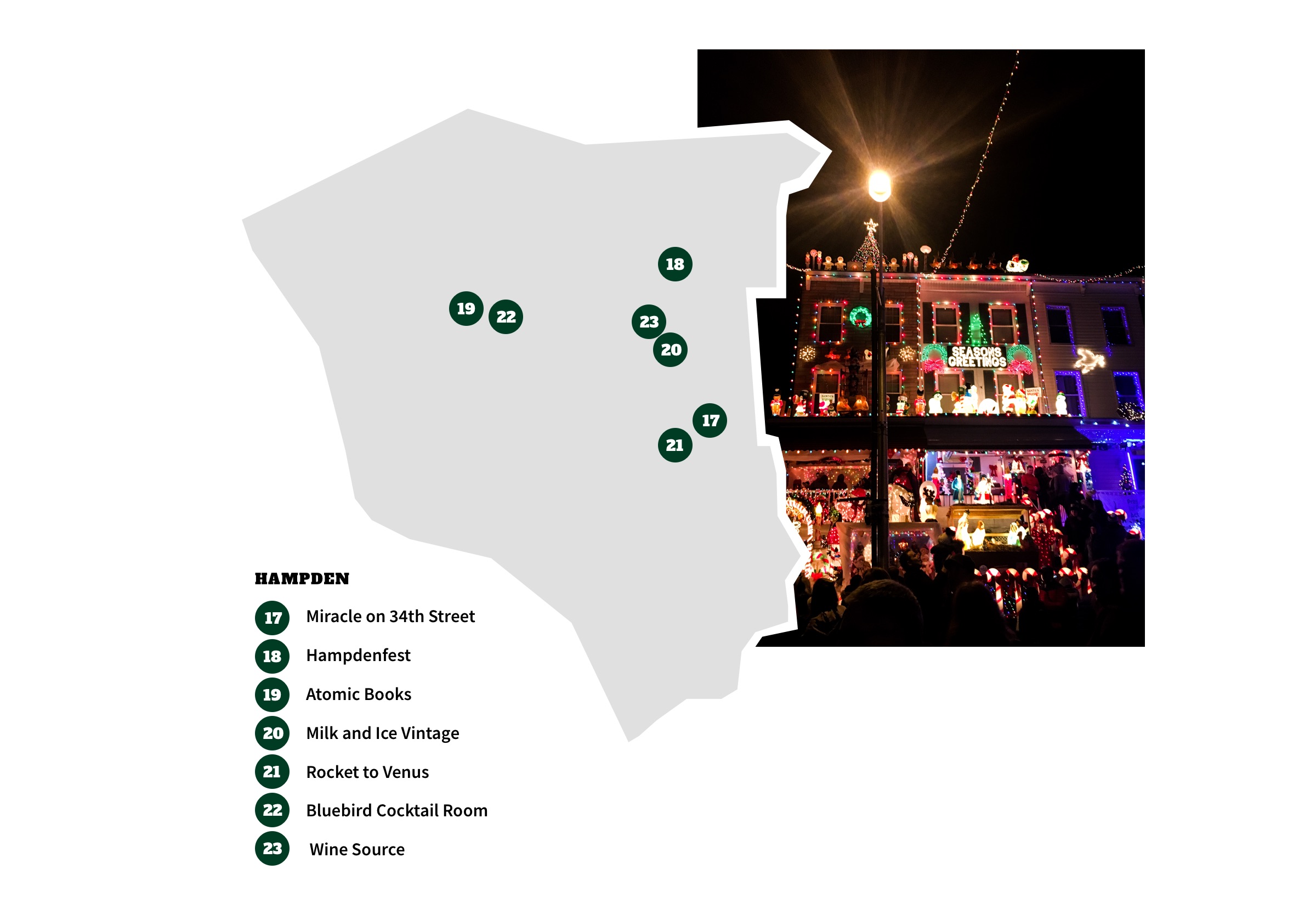 Hampden is another neighborhood that was once its own town along the banks of the Jones Falls. While some of the historic stone homes still stand at the "bottom" of the neighborhood, the vibrant 36th street has most of the action today. Known as "The Avenue," 36th street has shops, restaurants, and cafes that attract folks from all over the city.
What to Do
If you're in Baltimore in December, you must see the Miracle on 34th Street. Nicknamed for the movie, this block goes all out on their Christmas decorations.
Every fall, the Hampden Village Merchants Association puts on Hampdenfest, a celebration of the quirkiness that is the neighborhood. The event brings in bands, food, and craft vendors, but the highlight is the toilet bowl races, where teams repurpose a toilet into a go-kart style racer.
This bookstore offers "Literary Finds for Mutated Minds" and specializes in comic books and graphic novels, in addition to curated fiction and nonfiction. At the back of the store, you can enjoy a drink at Eightbar or attend any of the many events hosted each month.
The Avenue is full of antique, junk, and vintage shops, and most of them are at least worth a stroll through. Milk and Ice Vintage offers a large variety of vintage clothing at good prices, and each year owners Angie Gavin and Kate Thomas put on the Baltimore Vintage Expo in Hampden.
Where to Eat and Drink
Apparently some men in Baltimore once tried to build a rocket ship that would take them to Venus in 1928. While that didn't succeed, this Hampden bar and restaurant now has a great name. With some punk rock in the background, the atmosphere is laid-back and the menu offers a variety of eclectic cuisine, with lots of vegan and vegetarian options.
Featuring handcrafted cocktails and small plates, Bluebird is a relative newcomer to the neighborhood. Whether you go for a weeknight happy hour, a weekend evening date night, or a midday Sunday chill, the decor—themed after the Bluebird jazz music label—is inviting and cozy.
OK, so you can't actually drink at the Wine Source, but it has one of Baltimore's largest selections of beer, wine, and liquor. They offer tastings and growler fills, and most importantly, it's one of the only liquor stores in the city with a Sunday license.
Why Locals Live Here
Hampden can be split into two parts: old Hampden and new Hampden. When younger people started moving back or staying in Baltimore, Hampden saw an influx of independent stores and restaurants, which has spurred commercial development. So, while newer, younger transplants move into the area to take advantage of all the great shops and restaurants, residents who grew up in the neighborhood still live here too. Both the past and present coexist in this walkable community with easy access to the light rail and I-83.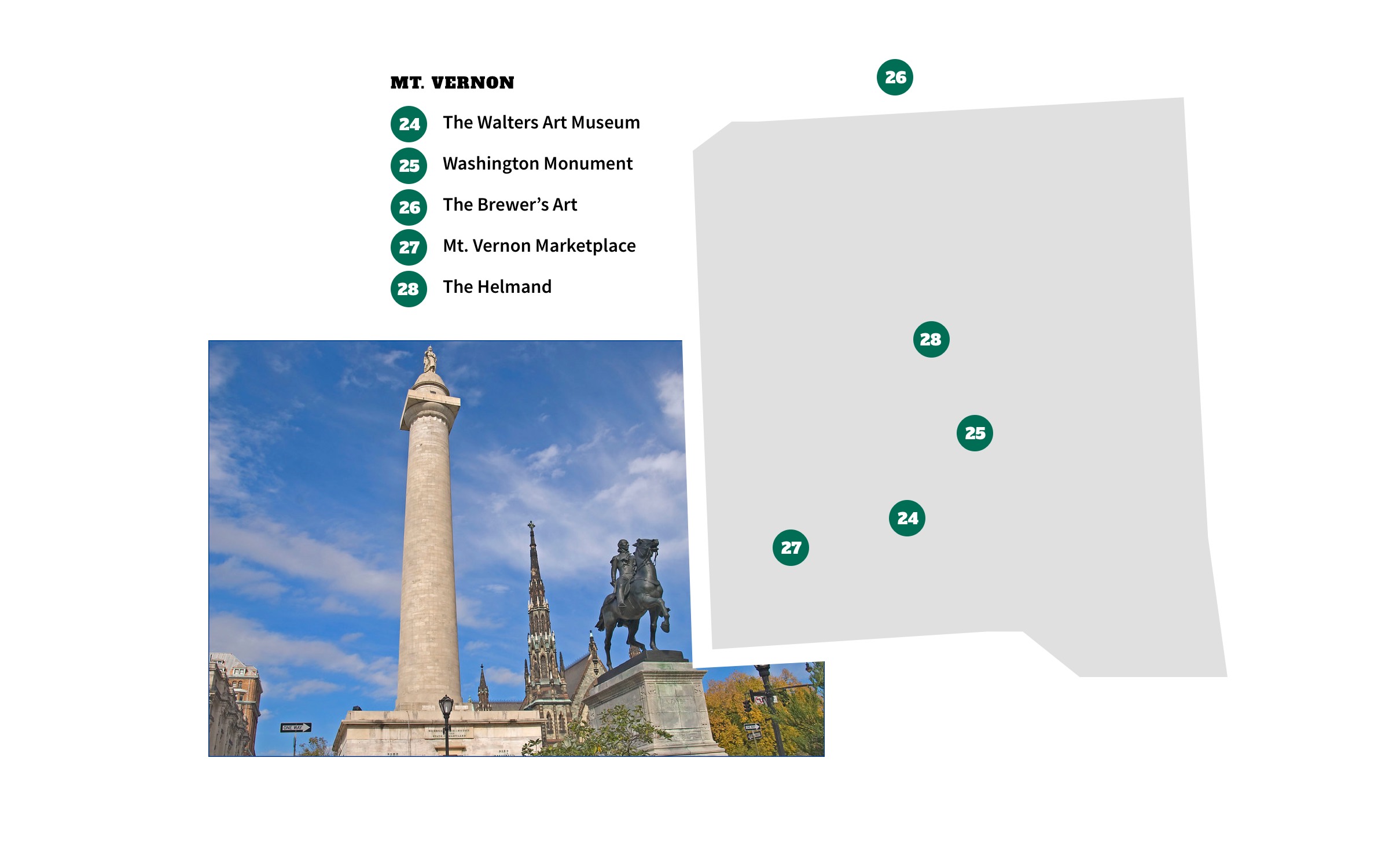 The wealthy Baltimoreans who first moved into Mt. Vernon in the 1800s wanted to pay homage to the Founding Fathers, naming the neighborhood after George Washington's estate and erecting a monument in his honor, but the neighborhood still has a European, aristocratic air. The houses are large, generally three to four stories, or have been broken up into apartments. Centrally located within Baltimore, Mt. Vernon remains attractive to professionals and families alike.
What to Do
See world-class art for free at the Walters. Henry Walters endowed a museum of his collection in the 1930s, which has grown to include art and antiquities from around the world. When you visit, make sure to see the cabinet of curiosities in the permanent collection.
25. Washington Monument
Although the park around the monument is small, it's a great place to read a book in the sun or have a picnic. In the spring, the Flower Mart takes over, and at Christmas, be sure to see the lighting of the monument.
Where to Eat and Drink
The Brewer's Art has been a go-to restaurant and bar in Baltimore since 1996. The basement bar is cozy and has great happy hour deals on their locally brewed beers, while upstairs offers fine dining.
Mt. Vernon Marketplace houses fourteen food stalls in a former industrial building in the neighborhood. A popular place for residents to grab a quick bite or meet up with friends, it never disappoints with many options including oysters, Korean bowls, ramen, burgers, dumplings, and artisan cheeses.
Often voted one of the best restaurants in Baltimore, the Helmand serves Afghani cuisine in an intimate space in Mt. Vernon. Come with a group and share unique dishes, including a variety of vegetarian options, family style.
Why Locals Live Here
One of the best reasons to live in Mt. Vernon is the easy commute to many different parts of the city. Downtown is just a 15-minute walk or a quick bus ride away, while MARC trains can take you to D.C. in 45 minutes from Penn Station and I-83 provides easy access to the Beltway. Also, because everything is within walking distance (including movie theaters, restaurants, bars, and museums), many residents say Mt. Vernon feels like one of the most urban neighborhoods in Baltimore.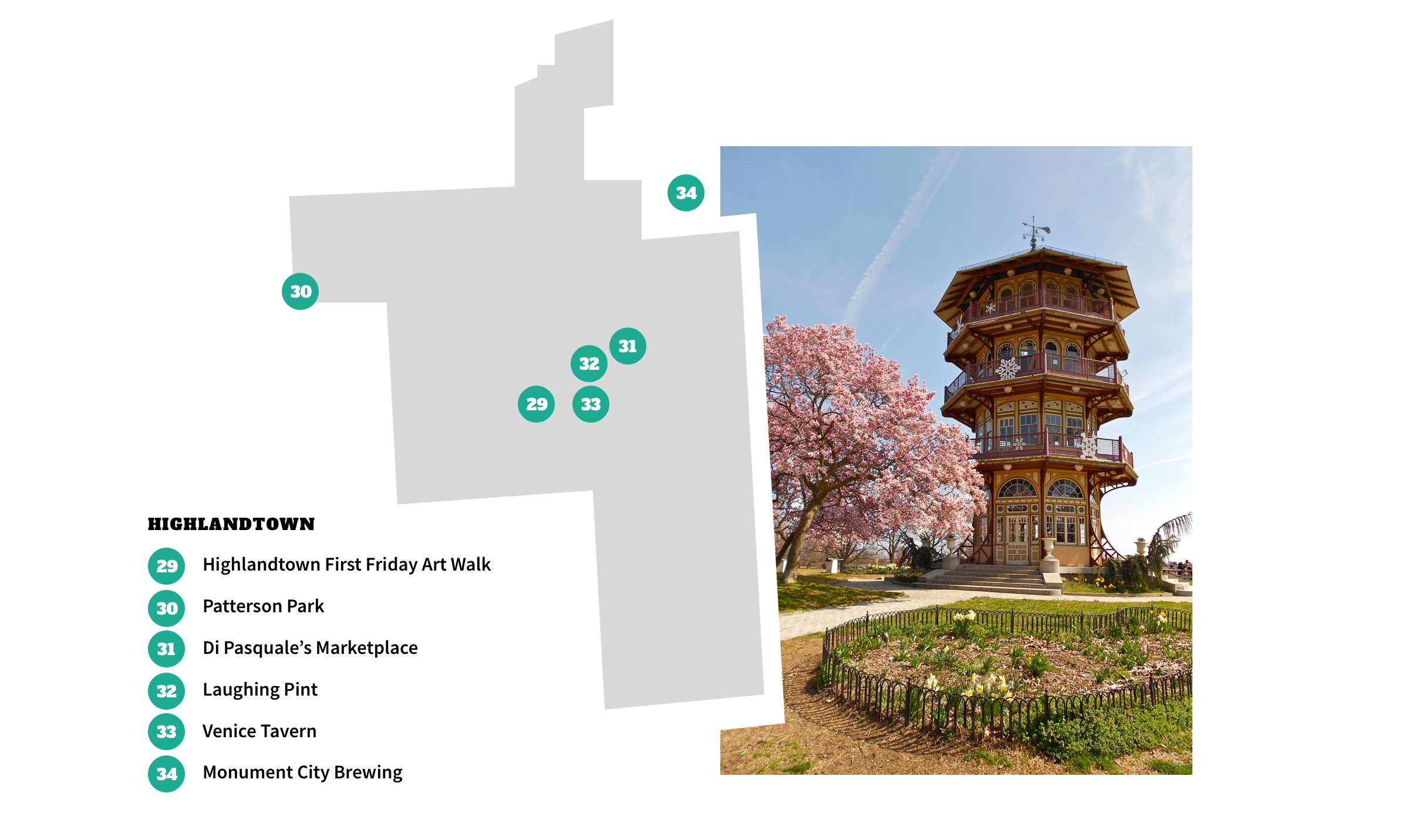 Highlandtown is a classic Baltimore neighborhood. The row houses are small and narrow, made for generations of blue-collar workers and their families, and a bar or grocery store used to stand on each corner. Walk around and you may still see painted screens on windows, or women who will call you "hon" unironically. Today, the neighborhood has a mix of old rowhomes (some renovated, some not) as well as condo and apartment buildings.
What to Do
On the first Friday of the month, the Highlandtown Arts District hosts the First Friday Art Walk, where members of the community can stroll the neighborhood to hear literary readings and musical performances or stop in artists' studios and galleries. Vintage stores and small shops also stay open late to welcome in customers and passersby.
It's the oldest park in Baltimore, but Patterson Park also ranks as one of the city's best. In addition to open space, trees, and sports fields, the complex includes a field house where youth sports teams play, a fenced dog park, an ice rink, and a pool. Throughout the year, the park welcomes festivals and events.
Where to Eat and Drink
Italian immigrants have left a lasting impact on Baltimore, and not just in Little Italy. In Highlandtown, you'll find Di Pasquale's, offering sandwiches, prepared Italian foods, and imported Italian grocery items. And don't forget to buy some very reasonably priced Italian wines when you stop in.
More than your average corner bar, the Laughing Pint has a neighborhood feel where it seems like everyone knows each other, but it also offers great craft beers, elevated bar food, and refreshing cocktails.
Even if you don't live in Highlandtown, or don't imagine coming to the neighborhood when you visit, do yourself a favor a step back in time at the Venus Tavern. This basement bar is a Baltimore treasure, and although they don't have a website or accept cash, they have a great selection of craft beer.
Baltimore has many nicknames: Charm City, Mobtown, Clipper City, the City that Reads, Smalltimore. But Monument City seems particularly fitting for a brewery that wants to make an impression on Baltimore. They've been selling their beers in stores for a few years, and recently opened a taproom and event space in Highlandtown.
Why Locals Live Here
Highlandtown really feels like an old Baltimore neighborhood. Although you can find nicely renovated homes and new condos, the shops, bars, and restaurants still feel bohemian and down-to-earth. Highlandtown has easy access to I-95 and I-895, but everything in the neighborhood is walkable. Residents also have easy access to the waterfront in Canton and the events in Patterson Park.
Usually lumped together with Hamilton, Lauraville offers affordable single-family homes on quiet streets. Bordered by Lake Montebello, Herring Run Park, and Morgan State University, the neighborhoods within Lauraville feel verdant and bucolic but still have easy access to stores and restaurants.
What to Do
Creating the southern border of Lauraville, Herring Run Park is a gem of northwest Baltimore. This city park includes a paved biking/ walking trail, sports fields, and playgrounds.
This combination music venue, instrument workshop, and teaching space embodies the happy hippy side of Lauraville. While the store is open by appointment only, Four Hour Day Lutherie regularly hosts performances by touring folk musicians.
Where to Eat and Drink
Ah, the original neighborhood coffee shop. Once you've had Zeke's roasted, small batch coffee, it's hard to drink anything else. The coffee shop recently relocated to a larger space, where you can have any number of espresso drinks, sandwiches, and spectacular pastries.
Many people dream of a cozy brunch spot that they can saunter to on the weekends. If you live in Lauraville, Maggie's Farm is that spot. As the name suggests, they focus on locally-sourced foods for their limited and rotating brunch and dinner menus.
Serving breakfast and lunch six days a week, Red Canoe is another coffee shop along the main drag in Lauraville. This is also a family-friendly spot, with curated children's books for sale.
From the outside, you may not know what to expect from the bright yellow corner bar with a parrot on the sign. Step inside, and you'll find a cozy establishment that also happens to have a fantastic Maryland-style crab cake. Even if you're not in the neighborhood, it's worth the trip.
Why Locals Live Here
The now defunct City Paper once called Lauraville "Hip Dad Scape," and that can be true. The cute bungalow houses feel more quietly suburban, with yards, trees, and parks nearby, but residents can still find coffee shops and restaurants nearby. The location in north-central Baltimore also provides easy access north to Towson and south to Downtown.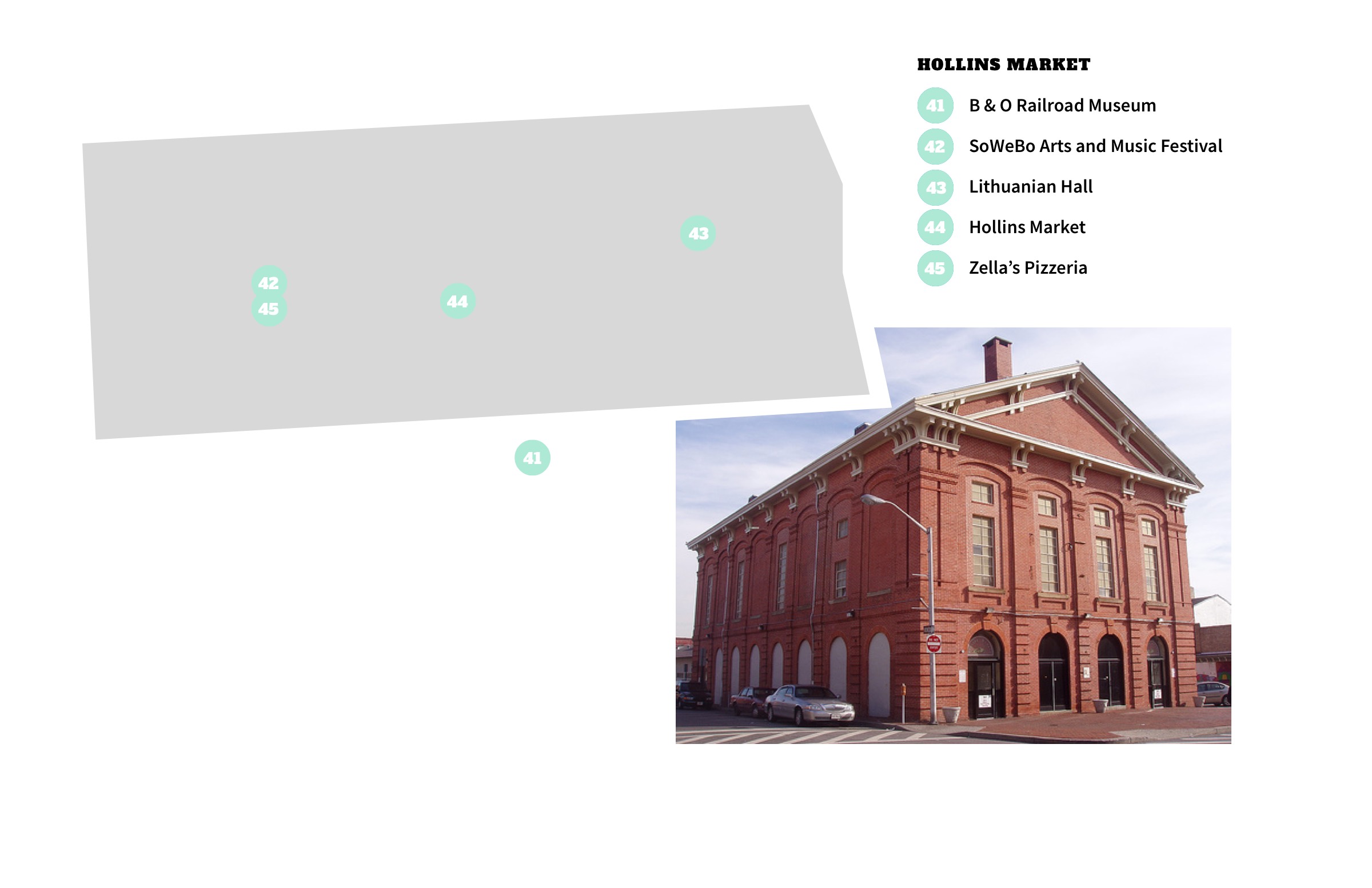 Hollins Market is one of the two neighborhoods that make up South West Baltimore, referred to as SoWeBo. While Union Square (the other half of SoWeBo) is mainly residential and a bit quieter, Hollins Market centers around its eponymous market and offers historic homes, museums, parks, artist galleries, and restaurants.
With many homes in the area dating back to the early 1800s, sections of both neighborhoods are on the Baltimore City and National Register of Historic Districts. Once the center of Baltimore's bohemia, Hollins Market retains a funky feel, while now being within walking distance of the Inner Harbor, Camden Yards, University of Maryland BioPark, and the University of Maryland professional schools.
What to Do
On the south side of the neighborhood, you can experience the history of Baltimore at the B&O Railroad Museum. To take advantage of Baltimore's port, construction began on the B&O Railroad in 1829. Today, the roundhouse of the former railroad is the center of the museum. Outside in the yard, visitors can learn about the history of railroads and even take a short trip from the roundhouse to Mount Clare Station in Carroll Park.
For over 35 years, the SoWeBo Arts and Music Festival has celebrated the funkiness of Baltimore. SoWeBo Fest kicks off Baltimore's summer neighborhood festival season with bands, arts and crafts vendors, and fun for the whole family. The festival shows off the vibrancy of the community west of Martin Luther King Boulevard.
Hollins Market used to be the center of the Lithuanian community in Baltimore, and the community still gathers at the Lithuanian Hall. Most of the time, the Lithuanian Hall is dedicated to promoting and preserving Lithuanian culture and history in Baltimore, with a language school, a museum, a library, and cultural events. However, on the first Friday of the month, "LithHall" becomes home to Save Your Soul (https://www.facebook.com/SYSBmore/), a dance night featuring DJs spinning rare and vintage 45RPM soul and R&B records.
Where to Eat and Drink
You probably shouldn't even visit to the neighborhood if you can't take a stroll through the actual Hollins Market. Centrally located on South Carrollton Avenue and Hollins Street, the market has a few lunch eateries and a number of vendors selling produce and meats.
Built in 1877, the market adds to the historic landscape of the neighborhood, and it's slated for improvements. In 2017, War Horse Cities CDC won a contract to redevelop the market, which is now being done in conjunction with the Baltimore Public Market Corporation.
Zella's Pizzeria, located right next to Hollins Market, is a neighborhood staple. Serving Italian inspired classics like salami sandwiches, baked pastas, and pizza, Zella's is a welcoming neighborhood bar. Part art gallery, Zella's also showcases local artists and members of the SoWeBo Arts Inc organization.
Why Locals Live Here
Hollins Market remains a hidden gem in Baltimore's neighborhood landscape. The Federal Era homes and streetscape transport you back in time, giving you an immediate sense of Baltimore's history. Hollins Market is also home to the last remaining Arabber stables, a living tradition of Baltimore's African-American horse-cart vendors. On any given afternoon, you may see a girl riding a horse or a horse-drawn carriage piled with vegetables and a vendor telling you what he's offering in a sing-song cadence.
Locals live here because they've lived here for generations or moved in when it was the bohemia neighborhood—affordable and funky enough for artists. New arrivals choose to live here because of the relatively inexpensive, yet adorably historic, housing. You can jump on the Orange Line of the Charm City Circulator and be Downtown or in the Inner Harbor in minutes. You can also easily get out of the city on I-95.