Austin Real Estate Development
Austin Real Estate: The Rise of Glass Skyscrapers
As a general rule, the housing sales market in the Austin metropolitan area primarily focuses on single-family homes. However, recent years have seen a massive influx of new Austin residents, drawn to the city's quirky creative energy, world-class dining scene, and deepening footprint in the tech industry. Many of these well-heeled transplants aren't looking to set down long-term roots implied by a single-family house, instead they're seeking the urban dream of condos in sleek high-rises equipped with luxurious amenities.
At the same time, Austin architects have become enamored with the soaring skyscrapers so popular in cities like New York and Chicago, and in recent years, vertiginous buildings emerged in the Austin skyline, all competing for the "tallest tower in Austin" designation. Many of these skyscrapers were devised for residential purposes within Downtown Austin's business and nightlife center, with several more lofty glass towers still to come in the near future.
But what is considered a "skyscraper" in Austin? The height requirements of a skyscraper vary based on location. A city with abundant tall structures like NYC would consider a 1,000-foot building the minimum for skyscraper status, while a city like Austin with a smaller inventory of towers sets the bar somewhat lower. For example, the current tallest building in the city of Austin, The Independent, stands at about 688 feet.
Downtown Austin's Skyscraper Scene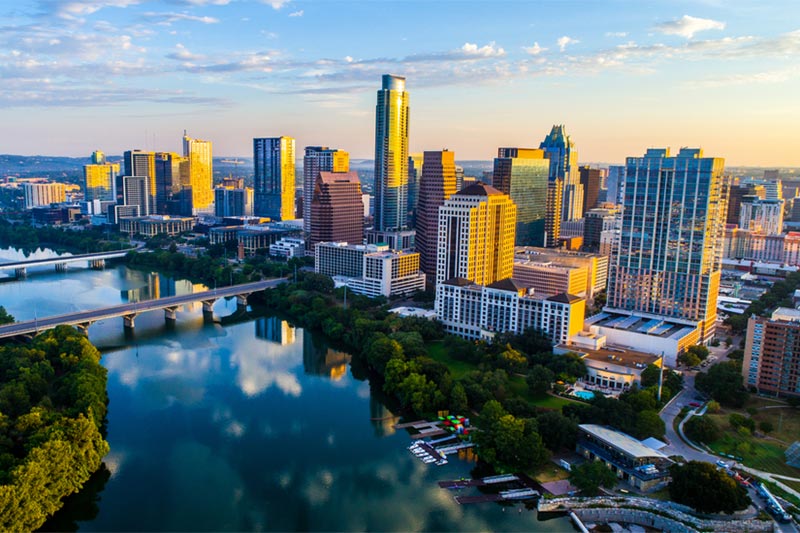 As the center point for Austin's central business landscape, with over 92,000 employees from a variety of industries working in over 10 million square feet of office space, Downtown Austin seems like a natural home for the city's tallest residential towers.
The relatively recent push to move Austin away from the widespread, highly-suburban model of its past to a more densely-populated urban metropolis affected Downtown Austin more than any other neighborhood. From 2010 to 2018, the population of Austinites living in the downtown center grew from 7,413 to over 12,000, a direct reflection of the neighborhood's increased appeal to working professionals.
In addition to its high inventory of offices and business headquarters, including heavy-hitters like AT&T and Whole Foods, Downtown Austin features innumerable restaurants, bars, live music venues, boutiques, and hotels. It also qualifies as a major transit hub, including CapMetro bus stops serving lines from all corners of the city and Austin's only Amtrak train station.
Between the growing population density, the vibrant lifestyle possibilities, and the easy access to public transit, Downtown Austin suits the contemporary urbanization of the tall glass towers housing new residents.
Austin's Current Tallest Residential Skyscrapers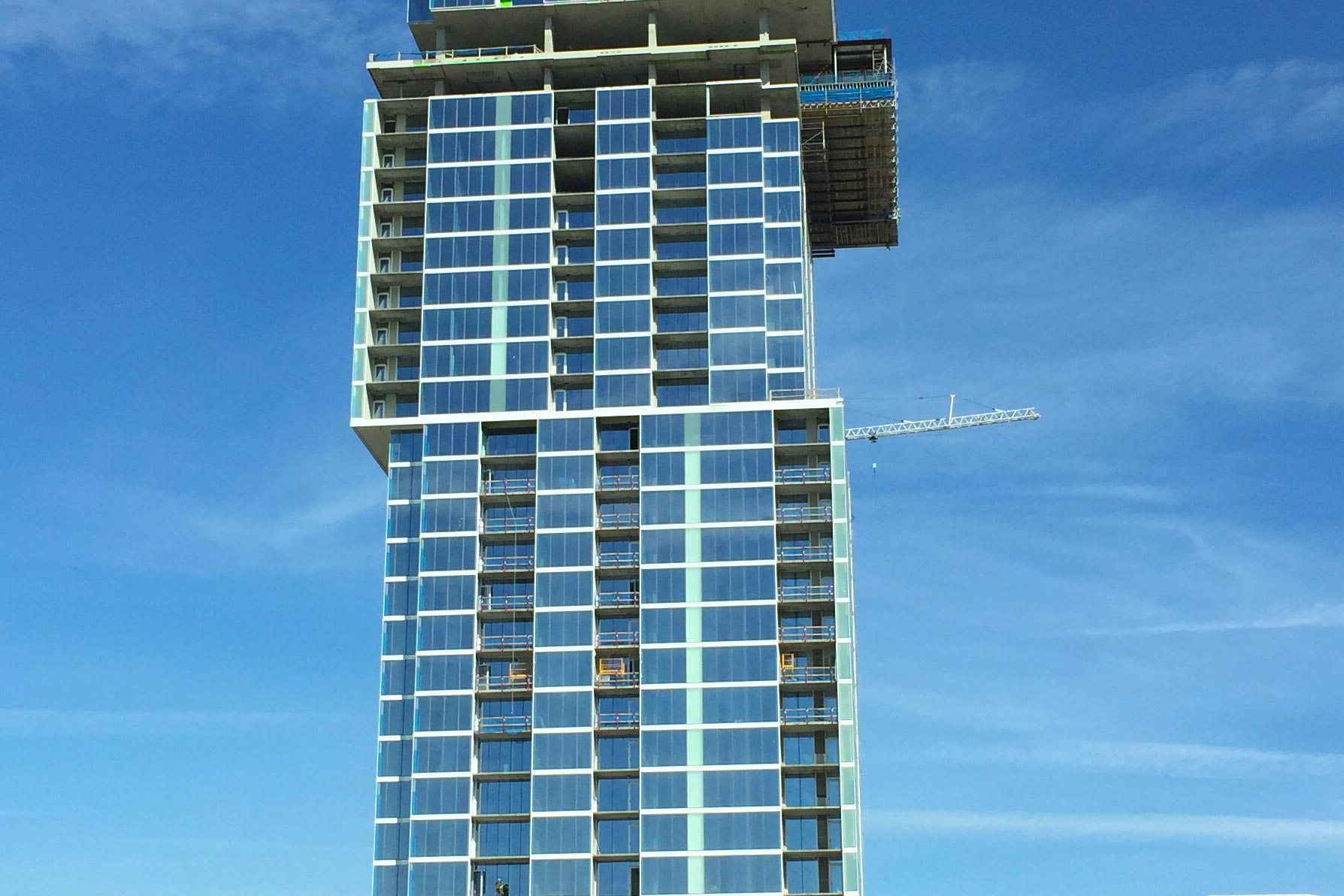 The last five years have witnessed a competition for the tallest skyscraper in Austin, and as of early 2019, the title will be claimed by The Independent on West Avenue.
The Independent
Towering at a whopping (for Austin) 688 feet, The Independent currently qualifies as the tallest building in the city. Residences are currently for sale in this high-rise building, featuring luxurious amenities such as a heated infinity pool with views of Lady Bird Lake, an outdoor lounge with a working fireplace, a playground and activity room for kids, a dog park and grooming station, a fitness center equipped with top-of-the-line machines, a yoga studio, and a business center.
The building is located in the heart of Downtown Austin, just a few blocks from Lady Bird Lake, the Austin Convention Center, and the Texas Capitol Building. Condos range in size from 756 square feet for a small one-bedroom unit to 5,745 square feet for a four-bedroom penthouse, and units at The Independent sell for an average price of over $1.6 million.
The Austonian
Standing only slightly shorter than The Independent at about 682 feet, The Austonian can be found on the downtown thoroughfare of Congress Avenue, just steps from the famous Congress Avenue "Bat" Bridge.
The Austonian offers amenities like a 12,000-square-foot lawn on the 10th floor complete with downtown views and a saltwater pool, a top-floor fitness center with 360-degree views and a yoga/Pilates studio, a billiard and game room with flat-screen TVs, a spa room, a dog park and grooming center, a stocked library, a 12-seat movie theater, and a wine cellar.
Residents can also expect 24/7 concierge service and an on-site event planner. Available residences are priced starting at $2.9 million, and range in size from 2,641 to 8,361 square feet.
W Austin Residences
In a prime example of tourism fueling downtown trends (even for residents), the W Hotel Austin recently opened a condo building, hoping to parlay its short-term Austin City Limits and SXSW popularity into a residential experience.
W Austin Residences features condos ranging from one-bedroom units to four-bedroom penthouses, as well as a private lobby and entrance for residents, on-site parking and valet service, a resident-only pool, preferred access to the ACL Live annual performance, VIP use of the hotel restaurant and spa, and housekeeping services like laundry collection and dry cleaning.
Residential Skyscrapers Coming to Austin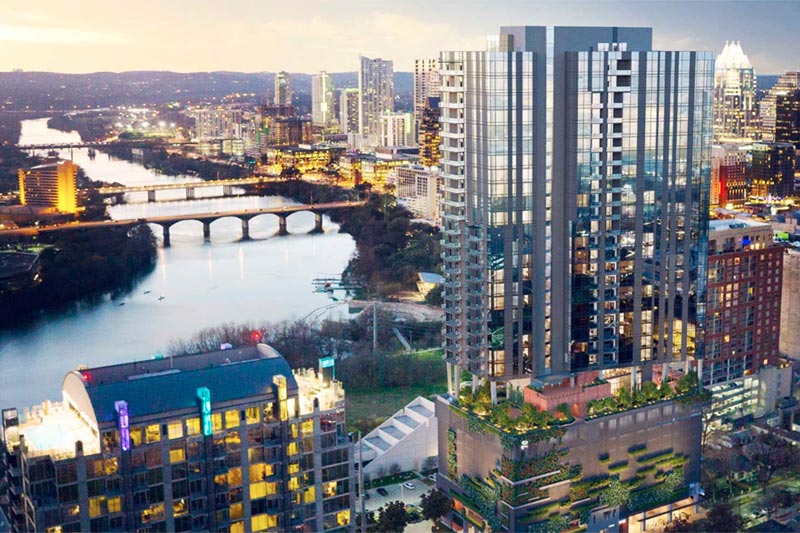 While The Independent enjoys its current tallest-building-in-Austin designation, a soon-to-arrive skyscraper will knock The Independent from its very high pedestal.
600 Guadalupe Street
6th and Guadalupe, a mixed-use project at 600 Guadalupe Street, will rise to a whopping 837 feet, rising above The Independent. 6th and Guadalupe will include two towers, 349 residential units, and 575,000 square feet of office space. The design plans were approved in 2018, and construction will proceed in 2019.
70 Rainey
While they won't come close to 6th and Guadalupe's total height, 70 Rainey, a pair of new buildings scheduled for early 2019, will rise in Downtown Austin's vibrant Rainey Street district. This pair of towers will include residences, office spaces, and retail projects. Among the featured amenities, there will be a 21,000-square-foot amenity deck for residents with an infinity pool, an indoor lounge and clubhouse, 24/7 concierge service, and a fully-equipped fitness center. Condo prices range from $510,800 for one-bedroom units to just over $3.5 million for penthouse suites.