Chicago vs. Detroit: Pizza Showdown
Chicago vs. Detroit: Pizza Showdown
Chicago and Detroit have been rivals for many things since their beginnings. They've fought over Midwestern influence and industry, population, sports, and less notably, pizza.
Chicago's natural pizza rival is New York City and that's caused many to ignore the brewing fight for Midwest pizza supremacy. Both cities have their own signature style, both have their own big-name pizza eateries, and both have a rightful claim to the title.
Let's take a deeper look at which city has the best pizza: Chicago or Detroit.
Chicago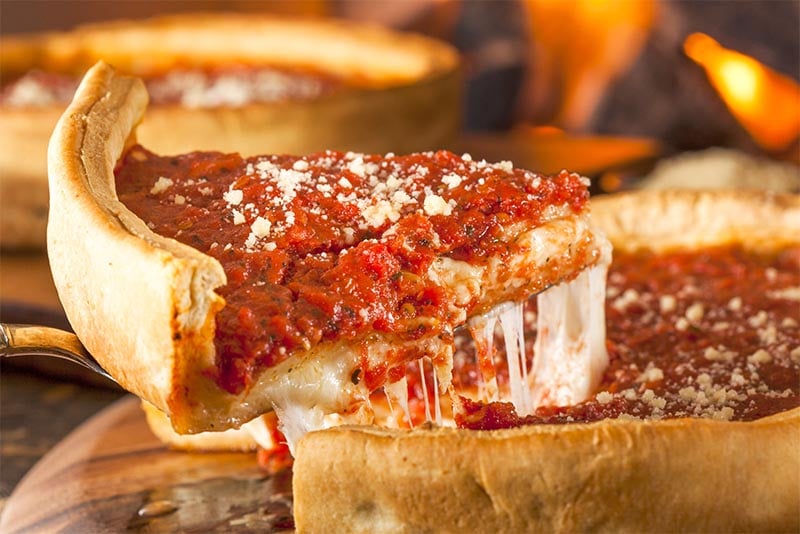 Chicago's pizza claim to fame is naturally Chicago-style deep dish. While very divisive and the subject of many internet arguments, there's perhaps no more well known or recognizable style of pizza in the country than deep dish. Many outsiders only know Chicago pizza as deep dish, but the city's pizza love goes far beyond its signature pie; including another city-specific style and almost every style from around the world being offered throughout the city.
What is Chicago-style pizza?
First off, let's explore Chicago-style pizza, also known as deep dish pizza. There's debate as to who originated the Chicago-style pizza, with both Pizzeria Uno and Lou Malnati claiming to be the original.
Whoever invented it, the way to cook it remains the same. Chicago-style is cooked in a deep pan that resembles a cake pan more than a pizza pan. Besides a thicker crust and pizza, the biggest difference to more traditional pizza is the toppings being reversed.
Because there's more to cook, baking a deep dish pizza requires a longer cooking time. If cheese was left on top for that long it would burn, so the toppings are reversed with the sauce on top. Below that is a layer of toppings, usually pepperoni or sausage, but most toppings are acceptable. Below the toppings is the cheese, usually mozzarella.
Chicago style is the topic of much debate, mostly because of its unique look and that it's usually eaten with a knife and fork. Despite this, Chicago style tastes almost exactly like thin-crust pizza with the amount per slice the only major difference. Although it's considered a Chicago icon, deep dish is largely more popular among tourists and visitors to the city than Chicago's full-time residents.
The top Chicago restaurants to find deep dish pizza are:
Other Chicago Pizza Options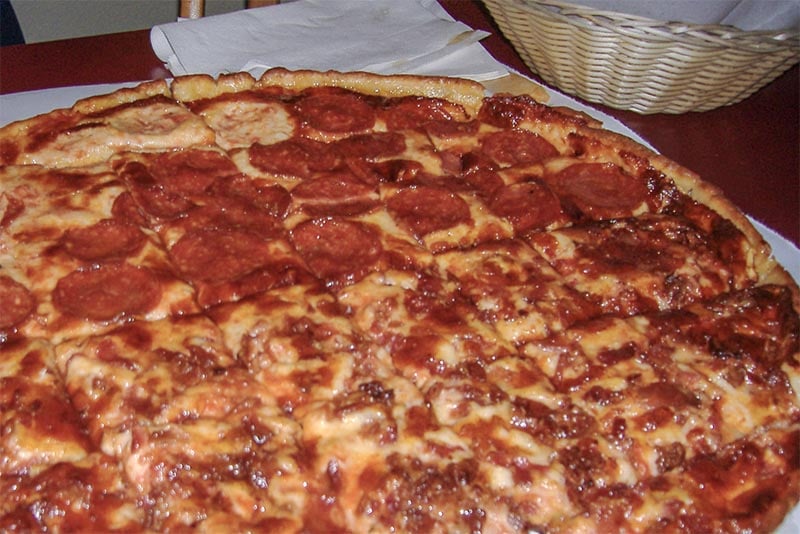 It might be a surprise to many, but there is another Chicago-style pizza—tavern style. A thin-crust pizza, tavern style is unique in that it's cut into squares. The crust is largely thinner than traditional style, but still packs plenty of crunch. While less known outside of Chicago and the Midwest, tavern style is a favorite among Chicagoans and generally preferred to deep dish.
Here's where to find tavern-style pizza in Chicago:
Besides the iconic deep dish and the local-favorite tavern, Chicago restaurants offer all the other main types of pizza. If you're looking for great New York-style pizza, head to Dante's Pizzeria in Logan Square and West Town or Boiler Room in Logan Square.
If you're looking for Neapolitan-style pizza there's no better place than Spacca Napoli in Ravenswood, one of the first restaurants outside of Italy to be AVPN certified. There's also places like Paulie Gee's in Logan Square that offers Detroit's specialty pizza.
Although it's considered a Chicago icon, deep dish is largely more popular among tourists and visitors to the city than Chicago's full-time residents.
Detroit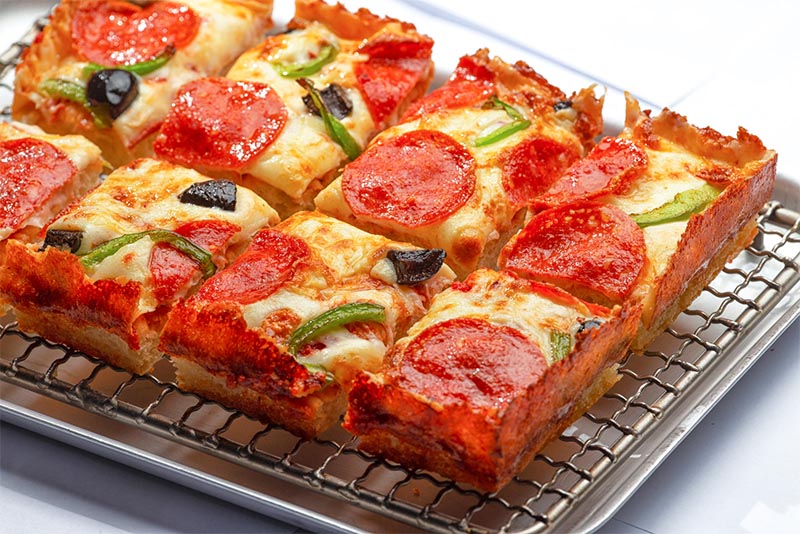 Detroit-style pizza isn't quite as well-known as Chicago's, but it is increasingly popular among people across the country. Besides its signature pizza, Detroit has been a big name in the pizza game for decades, although many may not know it. In fact, Detroit is one of the most prolific pizza exporters in the country, with several national chains calling the area home.
What is Detroit-style pizza?
While lesser known than Chicago style, Detroit-style pizza is surging in popularity and is offered in more places outside of Michigan than ever before. Just like deep dish, Detroit style is a pan pizza that's also thicker than a traditional pizza but not as thick as deep dish.
Unlike Chicago style, the origins of Detroit-style pizza is very clear. Buddy's Rendezvous, now known as Buddy's Pizza, was a former blind pig—a speakeasy that operated under the guise of charging customers to see an attraction, such as an animal—that created the pizza in the 1940s. Since traditional baking pans were not suitable for the pizza, cooks at Buddy's used blue steel pans that were created for auto manufacturing.
Besides being a thicker pizza, the most unique aspects of Detroit style include its square shape, a layer of sauce on top, and caramelized crust, which is the most celebrated aspect of the pizza. Toppings are varied and many restaurants joining in on the trend are getting creative with traditional Detroit-style pizza.
The term Detroit-style pizza didn't exist until the 1980s and wasn't in the mainstream until the late 2000s as the pizza boom began. The current popularity of the style has seen restaurants across the country open offering Detroit style. Buddy's, the originator, has expanded throughout Metro Detroit and Michigan. There are several other local places specializing in Detroit style, including Jet's Pizza, which has used the recent popularity to expand to 19 states.
Other Detroit Pizza Options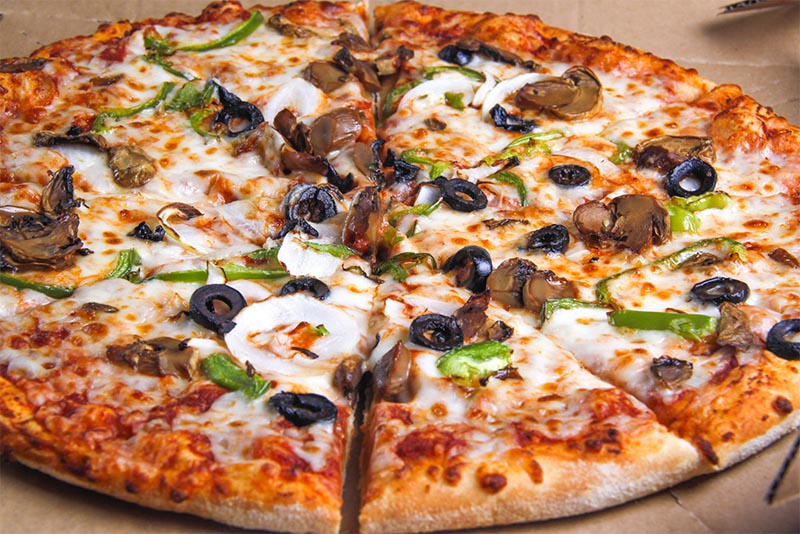 Unlike Chicago, Detroit only has one signature pizza style. However, Detroit is home to some of the country's most popular national pizza chains. According to Pizza Today's 2019 rankings by sales, four of the top 15 largest pizza chains in the United States are based in Metro Detroit.
Domino's, founded in Ann Arbor, was the No. 1 ranked pizza chain by sales in 2019. Following that at No. 3 is Little Caesars, probably the most recognizable pizza brand in the area. Hungry Howie's, best known for its flavored crust options, is also on the list at No. 12. Then there's Detroit-style favorite Jet's coming in at No. 14. Other Metro Detroit restaurants that made the list include Buddy's and Buscemi's Pizza.
Who Wins: Detroit style or Chicago style?
You can find out for yourself by trying both, which is now easier than ever to do no matter where you live. While you wait though, Chicago gets a slight edge in Midwestern bragging rights.
Ultimately, Detroit's signature style is more celebrated across the food spectrum, it and its neighboring chains just aren't enough to claim to be better than Chicago's two styles and world-renowned pizza restaurants offering a variety of styles.