Chicago Local Life
Chicago's 6 Best Neighborhoods for Coffee Shops
Coffee shops are about more than what comes in a cup—they're places that evoke a sense of community, spaces to relax and unwind, or places to get things done. In Chicago there is no shortage of local roasters and intricately designed coffee shops, but some neighborhoods have more than others. If grabbing a cup with friends is a favorite pastime or working remotely is a reality, find your next favorite Chicago cafe in one of these neighborhood coffee shop hubs.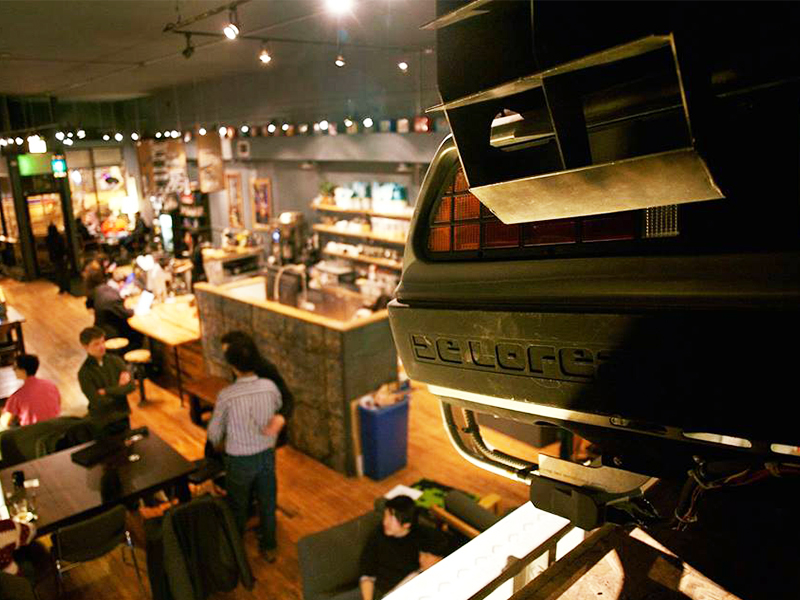 Wicker Park is home to one of the best cafes in Chicago, the nerd haven The Wormhole. This spot is decked out in 80s and 90s decor, like "Ghostbusters" movie posters, a lounge area to play the original Nintendo, and, of course, the Delorean. Serving Halfwit coffee, Wormhole is known as much for its nostalgia as it is for its plentiful tables and outlets for those working remotely.
If you're looking for something a bit more minimalist, Caffe Streets serves up craft coffee in a stylish space that includes a sculpted bamboo ceiling, sleek communal tables, retro light fixtures, and wall-mounted planters. While the cafe offers typical third-wave coffee fare, it isn't afraid to be playful with speciality drinks like the Monkey Latte, which includes banana, molasses, and a combination of chai and cider.
The neighborhood is also home to a few quality coffee chains. La Colombe has one of its five Chicago locations right under the Damen Blue Line CTA stop, making it a great place to pick up a quick cup and a pastry on the way to work. San Fransisco transplant Philz Coffee has a location near the Division Blue Line stop.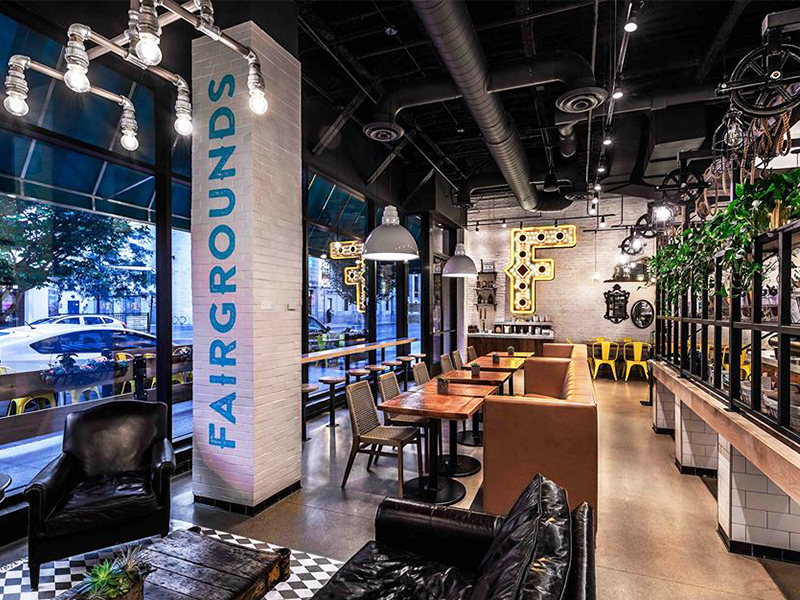 Right on the Wicker Park/Bucktown border is Fairgrounds, a modern and airy space that serves coffee and cold brew from some of the best coffee roasters in Chicago—and in the country—including Dark Matter, Noble Tree, Frothy Monkey, Collectivo, and Stumptown. The cafe even offers coffee drinks that resemble cocktails, like an Old Fashion-inspired drink made with espresso, walnut bitters, an orange peel, and simple syrup.
Bucktown is also home to Ipsento, which has its original shop on Western Avenue north of Milwaukee and a newer spot on Milwaukee right off The 606. The 606 location is always bustling and has a great outdoor space right off the path, while the original Ipsento is dim and cozy. Tucked into a residential street, Red June is a hidden gem on Leavitt, offering a solid spot to chill and avoid the commotion of other nearby shops.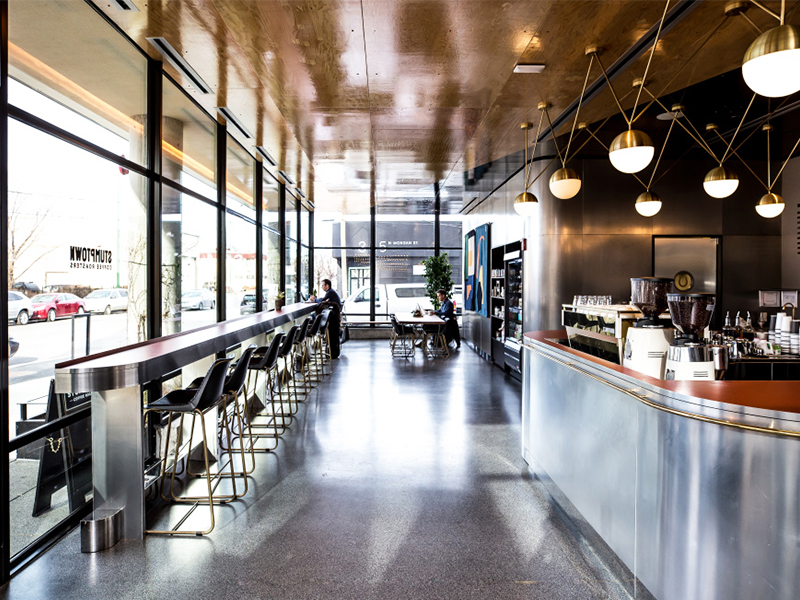 Hailing from the Pacific Northwest, Stumptown opened its first Chicago location in the Ace Hotel. The company is known for sourcing from the best coffee producers in the world, and the modern and bright cafe in the West Loop showcases its quality. Groundswell Coffee Roasters on Madison Street has great food and a small cafe space to work or have a business meeting.
Sawada on Green Street is hugely popular when it comes to West Loop coffee haunts, and it doesn't hurt that they sell Doughnut Vault donuts here. It's in the same complex as High Five Ramen and Green Street Meats, so keep in mind it can get chaotic on weekends. The Politan Row food hall has an outpost of Passion House, a cafe and roaster that has its original location in Logan Square.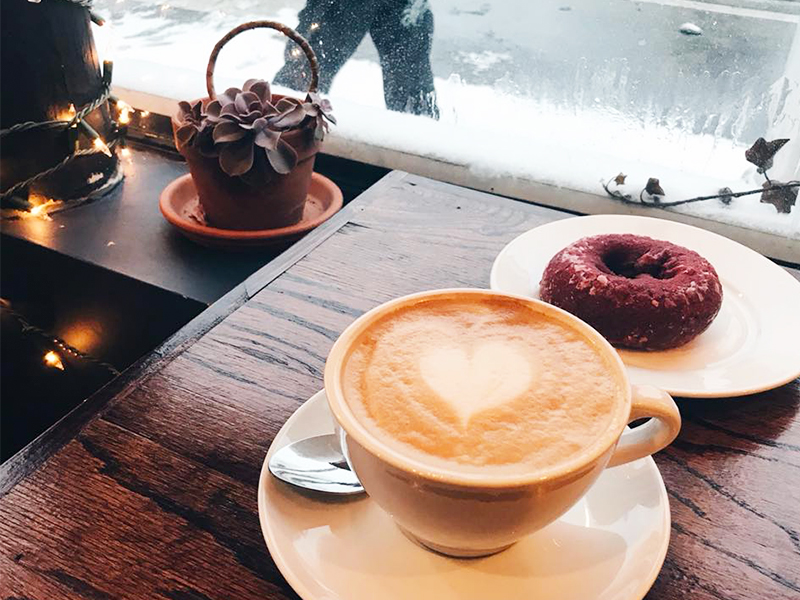 Take a stroll down 18th Street and you'll find a fair share of the neighborhood's best coffee and tea. Brew Brew Coffee and Tea is a new local favorite that replaced the old Bow Truss Coffee location right off the CTA Pink Line. The shop serves Ipsento coffee and pastries from various local bakeries. It also has a location in Avondale.
Cafe Jumping Bean is a standby in the community that serves great coffee and even better sandwiches. The Spoke & Bird Bakehouse, Kristoffer's Cafe & Bakery, and La Catrina Cafe all deserve a try.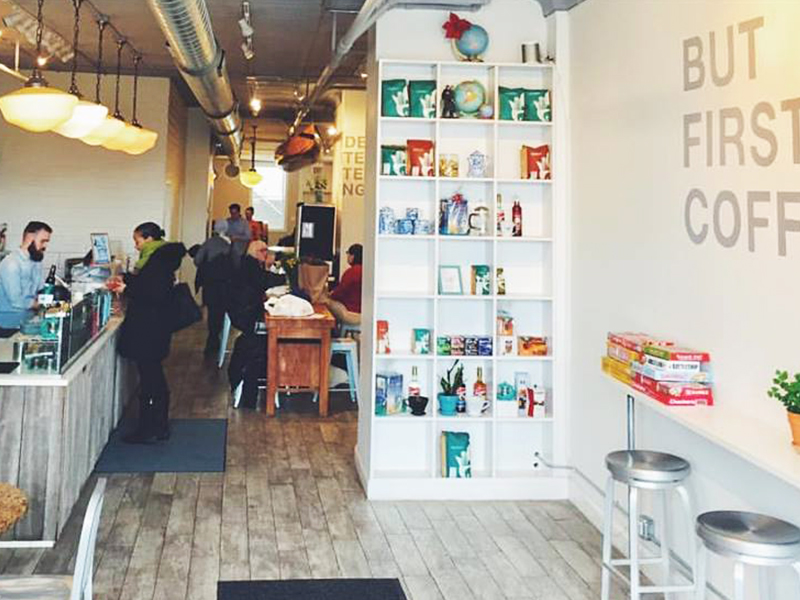 TrueNorth on Clark is a vegan coffee drinker's dream. This spot serves Metropolis coffee, smoothies, and overnight oats, as well as a collection of organic salads and wraps. The whole place is furnished by local shops and artists, and it was designed in a collaboration with Scout + Design. Located just a bit north of TrueNorth on Clark, The Coffee Studio has handcrafted coffees and specialty drinks, donuts and pastries, bagels, flatbreads, house-made ice cream, beer, and wine.
Replacing the longtime neighborhood spot Swedish Bakery, Lost Larson serves coffee and intricate pastries in a breezy space with Robin's egg blue accents—the pastries are just as pretty as the surroundings. Andersonville is also home to the vegetarian-friendly Kopi Travelers Cafe, First Slice Pie Cafe, and Dollop Diner. Kitchen Sink is located right off the Berwyn Red Line CTA stop, and it also offers quality sandwiches and pastries.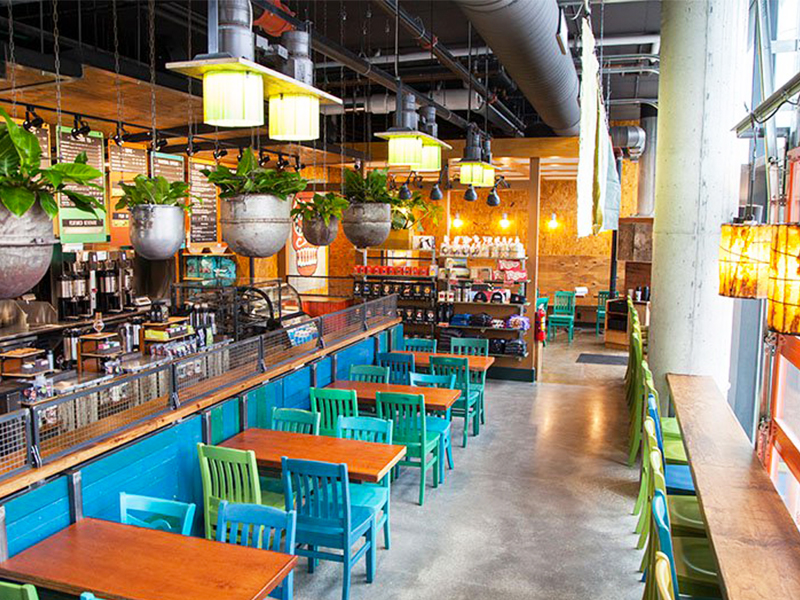 Logan Square is home to one of the city's newest and most-loved coffee shops: Milwaukee-based Colectivo Coffee. Colectivo also has a location in Lincoln Park and Andersonville, but the fanfare around its Milwaukee Avenue location has put the brand on the map. They serve the standard pastries and small bites here, as well as beer on tap. Check out the patio and cozy firepit.
Long before the buzz of Logan Square, Cafe Mustache was a favorite for coffee and hanging out. Cafe Mustache opened its doors in 2010, as a coffee shop that turns into a bar at 6 p.m., when the wifi turns off and artistic events and live music take over.
In general, Logan Square is a coffee lover's dream: Damn Fine Coffee Bar, Passion House Coffee Roasters, Gaslight Coffee Roasters, Intelligentsia, and Caffe Umbria are all located here. New Wave Coffee, right in the heart of the neighborhood, is Logan's main spot for meet-ups and freelancers because of its plentiful outlets and various types of seating.