San Diego Local Life
Consider Moving to These 4 Cool Neighborhoods in San Diego
Most people have heard of San Diego's popular communities like the Gaslamp District, Downtown San Diego, and La Jolla, but there are several neighborhoods in the city that are becoming more trendy and achieving a "cool" status.
A decade ago locals had a hard time pointing out the neighborhoods of East Village, Point Loma, South Park, and Barrio Logan on a map, but in recent years, these neighborhoods have finally started getting the attention and recognition they deserve. Each distinct community comes with its own personality and charm, and offers plenty of amenities that attract a wide range of homebuyers.
If you're planning to move to San Diego, check out some of the city's coolest neighborhoods to call home.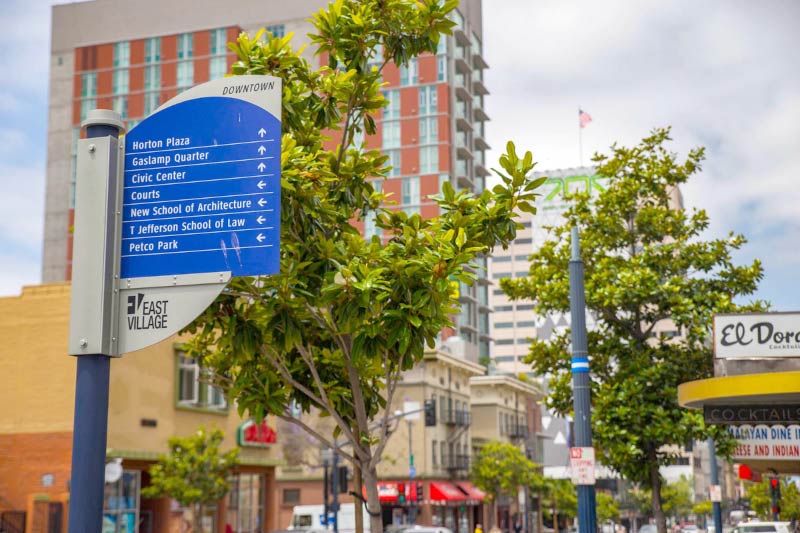 In 2000, the San Diego Padres—the city's Major League Baseball team—chose East Village to be the new home of their upgraded stadium Petco Park. Since then, this community has been in a constant state of flux. What used to be nothing more than a sea of warehouses has slowly morphed into a fortress of high-rise condos towering over Downtown San Diego.
This up-and-coming neighborhood consists of locally owned coffee shops, bars, doggy daycares, weekday lunch counters, date-night worthy restaurants, and San Diego's largest public library. Since many residential and condo buildings have the amenities literally built in, like a first-floor grocery store, as well as access to a post office, medical offices, and shopping malls within a few blocks, East Village is a very pedestrian-friendly neighborhood, making it easy for residents to get by without owning a car. East Village also has great public transit options thanks to the trolley and local bus lines.
Homes is East Village are almost exclusively condos and the neighborhood has a median price in the mid $400s.
South Park is often overshadowed by the larger and flashier North Park, but in the past few years, people have begun to notice South Park is a mini version of its northern neighbor.
This walkable neighborhood plays host to dozens of local bars (don't skip Hamilton's Tavern), ice cream shops, coffee roasters, cycling stores, and hip boutiques, most of which are sprinkled along Fern Street. This community also leans into its local businesses that demonstrate eco-friendly practices like fair trade shops, vegan eateries, and bike-sharing systems.
South Park also runs parallel to one of the city's largest greenspaces, Balboa Park, which raises the community's cool vibe even more. While it may be less exciting than the bigger neighborhoods nearby, South Park manages to balance a small community atmosphere without losing any of its vibrant amenities and simple convenience. South Park is also known for its charming Bungalow and Craftsman single-family homes. The neighborhood has a median home price in the mid $700s.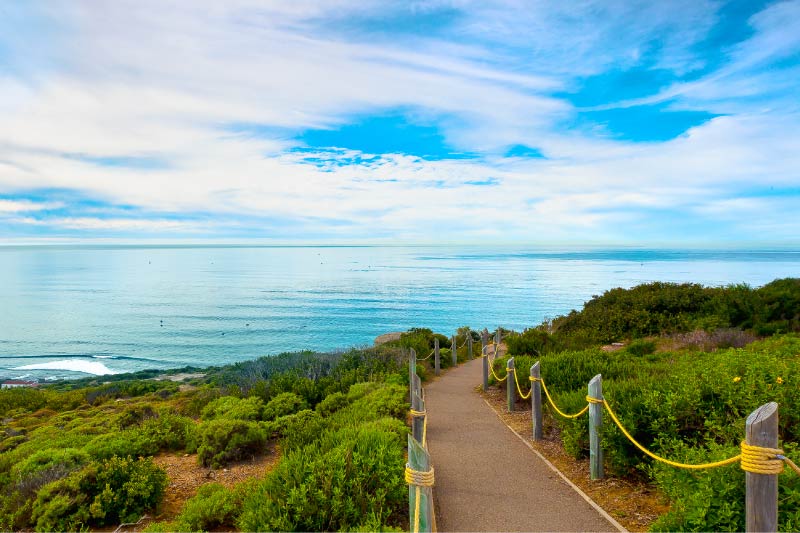 Point Loma sits poised on the cliffs overlooking San Diego Bay from one direction and a local beach community appropriately named Ocean Beach from the other. While it's an older part of town with some of the homes built in the early 1900s, Point Loma has seen a recent renaissance.
Developments such as Liberty Station have filled the community with specialty food shops, breweries, art galleries, and upscale restaurants, giving this peninsula a unique mix of modern amenities along with large single-family homes on sizeable lots.
Since Point Loma is surrounded by water on three sides, fishing and boating are popular activities in this neighborhood. The harbor is full of local restaurants like Mitch's Seafood and Point Loma Seafoods, serving fresh seafood right from San Diego's coastal waters. Locals who like to try their luck at snagging their own dinner can always rent a kayak or hire a charter boat and trek into the open water on a fishing excursion.
Point Loma also claims San Diego's only national park, Cabrillo National Monument. At Cabrillo, visitors can find San Diego's famous lighthouse, hiking trails, and a museum. From foodies to fisherman and with a wide range of activities and attractions, it's easy to see why homebuyers are flocking to this cool neighborhood, even if the median sale price is just over $1 million.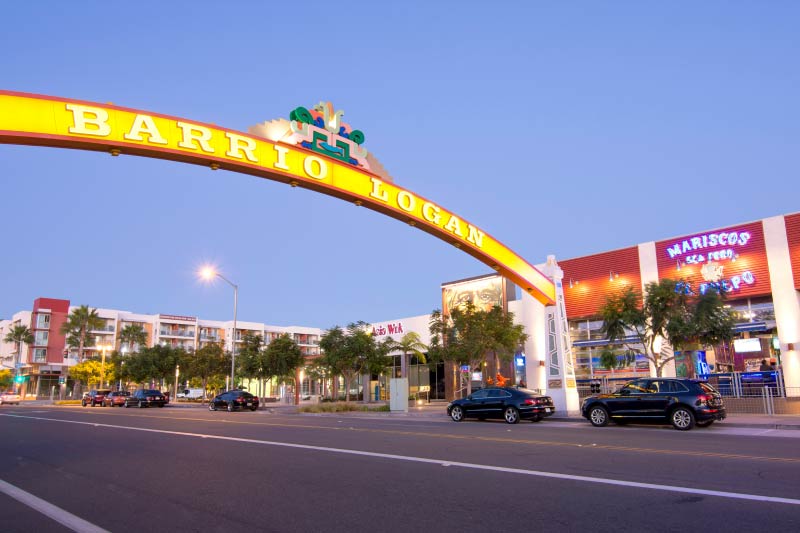 Barrio Logan has a rich history and culture that's depicted through various art displays and colorful murals throughout the neighborhood. Residents take pride in their neighborhood and have taken it upon themselves to create a sense of community that speaks to the needs and culture of those who live here while also adding some widespread appeal.
Some of the neighborhood's old buildings and warehouses have been transformed to house new local businesses and art galleries. Today, Barrio Logan is home to the popular brewery Border X Brewing as well as vibrant local art galleries like The Grand Artique, Chicano Art Gallery, and La Bodega Gallery. The neighborhood also hosts a free Barrio Logan Art Crawl every second Saturday of the month. Locals and visitors alike can experience the authentic Latino culture of the community through art, food, music, and social events.
In addition to the vibrant art scene, Barrio Logan also has a lively nightlife scene with street musicians and performers as well as several bars along Main Street. With a culturally diverse setting and a central location, Barrio Logan is a cool place to call home. It's also an affordable place to live thanks to the neighborhood's median sale price in the high $200s.