Did you know Oakland is connected by secret staircases?
Did you know that a series of secret staircases carve shortcuts across the rolling hills and neighborhoods of Oakland?
If you've lived there all your life and never knew, you're not alone. Many of the staircases have been so weathered by time that most passersby won't give them a second thought. Besides, the cement structures are often hidden between houses or behind trees.
After the devastating earthquake that destroyed much of San Francisco in 1906, and the fires that followed, many residents trekked it across the Bay to cities such as Oakland and Berkeley. Before the earthquake, Oakland had just 67,000 residents, but after the quake struck, that number increased exponentially as San Franciscans fled there.
With this mass influx of new residents, Oakland began expanding away from the flat center of the city and into the hills that surrounded it. Many homes were built at a high elevation, on streets that weren't easy to access on foot. Real estate developers had to come up with a way to help commuters avoid climbing up and down the steep and narrow streets in order to reach the buses and trolleys that ran along the main road. So, they built hundreds of staircases that wove shortcuts through these hilly neighborhoods. Oakland's Crocker Highlands and Upper Rockridge neighborhoods had a particularly large number of staircases, many of which can still be climbed today.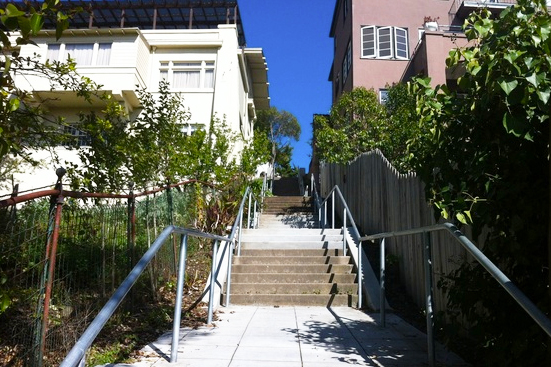 Over the decades that followed, the stairs began falling into disuse as more and more families relied on cars as their primary mode of travel. Some of the staircases fell into such bad shape over time that they were closed off to the public as they were considered safety hazards.
The staircases became largely ignored over time — that is, until the 1991 Oakland Hills fire that devastated many homes in the city. Those who lived in the hills escaped their homes on foot via those long forgotten staircases.
According to the East Bay Express, escaping on foot may have saved countless lives as the roads were already crowded with cars and emergency vehicles.
Today, the secret staircases have become a sort of hidden relic of the past in Oakland. The Berkeley Path Wanderers Association and Oakland Urban Paths regularly lead groups on walks to tour the historic structures. Trekking up these staircases, people can see some of Oakland's most interesting neighborhoods from a completely new perspective. Plus, they can admire views of the city skyline and bay while they're at it.
Want to get started stepping? Check out the Orchard Lane staircase in the Panoramic Hill neighborhood of Berkeley. As you climb the 240 steps, you'll pass pillars, balustrades, and benches. In Oakland, the Merriwood Steps in Thornhill make a solid workout as it drops (or rises) over two hundred feet over a third of a mile. Some estimates place the number of steps at 635 steps, but some disagree over the exact number.