Washington D.C. Neighborhood News
Dining, Shopping, Condos: New Additions to Navy Yards
The Washington, D.C. neighborhood around Nationals Park has earned many nicknames over the last few years. It's most commonly called Navy Yard, due to the Metro station of the same name being the closest one to the ballpark, but other monikers include the Ballpark District, The Yards, and Capitol Riverfront.
Whatever you want to call it, the waterfront neighborhood is shaping up to be one of the hottest to live, work, and dine in the D.C. area. Here are just some of the notable new additions around Nationals Park.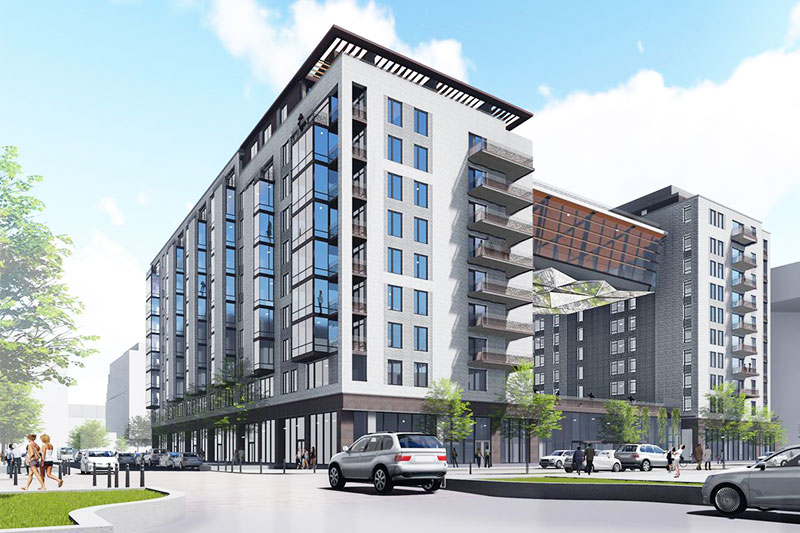 Dining
In April, All Purpose Navy Yard opened its second location in the area. The restaurant serves up piping hot deck-oven pizzas and a garden menu of salads, creamed ricotta, and light bites. The restaurant is located just across the street from Nationals Park, making it a convenient post-game stop.
Looking for southern eats right on the water? Due South is right on the boardwalk at Yards Park, just three blocks from the ballpark. For those craving some smoked barbecue chicken wings or 12-hour Texas style brisket, Due South doesn't disappoint. With their cocktails like the Savannah Sparkler and Shoo-Fly Punch, sweltering D.C. summer days are made easier too.
The boutique urban winery District Winery is in the heart of The Yards along the Anacostia River. Guests can tour the winery and enjoy seasonal tasting menus or even try their Date Night Package, which includes a tour, wine tasting, dinner reservation, and one glass of wine. District Winery's dinner menu includes some plates for the table, like a savory sourdough spelt bread with whipped chicken butter or the sweet peach toast with sheep's milk ricotta.
Shopping
The local clothing store Willow expanded from its original Petworth location, moving to a space at Navy Yard. Their Petworth shop opened back in 2011, and the store is known for its unique window displays. Both Willow locations offer clothes and gifts inspired by D.C. neighborhoods like mugs, shot glasses, and cards.
Steadfast Supply occupies a warehouse just blocks from Nationals Park. It serves as a place for brands and designers from around the country to share what they've created. The space is almost like a physical Etsy shop, with quirky gifts like patterned bow ties, color-your-own totes, and colorful pillows.
For furry loved ones, Wagtime opened its second location, Wagtime Too in the area. The pet spa and boutique offers daycare, boarding, and walking services. The boutique sells gourmet treats and fun pet costumes as well as funny toys like a "Red Bulldog" squeaky plush in the shape of a Red Bull can.
Condos
With plans to provide more than 130 new condo units, The Bower by PN Hoffman will be the first condominium building at The Yards. The Bower offers studio, one-bedroom, and two-bedroom units with hardwood floors and floor-to-ceiling glass windows. There's also a three-bedroom Penthouse option with a private terrace. The Bower aims to foster a sense of community with a rooftop lounge and wet bar complete with a terrace, as well as a fitness studio.
There's also the Velocity, a high-rise located at the Capitol Riverfront. The building is pet-friendly and offers a rooftop pool, fitness center, and ground-floor cafe with pizza.
What's Next
Navy Yard has been ranked as the fastest growing neighborhood in D.C. and according to Curbed D.C., that growth isn't stopping anytime soon. Groundbreaking is expected in 2019 for the second phase of The Yards, a project that's set to include 1,200 residential units, 1.5 million square feet of office space, and 150,000 square feet set aside for retail and dining. Once completed (estimated to be about 2030), the neighborhood will be pedestrian-friendly and nearly 50 acres. In fact, a projected plaza at the intersection of New Jersey Avenue SE and M Street SE will be D.C.'s only pedestrian-friendly link connecting a Metro directly to the Waterfront.
Additional condos are also coming to the area. The old Empire & D.C. Flyer Cab building, located at 37 L Street SE, will be torn down for an 11-story, 74-unit condo building. JDLand reported that DBT Development hopes to open the building for sales in 2019. The site was purchased for almost $7 million.