Miami Neighborhood News
Does bitcoin have a future in Miami real estate?
When the seller of a $544,500 condo in Edgewater late last year identified bitcoin as the only currency it would accept, the listing drew headlines in South Florida and sparked much discussion about the future of bitcoin and its impact on the local real estate industry.
Then a few weeks later, when a bitcoin enthusiast paid nearly 18 bitcoin for a condo on Miami's Upper East Side, the purchase drew headlines across the country and the discussions grew even louder. To be sure, all of this attention has given Miami a reputation for being a haven for bitcoin enthusiasts. But are the headlines just hype? Or does the oldest and most well-known of the cryptocurrencies have a future in South Florida real estate?
The enthusiast behind the bitcoin-only sale was Ivan "Paychecks" Pacheco who paid 17.741 bitcoin, or about $275,000, for a two-bedroom condo at 777 Northeast 62nd St. And while his decision to use bitcoin was unsurprising — he is co-founder of the bitcoin website "Bits to Freedom" — the purchase was noteworthy.
While it wasn't the first bitcoin purchase in South Florida – bitcoin investor Michael Komaransky bought a mansion in 2014 in South Miami for $4.6 million and one last year in Coconut Grove for $7.55 million – it is believed to be the first cryptocurrency-only real estate transaction not only in the region, but across the country. Typically, buyers who use digital currency to purchase real estate in the United States convert it to cash first. According to news reports, the first bitcoin transaction was a 2014 land deal in Lake Tahoe. In September of last year, a single-family home in Austin also closed using bitcoin. But, in both cases, the seller converted bitcoin to dollars to complete the transaction.
How Did Bitcoin Become So Hot?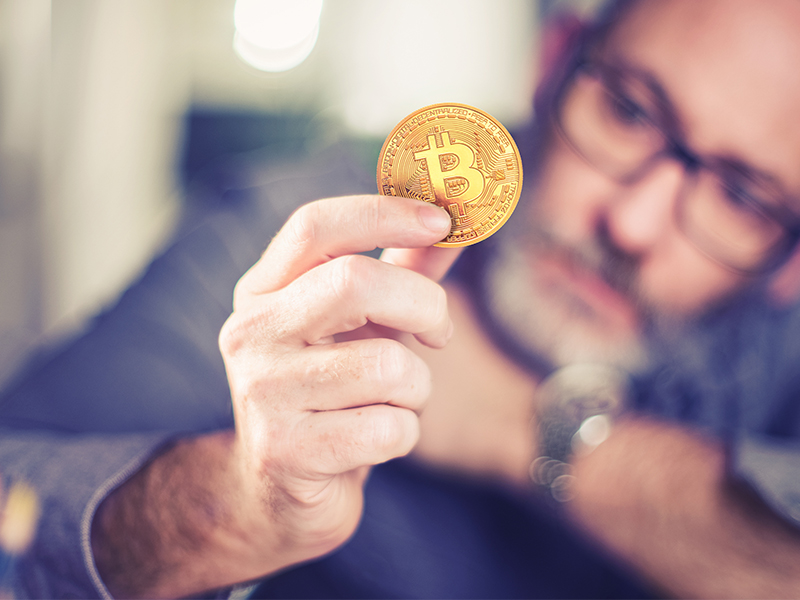 So how did bitcoin go from being a little-known currency to drawing headlines across the country? Understanding its history may provide some context. Bitcoin is a digital currency that was created in 2009 by an unknown person using the alias Satoshi Nakamoto and can be used to make purchases anonymously. People can buy or sell bitcoin through marketplaces called "bitcoin exchanges" and bitcoin is stored in digital wallets that exist in the cloud or on a user's computer. Bitcoin is tracked on decentralized ledgers, called blockchains, which keep real-time records of transactions around the world. Right now, bitcoin is not regulated by any bank, state, or nation.
In 2017, as the price of bitcoin rose, so did the public's awareness of it. Evidence of this rising enthusiasm for bitcoin – and its presence in Miami – could be found at the North American Bitcoin Conference on Jan. 17-19 in Miami. This year, over 4,000 people attended the conference as compared to just 100 who attended the inaugural event in 2012. For now, much of the discussion surrounding bitcoin has focused on ways to make money trading cryptocurrencies. For example, the conference had several panel discussions related to initial coin offerings (ICOs).
But the real estate industry continues to enter into the conversation. This is due in part to the buzzy headlines surrounding recent transactions but also because Miami, like other areas, have been struggling with the high number of luxury condos on the market and what could be waning interest in them. According to the Miami Association of Realtors, sales of luxury residences (defined as being $1 million and over) in Miami-Dade County rose significantly in the past year (December 2016 - December 2017). Condos rose 47 percent and single-family homes 16 percent. Despite that, a glut of luxury homes still exist on the market. Some experts say offering alternative ways to purchase residences, such as bitcoin, may lure more buyers.
Another factor driving enthusiasm for bitcoin is the lack of lack of government oversight surrounding it. Although the Internal Revenue Service taxes capital gains on bitcoin, there's no procedure in place that forces people to report those transactions.
The lack of regulation, however, can be a double-edged sword. Some view it as a drawback, particularly in light of the popular notion that Miami's real estate market is susceptible to money laundering. This is not a unique concern. South Korea, the third-biggest cryptocurrency market in the world (after Japan and the United States), has banned anonymous cryptocurrency transactions, because of the potential for shady business dealings. Other arguments against bitcoin are of a more pragmatic nature. Its price fluctuations make it a risky financial venture, some argue, and others don't see the need for bitcoin since it can be easily converted to cash.
Whether friend or foe to bitcoin, it seems certain that there will be more headlines and more discussion in the months ahead. Who will win in the end? You might as well flip a bitcoin.