East Vs. West Nashville: Where to Live
East Vs. West Nashville: Where to Live
As Nashville has grown and developed over the last decade, certain neighborhoods have gained homebuying popularity while others have solidified their positions as classic Nashville hits. East and West Nashville are two such neighborhoods, and their rivalry (while all in good fun) reflects some true distinctions between the different sides of town.
While East and West can easily and often stand alone as neighborhoods in their own right, the recent influx of new residents and businesses to these areas has brought their smaller, sub-neighborhoods into the foreground.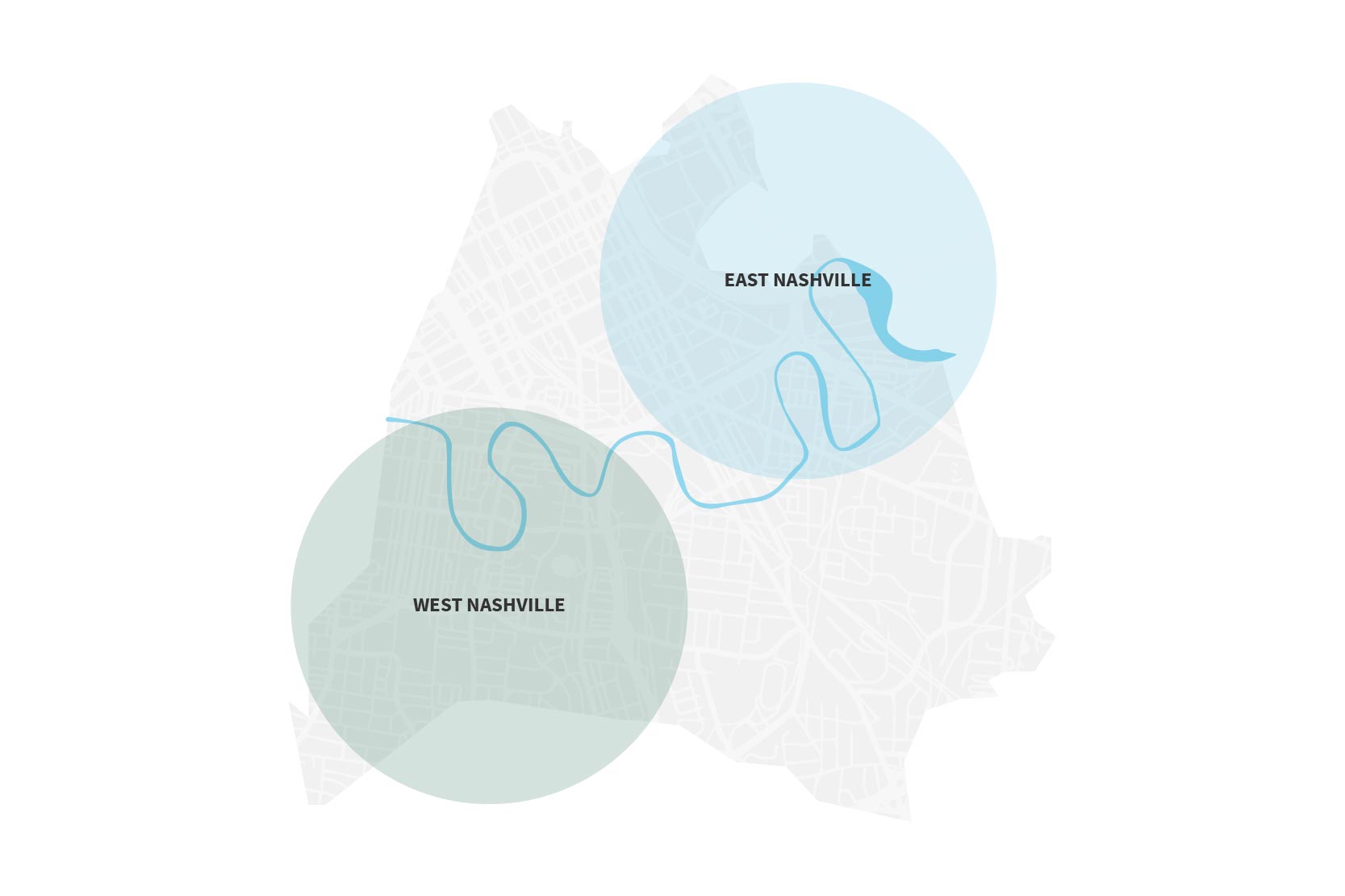 East vs. Everyone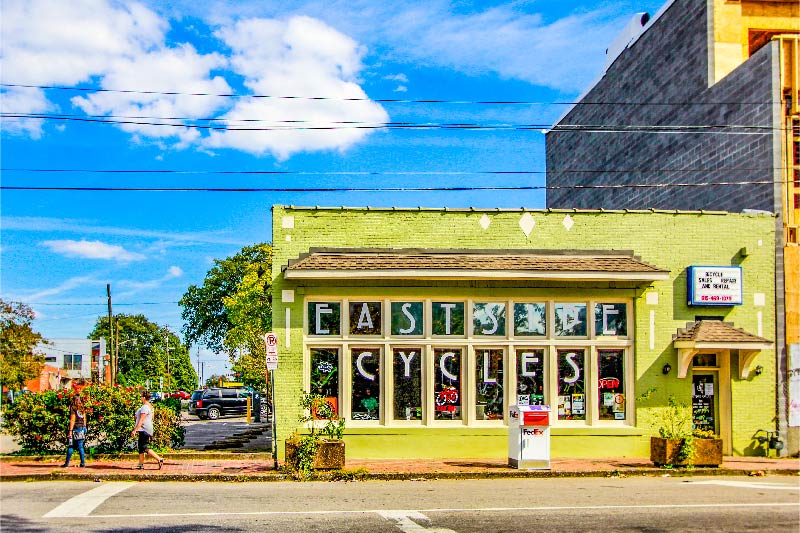 Because East Nashville is separated from the rest of the city by the Cumberland River, it's geographically isolated. The necessity of bridges means that traffic into town can bottleneck and back up, and the close proximity to Downtown doesn't help.
East is also one of the largest neighborhoods in the city, so it can be self contained—from grocery stores and retail to fine dining and vast public parks. Many East Siders see the rest of Nashville entirely as "west"—in other words, just not east.
A Local's Perspective
"I love that East has so many local businesses," says resident Cresson Haugland. "When I decided to buy my home in 2016, I wanted to be in a place that felt like a neighborhood—where the people who own the local businesses are actually neighbors. It's something that is really important to me, and East has it."
Steven Anthony and his wife Jenilee bought their East Nashville home in 2015, and Anthony echoes Haugland's sentiment.
"I think about when Slowhand moved in—a lot of people on Facebook and Instagram welcomed them to the neighborhood. Despite its growth, East Nashville still feels like a neighborhood to me. East Nashville is very diverse—and I hope it stays that way—while at the same time feeling very connected."
East Nashville Neighborhoods
The undisputed hub of East Nashville is the Five Points neighborhood where Woodland Street, Clearview Avenue, and North and South 11th Streets converge. It's an area with heavy foot traffic and everything from a hardware store and a gas station to fine French dining and an upcoming boutique hotel.
Residents love emerging from the side streets of the surrounding neighborhoods to grab a slice of pizza or enjoy a patio cocktail. Marche is beloved for their brunch offerings, and just a few blocks outside of Five Points, you'll find Turnip Truck, a local grocer stocked with fresh, high-quality produce.
On the more residential side of East Nashville, Inglewood is home to tree-lined avenues and a quieter atmosphere. With a median sale price in the mid $300s, according to Neighborhoods.com data, this neighborhood is perfect for a first-time homebuyer looking to put down roots in East. Homes in this area date as far back as 1899, so the classic craftsman look of many East Nashville homes is well represented.
Lockeland Springs, the quintessential East Nashville neighborhood, looks like something out of 1950s civics textbook complete with a fire station, an old church, and historic homes.
Residents love this neighborhood because of local eateries like The Post and Lockeland Table. Instagram fiends flock to the popular boutique bed and breakfast and late night hideaway Urban Cowboy Public House. Also, residents can hit the links at nearby Shelby Golf Course or enjoy a simple stroll along the neighborhood's vast network of sidewalks.
Why West Is Best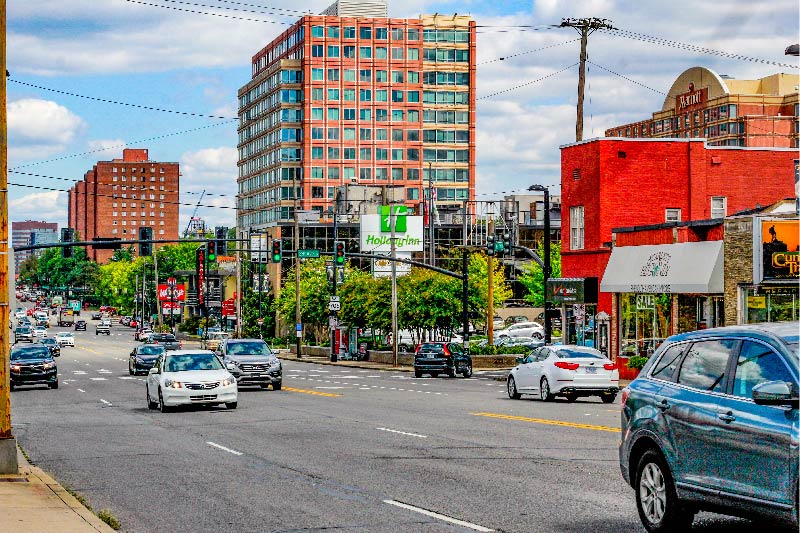 West Nashville is beloved for its rich greenery and spacious neighborhoods. Rolling hills and summer sunsets are hallmarks of this once pastoral part of town. From the historic, urban West End neighborhood to the near-rural scenes of Bellevue, the west side offers a slower pace than the Eastern scene.
A Local's Perspective
"My husband and I got married in 2006 and decided to buy our home in West Meade," says resident Erin Huttlinger of herself and late husband, famed guitarist Pete Huttlinger. "He had lived in Sylvan Park, and my previous home was in Bellevue—both on the west side of town. We wanted more square footage for our blended family, a bigger lot, and lots of trees. West Meade gave us all of those things."
West Nashville Neighborhoods
Rolling Tennessee hills are more than a lyrical abstraction in this Nashville neighborhood where deer roam and large lots are the norm. A median sale price in the low $600s means that West Meade is likely to attract homebuyers looking for more space away from the city.
If any westerly neighborhood is going to give the east side a run for its money, it would be The Nations. Previously dominated by industrial development, The Nations now has new residents who have claimed the territory and opened breweries and clothing stores in old factory buildings.
The neighborhood has the quirky, experimental energy of an area like Wedgewood-Houston with an industrious spirit, making it the perfect place to establish a strong sense of community. Locals love the nano-brewery Harding House for offering a 20% discount at their Predators hockey watch parties, and west side foodies can't get enough of the small, boutique restaurants on Charlotte Pike like Miel.
Any discussion of Nashville's western neighborhoods would be remiss if it didn't mention the iconic neighborhood of Belle Meade. Home to some of Tennessee's most prominent business leaders, politicians, and, of course, country music stars, Belle Meade stands out in Nashville's real estate scene. A median sale price of $1.4 million pretty much says it all, but the beautiful, public Edwin and Percy Warner Parks make it a neighborhood that all Nashvillians can enjoy.