Fort Myers vs. Naples: What You Need to Know
Fort Myers vs. Naples: What You Need to Know
Whether you're retiring or relocating to Florida, you may be among the many people considering moving to Fort Myers or Naples. Both cities ranked high on the U.S. World News Report Best Places to Retire (Fort Myers #2 and Naples #4), and in 2020, Fort Myers was ranked as the #1 Fastest-Growing City in the U.S. by WalletHub. While the two cities are located close to each other, each location has its pros and cons.
"There are things I really like about both cities that distinguish them from each other. For example, Fort Myers has an amazing history because Henry Ford and Thomas Edison used to vacation there, and you can tour their winter estates on McGregor Boulevard, which is a scenic drive not to be missed," said Loretta Grantham, a journalist and Florida resident of 34 years who moved to Naples in 2018.
Before you make your final decision, here are some of the factors you should consider:
Location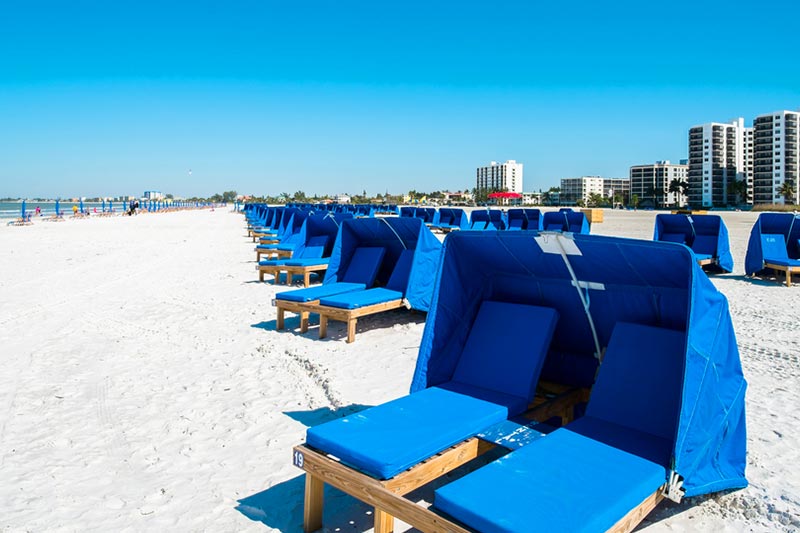 Separated by about 45 miles, both Fort Myers and Naples are located in Southwest Florida on the Gulf Coast. Fort Myers is further north, so it's closer to the Tampa/St. Petersburg area, while Naples is closer to Marco Island and the Florida Keys. Both cities are easily accessible by major interstate highways and are driveable distances from other major areas throughout the state, such as Miami and Orlando. If you're looking to travel out of state, Fort Myers has an international airport, while Naples only has a regional airport.
WINNER: For most people, traveling out of state by plane is a fairly common occurrence, so having a major airport just minutes from downtown gives Fort Myers an edge over Naples' location.
Real Estate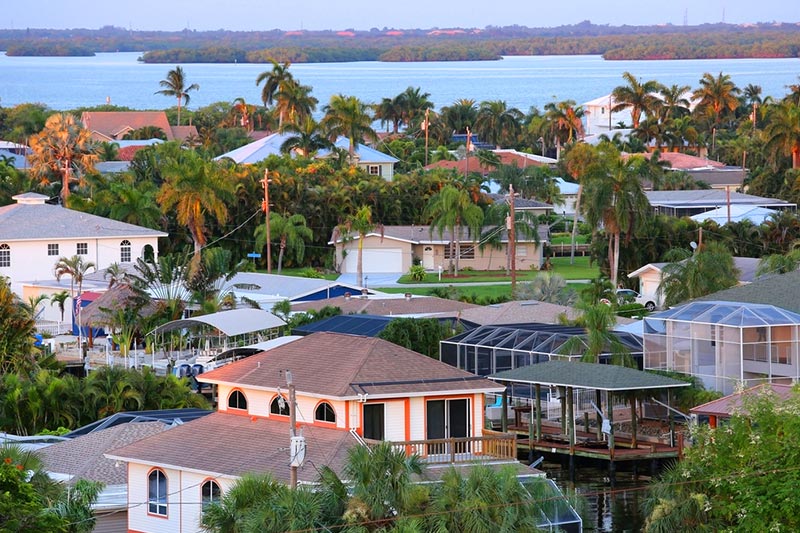 Like most locations in Florida, both Fort Myers and Naples have a wide variety of housing choices, including condominiums, townhomes, single-family homes, and mobile homes. Homebuyers can also choose from properties located close to the water or in largely landlocked areas. However, the cost of housing is very different in these two cities. In Fort Myers, the median home cost is $208,700, which is lower than both the Florida median at $237,100 and the U.S. median at $231,200. In Naples, the median home cost is significantly higher at $323,700. In many neighborhoods, the median home price is well north of $1 million (Park Shore and Olde Naples are both over $1.3 million).
"Overall, people typically think of Fort Myers as more working class and Naples as more of an enclave for the wealthy—and it is. It's among the richest cities in the country and rivals West Palm Beach and Fort Lauderdale in private jet traffic, for example," Grantham said. "But what you see in both Fort Myers and Naples is a strong Midwestern influence—genuinely nice people, a sense of hospitality, and a slightly slower pace than the east coast of Florida."
WINNER: Unless you happen to be in the market for a luxury home and can afford to pay $1 million or more, Fort Myers is the more affordable alternative.
Downtown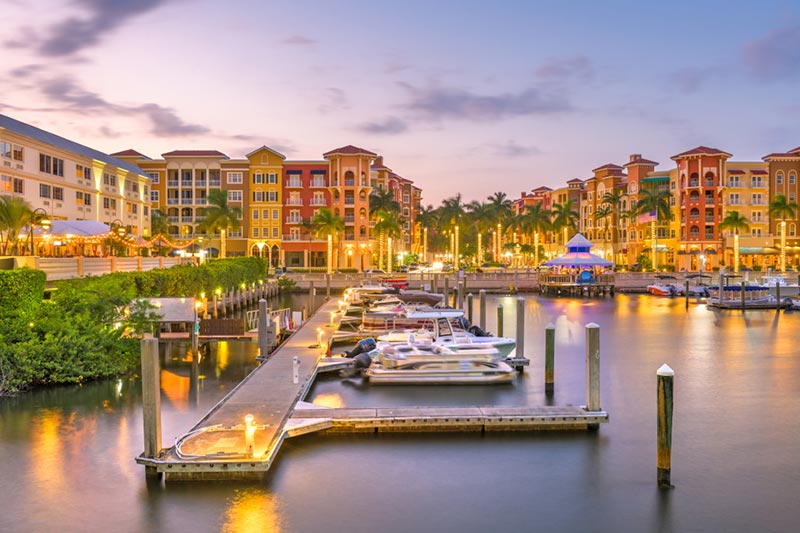 In the 1970s and 1980s, Fort Myers downtown was rundown, but that all changed with a redevelopment plan launched in 2003. Now the area, also known as the River District, offers a rich history as well as a variety of cultural activities, restaurants, and shops all within 540 acres stretching from the Caloosahatchee River to Victoria Avenue and from West First Street to Billy's Creek.
Downtown Naples also has a rich history that dates back to the early 1930s when winter visitors frequented Naples to enjoy the sun. Also, in 1932, Charles "Lucky" Lindbergh landed his plane there. Through the decades, downtown has continued to thrive and, today, it draws tourists from around the world who enjoy the shopping, dining, and other activities along Fifth Avenue and surrounding streets. If strolling along well-kept sidewalks in view of picturesque homes and manicured lawns is your type of activity, you can spend hours here. And, when you're done, you just have to walk a few blocks west where you'll find Naples Beach and the type of white sand the Gulf Coast is known for.
"Fort Myers has a wonderfully preserved 19th-century downtown area, while Naples—and by that, I mean Downtown Naples, not the entire area—has a much more upscale and sophisticated feel," said Grantham. "Fifth Avenue South, for instance, will make you think of Worth Avenue in Palm Beach or Rodeo Drive in Beverly Hills. The difference is Fifth Avenue South still retains a touch of Old Florida character, with a couple of ice cream and coffee shops, as well as some cool mid-century architecture, amid the boutiques and restaurants."
WINNER: Both downtowns have their charms, but for its unique blend of the old and new, Naples gets the nod.
Recreational Activities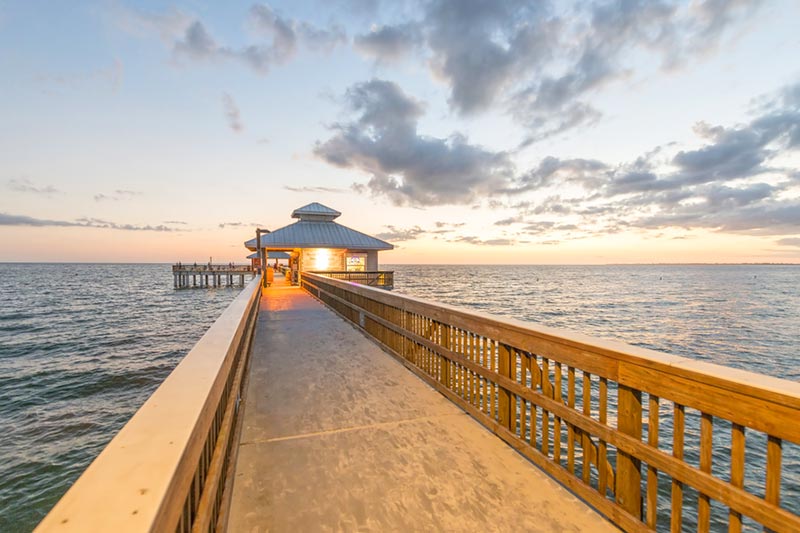 With the Caloosahatchee River running through its middle and the ocean not far from downtown, Fort Myers has plenty of options to enjoy outdoor activities and nature. Some popular options are Lovers Key State Park, which consists of four barrier islands between Fort Myers Beach and Bonita Beach, and Lee County Manatee Park, where you can view manatees between November and March when they swim into the canal here to escape the cooler waters. If sports are more your pleasure, you may want to attend a spring training baseball game at JetBlue Park, where the Minnesota Twins and Boston Red Sox play their home spring training games.
While it doesn't have a major river running through its center, Naples has a variety of water-based, outdoor activities. Delnor-Wiggins Pass State Park has a nature trail leading to an observation tower at the beach's north end, and the Naples Municipal Beach and Pier is a favorite spot for both residents and tourists who enjoy sunbathing, fishing, or watching the spectacular sunsets.
WINNER: While you won't be bored in either location, Fort Myers has the slight advantage for the sheer variety of activities you'll find there.