Chicago Local Life
Fulton Market's History as Told Through Its Restaurants
In Chicago's Fulton Market, the traditional dining experience is elevated with meticulously crafted plates and inventive cuisine combinations. Restaurant concepts range from gastropubs and food halls to wine bars and pop-ups. The neighborhood is a foodie's dream.
While Fulton Market is seen as one of the trendiest neighborhoods in Chicago because of Restaurant Row on Randolph Street, its culinary roots harken back to gritter times. The history of Fulton Market really began in the 1850s when it was a powerhouse in the meatpacking industry with major wholesalers settling onto Fulton Market Street. Two blocks away on Randolph Street (widened to fit all the merchants), a large open-air market flourished with vendors selling fresh goods.
This booming industry lasted well into the mid-1900s until many of the businesses closed due to economic strain. The neighborhood kept its industrial identity until the 1980s and 1990s when businesses and restaurants started to move in. Notably, Oprah built Harpo Studio in 1988 in the neighborhood which attracted successful restaurants to the area.
In Chicago's Fulton Market, the traditional dining experience is elevated with meticulously crafted plates and inventive cusine combinations.
Since then, Fulton Market has gone through a revitalization. Google took over Oprah's old studio, start-ups and national chains moved into brick-and-mortar storefronts, luxury apartments continue to be erected, and world-renowned chefs opened restaurants in the neighborhood.
Although the present restaurants on the cutting edge of the culinary scene live in newly developed buildings, many represent the evolution the neighborhood has gone through over the past two centuries. Here are six Fulton Market restaurants that connect to the neighborhood's past.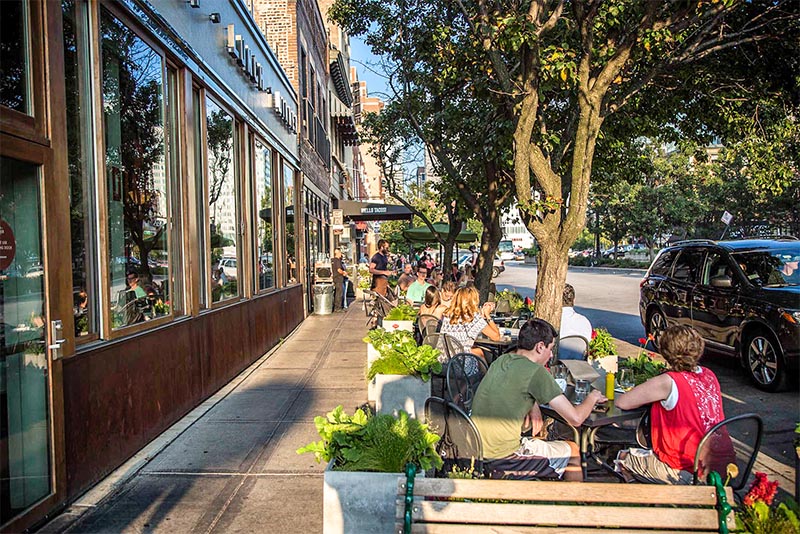 Publican Quality Meats is representative of Fulton Market's past as it's a butcher shop, cafe, market, and bakery—all of which were present in the neighborhood in the early 20th century.
Publican's whole-animal butcher shop sources its products from local farms and supplies meat to both local restaurants and customers at the butcher counter in store. This establishment is known for its charcuterie boards and pig products.
The cafe and bakery serve housemade pastries and bread, sandwiches, and charcuterie for guests to enjoy in-store or carryout. Their market contains artisanal goods including craft beer, cheese, spices, and more. Down the street, there's also European-style food and beer hall The Publican from the same owners.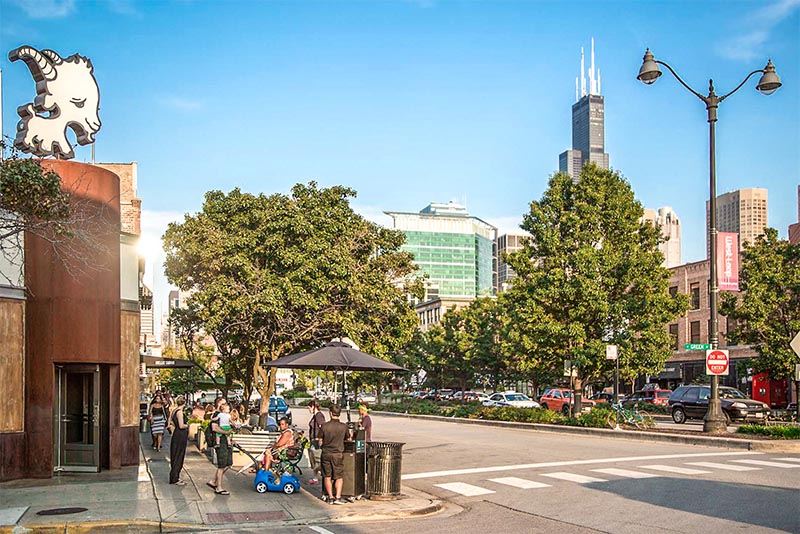 Perhaps the most successful eatery in Fulton Market, Girl and the Goat—one of the first restaurants to open on Restaurant Row—encompasses the new life the neighborhood has taken on as the go-to spot for dining.
Chicago native Stephanie Izard opened Girl and the Goat in the summer of 2010 shortly after winning "Top Chef." Partnering with BOKA restaurant group, Izard has expanded her business with the addition of Little Goat Diner and Duck Duck Goat both in the neighborhood. A year after opening, Girl and the Goat won "Best New Restaurant" by the James Beard Foundation, and Izard has received numerous accolades as well.
The restaurant is known for its take on New American-style small plates and expertly prepared protein, including favorites like wood oven-roasted pig face, goat empanadas, and braised pork shank.
Food halls are no stranger to the neighborhood, but Time Out Market Chicago is the most recent addition to the Chicago food hall scene, and it has elevated that traditional idea. Similar to a classic market, popular vendors from Chicago neighborhoods sling out their well-known goods, but what makes Time Out so special is the experience.
The first Time Out Market was opened in Portugal in 2014 and brought the city's best restaurants, shops, bars, and live events all under one roof. That same idea is embodied in the Chicago location with demo kitchen, bars, events, classes, bakeries, and, of course, top restaurants and chefs in its communal-style market.
The market is packed with cuisines from around the world, a Michelin-starred gastropub, James Beard award-winning chefs, and classic Chicago staples like the Italian beef sandwich and Chicago hot dog.
This vegetable-focused restaurant is proof that in Fulton Market, meat doesn't have to be the center of a meal—an idea that sounds far-fetched given the neighborhood's meatpacking past. Bad Hunter has proven that, with fresh ingredients and some creativity, it's possible for vegetarian and vegan options to be the main event.
Bad Hunter's interior is bright and airy with plants adorning the walls and large windows that let in plenty of light. That same vibe translates to the fresh menu. While there are some meat-based dishes available on the menu, it's mainly dominated by vegetarian or vegan options. Stand-outs include the watermelon poke bowl, chicken-fried hen-of-the-woods sandwich, and butter dumplings.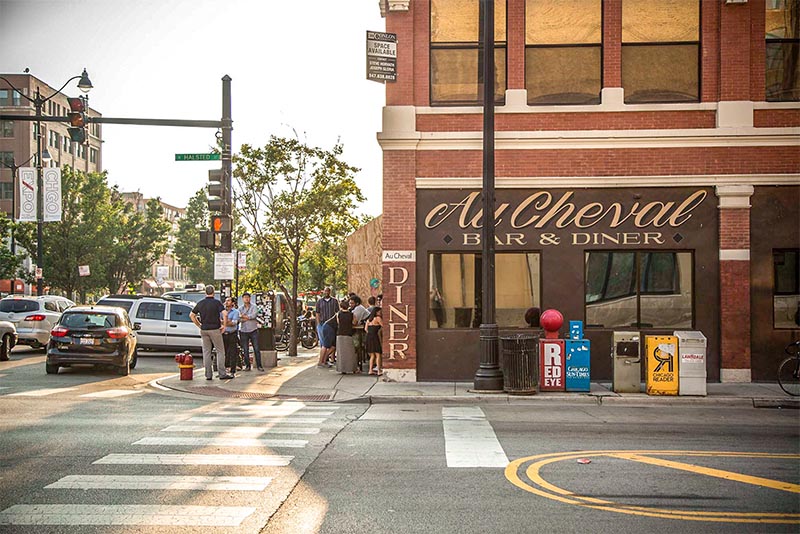 If you weren't convinced Fulton Market is home to some of the best restaurants in Chicago (and arguably, the nation), the all-too-common three-hour wait for a cheeseburger at Au Cheval should prove that. Bon Appetit even named it the best burger in the country.
The upscale diner-style bar serves brunch, appetizers, salads, and some killer cocktails, but the signature burger is a must-try. The burger is fairly simple with your pick of a single- or double-patty, American cheese, onions, pickles, and a mustard and onion sauce on a toasted bun. There's an option to add a sunny-side-up egg which is highly recommended given the restaurant's name is a play on the French phrase "à cheval" meaning riding horseback, referring to the egg sitting on top of the burger.
Fulton Market Kitchen is symbolic of the transformation this neighborhood has gone through over the past two centuries, from being an industrial giant to Chicago's contemporary dining epicenter.
In what used to be a warehouse, Fulton Market Kitchen brings the art and culinary worlds together. The interior was inspired by Miami's Wynwood Walls and was named one of the nation's new best-looking restaurants by Zagat. The restaurant prides itself on also being an art gallery with an artist residency program.
Fulton Market Kitchen also has an impressive bar offering imaginative drinks and cocktails with over 400 types of spirits, including vintage and small-barrel selections. The menu offers contemporary dishes like cornmeal-fried oysters, chicken fricassee, and acorn squash garganelli.