Dallas-Ft. Worth Real Estate Development
Garland Approves Concept Plan for Atypical New Home Community on Old Eastern Hills Country Club Site
In 60 years, Eastern Hills Country Club went full-circle, from a premier facility and the centerpiece of Club Hill Estates, Garland's first affluent neighborhood, to a bankrupt property that was closed and padlocked overnight in 2014.
The iconic club's future has since been a source of contentious debate from Club Hill homeowners when proposals were presented to the Garland City Council. In 2015, residents launched a full-blown campaign to protest Henry S. Miller's plan to redevelop the 178-acre country club site into a new home community with 550 houses.
Since closing nearly five years ago, Eastern Hills' once-pristine fairways on the hilly 18-hole golf course have become a brushy eyesore. Whether blight made the difference or the uncharacteristic nature of Garland's latest proposal, most residents did a 180-degree turn and supported the project presented by Plano-based nonprofit My Possibilities, and the City Council unanimously approved the concept plan.
According to the Dallas Morning News, Wesley Johnson—a Club Hill resident whose street backs up to the country club site—told the council, "I've waited around for six years watching the property go to waste. I don't think you are going to get another better deal."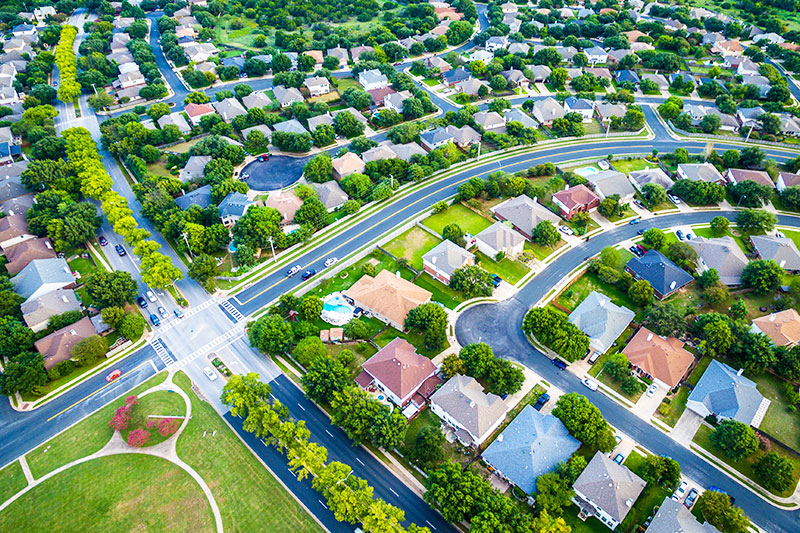 The Concept Plan
My Possibilities isn't the typical real estate developer. To the contrary, it's a 10-year-old organization that specializes in offering vocational education to North Texas adults who have cognitive and intellectual disabilities.
The group plans on paying $12 million for the country club acreage and development of amenities like nature trails, twice as much greenspace as the City of Garland requires, a 75-foot buffer between new and existing homes, and swimming pools. Contributions amounted to around $10 million of the capital investment.
Out of the 300 new homes My Possibilities intends to build, 200 will be sold at price points ranging from $350,000 to $425,000, and the organization will retain ownership on the remaining 100 houses to accommodate clients who need long-term residential support.
Since adults with special needs tend to outlive their parents, most of My Possibilities' clients will be candidates for continuing housing within the next 15 years. And the homeowners' association will serve both segments of the community's population. In addition to providing basic landscaping and security, it'll have onsite and/or on-call nursing for residents with disabilities.
"Nobody on a national level has solved this problem," Michael Thomas,executive director of My Possibilities, told City Council. "We wholeheartedly believe that this model in Garland, Texas, can potentially be the answer."
All eyes are on the Garland project from the group's partners in California, Nevada, and Virginia who are sold on the housing model. Jerry Carter, an area resident who built several Club Hill homes, refers to the My Possibilities plan with its trails and amenities as "the last golden opportunity for south Garland."
"This development represents a different type of development than what our other homes have been," Carter told the News. "This group is going to do more of the community look, which is the 2000s. We're 1960s and 70s and 80s and 90s around there, but this is the look that's being developed today."
Before starting construction, My Possibilities must present its detailed plan to the Garland City Council for final approval.
Garland's first affluent neighborhood is characterized by its expansive collection of executive-style homes built mostly on quarter acre lots. Since these upscale single-family houses were constructed between 1972 and 1996, they reflect a broad mix of elevations, custom design, individual style, and curb appeal as well as interior upgrades.
Located off Centerville Road and Country Club Drive in South Garland, homes in the neighborhood typically range in size from 2,094 to 4,341 square feet with three to five bedrooms, two to four bathrooms, and attached garage parking.
Despite the size and scope of homes in Club Hill Estates, prices are reasonable compared to similar Dallas-Fort Worth neighborhoods. With a median sale price of $255,000, Club Hill homes currently on the market are listed between $249,500 and $325,000, according to Neighborhoods.com.
Aside from the aesthetic value and homebuying advantages at Club Hill, it's a close-knit neighborhood, evidenced by neighbors banding together and fighting for a quality development to replace the country club they loved.