Phoenix Local Life
Get to Know Your Neighbors in These Phoenix Communities
Master-planned communities are popular among some homebuyers because they foster a sense of community through their amenities, recreational facilities, and social activities. These developments also provide a convenience because of their live-work-play atmosphere, making it easy for residents to have what they want at their fingertips. Master-planned communities also appeal to a wide range of buyers from young families to retirees. And thanks to the multiple networks of social events, special interest groups, activities, and clubs available in each community, it also makes it easy for neighbors to socialize and get to know each other better. So if you're looking for a master-planned community to live in the Phoenix area, consider these five that are perfect for getting to know your neighbors.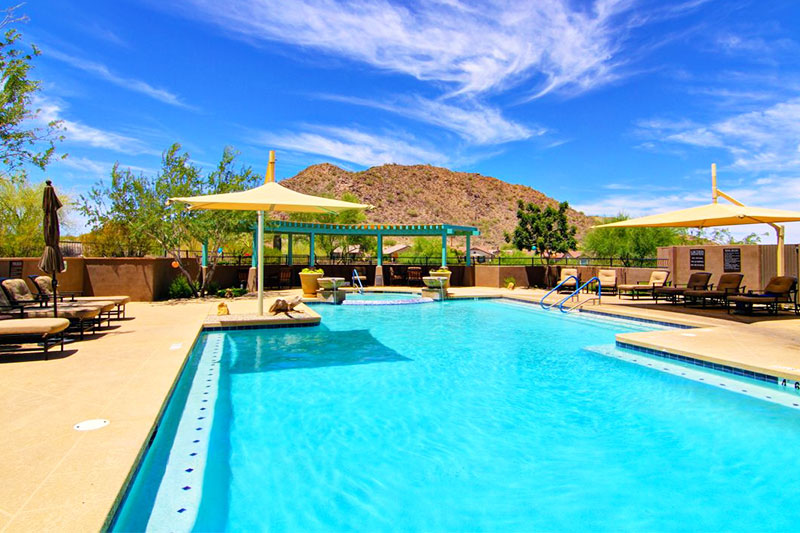 Located in San Tan Valley and boasting over 300 acres of recreation and greenspace, Johnson Ranch consists of just over 6,000 homes and about 20,000 residents call this development home. Although large in size, Johnson Ranch has been able to retain a small-community feel thanks to its rich amenities and social atmosphere. Here, residents can participate in numerous activities and events, which are regularly hosted by the community. Some of the amenities include three community pools, ball courts, a frisbee course, and a nine-hole pitch and putt course. Families can hang out at the community's catch and release lake for some quality bonding time. Golfers can also take advantage of the 18-hole golf course at the Golf Club at Johnson Ranch, which offers majestic views of the surrounding San Tan Mountains. New residents moving to Johnson Ranch can also get to know their neighbors at community events like holiday festivals, movies in the park, community association blood drives, and much more. They can also join clubs such as women's golf, bunco, pickleball, or 3D card making. Residents can also find fellow health conscious people at one of the fitness programs like aqua zumba or yoga.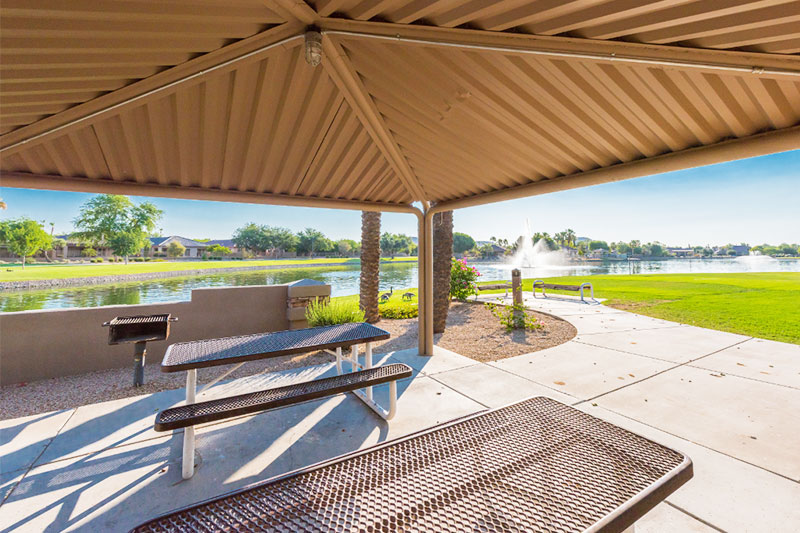 Locals at this community appreciate top-notch schools, proximity to the 101, and the sought-after location within the heart of Glendale. Arrowhead Ranch is one of the largest master-planned communities in Arizona and is comprised of several distinct neighborhoods. Residents enjoy the community's picturesque backdrop, private parks, walking trails, and 130 acres of scenic lakes. Arrowhead Ranch residents also enjoy being able to walk to the grocery store or a coffee shop on any given day. The community is also known for its outdoor setting and resort-style amenities. Arrowhead Country Club features golf, tennis, and fitness facilities as well as hosts social events and holiday parties. Residents are also close to Thunderbird Mountain Preserve, and Arrowhead Lakes Park, perfect for exploring nature and the beautiful outdoor scenery. Also, the community is just 35 minutes from Downtown Phoenix, providing even more options for dining and entertainment.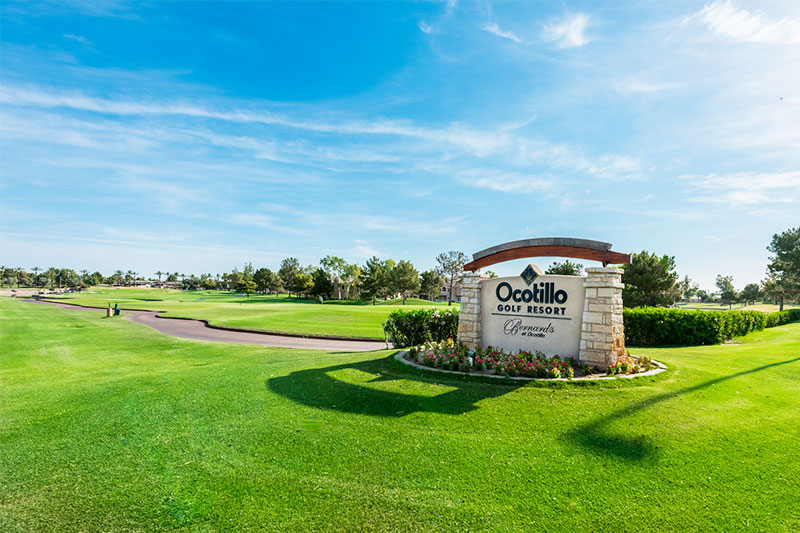 Between condo communities, and resort-style communities, this premier golf community offers dozens of residential neighborhoods and 162 acres of interconnected lakes and water features. With 23 miles of shoreline, residents enjoy this desert oasis by taking advantage of a variety of water activities. In addition to the lakes, residents also have access to numerous amenities and common areas where they can mingle with neighbors and build lifelong friendships. Homeowners can bond over a round of golf at the 27-hole championship golf course at the Ocotillo Golf Club. Multiple neighborhood pocket parks offer playgrounds and ball courts, while the Snedigar Sports Complex and Recreation Center offers a skate park, multiple fields for soccer and baseball, and vast greenspace. Ocotillo also offers a variety of classes, programs, leagues, and special events that bring all residents of the community closer together. Some of the planned events can be found on the Ocotillo Homeowners Association. But a surefire way to connect with other residents in this community is just strolling the pathways along the lake and just saying "hello" to neighbors along the way.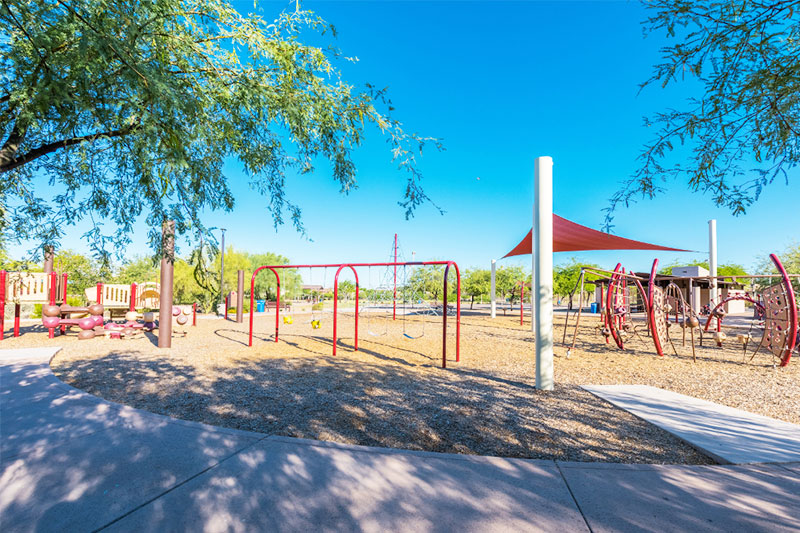 Desert Ridge is one of the largest master-planned communities in Phoenix and spans 5,700 acres. Desert Ridge provides homebuyers with multiple resort-style amenities as well as on-site shopping, entertainment, and dining options like the Desert Ridge Marketplace. Desert Ridge is also anchored by popular commercial areas like the JW Mariott Phoenix Desert Ridge Resort and Spa, and Wildfire Golf Club which offers 36 holes of championship golf. Residents get involved in their community through various activities and social events like town hall meetings, movie nights, volunteering opportunities, neighborhood committees, holiday parties, and seasonal festivals. Homeowners can also join the Adventure Group for hiking or get involved with The Boys and Girls Club. Regardless of what your interests are, there is something always happening in this exciting master-planned community.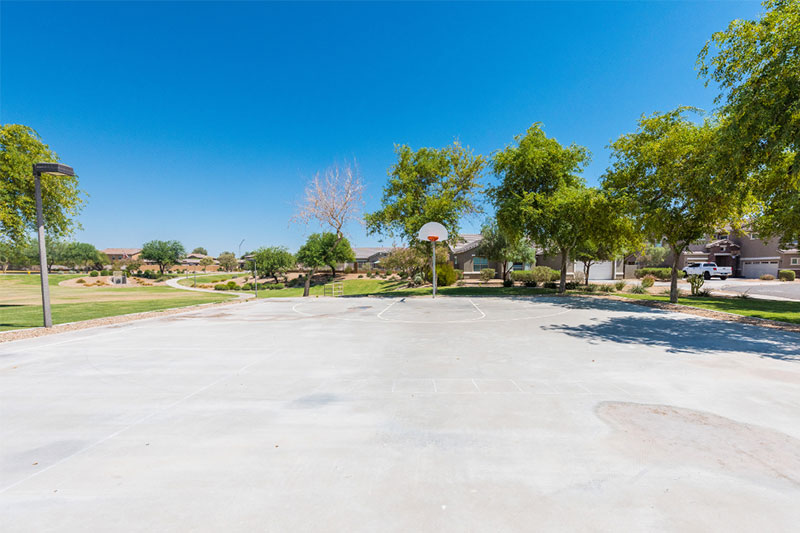 Canyon Trails in Goodyear is part of the growing West Valley region of Arizona and is close to schools, shopping, restaurants, and recreation. The Canyon Trails Recreation Center is the activity and recreation hub of the community and is the central gathering place for all residents. With on-site parks, multi-purpose trails, a playground, ball courts, and swimming pools, residents have plenty to keep them busy and social. Residents can barbecue or host a family picnic in one of the community's picnic ramadas or explore the neighborhood's greenspaces and extensive trails. Ideally situated in Goodyear also provides convenient access to nearby attractions and recreation such as the White Tank Mountains that offers 46 square miles of hiking trails for outdoor adventurers. The Goodyear Ballpark is also close by and is the spring training base for the MLB Cleveland Indians and the Cincinnati Reds. Homeowners stay involved in their community through events and activities like poker nights, holiday parties, sports games, and athletic clubs. But it's not rare to have individual neighborhoods spearhead their own special interest groups like walking groups, basketball tournaments, and more.