Houston Local Life
Houston Neighborhoods for Serious Foodies
Houston's food scene has exploded in recent years, going from unremarkable (or at least unknown) to top-tier. On the 2020 James Beard semifinalist list, Houston pops up over a dozen times in a variety of categories.
The city's cuisine has also been profiled by national outlets and featured on food and travel shows including GQ, Conde Nast Traveler, Netflix's "Ugly Delicious," and chef Marcus Samuelsson's "No Passport Required."
Even better, Houston's culinary landscape is as diverse as its population which translates to a smorgasbord of cuisines from seafood to street tacos, crawfish to kolaches, pho to fajitas, and every possible mashup in between like Viet-Cajun and Tex-Mex. Eat your way through these Houston neighborhoods for serious foodies.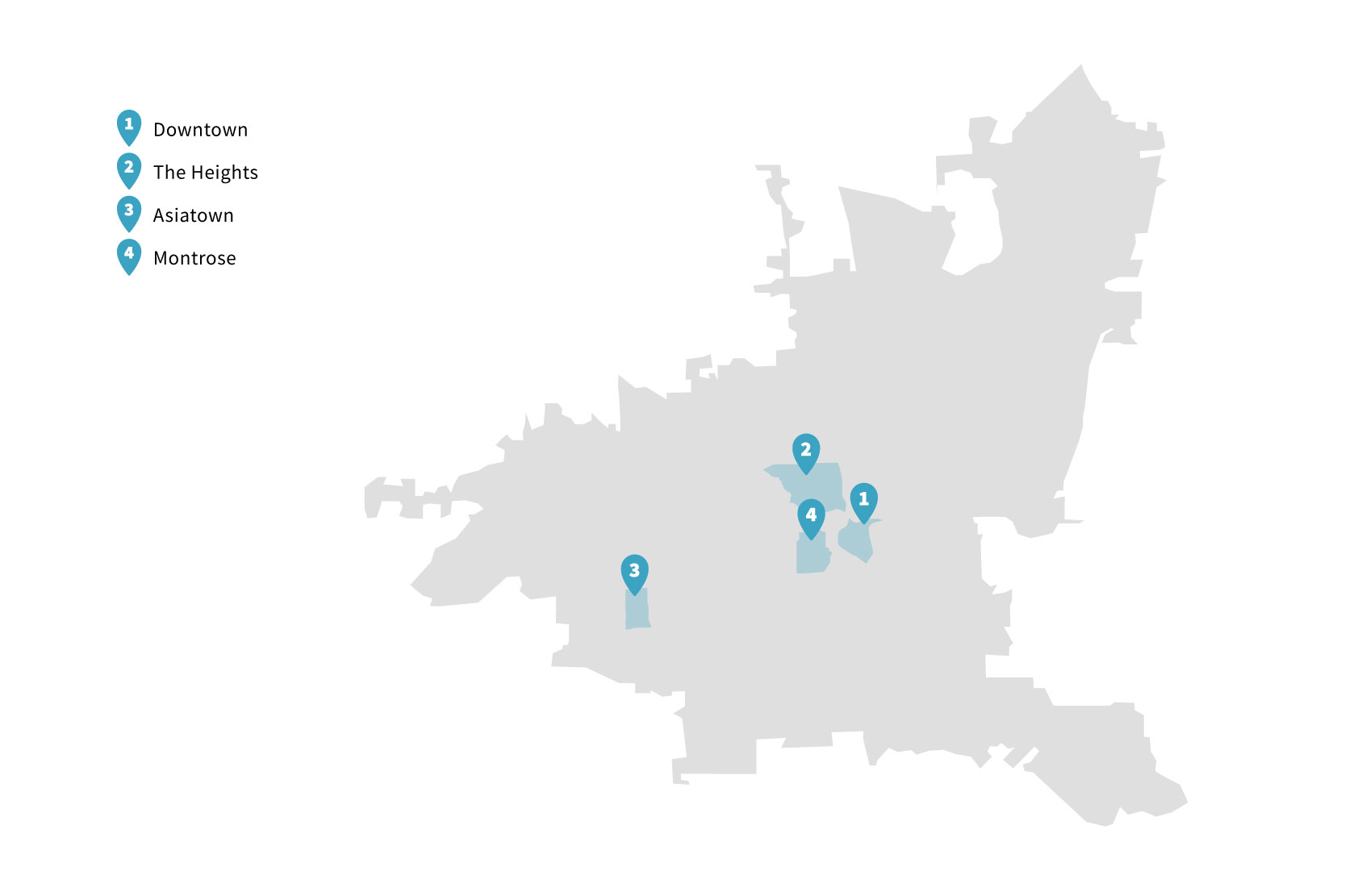 As the business district and city center, Downtown's restaurants run the gamut from upscale to casual and communal, each serving a different slice to residents. Elegant eateries are easily walkable for business meetings or dazzling date nights; speakeasies in historic buildings are great for happy hours; and food halls, offering a myriad of choices and ample space, dominate the lunch hour.
And with Downtown becoming increasingly residential, the neighborhood is making sure to accommodate not only residents and professionals but the intersection of the two. Downtown is attractive to urbanites seeking a bustling nightlife and dynamic dining scene as well as people who want to live, work, and play conveniently within a few city blocks.
Spots to Check Out:
Standouts at this long-awaited food hall include MasterChef winner Christine Ha's Vietnamese gastropub, The Blind Goat, and Atlas Diner, serving elevated comfort food and all-day breakfast.
From the minds behind famed chicken and waffle joint The Breakfast Klub comes Kulture, an urban chic eatery serving refined southern food like oxtail ragout and black-eyed pea hummus.
Another winner from dream team Tracy Vaught and chef Hugo Ortega, Xochi is an homage to Oaxaca featuring a rainbow of handmade masas and moles.
The Heights began as a streetcar suburb relatively devoid of commercial businesses. Now, the Heights' food and drink scene is booming, but the area's residential roots remain. The Heights is and has always been a family- and community-oriented neighborhood, a trait clearly reflected in its bars and restaurants.
Neighbors meet up at dive bars and ice houses; families and young professionals brunch on Sunday mornings; couples go on dates at intimate establishments; and restaurants host community crawfish boils during the spring. Despite its growth, the Heights is still a sleepy neighborhood ideal for families and people wanting a quiet, close-knit suburb with the amenities of a city.
Spots to Check Out:
Although still a hatchling, Squable has garnered ample praise in its first year due to a flavor-packed menu of European fare like the fluffy Dutch baby pancakes and the French cheeseburger dripping with raclette.
One of the most elegant dining rooms in Houston along with succulent platters of Gulf seafood, fried chicken, and nostalgia-filled cheeseburgers wrapped in yellow wax paper.
With wood-fired pizza, fresh herbs from the backyard garden, and the delectably simple cacio e pepe pasta, Coltivare remains the shining star of Agricole Hospitality Group.
Houston's Chinatown is more accurately known as Asiatown since the enclave's cultural influences include Chinese, Vietnamese, Indian, Korean, Japanese, Thai, and more. The six-mile strip of Southwest Houston is made up of dozens of family-owned restaurants, supermarkets like H-Mart and Viet Hoa International Foods, and shopping destinations like Harwin Drive and the Hong Kong City Mall.
The area remains one of the most affordable in Houston with a median sale price of $150,000 and is attractive to small business owners, families, and other professionals. Residents can't go wrong with the endless array of international cuisine and restaurants serving everything from fusion to regional delicacies.
Spots to Check Out:
The most famous purveyor of Houston creation Viet-Cajun crawfish, Crawfish & Noodles has been featured on Netflix's "Ugly Delicious" and garnered James Beard nods for head Chef Trong Nguyen.
Mala is frequently featured on restaurant critic Alison Cook's Top 100 list thanks to heaping portions of Sichuan cuisine like mapo tofu and dan dan noodles.
Fung's Kitchen serves an expansive dim sum menu from dining carts loaded with a variety of small, shareable plates like dumplings, steamed buns, salads, and pastries.
Montrose, perhaps Houston's first foodie neighborhood, has been making waves in the culinary world for over a decade. The city's foundational craft cocktail bar Anvil has graced the list of James Beard nominees 10 years in a row while Hugo Ortega (of famed eatery Hugo's) clinched the award for Best Chef Southwest in 2017.
Montrose is a historic, artsy community with neighborhood loyalty like no other. The bars and restaurants there are some of the city's most popular due to their versatility. Montrose is a best of both worlds place; there are quiet oak-canopied streets and lively nightlife; art museums and street murals; unassuming dive bars with a wall of single barrel bourbons.
Spots to Check Out:
Rustic tin and wood contribute to this barbecue joint's front porch-like atmosphere where locals and visitors line up for smokey brisket and housemade sausages.
This Austin outpost has become a Houston stalwart, and Uchi's sake social hour—with discounted spicy crunch tuna makimono, eggplant nigiri, freshly shucked oysters, and sake—is practically a steal.
No other chef is as devoted to Montrose as Chris Shepherd (who currently operates four restaurants there) and The Hay Merchant, a beer hangout serving upscale fusion food like Vietnamese fish and chips and a roasted pig head with kimchi salsa, is the crown jewel.