How to Build a Tiny House in Austin
How to Build a Tiny House in Austin
In the course of the ongoing coronavirus pandemic, many people across the country are seeking ways to reduce their expenses. For some, that involved leaving major urban centers and relocating to far-flung suburbs and country towns. For others, an increased focus on budgets led to a rejection of high mortgages and rental costs, but not a willingness to abandon the cities they love. If you fall into the latter category, one super-trendy lifestyle choice might prove ideal for your financial and location-related needs: tiny houses.
Tiny houses have a rapidly growing presence in the Austin real estate market—but, like many other states, Texas's residential laws vary dramatically based on city ordinances and neighborhood regulations. In Austin, it's perfectly legal to use a tiny house as a main residence (and to purchase land with the sole purpose of constructing a tiny house on that parcel), but it's important to fully apprise yourself of the rules and laws surrounding these alternative dwellings. Luckily, we're here to help.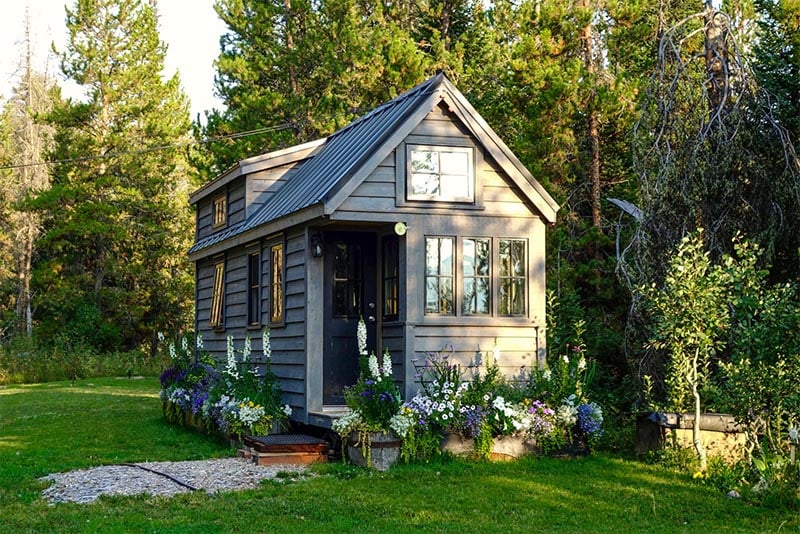 Buying Land For a Tiny House in Austin
As their name suggests, "tiny houses" are free-standing structures with significantly lower square footage than a typical house or apartment. However, there isn't a technical definition of what constitutes a tiny house. Because the tiny house trend arguably started with recreational vehicles, many builders and community governments use RV park standards to determine what qualifies as a tiny house. According to those guidelines, a tiny house must not exceed 400 square feet of dwelling space.
If you choose to buy a piece of property and intend to build a tiny house there, it's worth considering that the costs of residential lots don't vary based on the size of the structure you ultimately construct. For this reason, many tiny house dwellers choose to build on a property that they already own (which contains a primary dwelling) or on property owned by a friend or relative. In those cases, the tiny house would count as an accessory dwelling unit (ADU). Building an ADU, like building a new house on an empty lot, will require you to file a residential plan review with the city of Austin.
Where to Find (or Build) a Tiny House in Austin
When looking for a spot to build a tiny house in the Austin area, one question holds more importance than any other: Are you building a permanent home with a foundation, or are you building a mobile dwelling?
If you fall into the former category, then you have plenty of options; as we mentioned previously, tiny houses can be built as a primary dwelling on property lots zoned for home construction or as a secondary accessory unit on taxable properties. However, if your tiny home is a mobile residence, then you'll need to seek out a zone that's set up for RVs. Parking a mobile tiny house on a residential lot will incur penalties and may result in eviction, so it's a smarter and safer move to park your tiny home at an RV park or mobile home community.
Whether you're interested in a permanent tiny house or a mobile unit, these three neighborhoods and suburbs see a particularly high density of petite residences:
If you're hoping to rent out an existing tiny house in the Austin metro area, it helps to focus on neighborhoods that already feature a large quantity of ADUs. East Austin—an artistic, mega-hip area popular among young transplants and digital creatives—is a prime example of a region with lots of ADU rental opportunities.
This South Austin neighborhood sees ever-rising real estate values, thanks to its top-rated restaurants and bars and its status as the home of Zilker Park (which hosts Austin City Limits every year). That said, it's also the neighborhood where you can find one of Austin's most popular RV parks (and the RV park closest to Downtown Austin): Pecan Grove RV Park. If you have a tiny house with wheels, you can rent space at the park on a monthly basis, which entitles you to community amenities like bathrooms, RV hook-ups, and WiFi.
The relatively low costs associated with tiny houses count among their greatest appeals, and if you'd prefer to keep your entire building project as inexpensive as possible, then you'll be well-served by looking outside of Austin city limits. The town of Bastrop, located 40 minutes southwest of Austin, offers comparatively low property prices, tiny house-friendly zoning regulations, and a growing tiny house design industry, with companies like Arnold Custom Builders focusing heavily on tiny homes.
Are there tiny house communities in Austin?
Residential communities fully dedicated to tiny houses haven't fully taken off in the Austin area yet, but rising interest and demand shows clear signs of a lucrative future for tiny-home developments. The Village Farm master-planned community in far East Austin is blazing the trail for this lifestyle, and its success bodes very well for tiny home investors.
Village Farm offers pre-built tiny homes to prospective buyers, and residents of the community can avail themselves of activities and amenities like Green Gate Farms (an organic farm available to Village Farm denizens), a pool and Jacuzzi, dog parks, and open areas for picnics and barbecues. The square footage of these houses clocks in at 399 square feet each, and buyers can select from an array of floor plans, most of which include full kitchens, bathrooms, and sleeping lofts.