How to Buy a Home With Debt
How to Buy a Home With Debt
Buying a home for the first time, especially with debt, is no easy task. If you're a renter with debt who has been thinking about becoming a homeowner, you're not alone in your hesitation or in your unanswered questions. Luckily, there are a variety of avenues a first-time homebuyer with debt can take advantage of.
If you're a homebuyer with debt looking for a guide, we're here to help. Buying a home with debt, whether it's student loan debt, auto loan debt, or credit card debt can get tricky. The basic factors of debt are your credit score and debt-to-income ratio. Lenders use these metrics to assess whether or not you'll be able to make mortgage payments.
Most lenders will not approve a mortgage if your debt-to-income ratio exceeds 43%. One of the best approaches a buyer with debt can take is to get financing through a federal or state loan program. These programs typically offer less money down as well as lower interest rates. Most of these programs assist with down payments, closing costs, and securing a fixed-rate mortgage.
Before you consider buying a home, there are several tips you can aim to achieve. Some of the things you can do before the process even begins include getting a preapproval letter from a lender, pay-down high-interest rate debt, pay bills on time, and keep current credit cards open to ensure you have plenty of available credit.
Here are some of the many programs offered to homebuyers with debt. Although homebuying can be a long process, alleviating some of your debt by taking advantage of homebuyer assistance programs is a great first step. This is not an exhaustive list, and you should check your local homebuying programs for more information.
Federal Programs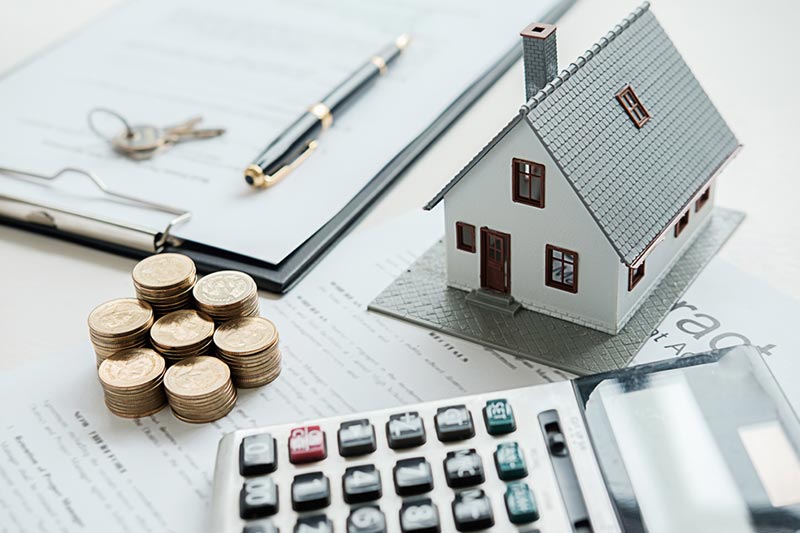 Federal Housing Administration
The Federal Housing Administration (FHA) offers some of the most popular home lending programs in the country. FHA loans require just a 3.5% down payment for borrowers with a 580 credit score or higher. The federal government support of the program means average FHA interest rates are typically lower than rates for conventional mortgages. Borrowers with credit scores as low as 500 can qualify for an FHA loan with a 10% down payment. Guidelines and policies will vary by lender.
Other benefits of an FHA loan include the loan's allowance of sellers to pay up to 6% of the loan amount to cover buyers' closing costs. This is double what traditional loans allow sellers to pay.
USDA Loans
If you're looking to live in a rural area, the U.S. Department of Agriculture offers a special program you might be able to take advantage of. USDA Loans are given to homebuyers seeking homes in rural and low-income areas. This program is ideal for buyers who haven't served in the military but are looking for a government-backed program that offers 0% down with full financing.
The definition of "rural" by the USDA also includes small towns and suburbs, and buyers aren't required to use their property for agricultural purposes. This program makes it easy for first-time buyers to access homes with ample outdoor space in a unique location.
Home Rehabilitation Insurance Mortgage
If you're intrigued by the recent trend of renovating old houses, the Home Rehabilitation Insurance Mortgage might be right for you. This unique program allows buyers to finance both the purchase and the remodeling of a home that needs renovation. You should consider this program if your dream home needs some work or is a historic property.
State Programs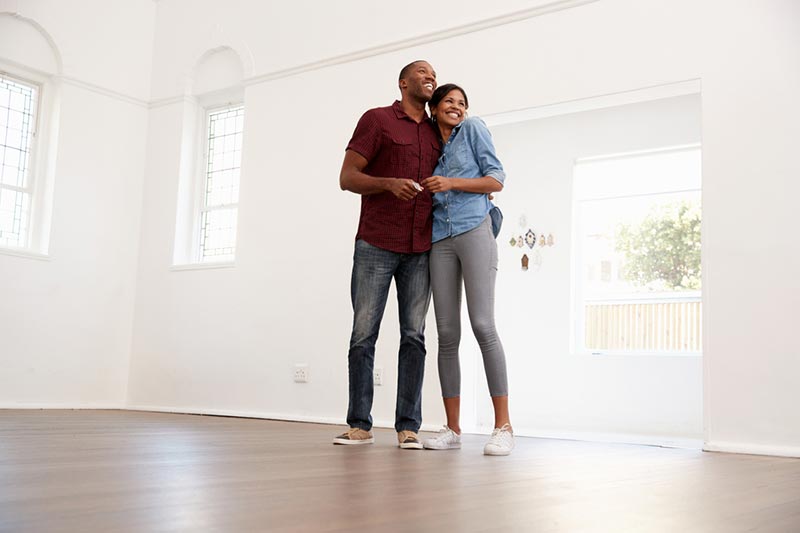 There are a variety of home loan programs that are specific to each state. These programs often combine closing costs and down payment assistance programs with mortgages that have favorable interest rates. These make it easy for first-time homebuyers with debt to gain assistance with a down payment. Check out some of the programs offered by various states.
The Illinois Housing Development Authority (IHDA) offers four specific programs catered to first-time buyers and families. The IHDA is divided into the Opening Doors program, Forgivable Mortgage, Deferred Mortgage, and Repayable Mortgage.
The Opening Doors program offers an affordable 30-year first mortgage with a fixed interest rate and a 0% interest second mortgage for $6,000 in down payment and/or closing cost assistance. This 2nd loan is forgiven after five years. DACA recipients are also eligible for this assistance program. The Forgivable, Deferred, and Repayable Mortgages increase in assistance between $6,000 and $10,000
Although California is one of the most expensive states to move to, there are still plenty of options for first-time buyers and buyers with debt. The CalHFA MyHome Assistance Program offers several options for potential buyers depending on their needs. CalHFA features five mortgage programs ranging from fixed 30-year mortgages to energy efficient mortgages that allow buyers grants to make eco-friendly updates to their new homes.
And CalHFA uses the definition of a first-time homebuyer as any buyer who hasn't had an ownership interest in a primary residence in the past three years, making it accessible to repeat buyers as well.
SONYMA programs are known for helping first-time buyers in New York secure the funding they need. The most popular being the Achieving the Dream program. This is a 30-year fixed-rate mortgage with only 3% down payment required. This program can also be combined with other SONYMA features making it a great option for buyers looking to maximize their benefits for home repairs and down payments.
The Sunshine State offers The Florida Assist program. This program features down payment assistance up to $7,500. The Florida Housing Finance Corporation also offers second mortgage options such as the HFA Preferred and HFA Advantage PLUS Second Mortgage. These down payment and closing cost programs receive 3%, 4%, or 5% of the total loan amount in a forgivable second mortgage. This second mortgage is forgiven at 20% a year over its 5-year term.
If you've been looking to own your first home in Texas, the My First Texas Home program might be the right choice for you. This state-funded program only requires a 620 credit score and provides options to combine with a Mortgage Credit Certificate (MCC). An MCC allows buyers to claim a dollar‐for‐dollar tax credit for a portion of mortgage interest paid per year, up to $2,000. The remaining mortgage interest paid may still be calculated as an itemized deduction. This program allows veterans and first-time buyers in Texas an opportunity to take advantage of multiple government-funded avenues to homeownership.