How to Escape Midtown's Party Scene
How to Escape Midtown's Party Scene
The area around Houston's central Midtown can get pretty hectic during the weekend. With so many nightlife spots clustered into such a small area, the neighborhood is bustling with revelers on Friday and Saturday nights. If you're looking to escape the typical hectic rush of the area, there are plenty of low-key destinations in the neighborhood where you can have a non-wild night out.
Bagby Park
Want to head to Midtown while enjoying a drink outdoors? Bagby Park is a small stretch of green that's perfect for anyone looking for a casual evening under the city lights. Couples and friends can bring their dogs along to let them loose in the Bagby Park Dog Run. Visitors can also head to the nearby food kiosk, where they can order some casual bites like hot dogs and milkshakes. If you're looking to enjoy your evening with a drink, the food kiosk also offers a selection of craft beers, wine, and mimosas.
13 Celsius
A quiet evening of conversation and a glass of wine awaits at 13 Celsius. Found in the heart of Midtown, 13 Celsius has more than just wine available. Hungry late night diners can find selections like spreadable cheeses, cured hams, and plates of coco and ginger covered truffles. The cozy interior with soft lighting, bar seating, and candlelit tables creates a welcoming ambience that's suitable for both dates and small groups of friends.
Mongoose versus Cobra
Want to enjoy a drink without having to yell over the noise? Mongoose versus Cobra appeals to anyone looking to enjoy a night of good conversation. Specializing in a wide selection of draughts like locally-produced Buffalo Bayou beer or nationally-recognized Saint Arnold, Mongoose versus Cobra offers drinks that appeal to many different tastes. Guests can also grab a small snack of house pickles or something more substantial, like a plate of chicken and pork sliders. You won't have to fight for a seat either. The interior is filled with long tables where groups can get together, though couples can also settle in at the bar or at one of the small tables on the patio.
Sable Gate Winery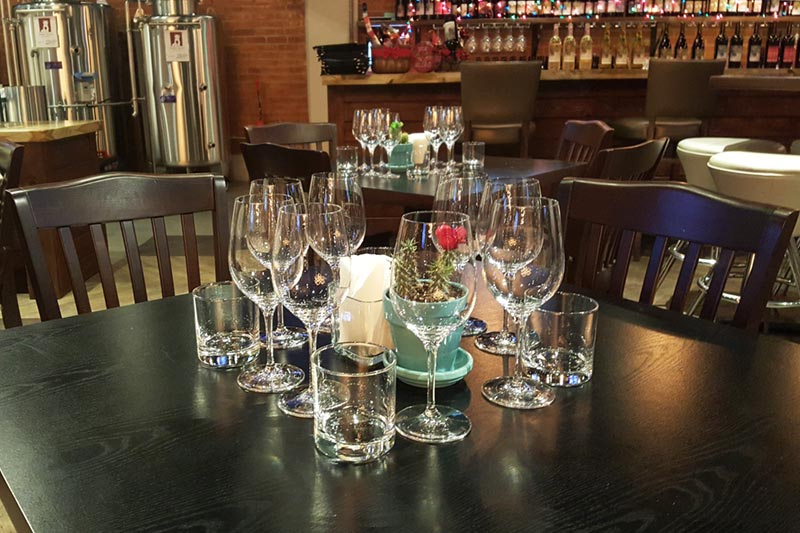 The Sable Gate Winery joined the Midtown Houston scene in 2017 and has since gone on to distinguish itself with local wines made from globally sourced grapes. It's a spacious destination where guests can relax on the patio or head inside to hang out or partake in special events like salsa dancing classes. Hungry guests can also enjoy small dishes like Margherita flatbread or the popular charcuterie board with meats, cheeses, and house-made pickles.
Front Porch Pub
Tucked away from the more hectic nightlife scene along Bagby, the Front Porch Pub can be found beside a number of smaller bars, restaurants, and cafes. With a massive outdoor patio, The Front Porch Pub is as laid back as it gets in Houston. Guests typically come for the wide selection of draughts on tap, but there's also some hearty food to be had, with mozzarella sticks, chicken wings, and pizza on the menu. For the hungry late-night visitor who wants to enjoy a casual night of drinks and dining, there are few places that beat the Front Porch Pub.