Bay Area Neighborhood News
Hunters Point Housing Plans Imperiled by Potentially Fake Cleanup Reports
Nearly half of the work to clean up the heavily polluted Hunters Point might have been falsified, or raises enough red flags to require a retest, according to Curbed SF. The work was done by a contractor hired by the U.S. Navy, in preparation for the redevelopment of a huge chunk of San Francisco for housing, amongst other things.
The plan has long been to transform the former naval shipyard, which once housed a nuclear warfare research laboratory during the Cold War, into a site for much-needed market-rate and affordable housing, the San Francisco Chronicle reports. The city's housing crisis is no secret and affordable homes are few and far between. The goal was to turn 400 acres of docks and landfills into a brand new neighborhood with two million square-feet of office space and at least 12,000 homes.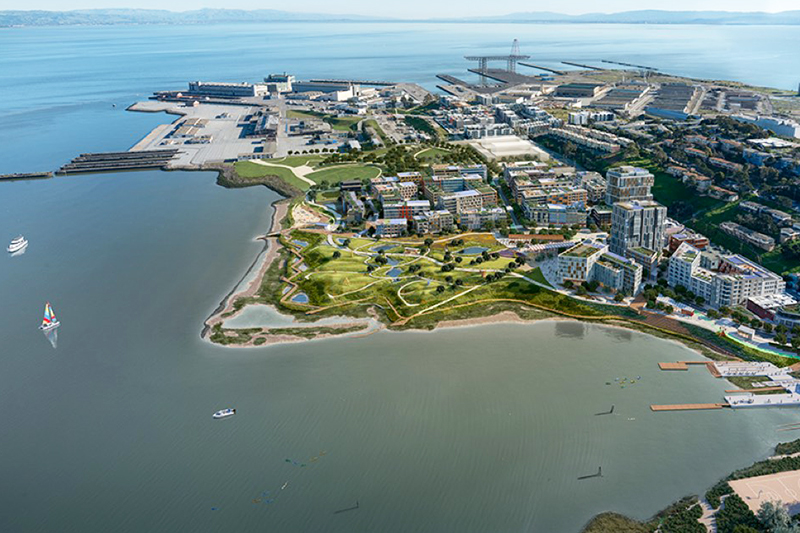 That includes the nearby India Basin development, which has been expected to include 1,240 housing units in a residential village, 275,330 square feet of ground-floor retail, commercial, and flex space, and a "pedestrian-priority district" of public streets that will focus on walking, cycling, and public transit.
This is just the latest bump on the road to transforming the shipyard into a residential community. Contractors with Tetra Tech were first revealed to have falsified soil samples in 2012, which led the Environmental Protection Agency to stop transfers of land for development. After former cleanup workers made even more accusations of negligence and data falsification, a decade's worth of Tetra Tech data went under review. Of that data, 48 percent is "suspect" or has "evidence of potential data manipulation or falsification."
Approximately $1 billion of taxpayer money has gone into removing radioactive and industrial contamination from Hunters Point since the 1990s. Progress in the redevelopment project has largely been at a standstill since 2016. These findings, which have not yet been released to the public, don't point toward a continuation of construction anytime soon.
The news comes as vindication for environmental activists, many of whom have believed for years that public safety has not been given the priority it deserves, in favor of speedier development. Many have even sent a petition to the U.S. government, in hopes of revoking Tetra Tech's license to conduct cleanup projects.
The only part of Hunters Point that has been successfully turned into housing so far is the SF Shipyard. Created by developer Five Point Holdings, the community includes around 300 townhomes and condos. No word on whether or not the land they're built on is truly toxin-free. Available homes on the market range from a $625,000 three-bedroom condo to a $910,000 two-bedroom unit.