Inglewood Considering Big Developments Around Future Metro Stations
Inglewood Considering Big Developments Around Future Metro Stations
With major projects happening around South LA, such as the upcoming Rams and Chargers Stadium and the opening of its brand new Metro stations, city officials are beginning to plant seeds for the district's future development. Although it has yet to implement studies or community input meetings, the city is considering two proposals that will transform its quiet districts of Leimert Park, Hyde Park, and Inglewood into dense and pedestrian-heavy residential and commercial complexes.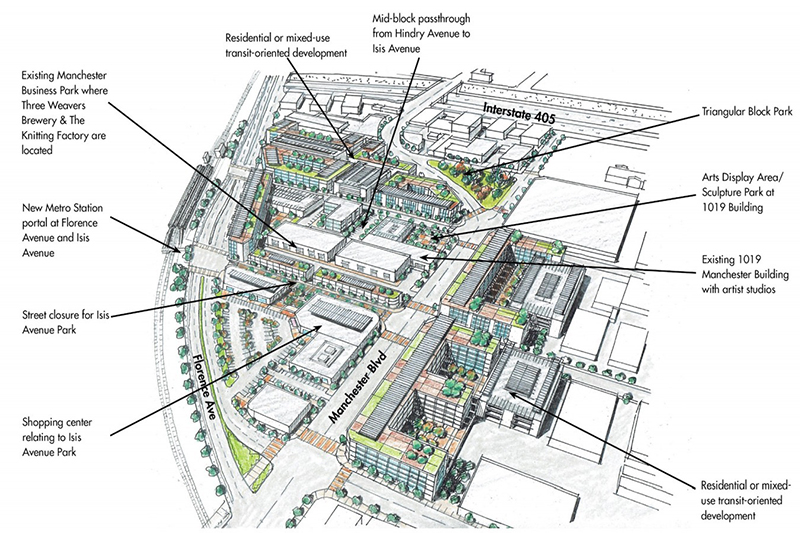 The first plan, which is centered around the Metro's upcoming station at Westchester/Veterans, depicts a cultural center similar to the Arts District in DTLA. It includes details to construct art studios, residential units, hotels, boutique stores, bars, and several low- to mid-rise structures. According to Curbed, the proposal also includes revamping a current LAX car rental lot into a commercial center and a number of mixed-use structures. The second proposal is based around another train station at Crenshaw/Imperial and it calls for the construction of several mid- to high-rise mixed-use buildings. These structures would include a mixture residential dwellings, offices, retail, and restaurants, which would replace the area's current commercial shopping centers.
The city is considering major zoning changes and upgraded infrastructure with both plans. If approved, the neighborhoods will also see new protected bike lanes and welcoming walkways.
Since the city is currently undergoing a housing shortage, the creation of denser housing structures in both plans will likely solve this issue. However, many locals have voiced their concern over the city's gentrification, fearing that the influx of high-end developments will price long-time residents out of their homes.