Chicago Real Estate Development
Lakeshore East: Meet Chicago's New Master-Planned Community
The land along the Chicago River is alive with a flurry of new development plans. New East Side, across the river from Streeterville and just north of the Loop, is a downtown Chicago neighborhood with enviable views of both Lake Michigan and the Chicago River. If you're looking to settle somewhere with a gorgeous view, the neighborhood is getting a lot more residential space. The neighborhood's master-planned community Lakeshore East is 28 acres of luxury living, retail, and open space—a project a long time in the making.
Lendlease Development and Magellan Development Group, the developers behind Lakeshore East, are now proposing three towers—a total of 1,700 residential units—for the project, according to Crain's Chicago Business. What does this master-planned community look like?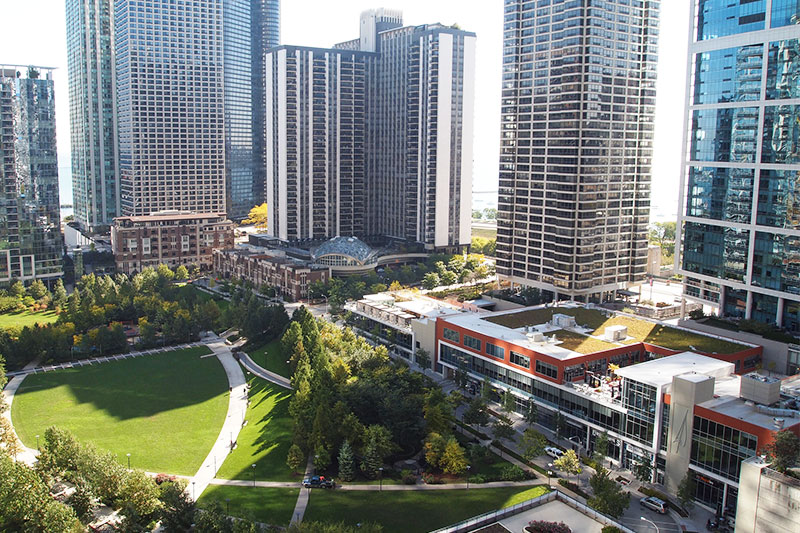 Living in Luxury
The development calls for 4,950 homes, 2.2 million square feet of commercial space, 1,500 hotel rooms, and up to 770,000 square feet of retail space, according to the Lakeshore East master plan.
Lakeshore East already has several completed luxury residential buildings. Condo buildings include the Lancaster, the Regatta, 340 on the Park, and the Chandler. The development also includes Benton Place Parkhomes—a collection of 25 townhomes, a number of apartment towers, and a mixed-use building with a hotel, condos, and apartments. The 100-story Vista Tower, another large luxury retail project, is also considered a part of Lakeshore East. The skyscraper is slated for completion in 2020.
More Condos
The Lakeshore East development has an empty parcel of land, and developers are ready to capitalize on it. Lendlease Development and Magellan Development Group are pitching a revised plan for three towers that would include 1,700 residences and 300 hotel rooms, according to the Crain's report. The plan, revised after first being revealed last year, will include more greenspace, different security measures, and greater distance between the towers. Ald. Brendan Reilly (42nd Ward) rejected the initial plan due to a number of resident concerns, according to ABC 7 Eyewitness News.
If this new iteration of the plan is approved, Lakeshore East will be getting an 80-story building with 600 condos, a 50-story building with 500 condos, and a 40-story building with 600 apartments, Crain's reports.
Neighborhood Retail
Lakeshore East could have up to 770,000 square feet of retail space, and it already has a 105,000-square-foot retail center, according to the master plan. The Village Market Center, located at 333 E. Benton Place, has been open since 2011. The retail center has a number of tenants, including a Mariano's grocery store, III Forks Steakhouse, Eggy's Diner, a nail salon, a dermatology practice, and more.
An Eco-Friendly Community
A big part of the development's pitch is its commitment to green, open space. A total of 40 percent of the development—590,000 square feet—will feature open space, according to the master plan. The Lakeshore East Park is a significant portion of that open space. The 4.6-acre park, designed by Magellan Development Group, features a vibrant botanical collection of hundreds of plants and trees. The park amenities also include a children's playground and a dog park.
In addition to the park, Magellan Development Group is making a commitment to a number of different green initiatives in the master-planned community. For example, the developer is using eco-friendly materials in its buildings' interiors and encouraging car-sharing.
The Community Location
In addition to the view, Lakeshore East's location affords its residents access to a ton of entertainment and amenities. If Lakeshore East Park isn't enough, you can stroll over to Millennium Park and Maggie Daley Park, both of which are jam-packed with scenic walking paths and entertainment opportunities. The New East Side neighborhood also puts residents within walking distance of the shopping on the city's Magnificent Mile and in the heart of the Loop on State Street. A walk across the river will take you to Navy Pier, while a leisurely stroll down the Lakefront Trail will bring you right to the Field Museum, and Adler Planetarium of Museum Campus. With all of this within walking distance, it's no surprise that Walk Score designates the area a "walker's paradise," according to Magellan Development.