Lemon Grove Keeps Adding to Its Impressive Mural Collection
Lemon Grove Keeps Adding to Its Impressive Mural Collection
San Diego resident June Elliott finds herself driving down an alley in Lemon Grove quite often these days—five days a week, two times a day. She has a good reason; she likes to look at the murals recently painted by five local artists. According to the San Diego Union-Tribune, each time she passes through, she thinks how much of "a shame that they're back here instead of in the front."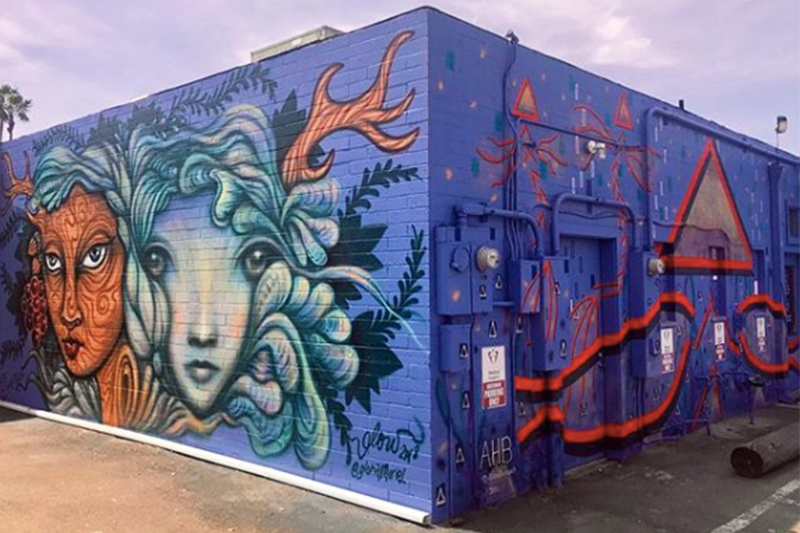 The formerly beige concrete walls behind the San Diego Homecare Supplies, coupled with the metal storage walls across the alley, have been transformed with painted images of flowers, shapes, faces, and animals, all showcased in vibrant blues, purples, yellows, and other deep hues. Per the Union-Tribune, the project had the blessing of Homecare Supplies operator Sydel Howell and mother Sara Cummings, who were looking for a way to replace years of graffiti that would pop up there.
"I've seen what goes on back there, and it's not good," City Councilwoman Jennifer Mendoza told the Union-Tribune.
Howell eventually found inspiration in the Wynwood Art District of Miami with its vibrant artwork. After seeing some artwork in North Park on the side of a tattoo shop, Howell found (and hired) artist Beth Emmerich.
"I was like a kid in a candy store when Sydel [Howell] showed me the walls," Emmerich told the Union-Tribune. "There was so much space to work in."
Wanting to share the fun, Emmerich invited four artist friends to help paint the mural. They included KJ Ashley, Alex Banach, Maxx Moses, and Gloria Muriel.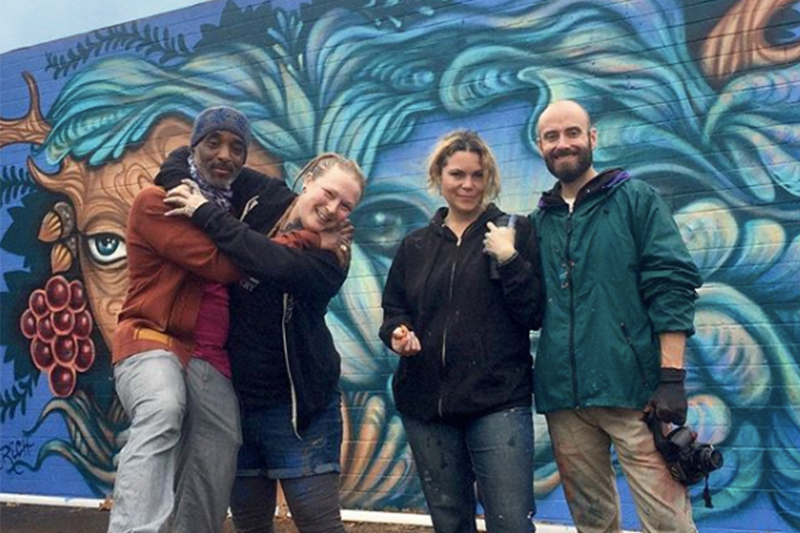 This project is actually a continuation of a mural trend in Lemon Grove. A $30,000 grant was used by the city in 2015 for a mural of birds and flowers for the Buena Vista Avenue underpass near Route 94, just down the street from these new murals.
The city also sponsored another mural—the Lemon Grove Breezeway Mural Painting Project—just around the corner on Lester Street. Completed last year, it features the city name "Lemon Grove" in cursive on a painted lemon, along with trees and bold, bright colors.
Howell told the Union-Tribune:
People like to go where they feel good, to be uplifted, to be joyful, that positive energy. I would love that our customers come to us after being recommended by a doctor or friend, and then that they come back to Lemon Grove because of the feeling they got...to have them say, 'Let's go to the place with the murals.' Then to have them shop at our stores in the area and eat at one of our restaurants.
Howell believes that Lemon Grove businesses should work together to continue the beautification of their city. "I hope other businesses will be inspired too and get on board. I hope this is just the tip of the iceberg, and not the end."