Arlington, VA vs. DC: What You Need to Know
Arlington, VA vs. DC: What You Need to Know
Arlington, Virginia, and Washington, D.C., are just across the Potomac from each other, but when compared side-by-side, each is distinctly different.
D.C. is a bustling metropolis broken into four quadrants, each with its own personality. Arlington boasts more of a suburban landscape with strip malls, ranch houses, and plenty of free parking.
"D.C. is great for nightlife and being close to all the action," says Turki Alghusoon, who lived in the Shaw neighborhood for eight years before moving to Arlington in May 2019. "Arlington's biggest pluses are the everyday life options that are readily available: easy-to-find parking spots, multiple grocery stores, and a significantly lower crime rate."
Living in either comes with pros and cons and below is a breakdown of how both compare.
Real Estate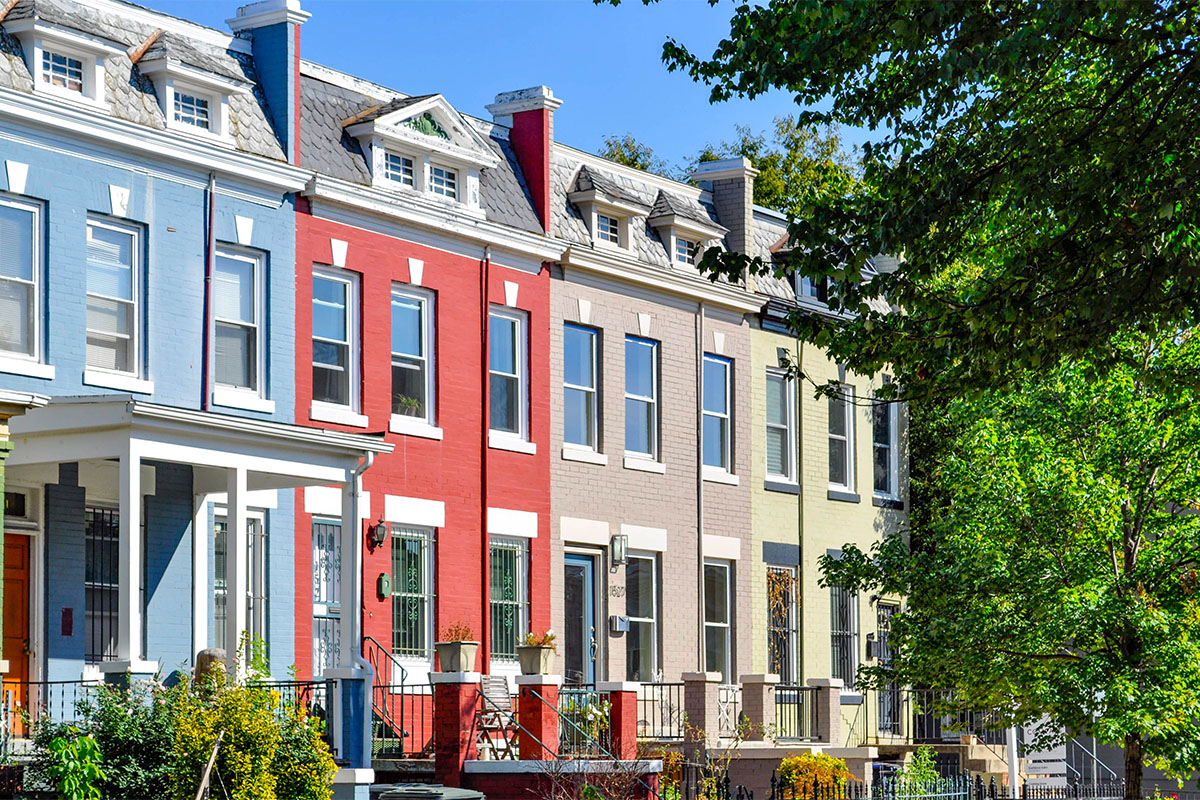 Both D.C. and Arlington's cost of living are higher than the national average, but Arlington is 10.9% higher than D.C. and 55% higher than the national average. Real estate prices are attributed to be the largest cost-related difference between the two cities.
According to WTOP News, the median home sale price in Washington, D.C. currently stands at $635,000 while Arlington's median sales price is $649,000. D.C.'s real estate prices are currently at a record high while Arlington's prices are up 19% from 2018. Arlington's inventory of homes for sale is much smaller than D.C.'s at only 148 at the beginning of 2020 compared to D.C., in the same time frame, with 1,255.
The D.C. neighborhood with the highest number of homes for sale is the Anacostia neighborhood. With a mix of row houses, apartments, and standalone homes, the average home price in this area is $369,999 making it the most affordable option in both D.C. and Arlington.
The newly revitalized Southwest Waterfront area is the second-most affordable option with homes averaging a median sales price of $415,000 according to neighborhoods.com.
Winner: With its lower median home price and larger amount of home options, you're likely to find a home that's not only your style but in your budget in Washington, D.C.
"If you are raising a family, I think Arlington is your best option with its schools and larger houses, but if you are still into the nightlife and bar scene, D.C. is probably your better option."
Education
D.C. is home to some of the top-ranked universities in the nation, but when it comes to elementary and public high school education, the District lags in comparison to its neighboring Arlington.
While D.C. is improving its elementary education system, it still scores below the national average in both math and reading according to the Nation's Report Card. Arlington, in that same report, ranked above the national average in both reading and math.
D.C.'s public high school system doesn't fare much better with a graduation rate of only 68.5%. Arlington public schools average a 95% graduation rate.
Major universities in the D.C. area include Georgetown, Howard, The Catholic University of America, and George Washington University. In Arlington, the big universities that have satellite campuses are George Mason and Virginia Tech.
Winner: Arlington is the clear winner, this round, with its high-quality and high-ranking public-school system.
Transit
Both Arlington and D.C. are car-centric cities. In a study done by the Metropolitan Washington Council of Governments, 60% of the D.C. metro area, including Arlington, drive alone to work. Neither D.C. nor Arlington fare well when it comes to car commute times. Both have commute times between 31-45 minutes each way.
"When I first looked at moving to the D.C. area, I didn't think there would be that much of a difference living one metro stop outside the city," says Christine Rowley, a graduate of George Washington University who spent two years commuting between Rosslyn and Foggy Bottom.
"I learned very quickly, after moving to Arlington, that the 4-mile drive to campus, Monday through Friday, was out of the question thanks to the 40-minute commute time from the front door to school garage."
When it comes to transit, the Washington Metropolitan Area Transit Authority operates both a Metro and bus network connecting D.C. to neighboring Virginia and Maryland. The six-line train system covers 118 miles and serves a population of over 4 million passengers.
D.C.'s Capital bike-share program is a major hit with locals. With 4,500 bikes and more than 500 stations, this is an inexpensive way to commute around the city. The bike-share program does have stations in Arlington, but the majority of the stations are in D.C. proper.
In terms of walkability, D.C. nudges out Arlington with a Walk Score of 76 compared to Arlington's 69.
Winner: With its access to greater biker sharing options and its walkability, D.C. wins this category.
Food and Culture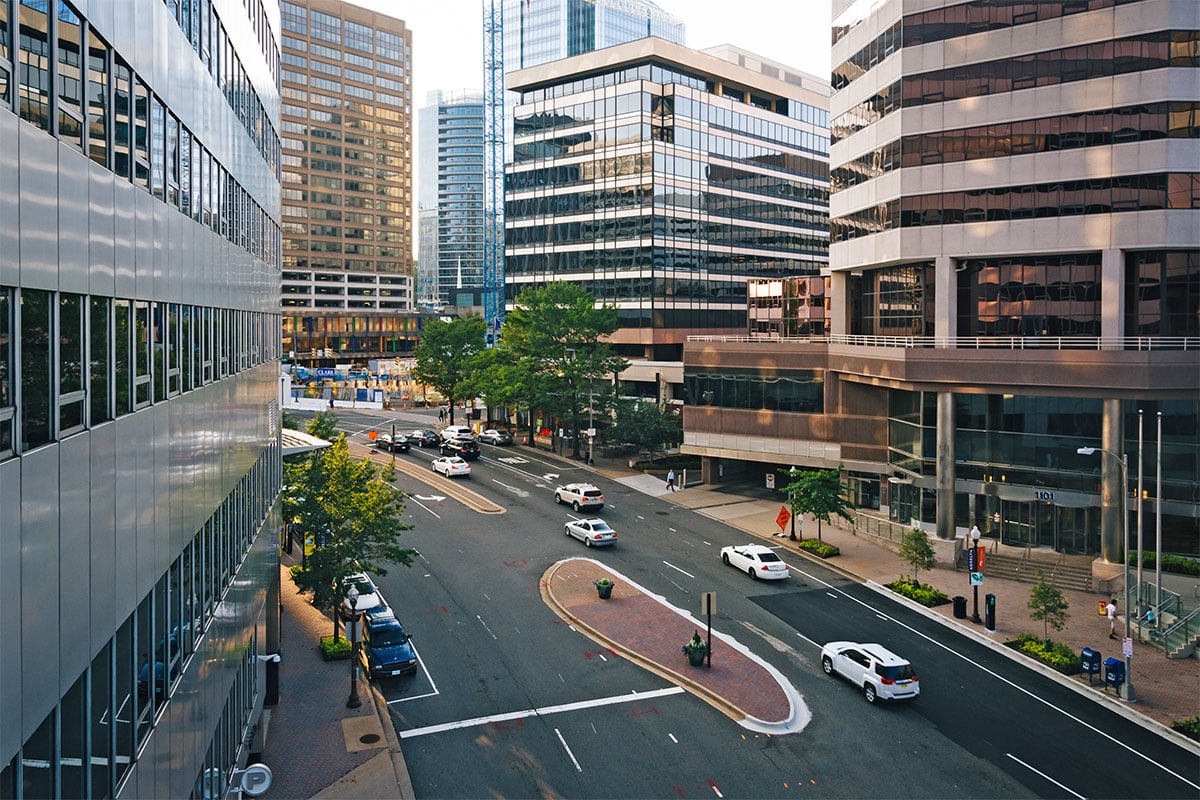 D.C. doesn't have a shortage of options to choose from when dining out. With over 2,200 restaurants, James Beard award-winning chefs, and a host of locations with AAA Five Diamond ratings, D.C. restaurants are some of the best in the country. From the historic restaurants like Old Ebbitt Grill to new favorite Emilie's, D.C. is constantly raising the bar for dining.
Arlington may not have the same number of award-winning chefs and Michelin restaurants as D.C., but it holds its own in variety and quality. Wilson Boulevard offers several restaurants within walking distance of each other, each offering its own atmosphere. There is The Liberty Tavern offering American cuisine and down the street the casual Neapolitan-style pizza restaurant Pupatella.
For culture, D.C. is the hub. From the Kennedy Center to the National Mall, D.C. has an abundance of cultural and historical activities to experience. Arlington has the Arlington National Cemetery and the U.S. Marine Corps Memorial along with a handful of other memorials, but not nearly the number that D.C. has to offer.
Winner: With its award-winning restaurants and abundance of cultural activities, D.C. is the winner, hands down.
The Bottom Line
While just across the river from each other, Arlington and D.C. offer very different styles of living. Arlington has better school districts and an abundance of free parking, but higher real estate prices. D.C. offers culture, nightlife, and a variety of real estate options.
"I think it depends on what stage of life that you are in," says Alghusoon. "If you are raising a family, I think Arlington is your best option with its schools and larger houses, but if you are still into the nightlife and bar scene, D.C. is probably your better option."