What It's Like Living in Columbia Heights, D.C.
What It's Like Living in Columbia Heights, D.C.
For many years, D.C.'s Columbia Heights was a neighborhood characterized by minimal pedestrian activity and little in the way of retail. But when the Columbia Heights Metro station opened in 1999, things began to slowly change for the neighborhood. Now Columbia Heights is thriving as a walkable community with big-box retail alongside small businesses, an attractive dining and nightlife scene, and easy access to downtown.
From Riots to Renaissance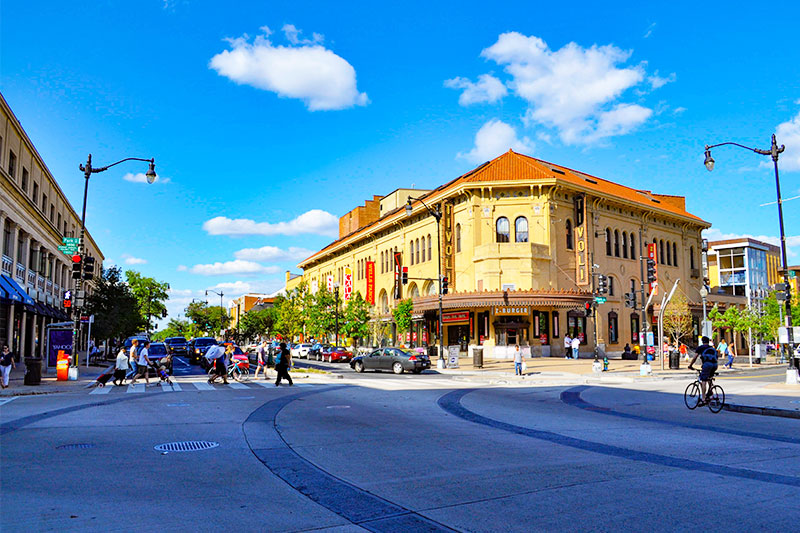 Columbia Heights started out as farmland in the 19th century. The area then became suburban-like after the Civil War when horse-drawn carriages carried residents into Downtown D.C. As the area moved into the 1900s, it became an affluent community home to military officers, government officials, Supreme Court justices, and even icons like Duke Ellington.
In the late 1960s, after Martin Luther King, Jr. was assassinated, riots ravaged Columbia Heights, and the neighborhood didn't begin its recovery until the 1990s. In 2008, almost 10 years after the opening of the Metro station, the city worked with developers to bring a Target-anchored shopping center, luxury apartments, a supermarket, and restaurants to a cluster of city-owned tracts in the neighborhood. This major investment put the neighborhood on a path of growth that continues today.
Getting Around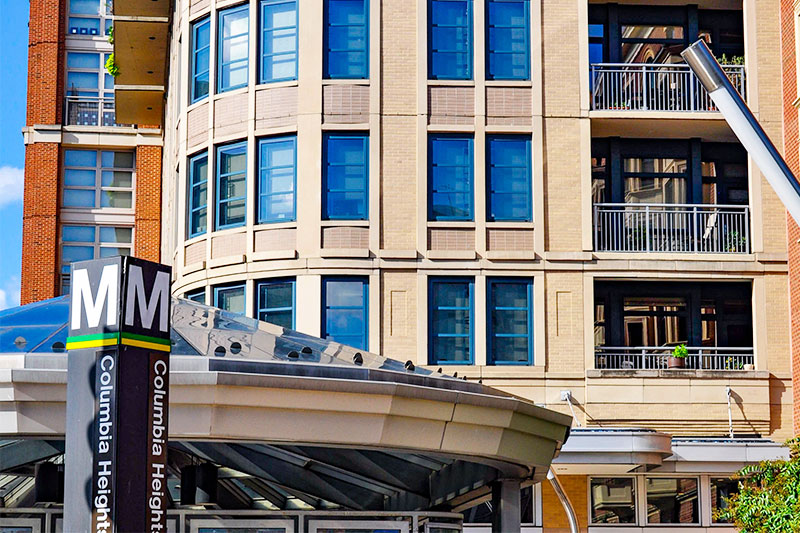 Columbia Heights is located in Northwest D.C. It's bordered by other popular D.C. neighborhoods like Petworth, Adams Morgan, and Mount Pleasant.
With a a 94 Walk Score and 90 Bike Score, the carless will find it easy to get around Columbia Heights and accomplish daily errands on foot. The Columbia Heights station is on Metro's Green and Yellow lines, and Gallery Place—a major transfer station—is only four stops away. Also, the hip nightlife corridors of U Street and Shaw are the next two stops.
Attractions and Family-Friendly Amenities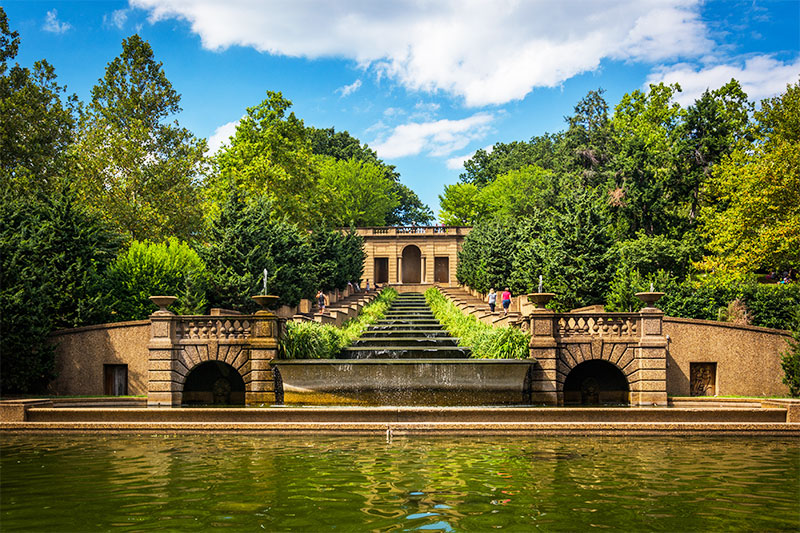 Nowadays, families flock to Meridian Hill Park on warm days to picnic beside the massive fountain or lounge beneath the statues of Dante and Joan of Arc. The park is nice and shady and often serves as a respite on steaming hot summer days.
For those looking to feed their families fresh, organic produce, there is a farmers' market at Civic Plaza (at the intersection of Park Road and 14th Street. The market is a flagship for Community Foodworks, an organization that creates market opportunities for local farmers and food producers in the Mid-Atlantic region. On Saturday mornings from April through December and Wednesday evenings from May through October, about 20 farmers and food producers get together in an effort to make healthy food accessible.
Those with furry "children" can visit the Columbia Heights Dog Park. Earlier this year, the park underwent some uncertain times when the Washington Metropolitan Area Transit Authority, or WMATA, threatened to sell the land (which the park is located on). Local residents worked with Ward 1 councilmember Brianne Nadeau and now D.C. has included funds in its FY2019 budget to buy the property and save the park for future four-legged friends to frolic whenever they please.
Restaurants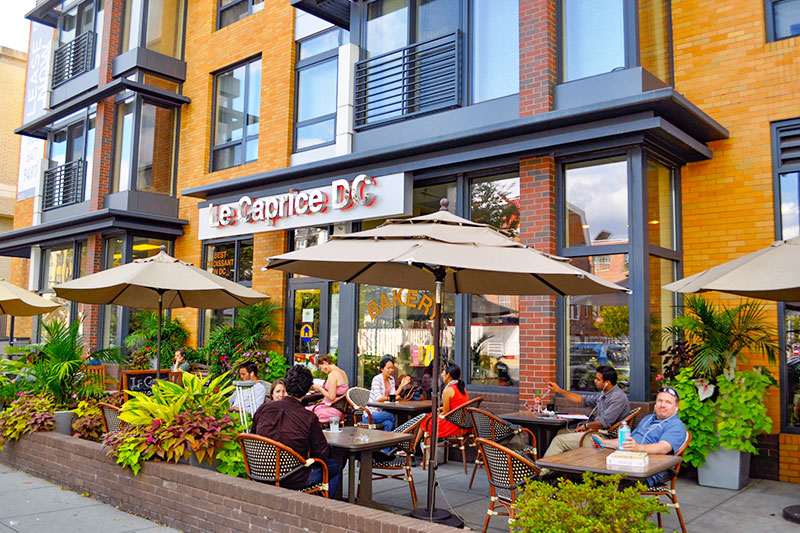 The dining scene in Columbia Heights has exploded with options. There are authentic ethnic restaurants, upscale pizzerias, and specialty bakeries. Locals love Bad Saint, a popular Filipino restaurant on the busy 11th St. corridor. The restaurant was named one of America's Essential Restaurants in 2017 by Eater. The eatery is tiny, with only 24 seats and a no-reservations rule—some patrons have even camped out to try the food. The menu changes frequently and seasonally, but expect innovative takes on traditional Filipino fare like ukoy (a sweet potato and softshell crab fritter) and clam soup.
For those who are in the mood for some comfort food, the classic beer and pizza joint RedRocks serves up Neapolitan-style pizza made in a wood-fired oven. Flavors range from classic Margherita to "The Verde," made with spicy salsa verdé and beer-braised pork. Those who venture out to the relaxed spot often partake in their lunch special—your choice of a beer, salad, and pizza.
For dessert, the mouthwatering Sticky Fingers Sweets & Eats is located in the heart of the neighborhood. The vegan bakery and cafe has lots of cookies and cupcakes, including an oatmeal cookie sandwich with rich vanilla cream inside. Sticky Fingers also makes savory eats like a breakfast burrito and seasonal soups.
What It's Like to Live Here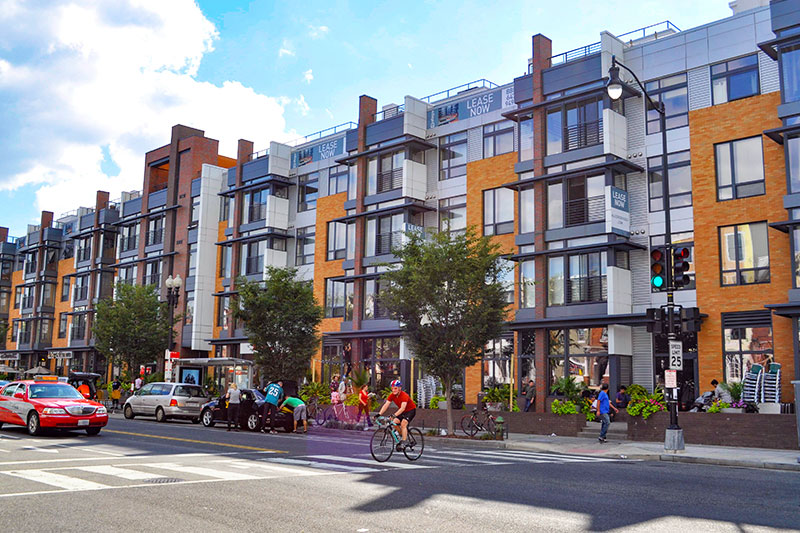 It's easy to get most things done on a daily basis in Columbia Heights. The Target that had such a role in transforming the neighborhood is still there, as well as the Giant Food grocery store.
As for real estate, homes in the area are primarily condos and townhomes ranging anywhere from the mid $100s to over $2 million for units in the neighborhood's luxury developments. The single-family homes that are available are typically high-end new builds, with some renovated rowhomes popping up on the market. The median home sale price is in the low $600s.
Overall, Columbia Heights is a vibrant community that blends the conveniences of the suburbs with hip urban energy and amenities.