Living in Cypress, Texas: Everything You Need to Know
Living in Cypress, Texas: Everything You Need to Know
Before becoming one of Houston's fastest-growing suburbs, Cypress, Texas was acres of rich farmland running along Little Cypress Creek. Settled by German immigrants in the 1840s, the area pays homage to these original settlers with major thoroughfares taking on family names like Huffmeister and Mueschke. You can still catch a glimpse of the rural scenery as you're likely to see cattle grazing or horses moseying about stables as you cruise the suburban streets running errands.
Located 25 miles northwest of Downtown Houston, Cypress makes it easy to work and play in the city. From young families to empty-nesters, Cypress' roughly 182,500 residents love the area's affordable housing, wide-open spaces, and friendly community.
Cypress, Texas Neighborhoods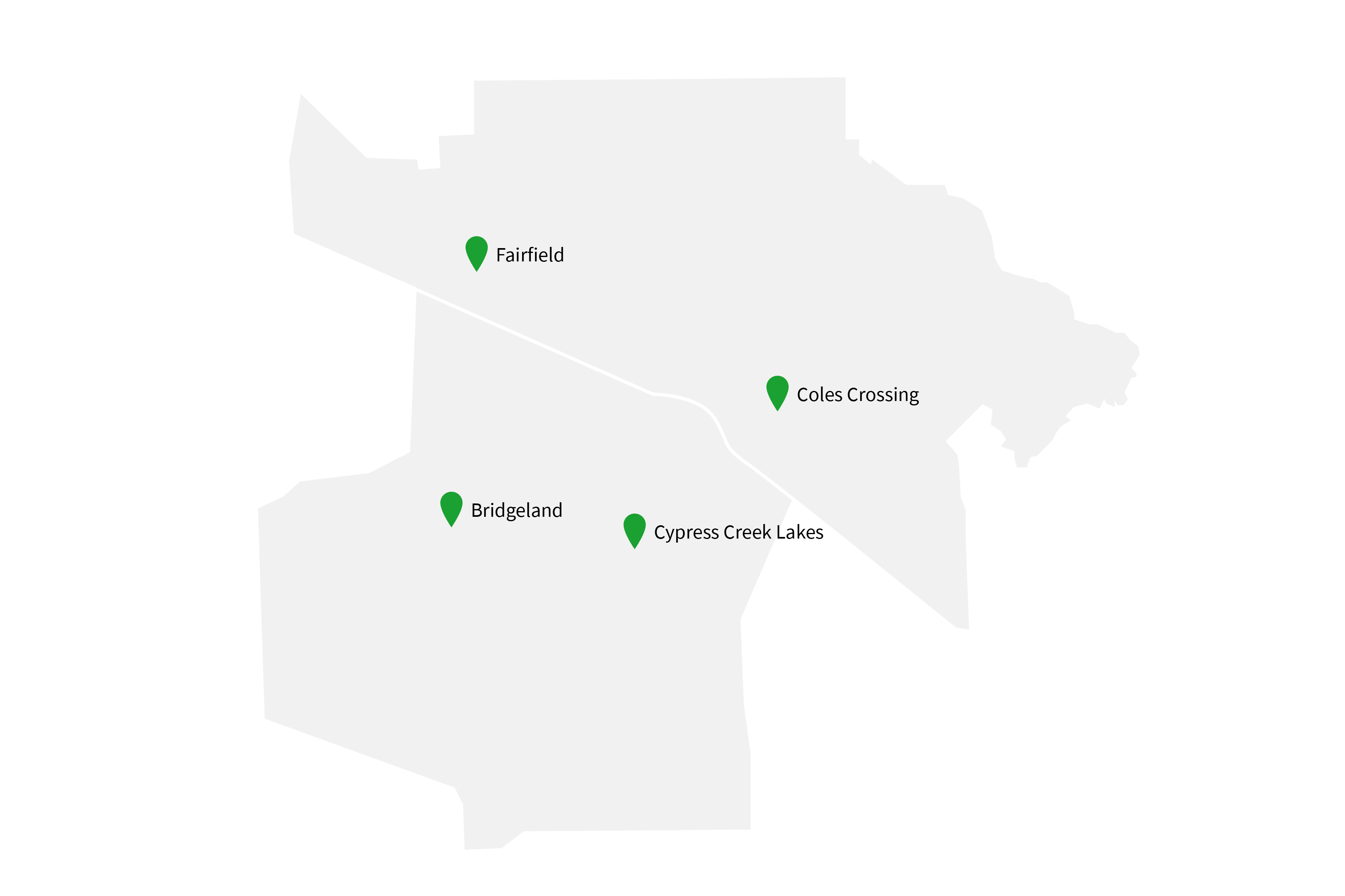 Massive master-planned communities dominate the residential landscape, offering resort-style amenities with a wide variety of housing styles and lot sizes.
Bridgeland integrates greenspace into suburban development with 3,000 of its 11,400 acres reserved for protecting and restoring the natural environment. Homeowners looking for space to roam will enjoy the 60 miles of interconnected trails where residents walk, run, and bike. Kayaks, canoes, and fishing poles are available to rent when exploring the lakes and waterways.
Like a year-round summer camp, the full-time activities director ensures the Bridgeland community has a calendar filled with arts and craft classes, educational lectures, and festive celebrations. However, it might be hard to pull the kids away from the heated pools, splash pads, hammock park, treehouse park, and playground-style zip line.
"Live Happy" is the motto of Cypress Creek Lakes where four top-Texas builders offer prospective homebuyers a variety of traditional and Georgian-style single-family homes. Current prices range from the mid $200s to the high $600s, with a median sale price in the mid $300s. With plentiful playgrounds and walking paths around its waterways, this is a popular development for families.
Coles Crossing's residents enjoy many amenities, including sports practice fields, lighted tennis courts, a fitness center, and a swimming pool featuring a lazy river. The woodsy backdrop is the perfect setting for neighbors to gather for the summer concert series and annual events like the Fourth of July parade and Labor Day picnic.
If you're not interested in a large, manicured lawn, condos and townhomes provide alternatives to the typical half-acre lots. The development also prides itself on architectural features like sunrooms, wrought iron staircases, and wine cellars in its home designs.
Fairfield's small-town environment is enhanced by an on-site shopping center; nearby schools, parks, greenbelts, and trails; and a mega-sized athletic club that offers child care and organized sports. The development's 5,600 homes range from 1,529 to 4,732 square feet with two to five bedrooms. With a median sale price in the mid $200s, it's considered one of the area's best-valued communities.
Things to Do
With numerous parks to explore in the area, weekends are filled with outdoor excursions. Take the little ones to Bear Creek Pioneers Park's small, on-site zoo for a close-up encounter with emu, horses, and Vietnamese pot-bellied pigs, who often can be seen chowing down on heads of lettuce. The Cypress Creek Mountain Bike Trail System is a paradise for bikers in search of a natural surface ride instead of concrete, and Telge Park's dense tree-lined trails are ideal for nature bathing.
Dyess Park is soccer central with 25 soccer fields where sporting families often spend the weekend watching tournaments and practices.
The Houston Premium Outlet Mall attracts shoppers from all over the area lured by bargain prices for top fashion brands like Coach, Kate Spade, and Burberry.
With many golf courses to choose from in the area, the 36-hole Blackhorse Golf Club continually ranks as one of the top public courses in Cypress. Instead of houses lining the fairways, you'll find tall pines and live oaks, along with plenty of water features.
Catch a double feature at the Showboat Drive-In Theatre, where classics and the latest blockbusters are both on the marquee. Plus, the kids can take advantage of the playground during intermission.
College Station, home to Texas A&M University, is only an hour's drive away from Cypress, so you can easily become a 12th man, aka an Aggie fan.
Top Schools
Known for top schools, the Cypress-Fairfield Independent School District includes several institutions rated 10 out of 10 on GreatSchools. Parents appreciate the first-rate academics, after-school programs, extra-curricular activities, and popular sports teams. The school district's multipurpose facility, Berry Center, houses four venues in one: an 11,000-seat stadium, an 8,300-seat arena, a theater, and a conference center. In addition to hosting athletic competitions, band concerts, and drama productions for the area high schools, locals benefit from the calendar of festivals, concerts, and sports tournaments.
How to Get Around
While many of the neighborhood amenities offered by Cypress' master-planned communities are within walking and biking distance, residents rely heavily on their cars for work commutes and other daily activities. US 290 is the major highway connecting the suburb to the city, with a typical commute to Downtown Houston taking 35 minutes without traffic. The area's northwest location makes The Woodlands, the Energy Corridor, and Galleria easy to access within about 30 minutes.