Mall Demolition Makes Way for 'City Within a City' in Dallas Midtown District
Mall Demolition Makes Way for 'City Within a City' in Dallas Midtown District
Valley View Mall is history. In a matter of seconds, a demolition reduced the once-iconic Far North Dallas shopping destination to ashes. As news of the razing hit the Dallas-Fort Worth airwaves, a wave of nostalgia ensued — even though the mall had been vacant for years.
When the dust clears, Scott Beck, president of Beck Ventures, will begin repurposing the prime North Dallas land at Dallas North Tollway, LBJ Freeway (635), Spring Valley Road, and Montfort Road into Dallas Midtown, a 430-acre mixed-use development within the city-designated Dallas Midtown District.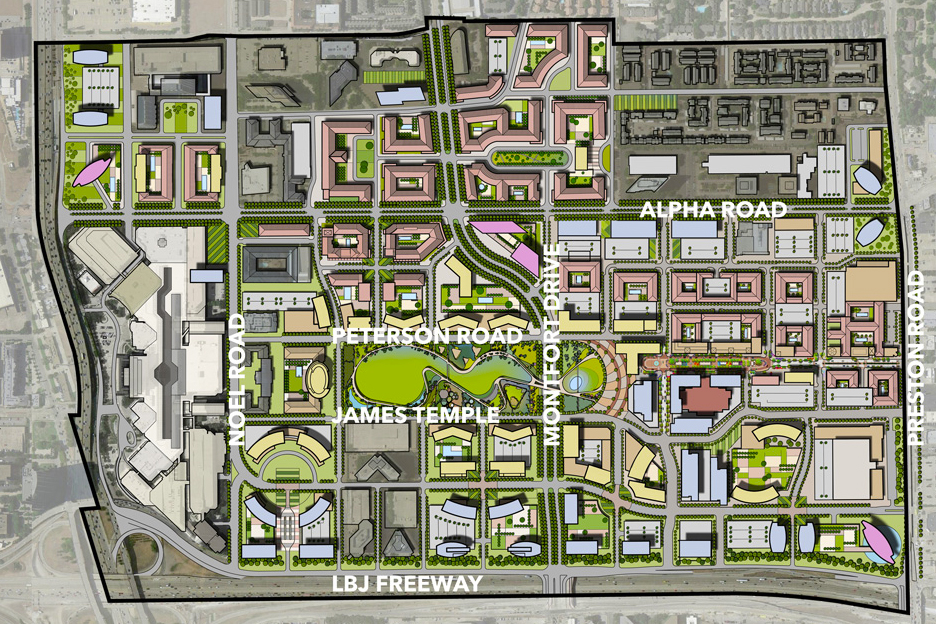 "The project all started with a single vision — the desire to reinforce our northern city boundary all while creating an urban mixed-used village in the center of the population density of Dallas," Beck told D Magazine.
Cinépolis cinema and Life Time Fitness will anchor the $4 billion project. Cinépolis will contain 10 movie screens and more than 600 leather recliners along with a gourmet menu, full bar, and wait staff.
In addition to a connecting residential component, the 183,000-square-foot Life Time Fitness facility will include an indoor and outdoor aquatics center, and rooftop beach pool as well as a cafe and bistro, spa, Ultimate Hoops, and Life Time Kids Academy.
Slated to open in late 2019, Dallas Midtown will also be an urban mix of office buildings, boutiques, trendy restaurants and bars, chic condo towers, upscale apartment high-rises, and luxury hotels intertwined with a series of interactive water features. Besides a 20-acre City of Dallas park, hiking and biking trails will connect to White Rock Lake, and a trolley system will provide transportation to the Galleria. City officials hope the development will create a "city within a city".